March of every year, the arrival of the summer season in Thailand. A country that is fortunate to have mountains and seas, winds, sunshine, and a constant stream of artistry that reflect feelings and make art a reflection of living.
The continuation of the idea from the young age of the artist who wants to find out what life wants.
Interviewing Natrada Bee Charupipattananon is my pride: having the opportunity to chat with a woman artist living in the eastern part of Thailand, not far from the Gulf.
Doing her work with passion and learning she enjoys aligning life to make each day count. And her work has people who like it.
The key to work is love and willingness to learn.
Create happiness and share various feelings throughout the creation. It's simple and charming at the same time.
JY. Please tell me about yourself.
BC. My nickname is Bee. I was Born in Nakhon Ratchasima Province, currently in Bangkok, but the house is in theChachoengsao area. It is the border area of Chachoengsao, next to Bangkok, Lat Krabang District, so most of my life is in the Bangkok area.
I was impressed with drawing since childhood. I wanted to draw good Japanese manga until the end of the third year of high school. Then I decided to continue studying in the vocational line at Rajamangala Institute of Technology Northeastern Thak Campus which has now changed to Rajamangala University of Technology, Isaan.
I took my entrance examination for the Faculty of Fine Arts. That was the starting point for a full study of art. Studied until the end of the second year, Diploma level, then took the entrance examination at Rajamangala University of Technology Thanyaburi, Pathum Thani Province, entrance examination to study at the degree level. Studied for a Bachelor's there for two years.
After graduating, immediately worked, but did not yet create artwork of my own. During the graduating period, it was as if I was still searching for myself. My first job was designing, painting, and clothing patterns, and the second job was moved to work in Pattaya with friends and brothers at the institute where I had studied in the first place.
Reproduction drawings of foreign artists in the old days are like starting to draw, new again... real drawing. But the work that I have studied is not the same. Initially discouraged, more than I can do but finally got through and got a better experience, better at drawing.
I asked permission to mention the name of Galli who worked with me at the kc art gallery. This place I liked, it was another "school" of mine. But later I changed my line of work to become a company employee as a designer of jewelry in Bangkok for four years.Working as a jewelry
designer, exporting abroad is very challenging and a lot of fun. Finally it came to a turning point. I decided to quit my full-time job, wanting to come out and work independently and stopped drawing for 11 years. During that time, I got married had a family with a daughter named Talay, raised my own child, and worked small jobs, such as designing jewelry, painting clothes, and selling at Flea markets and online. When my daughter started to grow up, she attended school. Therefore, I had more time. I started drawing again. I started to draw pictures of people doing yoga, which at that time I drew every day, drew and uploaded pictures on Facebook and Instagram, and this was probably the beginning of my artwork.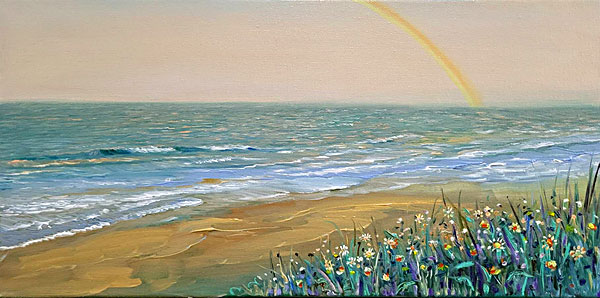 JY. Tell me about your artwork.
BC. My interesting painting work became a job that could earn income. Today it is natural scenery drawing and imaginative works such as the sea, lotus pond, and a paper boat. First of all, it is seen. Other artists portrayed the sea very beautifully. Therefore, it caused the desire to paint the sea. In addition, I was very fond of the atmosphere of the sea, and the beautiful, fresh, peaceful colors, sometimes looked mysterious and scary. Studied visits from many artists. I began to draw the sea; the first pictures are very small pieces.
I am good at painting with oil paints, so I use oil paint techniques on canvas frames. Sometimes acrylic paints.
JY. Which artist do you particularly like?
BC. My first favorite artist is Claude Monet, an impressionist painter, and an important painter of France in the 19th to 20th centuries.
The second is Andreea Ionela Berindei who was born on October 2, 1985 in Romania (she's 37 years old now).
She is most famous for her landscape and portrait paintings. They often include the ocean, water, and other natural elements and shades.
The third is Eva Volf from Cleveland. Original seascape oil paintings. Actually, I like a lot of artists but these three people are my inspiration in drawing the sea.
JY. Who are the collectors of your works?
BC. My collectors are generally people who like beautiful art at a reasonable price. There are also some foreigners. It will be friends who know each other on Instagram... he sees the work and likes and asks to buy.
I'm just someone who likes to draw and enjoys drawing every day. At this time, I only think of this. It may sound strange to many painters who dream of exhibiting at various galleries or having a contest to make a name for themselves. Each person has different dreams. At present, I am happy to work on drawing what I want to draw and share. Pictures for those who love my paintings.
Exhibition History
1st time joining the exhibition with artists from various institutions, ADA International Art Design and Architecture Exhibition 2021 (26 March-2 April 2021). At The Institute of Arts and Culture the Rajamangala University of Technology Rattanakosin.
2nd time joining the exhibition with artists Lecturers from many institutions, ADA International Art Design and Architecture Exhibition 2022 in the format of an Online opening ceremony on 20 May 2022.