San Francisco Ballet turns ninety this year. The renowned company celebrates the anniversary with a Next@90 Festival of nine world premieres in three programs. The format of commissioning new works from (mostly) young choreographers has been an exciting tradition at SF Ballet under artistic director Helgi Tomasson. Tomasson has just retired, but one hopes this tradition will endure. Exposing the dancers to vastly divergent styles of choreography year after year has made the company one of the best.
The Next@90 Festival lineup is Tomasson's creation and follows his successful formula: each guest choreographer gets three weeks of rehearsal time to create a 30-minute piece with music, costumes, lighting, and a stage-set.
Program A: Garland, Roberts, Rowe
Haffner Serenade
Choreographer Robert Garland is one of only two senior participants. The director of the Dance Theater of Harlem chose Mozart's Haffner Serenade for his eponymous contribution. In an interview, the choreographer evoked Balanchine who famously thought Mozart could not be choreographed, and Mr. Garland set out to prove Mr. B wrong. He adhered to a strictly "neo-classical" canon with nine courtly couples cavorting in ice cream pinks and greens. I counted five incidents of "neo" (or non-classical) moves in the whole half hour: one hip swing, one horse-kick, one arm-dangling, one fisting and one stiffening of hands. The way Mozart's serenade was played by the SF Ballet Orchestra under Martin West had more of oom-pah-pah than filigree, certainly posing no challenge to any choreographic effort. The leading couple, Julia Rowe and Esteban Hernandez, were flawless (although Ms Rowe seemed to feel the need to lighten up the heavy Mozart with steady flirtatious smiles). I was puzzled by this ultra-conventional ballet for a festival of new, hopefully forward-looking works. Did choreographer Garland intend an homage to choreographer Helgi Tomasson and his prevailing post-Balanchine style? A tricky proposition, in that case: it gave me rather nostalgic memories of how good some of Tomassons's short neo-classical pieces could be.
Resurrection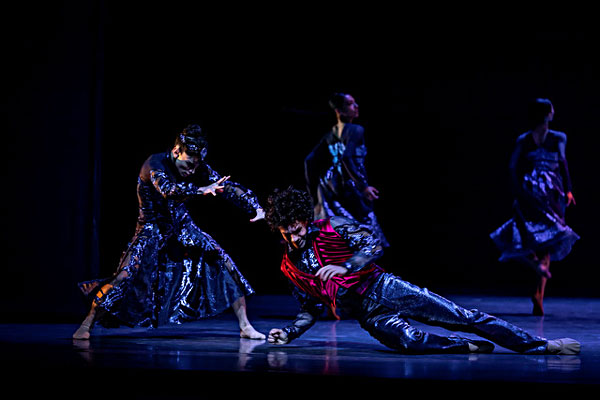 Ballet seemed to gain a future in Jamar Roberts' Resurrection. Roberts comes from the Alvin Ailey tradition of modern dance; he is a
powerful, athletic dancer and "all-round" stage artist. By his own admission, he is not into narrative ballet, but found himself drawn to a few story elements for his new creation. The simple accessory of a fire -red piece of cloth set a cavernous stage with twelve dancers afire. The group seemed like a futuristic tribe of darkly glittering creatures somewhere between snakes and dragonflies. To the dark, emotional music of Gustav Mahler's Totenfeier, the movements were strongly earthbound, rhythmic with deep pliés and beautifully down-curved arms. They repeatedly launched into ritualistic formations with prayerlike imploring, noiselessly clapping hands. Roberts achieved an astonishing stylistic cohesion with this group.
On the black stage, the tribe seemed to arise from the steaming grounds of the planet. Their leader was a woman (a fierce Dores
André) who destroyed and resurrected her warrior (Isaac Hernandez). Males and females showed matching violence and engaged in challenging athletic combat moves and off-balances. The leader/sorcerer/creator wielded the magic of the red piece of fabric that at some point unfolded into a vest. A sign of transmitted power or a straightjacket, remained mysterious, fluctuating and exciting. The audience was enthusiastic; I was surely not the only spectator wishing to see more from Jamar Roberts.
Madcap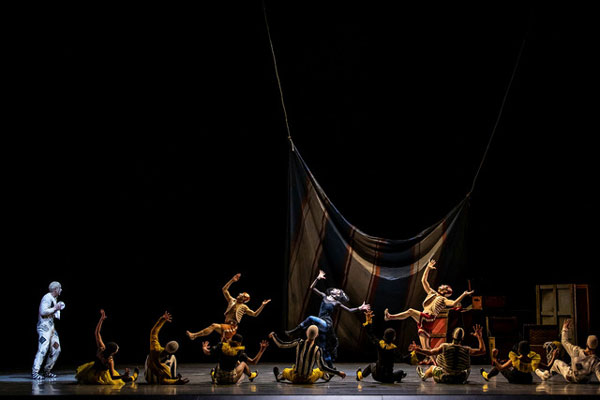 Australian choreographer Danielle Rowe contributed a ballet film, Wooden Dimes, during the last Covid season. Wooden Dimes suffered from a simplistic story of stardom dreams (reviewed in these pages). This time she unnecessarily complicated a beautiful ensemble piece about a run-down circus. Her central story element of the demise of a clown by an unconvincing female zombie-banshee character (called "The Oracle") threatened to drag the circus down into some existential impasse. Rowe didn't help herself by also adding speech to the dancers' tasks. The zombie "Oracle" (Jennifer Stahl) delivered a madcap speech, which was distracting rather than amusing.
Madcap started with the clown (Tiit Helimets) in front of the curtain, doing nothing, while the shrieking laughter of the dancers sounded from backstage. The effect was like laughing at a joke before telling it, and then not telling it: the clown had no jokes. Luckily in spite of him, the circus group was having great fun throughout the piece. In the group work Rowe proved her undeniable talent: it was a joy to behold the childlike and burlesque antics of the archetypal characters. They were romping to the playful, inventive circus music by Swedish composer Pär Hagström. Two Pierrots (Davide Occhipinti and Henry Sidford) performed a magical pas de deux while balancing a red ball between them. The circus princess (Sasha de Sola) had nothing funny to contribute, but was a glittering spark in the follies of the ensemble.
Program B : Caniparoli, Schreier, Oishi
Bolero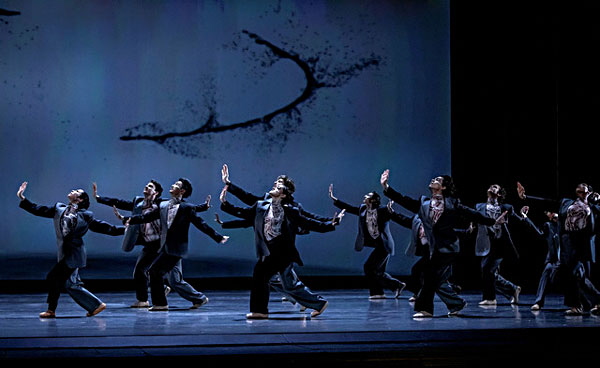 Let's start with the highlight of the evening that closed Program B. Yuka Oishi is a very young Japanese choreographer who had the guts to take on Ravel's iconic Bolero and extend its running time from fifteen minutes to thirty. She started the first part with a compelling contemporary Bolero improvisation by Japanese sound designer Shinya Kiyokawa. After this invitation to listen anew to the well-known piece, she then followed up with the real thing, managing a continuous build-up of energy and excitement.
Oishi used to be a soloist at the Hamburg Ballet, where John Neumeier encouraged her choreographic talent and clearly was an excellent teacher. Among her spectacular European ventures (see on YouTube) she created a piece for the Béjart Ballet Lausanne, which brought her to the cradle of Béjart's masterpiece. Béjart's Bolero was danced by a single woman (or man) on a table top, surrounded by a large group of lusting males. Oishi's version is her first step onto the American scene. Using just a few essential quotes from Béjart and some sly winks at Pina Bausch, she did her own thing and hit a winner.
Twelve dancers walk, run, stumble onto the naked stage while the orchestra is tuning, and line up at the backdrop with their backs to the audience. You can't tell if they are men or women: they all wear men's suits that are split into a darker and lighter shade of grey. As if assuring us this is not exactly Pina Bausch, they all go into a tremor that corresponds to the scintillating (trembling) grey backdrop. Blackout – they are gone. As the orchestra starts, they return in formations of one, two, four, eight, twelve. A kind of cosmic geometry, according to the choreographer, who underlines this point with huge video projections of planetary bodies and round cellular shapes.
The essential Béjart inspiration Oishi uses is the rocking-dipping move which she extends into a forward-backward step that anchors her piece in Ravel's rhythmic pulse. The dips and turns, pliés and leaps evolving out of this basic step are heightened by the jackets flying and flaring with the dancers' movements. At times the group morphs into an expressionist allusion with stylized gestures echoing The Green Table by Kurt Joos (Pina Bausch's teacher), but contemporary edgy styles always break fresh ground.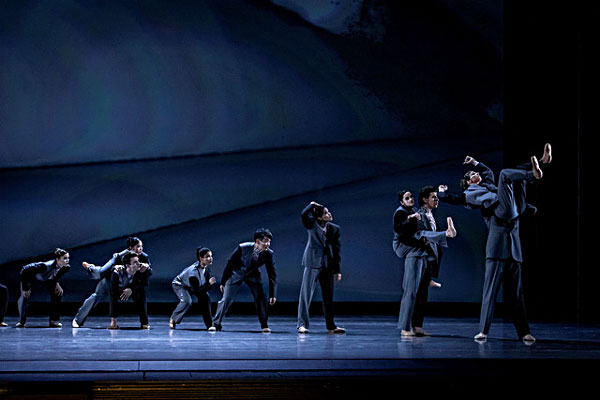 The second half, with the Ravel proper, has the dancers in unisex leotards. They snake and spiral with the pulsing step in compelling beauty. Sharp staccato shifts of formation or direction underscore the music as the intensity mounts. In the growing chaos of spinning bodies the eye fixes on two couples in the center, whose turns and whirls sur place are perfect mirror images of each other. Seen from above, each couple danced in a circle of light as though on Béjart's round table. They looked like two fast-spinning fixed stars in a wildly rotating universe. The effect was stunning and the precision of the four dancers a thrill.
The video projections of pulsing planetary circles added to the crescendo. Finally, arrow flashes of light raced from all directions toward the center, announcing the culmination of the piece, the "big bang" and crash of the music. The group sped to the center and raised one dancer (Rona Park) into the flashing lights. It was an echo of Béjart's orgasmic climax, a bit conventional perhaps, but effective.
Emergence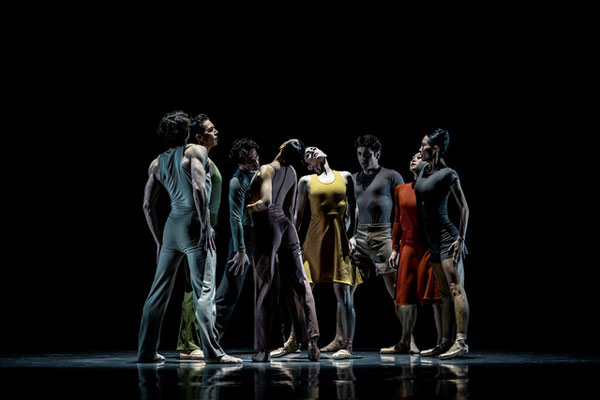 SF Ballet's dancer and choreographer Val Caniparoli marked his fiftieth year with the company. The second senior in the lineup, he stepped in last minute for Benjamin Millepied and had less than two weeks to come up with a new piece. His Emergence was set to a languid composition by young Bulgarian composer Dobrinka Tabakova . The theme of the ballet was to show the impact of Covid isolation and pain. There was beautiful group cohesion by eight dancers demonstrating the ease with which SF Ballet integrates any kind of contemporary moves into their classical base. The highlight was a duo of two men (Luccas Erni and Angelo Greco) affirming their tender connection but also yearning to leave their (pandemic) dependency, but the piece began to sag a bit at halftime and became repetitive. Nevertheless, Caniparoli achieved a lot under extreme time pressure. His promising sketch leaves one hopeful that Emergence will in time emerge.
The Queen's Daughter
American born dancer and choreographer Bridget Breiner started dance making at the Stuttgart Ballet, where the psychological mastery of John Cranko's story ballets inspired her work. Now artistic director of the Karlsruhe Ballet, she is known for evening-length narrative ballets and admitted that the short form was a challenge for her. Her company's manager suggested Benjamin Britten's Violin Concerto from 1939, a haunting piece of music that somehow "had Salome in it." She chose a different title to make the story more "archetypal," she said in an interview and professed not to like the story nor the characters in it. This did not bode well.
The intensely perverse power dynamics between the lecherous King Herod, his vindictive wife Herodias, and her underage daughter Salome seemed watered down to a generality. There was no Dance of the Seven Veils and no head on a platter. The classical vocabulary Breiner adopted didn't reveal enough and didn't rise to more than stock characters: the haughty queen (Jennifer Stahl), the self -congratulatory, strutting King (Tiit Helimets), and the vaguely innocent girl (Sasha de Sola). A group of eight more dancers populated the stage with no clearly identifiable purpose. John the Baptist, "The Prophet" (Wei Wang) fared a little better with lyrical and yearning movements, but nothing in Salome's dealings with him gave a clue why this dreamy young man had to be exterminated.
The Queen's Daughter was a missed occasion of adding a woman's interpretation of the tale that entered the western canon through men: numerous paintings, Oscar Wilde's haunting play, and Richard Strauss's shocking opera of the same name.
(photo - Eric Tomasson)
Only six years ago, Portuguese choreographer Arthur Pita demonstrated the explosive, timeless power of the biblical story in his Salome – also commissioned by Tomasson -- for SF Ballet's festival "Contemporary Voices" (reviewed in these pages: https://www.scene4 .com/archivesqv6/2017/apr-2017/0417/renatestendhal-r0417.html)
All photos of the season: Lindsay Thomas