Cinema Paradiso, the 1988 film by Giuseppe Tornatore, was one of the biggest art-house hits of its era. The film is the story of a director (Jacques Perrin) reminiscing about his childhood friendship in Sicily with a movie-theater projectionist (Philippe Noiret). A heart-tugging comedy-drama, Cinema Paradiso uses film as a Proustian spur to memory, arguing that cinema enhances and in some ways expands life.
2022 saw two renowned directors, Steven Spielberg and Sam Mendes, making similar assertions in their latest films, The Fabelmans and Empire of Light. Both films are based on their makers' boyhood memories of moviegoing, though only The Fabelmans contains obvious autobiographical elements. Both films, especially The Fabelmans, have strong points in their favor, but neither is completely satisfactory.
Written by Spielberg and Tony Kushner, The Fabelmans begins in 1952 with Burt (Paul Dano) and Mitzi Fabelman (Michelle Williams) taking their son, five-year-old Sammy (Mateo Zoryan Francis-DeFord), to see his first movie, Cecil B. DeMille's The Greatest Show on Earth. Sammy is frightened at the idea of seeing a movie, fearing that the images are real and could hurt him. But the major set piece of DeMille's movie—a spectacular train wreck—inspires him to re-enact the scene using the expensive train set his parents got him for Hanukkah. Burt is upset, but Mitzi—innately understanding Sammy's urge to recreate the scene—helps him to stage the crash again and film it on Burt's 8 mm camera.
The Fabelmans progresses to the teenage Sammy (Gabriel LaBelle), blessed with the gift of his own movie camera. His family is now living in Phoenix, all the better for Sammy to find realistic-looking backdrops for homemade Westerns and war movies, with neighbors and fellow Boy Scouts comprising the casts. At Burt's urging, Sammy films a family camping trip. Bennie Loewy (Seth Rogen), Burt and Mitzi's best friend, comes along. Everything goes fine until Sammy, editing the home movie footage, finds incontrovertible evidence that Mitzi and Bennie are more than just friends.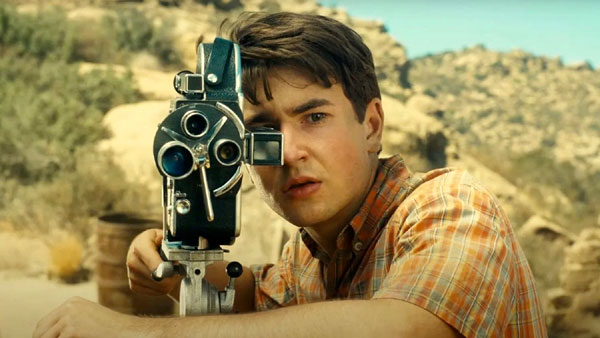 The breakup of Burt and Mitzi's marriage, and its effect on Sammy, constitutes the most powerful section of The Fabelmans. We see that Sammy is essentially an amalgam of his parents: he has the inventiveness and problem-solving zeal of his father, a top engineer for IBM, and the artistic and show-biz inclinations of his mother. Yet the discovery of the affair sets Sammy against his mother, a resentment that takes years to
heal. It also threatens, though only temporarily, his passion for film.
Rambling and episodic, The Fabelmans is haphazard in its comic relief, such as a jarring episode in which the Fabelmans acquire a monkey. At its best, however, it captures the pain and tenderness of family life, as well as the excitement of a young genius discovering and developing his talent. Spielberg and Kushner present a believable portrait of a mid-century Jewish-American family, one where the grandmothers still speak Yiddish. Unfortunately, Sammy's identity brings him grief in high school in the form of two anti-Semitic bullies (Sam Rechner, Oakes Fegley). But Sammy uses his filmmaking talents to win a moral and intellectual victory over the bullies. He also finds his first girlfriend (Chloe East), a Catholic whose devotion to Jesus is, shall we say, a little extreme.
Sammy Fabelman's story ends on a high note, with the offer of his first professional job and an encounter with his hero, John Ford (David Lynch in a hilarious cameo). LaBelle is engaging as Sammy, and there are several outstanding performances among the ensemble cast. Williams and Dano are wonderful as Sammy's loving, decent but hopelessly mismatched parents. Judd Hirsch has a brief but showy turn as Sammy's great uncle Boris, veteran of both the cinematic and circus worlds, who lays it on the line for Sammy in one of the most daunting pep talks in cinematic history. When you are an artist, Uncle Boris says, inevitably you will be at odds with your family. Learn to live with it.
Learning to live with what life gives you is a major theme of Empire of Light, which Sam Mendes directed from his own screenplay. There are no filmmakers or artists in Empire of Light, and no character who obviously corresponds with Mendes. But as a story set in a movie theater at the time of Mendes' adolescence, it radiates a certain awe regarding the act of moviegoing, if in the end not quite enough.
Empire of Light is set in the Empire, an Art Deco movie theater in the English seaside resort of Margate, at the beginning of 1981. It is an unsettled, dangerous time in Britain, when a combination of high unemployment and Thatcherite rhetoric fans the public rage of racist, neo -Fascist skinheads.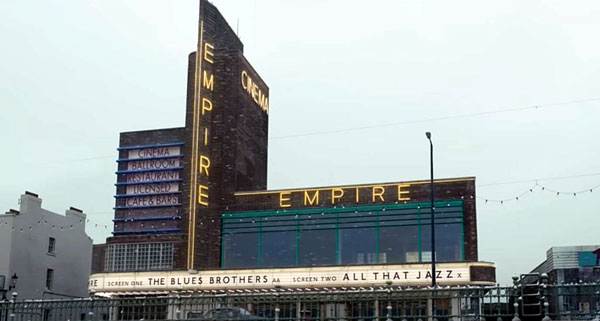 The film begins with a day in the life of Hilary Small (Olivia Colman), assistant manager at the Empire. Hers, Mendes tells us, is a miserable existence. The highlights of her day are her visit to her doctor, who asks her how the lithium is working, and a joyless tryst with her boss, Donald Ellis (Colin Firth), who forces her to service him as a prerequisite for staying employed.
The Empire shows all the hits of its day—9 to 5, Stir Crazy, Chariots of
Fire, Being There. One curious fact about Hilary is that, although she spends most of the day in a movie theater, she never watches any of the movies.
One day Ellis introduces the staff to a new usher—Stephen Murray (Micheal Ward), a young Black man. Stephen says he will work at the theater only until he can gain admittance to university. His relationship with Hilary is polite but distant until the day she shows him the theater's now-disused upper floor, once a showplace but now a roost for pigeons. Caring tenderly for an injured pigeon, Stephen and Hilary bond, and before long have begun an affair.
Hilary and Stephen aren't the world's most believable couple, but Colman and Ward make the pairing work. A bigger problem is that, in its first half, Empire of Light is overly placid, even sluggish. The film doesn't really kick in until a trip Hilary and Stephen make to the beach, when their pain and turmoil begin to escalate. By this time, Hilary has stopped taking her medication; Stephen, meanwhile, faces growing hostility from theater patrons and random skinheads, culminating in violence near the film's end.
Empire of Light leaves us in no doubt that he regards movie theaters as holy places, thanks to Roger Deakins' glowing images of the Empire (played by an actual theater in Margate, the Dreamland). What is less certain is whether any of his characters share that reverence. Toward the end Mendes shows Hilary finally watching a movie and being delighted by the experience. But as a portrayal of a character truly connecting with and being transported by movies, it feels like too little, too late.
The real reason to see Empire of Light is the performances, especially those of its two stars. Colman, who has made a glorious career of playing women on the edge, is mesmerizing as a woman clinging desperately to her last shreds of sanity and autonomy. Ward projects a clean, touching honesty and integrity; it is not hyperbolic to compare him with the young Sidney Poitier or Denzel Washington.
Among the supporting players, I was moved by the decency portrayed by Tanya Moodie, as Stephen's mother; Crystal Clarke as Ruby, an old girlfriend of Stephen's; and Tom Brooke as Neil, a coworker who serves as confidante to both Stephen and Hilary. Colin Firth makes Ellis an all-
too-believable bad boss. Best of all is Toby Jones as Norman, the theater's philosophical, chain-smoking projectionist, who confesses in an unguarded moment to having ruined his own life.
Empire of Light doesn't fulfill all of Mendes' ambitions for it, but it does provide a moving portrayal of the desperation that envelops modest lives, and of the love and companionship that makes those lives worthwhile.