" For more than 20 years, I have been drawing seriously. For more than 30 years, I am still studying and learning art to this day. With the evolution of technology and the media of knowledge in art constantly evolving, making it interesting all the time, making it exciting to those who always wants to know new things."
JY. Tell us about your personal history, education, and work.
IW. I was born in the countryside, surrounded by mountains and surrounded by nature since childhood. I was able to study in the city, district and province respectively and then attend school at Vocational Education, Chiang Rai Province, Vocational Certificate level and continued at Poh Chang School, Vocational Certificate level and then a Bachelor's degree at Rajamangala University of Technology Klong Hok, Pathum Thani. After graduating, I returned to be a teacher at Chiang Rai Vocational Education, Vocational Certificate, stayed for two and a half years, resigned from being a teacher. and then went to work at Suan Chitlada Palace, 5-6 years, then went on to study at the Fine Arts Faculty of Decorative Arts for a Master's degree while working and studying.
Because I am a freedom-loving person. I can't stay with the same things for long. You will feel like learning and seeking new things. So I resigned and decided to take painting seriously. After leaving this regular job, I had my first performance. Received support and appreciation from exhibition visitors, therefore giving me the confidence to continue doing art and drawing.
JY. What materials do you use in your work and what are the designed patterns?
IW. The nature of the work that I convey is nature painting. Sunshine sky, mountains, trees, puddles, streams and mist. I paint using acrylic techniques. Why do I paint like this? Because every time I draw a picture like this it makes me feel like I'm traveling. Drifting away with my imagination, reliving the atmosphere I've come from. It's the same house that I lived in when I was a child. An atmosphere that gives more feelings than words and descriptions, cool, fresh, complete, full, joyful, bright, warm, many feelings. Received from nature reminds me of home. So I recorded nature from imagination without using a model. It is in memories and feelings. Just close your eyes and think. What kind of nature do we want nature to be? That image then arises in the mind and imagination freely. It is fun and enjoyable. It is as if we are the great creators of nature in our imagination and our thoughts and feelings. I am fascinated every time I put my brush to the canvas. It was like it had drawn me into the atmosphere I wanted it to be without considering the prototype from the photograph. Don't have to consider right or wrong. The matter of light, shadow and various objects that will be written down follow the laws of nature. which is in memory and it's all my imagination. I created an image in my imagination and I saw it clearly inside.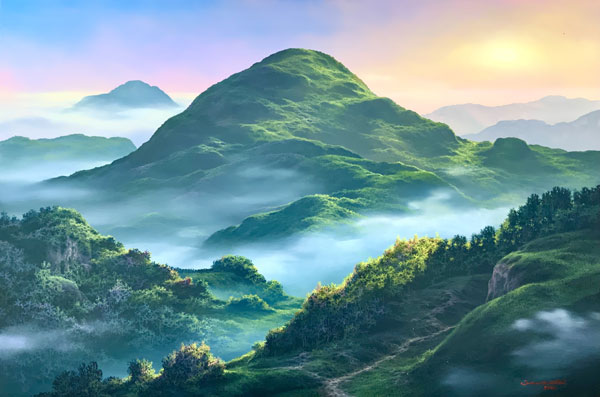 Even though the picture I draw is nature, the sky, ordinary mountains, but before drawing, I determine the feeling by sitting and dreaming about the thing. Simply put, it is the imagination of the picture first. What do we want it to be like? Do you want the picture to come out warm or cool, bright, and floating?
Softly or do you want to feel the grandeur and wideness? Something like this while drawing. The images that appeared and the feelings inside were constantly in conversation with each other. Did you get it or not? Where do you still need to increase or decrease? Do you feel the way we want you to feel? Do you feel it yet? This thing works inside. together with drawing outside. There will be a visual check at all times which when finished drawing the work itself will express my feelings to the viewer without my having to explain any messages.
Most works of this latter period are about the direction of the Feng Shui view. A master has seen the work and has applied it to improving Feng Shui, which affects the feelings of those who see it. The more you see it, the more you feel it, and it will affect those who live in that place. It has an effect on the emotions and feelings of the residents in the atmosphere in which this image exists. This will affect how you live and work. Feng Shui is another interesting science. And there are many things connected to the principle of creating amazing art, such as the principle of balance. principles of composition, aesthetics, and psychology, etc.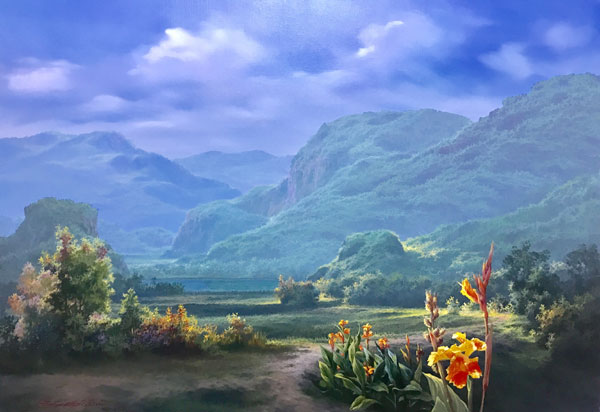 The Feng Shui nature landscape image has both aesthetic depth and meaning, such as
- Sky means wide vision, seeing goals clearly, bright, clear, and comfortable . creativity
- A distant mountain in the back means that family members, children and relatives take care of each other behind the scenes.
- The large central mountain represents ourselves, ancestors, and elders. It is the base of prestige, stability, and perfection.
- The mountain on the side means royal couples, relationships, friendship, husbands and wives, close friends, supporting each other side by side.
- The mountains and trees in the foreground mean the family and friends, subordinates, and friends who help, protect, and take care of in front of us.
- Wide fields and fields mean showing a broad mind, kindness, generosity, smoothness, peace, tranquillity, and comprehensiveness.
- Flowers mean value, friendship, love, happiness, outstanding, charming, interesting, impressive.
- Mist and clouds mean water. Water is wealth. It gives a feeling of moisture and coolness. Give softness, lightness, freedom.
In working, there will be obstacles. It's normal. Every time when encountering a problem it makes it fun and challenging for me. It makes me think and consider. In search of solutions I always think about how to reach my goals. Let the work come out well. Make it easy and fast. Over the course of working for a period of time, I have accumulated various techniques and methods in acrylic painting, including methods to solve various problems with the many limitations of acrylic paint. Having been a teacher before, I think of students who are interested in the same subject and think of techniques and methods that we have found and fixed. It should be useful to those who are interested. Therefore, I wanted to pass on knowledge to people for use and further development. But there are many personal conditions.
I don't want to be a full-time teacher. Teaching in an institution is limited by time and place.
I don't want to be subject to the curriculum and teaching conditions that others have thought of and framed for me to follow.
I want freedom in broadcasting Date/Time/Location. You can stop whenever you want to stop. You can do it whenever you want.
I want the concepts, knowledge, and techniques to be recorded so that they can be studied over and over again. No need to teach again every time.
I thought about it for a while. Therefore, I see channels for communicating knowledge. Through websites, the internet, and social media So I started putting video clips on YouTube, Facebook, and on Google. I didn't expect that there would be so many admirers that I would become famous. I only want to record my ideas, techniques, and knowledge for future generations to use as basic information for further development in the future.
There is still a lot to learn. Including the present, there are many fun things to learn and follow, such as ChatGPT, Ai, NFT, and the virtual world Metaverse. The future of the art world cannot escape being related to these things. In my eyes these are the most interesting and exciting.
JY. Tell us about the details of being a painting teacher, doing You Tube, organizing exhibitions and traveling to see work.
IW. Talk about the future: art creation, drawing, exhibitions, presenting work for people to see. It has developed and changed a lot. For example, in the past, holding an exhibition was very difficult. In addition to having good work and having accumulated enough work, there must be a place. There must be an exhibition organizer. It requires a lot of money or if the artist has the ability, they can organize it themselves, which is not easy at all.
If the goal is to bring our work to others to see and admire, in this era, just post via mobile phone to the media. various social media. My work has been displayed for people to see and admire. Those who see this opportunity can use it to their advantage. You will not have to waste time like in the past. Styles and methods have changed. But the goal still remains the same. Knowing who did what, where and how is the work? Or it might be better if we know how to use it. To be beneficial according to our abilities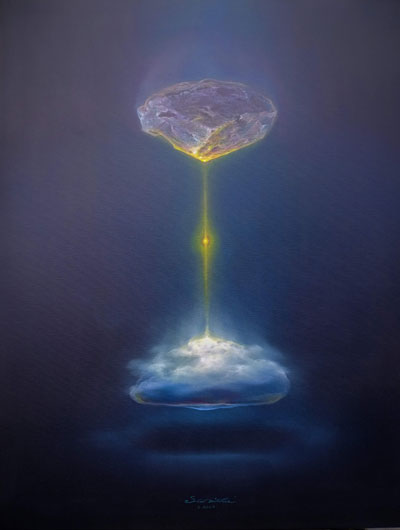 I am one person that benefits from evolution, the development of today's social media world. Many of the exhibitions were not convenient for me to attend. Artist friends have organized in various.
About eating and drinking. I have restrictions on what I eat. I am a vegetarian and have not eaten meat all my life. I don't drink alcohol, don't smoke, and every Friday, Saturday and Sunday. I spent time with my family and went to study and practice Dhamma to gain understanding, truth of life
Therefore, exhibitions or shows of my own work on social media, in media, websites and the internet, channels that allow people to see my work continuously. I consider it my exhibition through the online world. Anyone who wants to watch any episode can come and watch, no time limit, no limit on location. and can still talk to each other It's what suits me the most right now, but in the future things can always change. It is considered to be a great answer in today's society.
JY. What is your defining view?
IW. Finally, what I want to say is drawing is just one part of my search for truth. True art for me is life. True life is the mind and feelings. Creating balance in life is the principle of art. Too much or too little is a lack of balance. Emotions and feelings that are balanced are calm, not angry, not uncomfortable, not irritated, not bored, not sad, not worried, not afraid, not suffering, not wanting too much.
Nature creates balance on its own. Nature outside: earth, water, wind, fire, air, trees, grass, darkness and light. In fact, it is teaching and reflecting our own inner balance. Anything that is heavy will fall. Anything that is light will float upward. Like raindrops falling down. Like steam and smog waiting to rise in the sky. It is nature and nature is the understanding of
life. And what reflects our understanding of life is how we live. It is seeing the truth of life, both physical and mental. This is not a religion and this is not a belief. But it is the truth of everything. that cannot be denied and this is art for me.