Two of the most iconic fictional characters of the late 20th century were the subjects of summer blockbusters. Greta Gerwig's Barbie, the smash hit of the year, is a delightfully subversive comedy that charts a feminist odyssey for the beloved fashion doll. James Mangold's Indiana Jones and the Dial of Destiny, which received an unexpectedly (and in my opinion unfairly) lukewarm response, finds the swashbuckling anthropologist at loose ends until a new adventure helps him get his mojo back.
Co-written by Gerwig and Noah Baumbach, Barbie begins with a mock-2001 prologue—narrated by a gleefully portentous Helen Mirren—in which little girls are trapped in the Stone Age of dolls designed strictly to prepare them for motherhood. It ends—you guessed it—with a girl smashing her old dolls with a Barbie. The film then moves to the main action, set in sunlit Barbieland. "Stereotypical" Barbie (Margot Robbie) enjoys an untroubled life in her hot pink house, with her hot pink wardrobe and hot pink Corvette, surrounded by all the other Barbies. She isn't a President Barbie, a Doctor Barbie, or an Astronaut Barbie, but she enjoys the prestige of being the original Barbie. At night the Barbies party on the beach with all the Kens, who have nothing to do except be accessories to the Barbies. Stereotypical Barbie's Ken (Ryan Gosling) proudly states his profession as "Beach." He asks Barbie if he can come back to her house after the party. "What for?" she asks. "I don't know," he answers.
But signs of trouble appear in Barbieland. Barbie starts having thoughts of mortality; even worse, she starts developing cellulite, and her high-heel-ready feet turn flat. Desperately she turns for help to Weird Barbie (Kate McKinnon), a Barbie disfigured from being played with too much. Weird Barbie tells her she is having the problems of her owner in the Real World, and she must go to her to resolve them.
Barbie undertakes the journey to the Real World (Venice Beach, Calif.) with Ken—who feels his life has no purpose without Barbie—as a stowaway. The Real World holds a lot of shocks for Barbie. Sasha (Ariana Greenblatt), Barbie's owner, despises her as a "fascist" who makes women hate themselves—though Gloria (America Ferrera), Sasha's mother, is considerably friendlier. Gloria works for Mattel, Barbie's manufacturer, whose CEO (Will Ferrell) thinks the solution is to put Barbie "back in the box." Ken, meanwhile, discovers a book on patriarchy and returns alone with it to Barbieland. His further actions, and those of the other Kens, are textbook examples of Alexander Pope's dictum, "A little learning is a dangerous thing."
With Barbie, Gerwig builds on the achievement of her earlier films, Lady Bird and Little Women, artistically and thematically. Visually it is both hilarious and resplendent, with cinematographer Rodrigo Prieto, costume designer Ann Roth and production designer Sarah Greenwood enveloping us in Barbie's candy-colored world. Even better, however, is how Gerwig uses her encyclopedic knowledge of Barbie folklore and fashion to make sprightly but pointed observations about gender roles and how women are hampered by them. Barbie, with her Candide-like innocence and optimism, has a little girl's view of empowerment, and her encounters in the Real World make her sadder but much, much wiser. Just as Pinocchio sought to become a real boy, Barbie seeks to become a real woman. The film's unexpected last line leaves us in no doubt that she has done so.
Robbie is delightful as Barbie, and Gosling fully matches her as Ken. Ken's idea of masculinity is that of an early adolescent, as his big
ballad, "I'm Just Ken," demonstrates. Unfortunately, the Real World's idea of manhood is as blinkered as Ken's, and it takes Barbie's newly won wisdom to restore happiness to Barbieland.
Like Robbie and Gosling, the supporting players enter fully into Barbie's joyous spirit. Besides the aforementioned actors, I especially enjoyed Michael Cera as Allan, the eternal, hapless extra man, and Rhea Perlman as Ruth Handler, Barbie's sagacious creator.
Whereas Barbie taps into something eternally youthful, Indiana Jones and the Dial of Destiny is a story of rejuvenation in old age. The first Indiana Jones feature not directed by Spielberg or co-written by George Lucas, Dial of Destiny begins with a prologue in which Indy (Harrison Ford) and his timid sidekick Basil Shaw (Toby Jones) risk their lives during World War II to rescue half of Archimedes' Dial—an ancient time travel device built by Archimedes himself—from the clutches of Nazi astrophysicist Jurgen Voller (Mads Mikkelsen).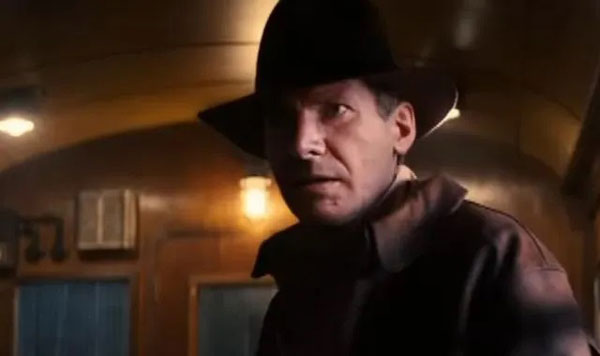 The plot fast-forwards 25 years to 1969 Brooklyn, where Indy is living, alone and despondent, in a junky apartment. It is his last day as an archeology professor at Hunter College. He goes through the motions of teaching his last class; attends a joyless retirement party, at which he is given a clock; and, leaving the party, gives away the clock to the first panhandler he sees.
At this low point in his life, Helena Shaw (Phoebe Waller-Bridge), Basil's daughter, enters it. Helena's late father, she tells Indy, became obsessed with finding the second half of Archimedes' Dial. She suggests that she and Indy search for the second half together to reunite it with the first half, which Indy has stored away in the college.
However, there are three things Indy doesn't realize at this point:
1. Helena has ulterior motives for wanting Indy's half of the dial.

2. Jurgen Voller is now working for NASA under the name "Dr. Schmidt."

3. Voller's henchmen have killed two of Indy's colleagues at Hunter, conveniently framing him for the murder.
You could say this would stir anyone out of a late-life funk. In any
case, Indy heads off on a new adventure to clear his name and retrieve the dial. The action begins with him and his antagonists disrupting the parade celebrating the Apollo 11 astronauts and an accompanying anti -Vietnam War march. It continues across the Atlantic first to Tangier and then to Greece, where the action includes a car chase, exploring a shipwreck, and a properly peril-filled expedition to excavate Archimedes' tomb. It ends with a spectacular plot twist—the content of which, if you remember the purpose of Archimedes' Dial, you can probably guess—and a quiet, touching coda.
The reviews of Dial of Destiny have been more favorable than not, but some have been belittling. The nay-sayers accuse the filmmakers of sourness and ineptitude, which I think is simply wrong. James Mangold may lack Spielberg's trademark panache, but he is still a skilled director, more than capable of filming thrilling action scenes, which he does here. Furthermore, the screenplay by Mangold, Jez Butterworth, John-Henry Butterworth, and David Koepp gives Indy a persuasive future story and a moving final bow. Some viewers just don't want to see a sad, bitter Indiana Jones, any more than they wanted to see a sad, bitter Luke Skywalker in Star Wars: The Last
Jedi. But both films give their protagonists cogent reasons for their sorrow, and both offer them redemption in ways that I, at least, found satisfying.
Dial of Destiny also offers the return of beloved co-stars Karen Allen and John Rhys-Davies (I will refrain from revealing their precise significance in the current story) as well as newcomers such as Antonio Banderas. Dial of Destiny is an honorable and endearing farewell to Indiana Jones as he lays down his fedora and bullwhip for the last
time.