A medieval knight in shirning armor comes in a barque drawn by a swan, saves a noble damsel in distress, offers her marriage as well as victory to her king – under one condition: she may not ask his name or where he comes from. Wagner took the story of the "Swan Knight" Lohengrin from the Arthurian legends and simply filled in the psychological details in his suspense-filled libretto. Of course, the hero utterly, tragically fails: unquestioning faith, unconditional love prove too much for a normal human being. When the bride asks the forbidden questions in her wedding night, her hero must leave her on the spot. The miracle has lasted no more than two days.
Isn't a tale that lets doubt win over divine miracles clear enough in its stark symbolism? What is added by putting some modern rifles in the men's hands, erecting a fascist monument to the swan and fillign the stage with banners that shout: "Achtung! Nazis!" ?
To my surprise, this is what British director David Alden accomplished in his production (revised from the Royal Opera London, 2018). Alden had left a good impression in San Francisco with Handel's Rodelinda in 2005. He presented a fresh take on the baroque opera, spicing it with gentle ironies of modernisation that culminated in a glossy limosine on stage. Baroque operas don't require psychological finesse and interpretation, but Wagner's music dramas are a different kettle of fish.
The director had six years to rethink his Lohengrin, but he didn't come up with an interpretation. All he did was redecorate the legend with pre-Nazi clichés, with no detectable rhyme or reason. Apparently, Wagner is always suspicious and needs to get a warning label plastered on his operas, no matter how discordent with the story, the artistic intent and coherence of the work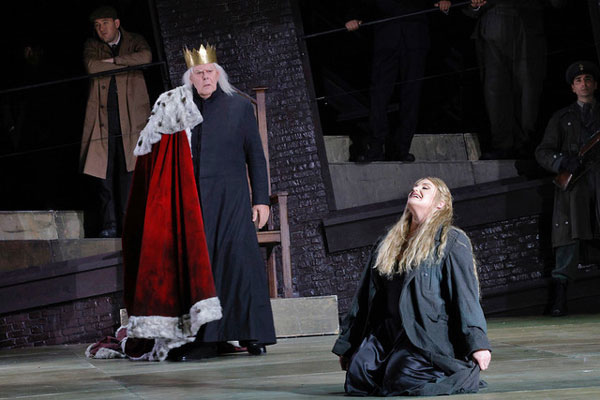 Much of Lohengrin's four hours is concernerd with early Christianity's patriarchal rule and its clash with pagan beliefs in the more matriarchal old pantheon of gods and godesses (Wotan and Freia). Lohengrin's antagonist is the witch-like Ortrud, a powerhouse of cunning and black magic. Her puppet husband, knight Friedrich von Telramund, acts out her schemes. Their trumped-up charges against Elsa von Brabant for murdering her (disappeared) brother are a classic power grab for property and influence. But once Elsa's innocence is proven by "trial before God and King," the focus is on the purely psychological battle between faith and doubt, love and deceit.
The "decoration" by director Alden sets the legend in a depression-era German town with drab buildings in "expressionist" angles, with townsfolk in brown and grey. The King (Icelandic bass Kristimm Sigmundsson) resides over Elsa's trial wearing a crown like a child on Three Kings Day and acts like a tired marionette. Elsa (Adler Fellow Julie Adams) crawls out of a trap-door dungeon and is absurdly put through a mock-execution by soldiers while her virtual defender is called upon to appear at trial. Them the houses give way and under wing-like video projections, in a bleak
light, Lohengrin appears (Simon O'Neill). In his relaxed white suit he looks like an aged matinee idol touring the hinterlands.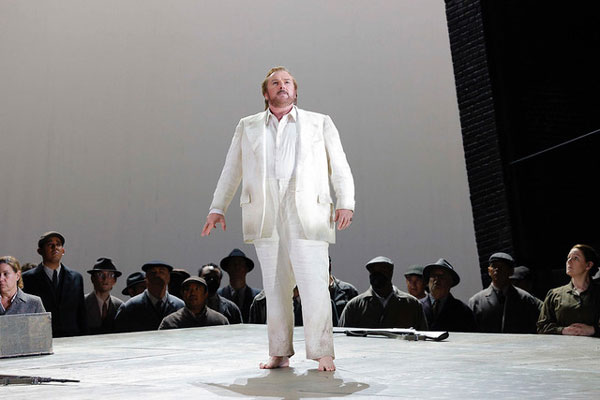 New Zealand tenor Simon O'Neill has a stately presence and a pleasant voice in the sensitive rather than heroic tenor range. He never moves nor acts much but Wagner's gorgeous melodic lines carry him aloft. American soprano Julie Adams in her role debut as Elsa is pretty and has a pretty voice that rises with metallic sharpness when she pushes for vulume. I missed the nobility and mysteriousness the role demands, but perhaps in Alden's downtrodden town an upset damsel can't help plopping down in the middle of the street and consult the pavement. Elsa does this a lot, looking like a forlorn duckling.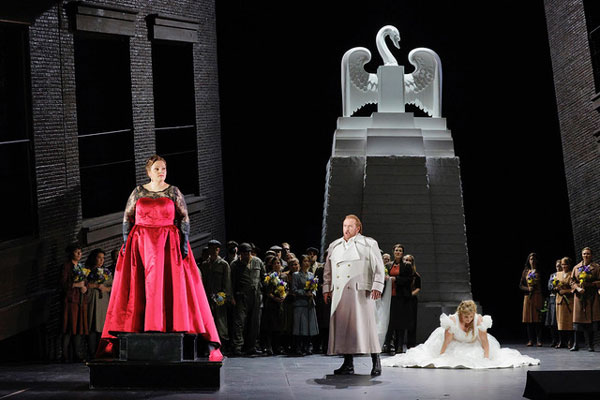 Given the dull lighting and the depressing sets, the bridal couple doesn't generate much romance. When Elsa finally unleashes her accumulated doubts in the wedding night, Julie Adams comes into her own with convincing anxiety and passion – but the more she pushes against her own oath of silence, the more O'Neill's Lohengrin loses his composure, wringing and shaking his hands in unheroic impotence.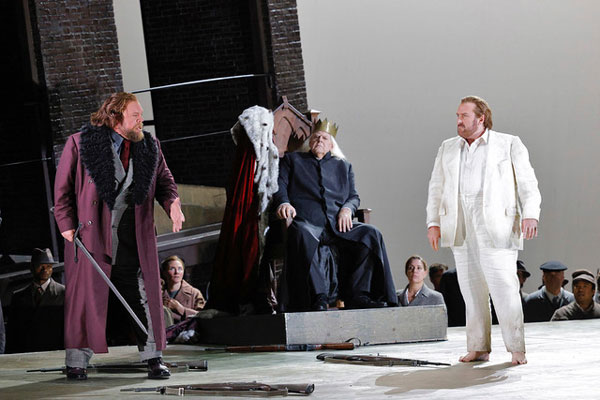 The antagonist couple, Telramund and Ortrud, were satisfying and with a keener direction could have been great. SF Opera's stalwart baritone Brian Mulligan sang Telramund with consistent, full-toned fury, but the dominant presence of the evening was (as so often in Lohengrin) Ortrud. She was sung by Rumanian-Hungarian mezzo Judit Kutasi in her American stage debut. Kutasi drew dark fire from her voluminous voice and colored Ortrud's schemning, cursing and cajoling with zest. The director's attempts to add sexual seduction to her machinations, however, fell flato: both singers on opening night were embarassingly awkward groping at each other in their sinister office headquarters.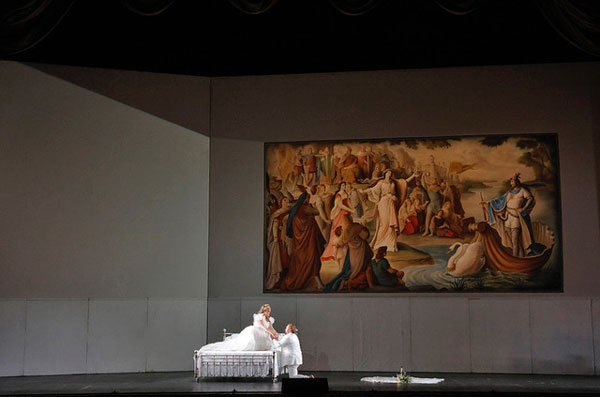 The evening could have been a success had it not been for the unfortunate stageing. The forced "politization" threw a wet blankets over everything and distracted with its riddles and incongruencies: the swan monument in Albert Speer style in the town square, the "Swanastica" banners in Act III, and the bizarre idea of placing Telramund and Lohengrin on a podium as if their confrontation were a political debate. It all seemed to force Wagner's composition into a contradiction with itself, constantly playing against its beauty and transcendence. Perhaps David Alden should have added a little black mustache to his Lohengrin to bring his point to full absurdity.
The audience, visibly lighter in Act III than at the start, seemed to know what they had come for: Wagner's "expansive, ethereal soundscape" (program notes). They reacted with enthusiasm to SF Opera's new music director, Korean Eun Sun Kim, who delivered a well-rounded, forward -driving Lohengrin, finely balancing the vast chorus parts with the soloists. The SF Opera Chorus produced its usual brilliant sound and movement. A high point was the way the conductor went all out on the orchestral interlude to Act III with the brass fortissimo. It was a blast, a iteral triumph over the stage direction, as if to say: no matter your negativity – Wagner wins!
Photos: Cory Weaver