This mural is based on the cover of Santana's 1972 album "Carlos Santana and Buddy Miles Live!" and was created by muralist and tattoo artist, Mel Waters.
The words Para La Mission (For the Mission) is on the top of the mural and he's surrounded by Aztec imagery at 20th and Mission Streets.



This mural depicts the Merrill's Drug Center as it used to appear on Market Street in the 1950s by artists Richard Louis Perri, Francesco Rosato, and Grove Wiley



Soviet Bear mural, Market St.



An image adapted from a 2011 photograph by Peter Hapak of the late actor and comedian Robin Williams, and painted by a street artist from Argentina named Cobre, Market St, San Francisco.



Muralist, teacher and activist Juana Alicia brings the legend of La Llorona, the Weeping Woman doomed to roam the earth searching for her lost children
in this moody blue mural at 24th and York. The work ties the myth to the plight of women and children the world over: the fight for water rights in Bolivia,
Indian farm workers protesting the industrial dams, and the unsolved murders of hundreds of female maquiladora workers along the U.S.–Mexican border.



Michael Jackson street art, Balmy Alley, San Francisco



Salvador Dali mural (reflection), Belden Place, San Francisco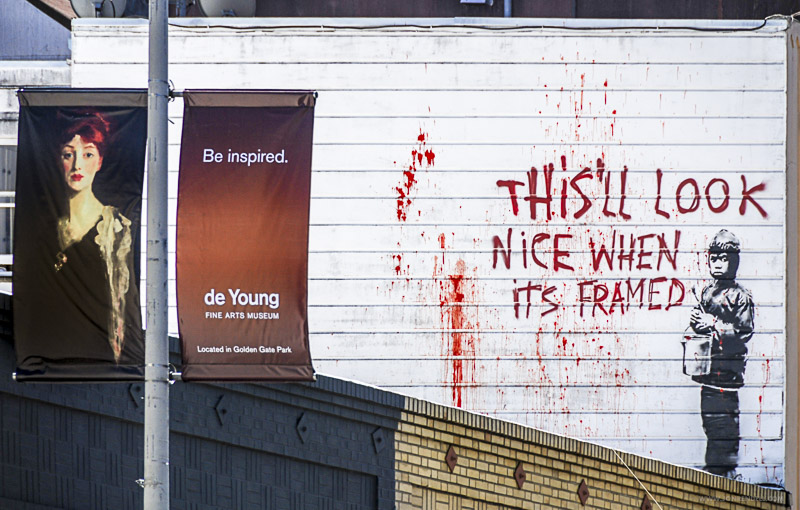 Banksy, above 'Amnesia' on Valencia St, 2010