Nancy Rhodes is the founding artistic director of Encompass New Opera Theatre (www.encompassopera.org/index.htm), a New York City theater group dedicated to the creation and production of contemporary opera and new music theater, as well as, the revival of important repertoire from the Twentieth Century. In May 2000, OPERA America recognized Encompass and founding Artistic Director Nancy Rhodes for "25 Year of Dynamic Leadership" in opera. Ground-breaking productions under Rhodes' direction include the world premiere of Michael Stewart, Richard Engquist and Doug Katsaros' Elizabeth and Essex, starring Estelle Parsons; American premieres of George Antheil's operas Transatlantic and Venus in Africa; Heinrich Marschner's Der Vampyr, and, the New York premiere of Grigori Frid's one-person opera, The Diary of Anne Frank, which went on tour to the Cleveland Opera. In June 2005, Gertrude Stein Invents A Jump Early On by composer William Banfield and poet Karren LaLonde Alenier made its world premiere based on the development and direction of Nancy Rhodes. The following is part of a conversation I had with Rhodes last month.
HOW MOTHER CHOSE NANCY RHODES
For Nancy Rhodes her kismet happened by postcard.
"I was a member of the Director's Union and they would send around postcards with directing opportunities. I'll never forget getting that postcard advertising for a director for Virgil Thomson and Gertrude's Stein's The Mother of Us All. I picked it up and it seemed like it was almost alive. "
She got the job of directing the second opera by Thomson and Stein but found out that the hiring group, American theater Festival, thought it was a play.
"I convinced them that we could make an adaptation. So a friend who was a composer said, 'you need to talk to Virgil Thomson about this.' I was working at Roundabout Theatre which, at that time, was on 26th Street and his [Thomson's] apartment at the Chelsea was on 23rd. So I called him and went over. "
Rhodes, who was studying for her Master of Fine Arts degree at New York University's Tisch School of the Arts and working as an assistant director at Roundabout Theatre, said that her adaptation of Mother for the American Theater Festival "brought out aspects of the libretto and characters which Virgil hadn't seen before." His excitement about this production encouraged Rhodes and her partner Roger Cunningham to do a full production. This was where Encompass began under the original name Encompass Music Theatre. In a letter dated 13 June 1975, Virgil Thomson wrote to Rhodes, "…huge thanks for the remarkably ingenious and imaginative treatment you gave my opera."
METAPHYSICS AND HUMAN CONFLICTS
Artistic Director Gene Feist of Roundabout Theatre gave Rhodes her first off Broadway directing opportunities—Modern Statuary by Donald Kvares and an Isaac Babel play that she adapted and directed for the theater's subscribers. What Rhodes likes best about her work in theater is conceptualizing the piece and finding the context. In opera, she loves working with the singers and writers to "flesh out and reach the essence of a piece." Finding the metaphysical aspects and the human conflicts is her passion.
When asked what her most challenging opera-directing project was, she said, each opera presents its own challenges but working in Stockholm on Benjamin Britten's Death in Venice tested her mettle.
"That is a huge work with 75 people in the cast and yet it's really a small work because it is so much in the mind and the vision of [the main character] von Aschenbach. How to take this big palette and make it come alive when it was so much about a man who is in the last stage of his life. I was also working in another language: Swedish. Originally the theater planned to do it in English but then they decided the cast would communicate better by performing it in the language of the country. It was the first time I had staged something in a language I was not familiar with. Had it been in French, German, or Italian, I would have had some experience though I did study Swedish for six months while I was there."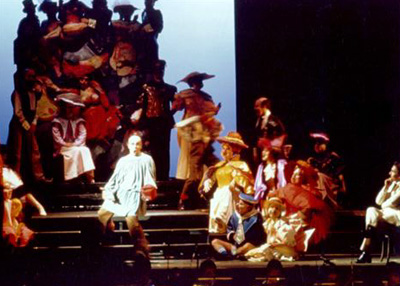 Countries she enjoys working in include the Scandinavian countries of Sweden, Finland and Norway, which she says have great city and state theaters with "beautiful theater plants and highly trained actors and designers." She also loves working in Holland where she encountered well-trained musicians and sophisticated audiences that like new music and experimentation. In Turkey she found well-trained actors and singers with "great energy and passion for their work." She concludes, "I like working wherever I am."
AFFIRMING THE CHOSEN PATH
If she could start her career over, she says she wouldn't do anything differently from what has happened.
"I feel blessed and happy that I have had the opportunity to know interesting and inspiring artists along the way. I've had an unusual pathway specializing in modern American music and opera."
She adds, "I long to direct classical adaptation of plays, like Moliere's Tartuffe, both as plays and operas. I have lots of musical ideas for staging classical plays." And she dreams of making films.
COLLABORATION—LIKE HAVING QUINTUPLETS
Nancy Rhodes is also a working librettist. In 2006, there will be two programs showcasing excerpts of her opera The Theory of Everything (www.encompassopera.org/news_2.htm) with composer John David Earnest. The first program is sponsored by New American Opera Previews and the second called Vox has sponsorship from New York City Opera.
"As a director, theater scene-making is in my blood. I have an innate sense of dramaturgy, the spine—what drives the character and how to flesh things out. It will be interesting to put some of my knowledge to the test in creating this work."
Although Rhodes has written librettos before that include Ocean Dream, a collaboration with composer Victor Kioulaphides, and she co-conceived with composer Ricky Ian Gordon and directed Only Heaven, based on the poetry of Langston Hughes, The Theory of Everything is her first full-length opera. She sees writing librettos and books as "a pathway that [she] may pursue more fully." That is, if she can devote less time to fundraising for Encompass.
About collaborating she asserts that it is the "most challenging, most important, and toughest thing to do."
"I have observed over the years that the most successful writers and composers met each other while they were college students. For example, Tom Jones and Harvey Schmidt who wrote The Fantastics or Nancy Ford and Gretchen Cryer [I'm Getting My Act Together And Taking It On The Road] also met that way. These early friendships establish trust and openness, which is much more difficult to achieve later. It's about that ability to throw things back and forth. One person starts a sentence and the other finishes it. Getting a piece written is hard. People have other jobs. It also requires finding a company willing to invest. It's an expensive process that might go on for three to six years. It takes a lot of stamina. It's like having quintuplets."
Rhodes says that often what gets in the way of finishing an opera is that there isn't a compelling reason to tell the story. She says a writer needs "a fire burning." This aside, she says anyone who thinks he or she would like to write a libretto should "go for it because there aren't enough good librettos and original ideas are much rarer." She also cautions that stories must be told efficiently because music makes the written work longer. For Rhodes, good examples to study include Bizet's Carmen, Bernstein's West Side Story, and Marc Blitzstein's Regina. She also says that if a song cycle has a dramatic thrust, this form is good for contemporary audiences. Ricky Ian Gordon and Rhodes' Only Heaven, based on the poetry of Langston Hughes' falls into the song cycle category.
SEEKING INTIMATE THEATERS
Asserting that this is an exciting time for American music theaters and opera, Rhodes advocates the building of small theaters holding 850 to 1000 seats with "thrust" stages. She prefers that orchestras not be placed in pits and that the audiences should be involved as much as possible.
"We need more theaters with greater connection between the stage and the audience. I'd like to see artists talk more about how they do their work—what their training requires, how singers learn to sing in four to five languages, what their daily practice involves. Audiences need more appreciation of the labor that is expended to create a new work. I'd like people to get a more visceral feeling about how the artist works and to develop respect for the profession."
If a person wants to create a company like Encompass, Rhodes quips, "Better be stout of heart, eat Wheaties and spinach every day." She says in all seriousness, "You need to get a group of people to fund your theater group for five years. Without that upfront money, you will always be running and most importantly you must have artistic passion." As a nonprofit theater group, Encompass New Opera Theatre struggles to stay afloat financially. For over thirty years, Nancy Rhodes has carried the torch passed on to her from Virgil Thomson for new American operas.