I have been exploring what's new in music theater and opera: as in, out on the edge. In this episode of my cubist education (q.v.), my travels extend from College Park, Maryland; New York City; and Montclair, New Jersey. Work seen includes The Music Teacher by Wallace and Allen Shawn, Horizon by Rinde Eckert, Vanqui by Leslie Burrs, and Cabaret Schoenberg conceived and directed by Hans Peter Cloos. Although none of these works push the edge as much as Four Saints In Three Acts, Gertrude Stein's opera collaboration with Virgil Thomson, each of these four pieces contribute something unique to the performing arts scene.
Except for Horizon, these theater pieces employ projections to enhance their emotional landscape. Projected images are what is considered hot in the world of theater. The Music Teacher and Horizon are written by playwrights who typically work in off-Broadway theaters where experimentation is the rule. Except for The Music Teacher, these works were produced in state-of-the-art university theaters. Except for Vanqui, which was done in concert version, these works were presented in full-scale productions.
None of these works for theater are easily categorized. The Music Teacher is a psychological drama decorated with operatic elements. Horizon is a performance piece with musical moments and a minimalist set. Vanqui, a work in progress, is a jazz opera with a fluid classical framework. Cabaret Schoenberg is an edgy blend of early Twentieth Century Berlin cabaret songs and Strauss waltzes mixed with vocalizations that are not quite sung of Arnold Schoenberg's masterpiece Pierre Lunaire.
THE MUSIC TEACHER REDUX
Although I already went on record with a review of The Music Teacher, I woke up to another interpretation of this work. Possibly the images of Edvard Munch's masked or faceless figures in his paintings and lithographs of personal trauma which the I saw at the Museum of Modern Art in a special exhibition seeped into my subconscious. Playwright Wally Shawn presents in The Music Teacher a man who is painfully unaware of himself. He says people like him, but he quickly demonstrates that he is not only bland but also abrasive and abrupt. What we learn by degrees is that he is lonely and does not know how to love. In fact, he tells us that his mother told him if he looked into her locket, which she forbade him to open, he would never find love. When Mr. Smith introduces himself, he says that he is a married man who has no remarkable history. However, the playwright proceeds to have him tell his story of trauma through his older (played by Mark Blum) and younger (Wayne Hobbs) selves.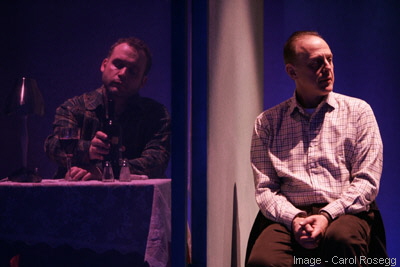 Although spoken text dominates the artistic strategy of this work, there is an element of opera and sung text. In many ways, the music seems to be extra. This is particularly so in the opera set in ancient Greece that Mr. Smith writes with his student Jane and then takes a leading role in the opera's production. Mr. Smith stars with Jane and Jim, the boy who will eventually become Jane's third husband. The important thing to know about the opera is that Jim as Chronilos slays Mr. Smith as Alcimedes with a sword when the latter gets too familiar with Jane who plays Aeola.
My new insight is that the Shawn brothers seems to be working with cliché which manifests in doubling – two performing art forms that are disconnected (drama versus opera), two pianos in the orchestral ensemble when one will do, and two characters, representing the protagonist, who get mixed up and breach the logic of time/memory.
Here I quote my first review:
In a critical scene where the music teacher flees the school after participating in an opera he wrote with a student named Jane (Kathryn Skemp) and ends up in a hotel nightclub, the playwright breaches his own dramaturgical logic when the older Smith is allowed to interact sexually with three women who belong to the timeframe of the younger Mr. Smith. In the nightclub scene, Hobbs as the younger Smith sits at a nightclub table alone behind a see-through screen while Blum as the older Smith dances with the voluptuous singer (Rebecca Robbins). Before the evening ends Smith has had sex with the singer, the club's waitress (Stefanie Nava), and his student Jane who has some how found him. Smith's orgy ends with him calling for room service and asking the bellboy (Bobby Steggert) bluntly, "Are you homosexual?"
The clichés include looking for love in all the wrong places, can't see the forest for the trees (the play opens with projected images of a New England forest and the play's small orchestral ensemble sits on stage in a stand of leafless trees), and the phallic cliché (sword). There are also the musical clichés that include mimicking sounds in nature and the melodramatically musicalized, "Oh, what have I done?" line from Jim/ Chronilos after he slays Mr. Smith/ Alcimedes. All of which seems to say that Mr. Smith does not have an epiphany about sexual orientation, but rather he is psychologically traumatized from looking into his mother's locket. The problem is that Mr. Smith does not love himself and therefore he can't love and can't receive love. I think the playwright needs to further breach the '4th wall' in the scene where the older Smith jumps into the sexual orgy. Wally Shawn needs to have the older character shove the younger character out of the way so we know the playwright means for this breach of dramaturgical logic to happen.
If the music is to work, Allen Shawn needs to make the contrast between his musical parodies and his seriously composed compositions stronger. In other words, the overall music needs to be as good as the opening/closing choral number that establishes the forest image.
With plays like Aunt Dan and Lemon which concerns a character sympathetic to World War II Nazis, the playwright Shawn is known for getting in the audience's face, making us look at situations and grapple with emotions that make us squirm. Taking on cliché puts the playwright at risk, such that the audience may misunderstand the playwright's intention. Cliché deadens the senses.
So how the supporting artistic team in The Music Teacher works with the playwright using music, projected image, scenery, costumes and lights to counterbalance the deadening of the senses is critical. Director Tom Cairns, his cast, his video designer Greg Emetaz did a noticeably fluid and professional job in this production. I say humbly with my hat in my hand that The Music Teacher, no matter its flaws, has staying power and seems on reconsideration like Munch's Angst.
WHY EXPERIMENTAL THEATER IS THRIVING IN ACADEMIA
On March 11, 2006, Jed Wheeler, Montclair State University's Executive Director of Arts & Cultural Programming, told me that the university is the last bastion of experimental theater. Fresh from seeing The New Group's off- Broadway production of The Music Teacher the night before, I extrapolated that what Wheeler might mean is that universities like Montclair are spending significant amounts of money to build and/or update their theaters as well as to invite the best creators and performers to their campuses. With sufficient funds and a youthful audience interested in what is out of the main stream, experimentation can thrive in the university setting.
SPRECHSTIMME MEETS POP
What I experienced at Montclair's Alexander Kasser Theater was Cabaret Schoenberg, a piece that featured soprano Julia Migenes vocalizing Arnold Schoenberg's 'sprechstimme' song-cycle Pierre Lunaire. Migenes, who welcomes challenging roles, launched her opera career at the Metropolitan as a substitute for t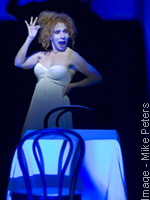 he lead role of Alban Berg's Lulu. Berg was a student of Schoenberg and used some of Schoenberg's twelve-tone techniques in Lulu. Although Pierre Lunaire, written in 1912, preceded Schoenberg's development of the twelve-tone scale, the music is atonal. With its mix of vocalizing and dramatic declaration that might be punctuated with the voice rising in a kind of scream, a little of Pierre Lunaire goes a long way. This is not to say that Migenes' fascinating performance was overly long.
In fact, what director Hans Peter Cloos did was alternate the stream of consciousness poetry of Albert Giraud, the German poet upon whose work Pierre Lunaire is based, with the raunchy cabaret songs of Berlin in the early 1900s and a dash of Strauss waltz. Performing the Brettl-lieder (Brettl-lieder translates literally as popular songs but in this case means cabaret songs) was soprano Mary Nessinger who not only has performed Pierre Lunaire in other venues but also works closely with many accomplished contemporary composers such as Lee Hyla and John Harbison. Nessinger's visceral dramatics enhanced the racy cabaret songs that seemed ordinary in the wake of the disturbing song-cycle. However, Cloos pointed out in his program notes that Pierre Lunaire grew out of Schoenberg's experience with the Berlin Uberbrettl cabaret troupe. Uberbrettl means transcending that which is popular.
Providing the satisfying musical framework for Cabaret Schoenberg was the quartet of instrumentalists named Mosaic. As a chamber group, comprised of flute, cello, piano, and percussion, they promote themselves as a unique chamber ensemble. For this production the orchestra also included musicians playing clarinet, violins and viola.
In addition to outstanding singers, musicians and interesting program content, this production featured a thrust stage, surtitles translating the German text, projected images that seemed to come from World War I footage, and lighting that sometimes served to produce shadow puppets. Jed Wheeler said compared to other programs at Montclair State, Cabaret Schoenberg hardly seems experimental.
BIG IDEAS, MINIMALIST SETS
Another production that aired at Montclair State in the 2005/2006 season was Rinde Eckert's Horizon. Horizon was a co-commission with the Lied Center for the Performing Arts (University of Nebraska—Lincoln), the Mondavi Center (University of California—Davis), the Clarice Smith Performing Arts Center (University of Maryland), and the Office of Arts and Cultural Programming at Montclair State University. I saw Horizon at the University of Maryland.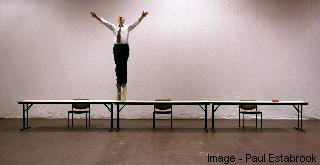 Eckert who drew significant attention with his off-Broadway production And God Created Great Whales is a hands-on artist—he writes and performs his work and Horizon is no exception. A university setting for his performance art theater is ideal because Eckert wants an audience who will talk to him without holding back. I first spoke to Eckert in the fall of 2000 after seeing him perform in And God Created Great Whales. I attend Great Whales with composer William Banfield who wanted to get a sense of what I liked in theater before beginning to write the music for our collaboration Gertrude Stein Invents A Jump Early On.
While Great Whales concerned a composer who was losing his mind but who was intent on finishing his opera, Horizon is the story of a theologian who is suffering a crisis of faith. Both of these plays with original music and text by Rinde Eckert use minimalist sets. Sound and lighting designs play an important supporting role. What I particularly liked in Horizon was Eckert's subtle puppetry all done with hands or shadows.
As a performance artist, Eckert does unusual things with movement as part of his strategy for changing to alternate realities. One particularly fascinating scene involved Eckert standing on ordinary cinderblock which he tipped back and forth as if he were walking. This action in combination with what he said made him a larger than life man, possibly a man like Jesus who had supernatural abilities.
UNIVERSITY AS BROODING NEST
The production of Vanqui by composer-flutist Leslie Savoy Burrs and award-winning writer John A. Williams performed at University of Maryland's Clarice Smith Performing Arts Center featured its musical score that seamlessly incorporates jazz, blues, and gospel into a classical framework. Pulling out all the stops for this one-performance-only concert, Burrs and the University of Maryland brought together an impressive group of performers that included virtuoso singers and musicians. A continuous slide show of David C. Driskell's art, which added African symbols and images to this stream of consciousness tale about slaves who die at the hands of their plantation masters and then, as spirits, search for each other, added another level of engagement to the emotional landscape ofVanqui.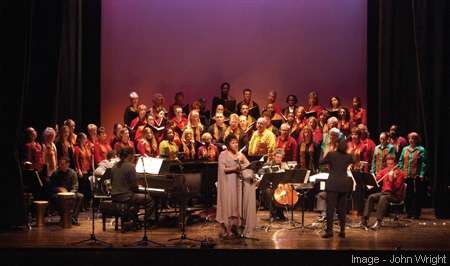 Having had the opportunity to experience writer Toni Morrison and composer Richard Danielpour's opera about the runaway slave Margaret Garner (q.v.)
I was particularly struck by contrast with the emotional power and fluidity of Burr's music. Although Vanqui had a fully staged world premiere in October 1999 by Opera Columbus, the commissioning theater group, I understand that the composer is still trying to achieve the best presentation of this work.
Typically university theaters present experimental and new works in limited run engagements and tend to serve as proving grounds that feed not only the imaginations of their students but also the vision of potential professional theater developers. I am following such new works as composer Ned Rorem (q.v.) and poet J.D. McClatchy's (q.v.) opera Our Town and I think that university theaters in co-commission arrangements are a good way to support the development of new operas before exposing the work to a general public audience.