During March, "Tongues On Fire" presented its 8th international film festival, which opened with a Gala, Launch and Screening on March 10 at the British Academy of Film and Television Arts (BAFTA).
The annual festival is dedicated to expressing the drive and spirit of Asian women by celebrating their excellence, performance, and achievements in cinema, and provides a unique international platform for Asian women working in film and media throughout the world.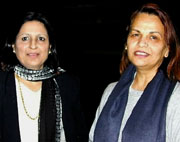 "Tongues On Fire" was founded in 1999 by its directors, Pushpinder Chowdhry and Harvinder Nath to use film as a vehicle for debate and exchange of ideas. "Our objectives for this Festival are to encourage debate and the exchange of views and ideas to set Tongues on Fire throughout the Asian community and beyond."

This year's event, subtitled "Experiences beyond Bollywood", opened with Aparna Sen's acclaimed film, 15 Park Avenue (featuring Shabana Azmi, Rahul Bose and Konkona Sen Sharma), a tale of two sisters set in present day Calcutta. Anjali (Azmi) is a successful professor with a powerful personality, who lives with her sister, Meethi (Konkona Sen Sharma) and widowed mother (Rahman). It is a normal household except that Meethi is gradually becoming a schizophrenic, and the reasons gradually unravel as the film unfolds.
Meethi used to work as a journalist and had a boyfriend, Jo-Jo (Bose) to whom she was engaged. One day she is raped while on an assignment and this affects her psychologically. What is moving and engaging about this film is how Sen explores the interaction between the three women of different generations living under the same roof. While Meethi lives in a fantasy world with her family, Anjali has put her personal life on 'hold' as she nurses her younger sister and acts as the breadwinner whilst the mother is emotionally torn between the needs of both her daughters.

Highlights of the festival have included the British premiere of Shonali Bose's, acclaimed and award-winning debut film, Amu, the story of 21-year old Kaju, who has grown up in America and goes to India to discover where she was born. Here she meets Kabir, a college student who pokes gentle fun of her desire to connect with the 'real India'. Undeterred Kaju visits the slums and roadside cafes where she is overcome by feelings of déjà-vu. Kabir gets drawn into a mystery as Kaju stumbles against secrets from her past and discovers that a horrifying genocide, where thousands of Sikhs were massacred holds the key to her own origins.

This film was co-presented with the Human Rights Watch International Film Festival (HRWIFF).

Pink Ludoos by Gaurav Sethis a delightful comedy about the prejudices against girl children and features British actor, Shaheen Khan, as the traditionally minded mother on a collision course with her strong-willed daughter who gets pregnant out of wedlock─with triplet girls.

The title refers to a type of sweet (ludoos) usually distributed around after the birth of a son, and the word, 'pink', implies that something a little different stirs. Featuring a cast of colorful characters including Gugan's father, who has a bit of a drink problem, her pot-smoking boyfriend and the mysterious handsome British newcomer, this film that takes a humorous look at life and love in Victoria's Little India.

Kalyani by Anjali Menon is the tale of Kalyani Menon whose world changes when her husband passes away suddenly and her world is bereft of music and color. The film portrays how she learns to live through an unlikely friendship with Baiju, a young beggar boy.

Mann by Puthiyavan R is set in northern Sri Lanka. A man returns to the village where he grew up after 18 years.




On the journey he remembers his carefree life and coming-of-age pranks and sexual awakenings. However, he soon gets involved in a complicated situation where love, lust, obsession, and betrayal ultimately lead to tragedy.

The Rising by Ketan Mehta is an epic tale of friendship, love, loss, and betrayal set against the backdrop of the first Indian Mutiny of 1857. It tells the story of Mangal Pandey (Khan) a native sepoy and his friendship with his British commanding officer, William Gordon (Stephens), which is challenged by the introduction of a controversial new gun cartridge among the troops. The relationship is further complicated when Gordon saves a beautiful young Hindu girl, Jwala (Patel) from the funeral pyre and falls in love with her. This tale is based in real historical events, which were seen as a trigger for Indian independence and the film created controversy in the UK when it was released last year for 'misrepresenting' British- Indian history.

Alongside film screenings the festival hosted a series of stimulating debates and events. A master class, "Exploring Production Values in Bollywood Cinema," followed the screening of The Rising. Lovleen Bains, an experienced Costume Designer who has worked in contemporary and historical Bollywood cinema as well as crossover films for the last 20 years, ran the master class. Her credits include: Rang De Basanti; The Rising; Sarfarosh, Heat and Dust and Kama Sutra. She won the National Award for 'Best Costume Design' in 1994 for the film, In Custody, a Merchant Ivory Production and was nominated for the Genie Award for Excellence in Costume Design by the Canadian Academy of films for her work in Such a Long Journey by Sturla Gunnarson, 1999.

Produced by New Delhi Television Ltd, and directed by Natasha Badhwar and Radhika Bordia, A Decent Samosa, Ya! travels from London to Birmingham filming live performances in clubs, radio stations, Indian neighborhoods, rehearsals in studios, attempting to shed a light on England's pulsating experiments with multiculturalism. Featuring, Hard Kaur's experiments with Rap, Mohinder Bhamra, pioneer of bhangra, Johnny Kalsi of the Dhol Foundation, path –breaking, DJ Ritu with her Bollywood inspired remixes, musician, Kuljit Bhamra, Raj & Pablo, Asian Dub Foundation's music activism. Through these personalized histories of new, upcoming and established Asian artists, the film is an intimate, candid document of a people, seeking to define their identity, looking to liberate and nourish themselves with the creative rhythms of their own unique music that asserts their identity as well as crosses boundaries.

The screening was followed by a Panel Discussion featuring Kuljit Bhamra, Mohinder Bhamra, Hard Kaur and DJ Ritu talking about Asian women making it in the tough world of the music scene in the UK.