The opening of the new season brings opportunities to satisfy curiosity about the subtle, and not-so-subtle, changes in a dance company since their last performance season. In a company as large and diverse as the San Francisco Ballet, the possibilities are vast. New dancers have been hired, others have left, dancers have been promoted, others who perhaps deserved to be promoted have not been, and casting choices reveal who is currently being favored and who is being overlooked. There are interesting revelations about the changes in individual dancers' appearance, as well as growing or diminishing mastery of the craft. Also of intense interest is the composition of the season itself including newly commissioned works, inclusion of old favorites, pet projects, and other curatorial decisions. As Artistic Director, Helgi Tomasson is ultimately responsible for these decisions.
Mr. Tomasson danced at New York City Ballet under George Balanchine and Mr. Tomason's legacy at San Francisco Ballet will be his insistent inclusion of the master's work in every season. When Tomasson arrived in San Francisco over 20 years ago, the company was a spirited but rather undisciplined bunch compared with the company of 2007. Under the leadership of Michael Smuin, the former Artistic Director, the company emphasized theatricality and accessibility much as the Smuin Ballet of San Francisco does today. Tomasson's vision was developed during his years as one of the intensely driven perfectionists at New York City Ballet and his taste in both dancers and choreographers reflects his strong commitment to that aesthetic.
It is therefore fitting that the regular season began with George Balanchine's Divertimento No. 15, choreographed to music of Mozart by the same name. Divertimento is a neoclassical exercise in simple arithmetic. The symmetrically designed casting of eight principals and eight members of the corps de ballet lends itself to various asymmetrical groupings. The eight corps members break into groupings of three plus three plus two as principals add themselves in one by one. The choreography is simple unadorned Balanchine-- no gimmicks, no whimsical jesters, no pleasing asides. It is pure and transparent.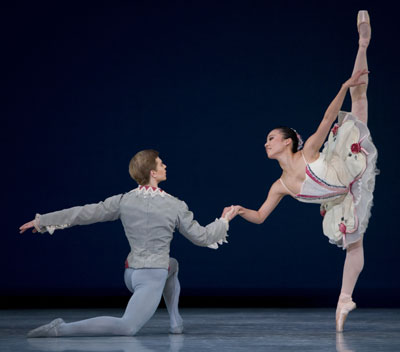 Frances Chung and Gennadi Nedvigin in Balanchine's Divertimento No.15 © Erik Tomasson
Originally created for the long and lithe beauties in 1956 during Balanchine's golden years at the New York City Ballet, Divertimento is a formidable challenge for the San Francisco Ballet dancers. In spite of Mr. Tomasson's focus on building a company capable of performing Balanchine's repertoire, the dancers performing Divertimento did so with a varying degree of readiness. Most of the dancers were working as hard as they could to execute their parts and at times the effort showed. This was especially true for Rachel Viselli who seems to be among those who are currently being given roles beyond their ability with the apparent hope that they will rise to the challenge. She is small and quick but does not have the commanding presence especially necessary for work of such difficulty. (Nonetheless, as of March 27, she has been promoted to principal dancer.)

Tina LeBlanc alone maintained, for the most part, communication with the audience as she tossed off rapid-fire beats and tiny piqué variations. Ruben Martin, newly promoted to the status of principal dancer, performed with graceful muscularity and musicality but was overshadowed by the stunning technical abilities of Davit Karapetyan. (Renate Stendhal has written in this publication about Mr. Karapetyan's partnership with Lorena Feijoo in last year's production of Swan Lake. I am happy to report that he is beginning to show some of the warmth that was missing last year.) Frances Chung is another rising star in the company. In spite of a body that is rounder in places than most of the others, she displays a comfort in her own body that is refreshing and fun to watch. She's quick yet grounded, very flexible yet strong enough to handle the challenge of waving alternating legs in the air as is required in this piece and in most of Balanchine's ballets.
This is a tutu ballet as opposed to a leotard ballet. The women wear white tutus trimmed in red bows with ghastly, unflattering pink panties lined with horizontal rows of lace under their tutus. I could imagine the dancers rolling their eyes when they were handed those. The white emphasizes the sharp edges to the movement, the pink panties emphasize the roundness of even the smallest buttocks. Not flattering, not cute, not necessary.
Tomasson may be in the process of creating a company that can acquit itself dancing Balanchine but most of the dancers need more work, especially in their interpretation of the music. Mozart deserves more than the superficial treatment received at this performance. Striking pose after pose is not great dancing.

Rory Hohenstein, Garrett Anderson and James Sofranko in Garnier's Aunis ©Erik Tomasson
Aunis, choreographed by Jacques Garnier, was a welcomed antidote to the breathless pace and sharp-edged angularity of Divertimento. A fun, frisky piece for three men, it was danced with infectious charm by James Sofranko of the corps de ballet and two newly promoted soloists, Garrett Anderson and Rory Hohenstein. All three dressed simply in black trousers and suspenders with an oversized white shirt, they danced with loose limbs the way we might imagine dancing if we were a little drunk and very happy. Part of their charm was the way they made it all look so easy.
Set to a plaintive score for accordion commissioned from French composer Maurice Pacher, the piece was inspired by the simple ideas of laughing at both life and love. The three dancers are grounded and relaxed and they seem connected by a profound bond that enables them to seamlessly trade off the leadership of their playful, teasing blend of folk movements, the weight of modern dance, and the precision of ballet. They moved around the stage as a unit in a triangular formation and made use of the floor as well as the air. This piece is a real crowd pleaser perhaps because, rare in ballet, it inspires the audience to think: hey, I could do that!
The third piece performed in the first program was William Forsythe's Artifact Suite. See Renate Stendhal's review of it in this issue.

Lorena Feijoo in Tomasson's Blue Rose ©Erik Tomasson
The second program of mixed repertoire opened with Helgi Tomasson's work for three couples entitled Blue Rose. He wrote in the program notes that when he heard the music he could not resist choreographing to it. This is the challenge of being the Artistic Director of a ballet company. It's all too easy to hire yourself when it might be better to hire someone else. The music guilty of inspiring this work is what the composer Elena Kats-Chernin categorizes as 'Russian ragtime' and it was performed on stage on piano and violin.
The great Cuban dancer Lorena Feijoo brought complexity and narrative interest to this otherwise bland and not particularly well-rehearsed work. Lorena's partner, the usually reliable Pierre- François Vilanoba, almost dropped her downstage center. If the piece is not soon retired from the repertoire, it should at least be re-costumed and properly rehearsed before bringing it in front of an audience again. These fine dancers are capable of so much. They deserve better.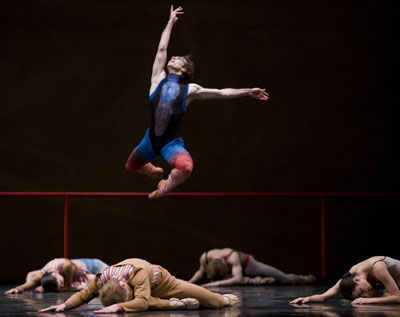 San Francisco Ballet in Bintley's The Dance House ©Erik Tomasson
The Dance House by David Bintley is an up-tempo, panic-driven piece that captures the feelings in a dance studio as the AIDS epidemic begins haunting the dancers. Bintley was inspired in part by Tony Kushner's "Angels in America" and Bintley's own experience of losing the first of many friends to AIDS.
The work, set on a large ensemble, is theatrical, solemn, and visually arresting. A solid red ballet barre stretches across the upstage and the dancers return to it over and over again throughout the piece, just as they do in real life. It comes to symbolize a grounding, comforting place in the midst of an increasingly terrifying world where friends and lovers become mysteriously ill and die.
A central duet danced by Katita Waldo and Pierre-François Vilanoba was weighted with sorrow. Katita, who is celebrating her twentieth year with San Francisco Ballet, seemed more comfortable and relaxed than she has in recent years. She may have even put on some badly needed weight. Her performance was tender and soft as she and Vilanoba held each other and shifted their body weight from one to the other.
Michael McGraw performed the beautiful and moody piano solos in Dmitry Shostakovich's Concerto for Piano, Trumpet, and Strings. Bintley chose the music and choreographed the piece while spending a freezing cold summer in the San Francisco fog. The music is an interesting collage of Shostakovich's many and varied influences. Its complexity and color portray the shifting moods of the piece as the dancers grapple with the grieving process.

Pascal Molat in Possokhov's Firebird ©Erik Tomasson
Last year when YurI Possokhov announced he would retire at the end of the season, the hard-core ballet fans were mixed in their response. I was with the camp that felt his absence from the stage would be a great loss. Others felt relief that they would no longer have to watch Possokhov lug all of those extra pounds around the stage. It is true that he was no longer a chiseled young man but his great skill as a partner only seemed to improve with age. Fortunately for the company, and for the audience, Helgi Tomasson has retained Possokhov on the artistic staff and named him choreographer in residence.
Possokhov has already choreographed several successful works for San Francisco Ballet. He seems at ease in everything from the abstract to the classical narrative ballet. Born in the Ukraine, he grew up in the great dance studios of the former Soviet Union and became a principal dancer with the Bolshoi before coming to San Francisco.
Possokhov chose Firebird as his first contribution to the repertoire in his new post-retirement role. Since its first appearance on the ballet stage in 1910 as part of Diagalev's Ballet Russe repertoire, Firebird has inspired numerous choreographers. It's a goofy, predictable story about a prince, a demon, a bird and a magic feather. The challenge of getting dancers to appear to take flight is evidently irresistible.
When the young composer Igor Stravinsky wrote the original score for Firebird in 1910, he had never written for the ballet. The great Russian choreographer Mikhail Fokine (later Michel) commissioned the work from him after first seeking a score from Anatol Liadov which Liadov failed to produce. Stravinsky reorganized and essentially recreated the work in 1945 at the request of his by-then longtime collaborator George Balanchine. Possokhov set his choreography to this newer version.
Among his many gifts as a choreographer, Possokhov knows how to move lots of dancers around the stage while always maintaining interesting dynamics. He used a large ensemble in the roles of monsters and villagers. The monsters were led by the demon Katschei, played to the hilt by Pascal Molat. His naughty, powerful yet playful portrayal was over-the-top to the point of being cartoonish. The audience broke into spasms of laughter as Molat led his gang of fellow creeps in a slow-motion chase of the retreating Prince. Possokhov's artistic sensibility is so vast, and his sense of timing so acute, that he easily moves from drama to humor to high camp and back again.
Seeing Yuan Yuan Tan in full bird drag including an orange wig, resplendent tail feathers, and matching eye makeup alone was worth the price of admission. She seemed to enjoy herself enormously in this other-worldly role. Shuddering in place en pointe and fluttering her wings, she appeared to wink conspiratorially at the audience. Tan is tall, thin and small-boned. She consumes space on the stage while appearing fragile and well, bird-like.
Arlene Croce once wrote that the legendary New York City ballerina, and Balanchine muse, Suzanne Farrell danced with such abandon that she verged on being vulgar. Tan is similarly built with a long neck and endless limbs. She is perhaps even more flexible than Farrell famously was. I always thought Croce's remark said more about the writer than the dancer. Watching Tan take flight and extend her limbs in such extravagant and unnatural poses, I could almost understand what Croce meant. She embodies the role to the extreme and given her gifts for drama and dance, her definition of extreme defies the usual limits of ballet. Now in her tenth year as a principal dancer with San Francisco Ballet, she is a big, big star who sends the audience into pure rapture.
Cover Image: Yuan Yuan Tan
in Possokhov's Firebird © Erik Tomasson