In the Maetang district of Chiang Mai, in the Elephant Nature Park, there is a wondeful volunteer project called "Bring the Elephant Home Foundation" which was founded by Antoinette van de Water to help and preserve Thai elephants. The project was created to construct permanent habitats for this species of the SE Asian Elephant which is disappearing at an alarming rate. In 2009, the ElephantNaturePark bought additional land to grow vegetables and fruits as food for the elephants and to build houses for guests who visit the site. The project leader is a Dutch woman with a mission that is difficult, often exhausting and continuously expensive. Recently, I had the opportunity to interview Antoinette van de Water on one of her "not quite so busy" days.
What inspired you to start Bring the Elephant Home?
"The idea of Bring the Elephant Home arose when I was doing volunteer work in the Elephant Nature Park in 2002. This is a sanctuary for retired elephants protected from a life of begging, performaning and other degrading, unhealthy activities. I fell in love with a just-rescued baby elephant, Ging Mai, that had lost his mother. The founder of the Elephant Nature Park, Sangduen 'Lek' Chailert, gave Ging Mai all the love and nurturing he needed to survive, like a surrogate mother. On a journey to Bangkok, I encountered another baby elephant in much need; begging for food on Khao San Road. The baby had such a look of terror in his eyes that I will never forget it! It broke my heart but I wasn't able to bring this begging baby elephant home to the Park. These encounters with the baby elephants and the experience at The Elephant Nature Park; left such an impression on me that I came back two years later to volunteer once again, this time I wanted to do much more. At first I was a bit shy and apprehensive, but I approached the people at the Park to discuss my dream and goal— what if I could save two street begging elephants and tour throughout Thailand with the organization to educate people about the plight of elephants? I received a lot of practical advice, concerns, support and a budget! With lots of ideas, inspiration and determination to make this happen, I returned home to the Netherlands to make this dream of mine come true. After I returned home, I registered The Bring the Elephant Home Foundation and set the wheels in motion for the fundraising activities.
How did you find the elephants you wanted to rescue?
In November 2005 I found Dok Ngeon (8 years old) at an elephant festival in Surin. Dok Ngeon looked so stressed: screaming, shaking and rocking her head. Dok Ngeon was in training to learn new tricks, like playing a mouth harmonica. It is clear to see how animal unfriendly this training was—there were a lot of scars and fresh wounds which showed this. Then and there I knew: I needed to help Dok Ngeon.
Sri Nuan (47 years old) was also a begging elephant. Her mahout (handler) told me that Sri Nuan broke her chain one night and ran away. On a rice field someone shot her with a slingshot and hit her in the eye. Her baby Nhung Nhing was sold to a show when she was only 8 months old. Traumatized by the loss of the baby, blinded on one side, she is still begging on the streets. I thought Sri Nuan would be happy to take care of Dok Ngeon a bit and Dok Ngeon could really need an aunty. Luckily we could buy both elephants.
Sri Nuan, Dok Ngeon and the elephant rescue team started a demonstration tour from Bangkok to the Elephant Nature Park in Mae Tang, 60 km north of Chiang Mai. During this tour they organized elephant lessons at schools, elephant art competitions, and brainstormed with local governments about street elephants.
What keeps you going, with still so many elephants in need?
Today Sri Nuan and Dok Ngeon are enjoying a happy life at the Elephant Nature Park, where they can spend the rest of their lives as free elephants. After arrival, Dok Ngeon was scared of all the elephants and people. But Sri Nuan protected Dok Ngeon, made sure she felt safe and made sure she was part of the newly formed family. For Dok Ngeon, it took almost half a year before she could really enjoy being a juvenile elephant. The first time I saw her playing in the mud bath with other baby elephants, my heart was smiling. One job done! Since Dok Ngeon is living in the ElephantNaturePark her behaviour changed many times: First she started to act like a baby elephant, she just couldn't get enough of rolling in the mud with the other babies. You could tell she was very proud to act like a bigger protective sister. All the time she tried to spend as much time as she could with the mother elephants in the Park. Like she wanted to learn everything about how to become a great mother. After a while she started to flirt with the bulls. In the afternoon she would just leave her family to go for a romantic walk with one of our males. A year and a half year ago her dream came true; she gave birth to her own boy: Chang Yim. Dok Ngeon is in the center of a big elephant family and surely enjoying every moment of it! To witness the happiness of Dok Ngeon, and the natural elephant life she is living now, gives me so much strength to continue our work to help more elephants. Chang Yim will grow up in freedom surrounded by his family and will never have to carry tourists on his back. For me, all elephants deserve a life like this.
How did you manage to get so many people involved in your mission and get the funding?
First of all we received lots of media coverage with the tour, both national and international media, including the Roscar Award winning documentary about the project called ´Return to the Wild´, broadcast worldwide by Animal Planet, including Thailand. And the book called The Great Elephant Escape, was published in Thailand in March 2009 by Silkworm Publishers.
People became aware of the plight of street elephants, and as a result more people visit animal friendly parks such as the Elephant Nature Park. But we still have a lot of work to do!
After this project, we had to start a new fundraising campaigns to keep supporting the elephants. For Dok Ngeon and Sri Nuan we launched an adoption program. To extend their habitat and to feed them, we bought a banana plantation and a piece of land attached to the Elephant Nature Park. I tried to convince Dutch tour companies to include the ElephantNaturePark in their programs instead of just a ride on the back of an elephant. Now most of the tour companies in the Netherlands only offer elephant-friendly tourism.
The more I learned about elephants, the more I became aware that deforestation is the cause of many problems elephants are facing. To help elephants in Thailand, we needed to do something about that. Over the last two years, we planted over 200.000 trees for elephants in five areas where elephants are in need of room and food.
Trees draw insects, birds, and wildlife. Elephants spread the seeds, and this naturally brings in more species of trees. In this way, the environment for the wild elephants is improving step by step. Thousands of volunteers help us every year to plant and take care of the trees. And through these events we raised extra money for "Trees for Elephants" too. The Trees for Elephants project won The World of Difference award of Vodafone and the Terre des Femmes award of Yves Rocher in the Netherlands.
What is your main focus of work at the moment?
In 2010, I started to focus on a new project: to create an elephant jungle in Chiang Mai. With the support of Bring the Elephant Home, the ElephantNaturePark was able to buy a piece of new land in 2008. The property is about 150 acres, surrounded by protected forests, and with some streams running through it. The land was mainly used for cabbage plantations, so most of the forest is gone. In the coming years we have to plant many more trees that will attract birds and other wild animals. This way the natural seed distributors will automatically visit our land from the neighboring forests, and plant more tree species for us.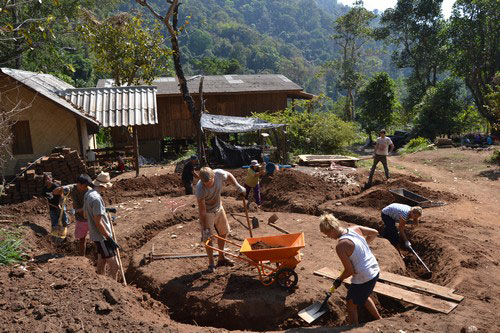 Slowly, the area is turning into a true elephant paradise. My dream is that soon some elephants can retire from hard work and live in this jungle in freedom, without much interaction with people. Besides respect for all animals, the project also respects the environment and the local community. We are establishing a way of life that is self-sufficient, sustainable and in harmony with the environment.
A personal dream is also coming true with this project: to live in nature, to grow our own food, to build my own house, create our own energy, be independent of society, live healthy and peacefully.
What is your vision regarding the future of Thai elephants?
I cannot imagine a future without elephants living in Thailand. And yet, elephants are disappearing. In my opinion, all elephants should be living in the wild. If this is not possible, they should be able to live in an environment as natural as possible, where they can live as normal as possible. Therefore, we focus on projects that can make this possible: elephant parks and reserves. I am aware that using elephants to make money is necessary for the survival of elephants. Bring the Elephant Home supports projects that work with elephants in a natural way, without hampering or going against the animal's natural behavior. Therefore, we plead for and support animal friendly, natural, and sustainable elephant projects. We want to help owners and mahouts find a different way to earn a living with their elephants. Where the elephants have a chance to roam, they find their own food, live together with other elephants and breed in a natural way.
With Bring the Elephant Home I focus on showing the beauty of Thai elephants and try to create positive change and work together with local people. We promote Thailand as a tourist destination and bring many visitors to share our passion for Thai elephants with us and the local people. It is my strong belief together we can successfully make a difference for Thai elephants!