NB: Toronto has been designated as the most multicultural city in the world by UNESCO, so what better place to bring together dancing cultures? The city is home to a myriad of nationalities, and the dance and theatre world is in constant flux with adventuresome cross-cultural exchanges, both national and intertribal efforts, home grown, as well as "host to" events. The Living Ritual performances at York University in Toronto, rooted in ceremony from a variety of traditional First Nation (Canada), Native American (U.S.), Mexican (Central America), and Colombian (South America) tribal sources, had a distinctly adventuresome and contemporary flair. A blending of traditional and contemporary dance that promoted a fresh combination of imaginative solo and ensemble dance expression, often leaping out into the unexpected with good faith.
Aboriginal and indigenous people's ceremonies are sacred testimonies to the blending of mind, body and spirit. Linked to the natural world, they are not staged for the entertainment of the public. Living Ritual dance events were not sacred ceremonies, but a reference to the underlying spiritual base of indigenous dance. A tell tale creative strategy that went from the story to the abstracted with equal aplomb.
DAYSTAR: George Taylor and the Le-La-La Dancers (Kwakwaka'wakw Nation of
northern Vancouver Island, B.C.) presented "Spirit of the Masks". We were privileged to witness five-ten thousand year old dancing in the masks of the Northwest Coast, banned by government disapproval, but revived by this company. Bear and Raven dance appeared as solo dances, and the duets The Chief's Dance and the Masks of Transformation gave a fitting opening to the Living Ritual Festival.
NB: Andrew Garcia teaches the Tewa Dances of the North (San Juan Pueblo tradition in New Mexico). As he expressed it, his people's "aesthetics" start with a prayer. Mr. Garcia teaches traditional pueblo dances to young people as a healing and evolutionary means to help them develop into a whole person in tune with natural sources. He has also taught pueblo dances to non-native peoples at the University of New Mexico. This friendly and negotiable exchange works in both directions with mutual respect. Mr. Garcia, with his three children – one son, two daughters - demonstrated the Eagle and Buffalo dances, helping to ground the Living Ritual dance festival, so that exploratory dance forms could emerge.
"Yetina "is a community based work in progress, based on ancestral memory, oral tradition, magic-religious chants, facial painting, vegetal fibres and tints, cotton knits from diverse aborirginal cultures, etc. This work-in-progress highlights the origin of water, the importance of keeping it clear, and the destruction of the natural elements of aboriginal home lands with chemical agents. For Floresmiro Rodriquez Mazabel of Colombia, art is everything in life. There is no separation between the two.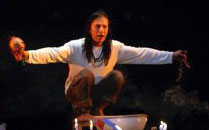 Dance is the meaning of his life, tobacco is the vehicle for the spiritual offering of smoke, and the coca plant is his medicinal (used for endurance in high altitudes). Sacred plants are the "strength of life and nature". "Our strength is both spiritual and material," he said, "my home is where the Eagles come to rest before flying south". Opening with lush environmental slide projections, three young women used aboriginal dance patterns to express water, clouds, turtles, rivers, and plants. The threatening grumble of a helicopter spraying chemicals throws the clear light of the natural into darkness, disease and deprivation. Aboriginal peoples are developing skin rashes and intestinal diseases as a result of the indiscriminate spraying. When will the U.S., Colombian, and commercial interests respect cultural differences and the ways of the aboriginal world? Aboriginal peoples harm no one. The harm is done by criminal drug dealers, government agents, and commerical interests warring indiscriminately against the natural world. What price sanity?
Norma Araiza's "Dear Deer" (Querido Venado) is inspired by a Yaqui dance performed by men in Sonora, Northern Mexico.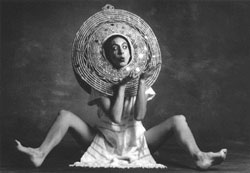 Ms Araiza, wearing a deer head with antlers, along with her partner, Sasha Zarif, playing an ocarina, produced a haunting step by step walk into a mutually shared destiny between the hunter and the hunted, with disturbing psychological and mysterious resonance. "Meek" (Moon) is a Nahuatl (Aztec) legend revealing the power and attraction of the moon. Even in the context of a sterile lobby, where the performance took place, Norma Araiza used her eyes, face, hands and legs - clamped around the back of her neck like a necklace – to personalize the attraction of the moon; a symbol of female fecundity and mystery. The impact was arresting even without theatrical lighting. A sun kissed accomplishment if there ever was one.
Living Ritual's cross-cultural conference and dance performances originated with choreographer,Santee Smith (Mohawk, Turtle Clan from Six Nations, Ontario) of the Kaha:wi ('she carries') dance theatre. Ms Smith delivers spiritually infused and sharply crafted references to tribal sources. Fresh, lyrical and often moving experiences, as well as hard time plates of action, test the stamina of the dancers. The choreographer's melding of tradition and contemporary expression is on going, whether it is Iroquois or Maori. Her collaborative work-in-progress "A Constellation Of Bones", is a dance project influenced by her visit with the Maori people in New Zealand. "Constellation of Bones" has both galactic and human references. Ms Smith uses her face like a quickly shifting, eye popping Maori mask. With dance partners Emily Law, Brian Solomon and Steve Paquet, they created high energy, unguarded flights of fancy – arms, legs and torso in mutually shared and timed akimbo. The work always expressed respect for the referenced tribal sources, and unfolded without any fear of flying.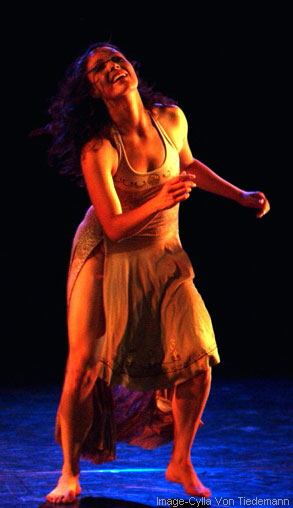 DAYSTAR: Santee Smith's "Here On Earth" is based on the Iroquoian belief that sky beings came to earth and dreamed the earth beings into existence. But this is no Garden of Eden. The life forces struggle mightily to create male and female, until they breathe the breath of life. Four dancers stacked on webbed towers, positioned in clusters up stage, could be trees, stalks, emptied husks, the skeletal remains of buildings, the uprooted calligraphy of ages past, or even combustible volcanoes. Dancers twisted, sat, hung from, clamored about, dug into, swung through, or spread eagled out from the structure, with earthy evolutionary gambles for survival, and the tenuous connections from the sky world to the natural world to the human world. To this viewer, the work seemed overlong for the existing thematic material, and it is only the first act of two. The chorographer may want to rethink the impact on the audience of Act I without Act II.
Rulan Tangen has become a dance traveler, drawing inspiration as she learns, from myriad cultures in North America. Her latest foray has been into Mexico where she has gathered stories from the common people, elders, and the natural landscape.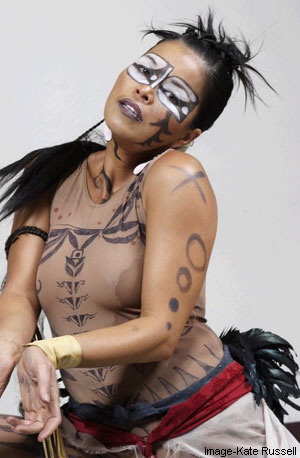 Her solo dance offering of the evening, "The Naming" speaks to the co-creators sky and earth – rain and soil – coming together to literally name the plants and animals that will spring into existence. Simultaneously, the dance memorializes those species that have succumbed to extinction as a result of the foolishness of humankind. Stage center, crouched, looking like a piece of sky/earth, the dancer reached into the earth, activating the inanimate. Life begins – we begin. A remarkable, primordial reality was evoked by a trained modern dancer which bore a striking similarity to Mazabel's "Yetina", reminding us that the human family and its perceptions eventually create a universality that is unmistakable.
The title of this year's World Dance Alliance Americas (a part of the World Dance Global Assembly) was: "Dance/Diversity/Dialogue – Bridging Communities and Cultures". An apt phrase for this 6th annual meeting in the Americas, shared by three assemblies meeting worldwide, the other two being Asia Pacific and Europe. Hiromoto Ida was born in Tokyo and later moved to Vancouver, B.C. where he worked with many companies as a dancer. This spring, he established his own company Ichigo-Ichieh. In this excerpt, Ida tells us that "Sentaku" in Japanese means: 1. Laundry 2. Choice 3. Recreate ones self. In the darkness, a small-seated figure slowly emerges, back to us, barely visible in the growing light. The figure turns, with excruciating slowness. Inch by inch, the seated figure becomes a squatted figure. We see the face in anguish. Spiraling on itself, an impossibly twisted body unfolds slowly into the vertical. Finally, the body unwraps itself to be able to walk, and walk he does, away from us, into the unknown space. We are stunned. If this dance is a taste of his company work, it must be stellar.
"Dong Feng" literally means eastern aesthetics or sensibility. Choreographer Yang Ming-Lung has created here, over a period of years, a trilogy that explores the relationship between past, present and future. In this excerpt, which played in five scenes, we are moved from a deconstructed, sung Chinese opera to two couples manipulating each other, puppet-like, to dancers on one-wheeled roller skates, white sleeves flying. In the action of the manipulator and the manipulated, and in the action of freewheeling dancers, we cannot help but reflect on the current political climate between China and Taiwan. As a representation of contemporary dance in Taiwan, this production from the Dance Forum Taipei (established 1989) represents the broad democratic and creative work that has been exploding in that country. We'd like to see more!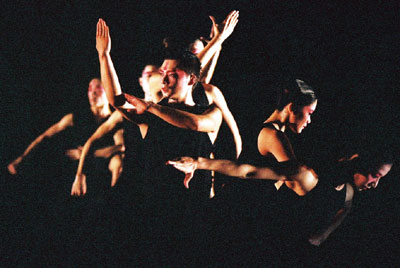 NB: Although formal alignment is a tradition in Korean dance, the Mi Young Kim Dance Company of Canada plays off the graceful and elegant alignment with fluidity and contemporary wit. Hwant Jin-Eei is a beautiful dance style named after a keesang (geisha) poet, singer and artist of the Chosan dynasty in Korea. The contemporary version exhibited the formal eloquence, with witty asides of arrangements, amounting to a wink within the supple alignments and twirling correct postures. Free flowing foot movements were occasionally glimpsed and then departed. With a continually shifting butterfly of fans, colorful dresses, and twirling umbrellas, the dancing also revealed a sense of humor that understated, if not undercut, stereotypical responses.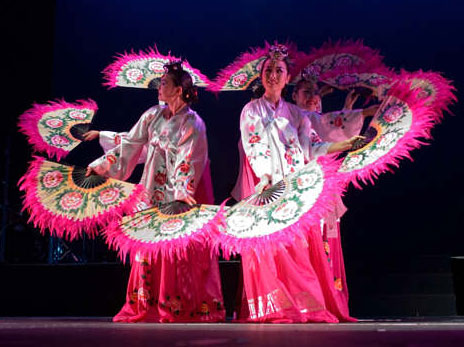 Conny Janssen Danst (Netherlands) represented the European contingent with exceptional finesse. Partnering in "Lost" (A Duet) and "Trio", both works choreographed by Conny Janssen, the dancing was seamless and exquisite, abstract with subtly suggestive emotional dancing. In "Lost" Kevin Pollack's work was like liquid gold, malleable from one body pattern to the next. Equally aligned in this quietly linked partnership, dancer Yanaika Holle molded herself to him with dexterity. In "Trio" dancers Martin Tijn Cappers and Amina Husberg were added. Ms Husberg was passed, carried and thrown between the men in a representation of the struggle to survive in the City. This company definitely sets standards, world class without a doubt.
DAYSTAR: WDA also presented "midday" performances, more informal in nature, in the York University Recital Hall. First up was the Gael Force Dancers. Oh, yes, clog dancing. But what clog dancing! Ten mature ladies in black pants, shorts, and tap shoes wowed the audience with altogether well rehearsed, well-choreographed "I love to dance" precision, dancing to vaudeville standards and 60's rock as well, proving that we can all dance forever! Spirit Synott is a wheel chair dancer, or perhaps more appropriately, one who dances in, around and off her wheel chair. I have seen other wheel chair "dances" but none so inventive as this. Yes, there are moments of tension as we watch to see if she can "make" that move, but these two choreographies showed that she is both an actress and a dancer, and quite a good choreographer. She gets herself out of the wheel chair, onto the ground, sitting, lying, kneeling, and moving across the stage floor, even standing with support. Two separate male partners used body lifts, but only as it suited the dance-drama taking place. This woman could have a career as a professional dancer. Spirit, you are in inspiration!
On Tuesday night, Santee Smith appeared in her full light as an accomplished modern dancer. She chose to do solo work for her final performance at the World Dance Alliance Global Assembly. Three excerpted solos from the evening length company work "Kaha:wi" were danced without pause: "Four Sisters", "Young Woman's Dance" and "Our Minds Are One". A silhouetted, perfectly aligned pine tree towered at center stage, glowing from a sun-yellow background. Alone on stage, the Kaha:wi artistic director stomped, careened, crouched, rolled, spinned in a running, leaping, joy-filled exposition that had been birthed, full-blown, from the Iroquoian social dance tradition. There was no need to analyze or interpret these dances. In a genre that too often resorts to the psychological stress and struggle of our modern day, this choreographic work revels in the sheer happiness of living, and in our daily prayer of thanksgiving to the Creator: thank you for life!
"Elmer And Coyote" is a true collaborative work by two well-established choreographers, Byron Chief Moon, founder of Coyote Arts Percussive Performance Association (1999), and Karen Jamieson of the Karen Jamieson Dance Company (1983).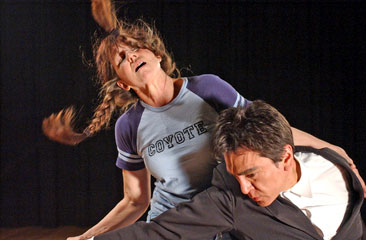 Such a process could be difficult, even impossible, depending on the individuals submitting themselves to the magic of creativity. In this instance, the magic worked. For audiences unfamiliar with the northern plains Blood/Blackfeet culture, this is uncharted territory. As Elmer Chief Moon dances in a dark business suit, complete with white shirt and tie and bare feet, Karen Jamieson is Coyote, wearing blue jeans. Coyote, always the trickster and shape-shifter, reflects the best and the worst in each of us. Elmer learns to dance: circle dance, men's dances, women's dances, and community dances. Do we become Coyote, or do we find ourselves? And what of Coyote? Does Coyote learn from us? We are up there on the stage with Elmer and Coyote, enacting our own ritual of learning and mirroring the other. They finally separate, but we are assured, Elmer and Coyote will meet again.
Gaeton Gringas presented new work on his choreography "My Father Told Me", which premieres in full March 2007. Gringas is able to use gesture in a way that never falls into pantomime. The trio tells us of something being dropped, picked up again, and held to the heart. In speaking with Mr. Gringas, his realization that his father did not sufficiently pass on to him the native heritage and culture led to his heartfelt response in this choreography. The youngest indigenous choreographer to present at the World Dance Alliance was Troy Emery Twigg (Blood tribe, Kainai Nation of Southern Alberta). In "Pulse", with partner Terrill Mcguire, Twigg explored rhythmic elements in nature and man. Now a Master's candidate at York University, we will be watching his future development as a performer and choreographer.
NB: We were unable to stay long enough to see the myriad of dance work demonstrated at the Living Ritual and WDA conferences. Some of the work we missed: Earth in Motion World Indigenous Dance, featuring the influential choreographer/director Alejandro Ronceria; Eryn Dace Trudell Dance Projects; AcademiaNazionaside di Danza & Scenamobile (Italy); Sun Dance Ensemble (Argentina); Debra Brown & Dancers; Ida Meftahi, an Iranian, who uses a Daf, an "ancient frame drum" in her work; Dance Art Hong Kong (China); African Dance Ensemble; Dance Theatre Group Interact (Cyprus); and Conempodanza (Mexico). I did manage to catch Sashar Zarif at the Harbour Front Center. He specializes in
Ritualistic and Traditional Dance and Music of Caucasus, Azerbaijan, Central Asia, Iran and Afghanistan. Highly supportive of other dancers, Sashar used the trials of his history to transform the 39 letters of his accumulated names, and rediscover, with wit and courage, a sense of balance between himself and the worlds he has been through.
DAYSTAR: Two days of the Living Ritual Festival seamlessly segued into the World Dance Alliance Global Assembly (WDA) at York University. It is no small matter that "Indigenous contemporary choreography" appeared on stage in both conferences. This is a truly historical moment. I see this event as the acknowledgment of the work of these artists, which, from this point on, must be accepted as a legitimate "genre" of world concert dance. No longer can anyone say, "What is that?" We now know: it is "Indigenous contemporary dance."