As I'm writing this, the countdown has started. Last press releases are being sent out, the tickets are bought and the accommodations are (hopefully) rented, last rehearsals and preparations are going on while a lot of expectations, hope and fear are in the air.
For five frantic weeks the city of Edinburgh resigns itself to theatrical hijack.
Last year's Fringe presented 1,800 shows in almost 250 venues and this, the 60th anniversary Edinburgh Fringe, promises to become another mind-blowing variety of entertainment and a heady mix of new talent and established names.
And while over a quarter of million people will come nose to nose with all kinds of acts on the Royal Mile and the city is packed with actors and performers, the question that troubles visitors who came to the Fringe is: What to see, where to go?
The Edinburgh Fringe is not one institution, but icomprises a number of venues which run different theatres.
Pleasance Edinburgh opened as part of the 1985 Festival Fringe with two theatres facing onto a deserted courtyard-come-car-park at an unfashionably eastern end of Edinburgh's old town. Twenty-one seasons later the Pleasance has become one of the biggest and most highly respected venues at the Edinburgh Festival Fringe, with an international profile and a network of alumni that reads like a Who's Who of contemporary comedy, drama and entertainment and the Pleasance is proud to have found an early home for (amongst many many others!) Frantic Assembly, Theatre de L'Ange Fou, Red Shift, La Fura Dels Baus, Derevo, Ennio Marchetto, Trestle Theatre Company, The Cambridge Footlights, NYT, NYMT, NSTC, Kneehigh Theatre Company and Peepolykus in our Theatre programme; Graham Norton, Paul Merton, The League of Gentlemen, Steve Coogan, Paul Whitehouse, Jo Brand, Jenny Eclair, Frank Skinner, Bill Bailey, Harry Hill, David Strassman, Bob Down and The Mighty Boosh (to name but a few)
In keeping with Fringe tradition, political, social and satirical themes abound, as the Pleasance embraces its vital role as a catalyst for productions reflecting today's hot topics. Pioneering physical theatre, dance and music also make a strong appearance alongside the now customary star names in comedy that have become synonymous with the Pleasance. Throughout it all, there remains a guiding principle - to extensively showcase new work and innovative young talent, while continuing to support and foster long-term relationships with performers and companies, as they gain their footing in the biggest arts showcase in the world.
Highlights of this year's programme at the Pleasance are:
4 Poofs And A Piano - Strictly Neurotic
Bound & Gagged Comedy
Storming back with their well-known brand of high-energy camp comedy, this brand new show captures the best of the poofs' musical diversity offering a unique insight into their sequin-studded world! Strictly neurotic! Strictly entertaining
Caesar Twins - Trillion Dollar Company GbR & MZA
Extraordinary stars of Royal Variety Performance and La Clique. Sold out 2005!
A thrilling, immaculate dazzling show of physical theatre, acrobatics and them to defy several laws of physics' Scotsman 'The most visually spectacular show you'll see this year' Observer
Steve Hughes - Storm
Bush and Blair say God will judge them. Why wait? Aussie Steve returns to Edinburgh with another hour of satirical comedy. 'His insights are spot-on, opinions are intelligent and his jokes are top class
Chanbara - The Samuri Sword Show Yamato
The sword masters behind Kill Bill join Yamato, the creators of the million selling Drummers of Japan to bring a breathtaking world premiere, combining the unique power of the Taiko drums and the Samurai sword.
Since their 1998 debut in a tiny Edinburgh venue, Yamato have gone on to thrill audiences in over 34 countries across the world. Be among the first to see their brand new show combining nine of the Japan's most pre-eminent master Samuri swordsmen with four drummers in an explosive and thrilling spectacle.
Dreamers - Los Gemelos Lombard GHP Ltd
Martin and Facundo Lombard, the multi-talented Argentinean twins, present a brilliantly synchronised and dynamic tap and hip hop show. Dreamers is the tale of the twins' life so far, it demonstrates their belief that if you don't have a dream you don't have a life! 'Fantastic' El Pais
Get Carter - Red Shift
At last! Red Shift's triumphant Edinburgh return with a vicious contemporary revenge tragedy.
Lucy Porter - The Good Life
Bound & Gagged Comedy
Total Sell Out 2003, 2004 & 2005! The best show yet from this five-star, award-winning comedienne.
Sit - Tricicle
Making world-wide audiences laugh without using words for over 25 years, this internationally acclaimed Spanish company tells the history of the chair as you've never seen it before. 'Brilliant, original and extremely funny'
What I Heard About Iraq
Award-winning play exposes the human drama and hidden agendas behind the Iraq conflict through the words of politicians, soldiers, and civilians involved.
Adapted by Simon Levy from Eliot Weinberger's London Review of Books article.
Directed by Hannah Eidinow
Underbelly was founded by executive directors Ed Bartlam and Charlie Wood in 2000 to operate a venue at the Edinburgh Festival. Since then the company has grown Underbelly was established to operate the Underbelly venue in Edinburgh during the Edinburgh Fringe Festival. Since then the venue has grown to encompass the Baby Belly in the caves on Niddry Street and in 2006, our new temporary structure, UdderBELLY and Reid Hall, both on Bristo Square. In 2006, it will operate four venues incorporating 12 performance spaces ranging in size from 50 to 322 seats, with four bars. In addition to our Edinburgh venues, Underbelly has also established in 2006 a promotions, productions and management subsidiary, named Underbelly Promotions to promote comedy acts, represent artists, and produce and manage theatre and comedy productions and tours.
Some shows at the Underbelly are:
The 55 Second Plan - Eight Missed Calls
Angela wants to smash china dogs. Gretchen wants to get naked, and Ryan just wants to be on time. Join London's newest theatrical export to discover what your 55 seconds will be. Professor Taag explores a new kind of self-help. Better than Oprah, more helpful than Trisha and funnier than an AA meeting, this show is inspired by a motto: 'Live at least 55 seconds every day'.
After all, what's the point of living if you can't feel alive?
Breaking the Pope by Carlton Martin
Borderline Student Theatre Company.
Forgive me Father for I have sinned. This unnerving world premiere from Borderline Theatre Company promises to disturb. Breaking the Pope details the plight of three young women sent to the infamous Magdalene Laundries. Highlighting one of the darkest moments in the history of Catholicism, this dramatic new writing thrusts injustice into the spotlight and tells us everything the Catholic Church wouldn't want us to hear. Ever wondered what happens when God's not looking? Come join us and find out.
Radio - Kandinsky
A new play about spaceships, love, and radio waves from Al Smith, winner of the Sunday Times Playwriting Award 2006.
We don't know Shi'ite - WMD Theatre
This summer five of them decided to abandon the safety of the suburbs and step out onto the street to find out exactly how much they didn't know about Islam. Stomping on eggshells and savouring the taste of the proverbial foot, they recreate the personalities and stories they encountered along the way. It turns out there are far more perspectives in Britain than they could see from behind their twitching net curtains!
The Whale and The Bird
Bad Penny Theatre in Association with Theatre 503
'I'm awake, but I can still feel the salt on my skin' A contemporary fable about the small tragedy of being human. With puppetry and live original music on guitar and violin to accompany this unlikely love story. Written by Greta Clough Directed by Jessica Beck With Andrew Barron, Matthew Blake, Greta Clough, Hamish Gray and Emily Sills. Presented by Bad Penny Theatre in Association with Theatre 503.
Taylor Mac
A flamboyant chameleon of words, music, and socio-political tirades, downtown New York phenomenon Taylor Mac employs gender-bending surrealism to explore the human condition and explode contemporary society's adoration of sameness and homogeny. Oh, and he plays the ukulele.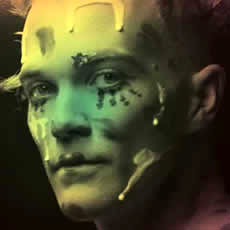 Mac's awards include PS 122's Ethyl Eichelberger Award for artistic excellence, an Edward Albee Foundation Residency, a Peter S. Reed Grant, and Ensemble Studio Theater's New Voices Fellowship in playwriting.
The Gilded Balloon was established in 1986 and is now one of the three largest and well-known venues at the Edinburgh Festival Fringe. The Gilded Balloon has experienced a dramatic evolution from its modest origins of one theatre with seven shows per day, to operating seven venues, with over 70 shows per day featuring performers from across the globe, all encapsulating the very essence of the Fringe.
In its third festival year, and with a dedication to comedy, the Gilded Balloon devised 'So You Think You're Funny? in order to discover new comic talent; it has now developed into the most influential competition of its kind in the UK. The Gilded Balloon's position as a premier venue is based on intriguing, imaginative, adventurous and international programming covering exciting dance and physical theatre, spine chilling plays and challenging drama, children's shows and the cream of stand up, improvisation and character comedy. Karen Koren, Artistic and Managing Director, is the founder and continuing creative force behind the Gilded Balloon. The creation in 1986 of the Gilded Balloon continues to provide a forum for avant-garde stand up comedians and writers at the Edinburgh Festival Fringe.
A pick of the shows at the Gilded Ballon:
Meeting Joe Strummer - Brighton Theatre Events in association with Komedia Entertainment by Paul Hodson:
Nick and Steve's lives are transformed by Joe Strummer and The Clash's potent mix of soulful rock'n'roll, iconic imagery and rebel politics. A passionate, punk comedy, spanning three decades, about attitude, friendship and celebrity - and a celebration of the man who set the agenda for a generation.
between by Amy Mihyang - The Sirs Productions "Dear....mother...?" How do you write a letter to the woman who gave you away 20 years ago?
Amy Mihyang's original solo work utilizes song, poetry, and multiple characters to share her emotional and humorous journey to search for her birth family. Asian American, a New Yorker, and trans-racially adopted, Amy faces issues of identity, individualism, and race to life on stage compelling the audience to re-evaluate and examine how we all understand each other, our families, and most importantly ourselves.
The Infant - Les Enfants Terribles
They've found a picture. Could this spell the destruction of civilized society..? Or is it just the scribblings of a four year old? Are we paranoid? Or are they really out to get us? The award winning Les Enfants Terribles return to the Edinburgh Festival for their fifth consecutive year with the World Premiere of their new show 'The Infant' A black comedy that will change the world.. Possibly.
The Unattended by Daniel Maier - Suspect Package
A new play by writer Daniel Maier (BAFTA winner for 'The Big Impression', 'The Sketch Show'; Golden Rose Winner and BAFTA nominee for 'Harry Hill's TV Burp'). In a Newcastle shopping centre, two security guards are shaken from their routine by a strange new workmate - and a highly suspect bag.
C venues are the home of the biggest theatre and new writing programme at the Edinburgh Festival Fringe. The full programme, encompassing drama, musicals, music, mime, comedy and visual arts, makes them the second largest venue group on the Fringe, with over 120 events taking place in our theatres, foyers and exhibition spaces every day. As a programmed venue group C venues seek out the brightest and best work to showcase at Edinburgh. Press reviews for the 2005 season included 42 five-star and 155 four-star reviews. 99% of their shows gained a printed review, and 100% received press coverage. Past awards for our productions have included Scotsman Fringe First awards, Total Theatre awards, the Richard Pryor award, Spirit of the Fringe awards and the Three Weeks New Writing Showcase. Many shows have transferred to London Fringe and West End venues, and commenced UK and international tours. During the four-week Festival C venues will be open and running up to 20 hours in every 24, and over 1,000 performers from more than 120 individual companies will perform over 150 different works in their theatres.
Highlights of the C venues:
Excerpts from 'My Mother Said I Never Should' by Charlotte Keatley -The Basement Theatre Company. Charlotte Keatley's heart-warming play moves dreamily between the lives of four generations of women, setting the enormous social changes of the twentieth century against the timeless desire to love and be loved.
American Football by William Whitehurst
Act Provocateur International
Love, war, adventure and the discovery that the human skull makes a perfect football! Join Billy as he swaps shopping malls and video games for the Marines, in this edgy contemporary comedy from the writer of Pigeon Man Apocalypse (also at C venues by API).
Twilight Los Angeles 1992 by Anna Deveare Smith - The Red Chair Players .From acclaimed Fringe First winners for 'The Laramie Project', the Red Chair Players: Anna Deveare Smith's docudrama about the Los Angeles Race Riots erupting after the Rodney King trial.
Plays for the Poor 1: Christie in Love by Howard Brenton
Carte Blanche Theatre Company. A disturbing look at serial killer John Christie. Performed as part of a double-bill of short dark plays from Howard Brenton, writer of The Romans in Britain and Paul
The Black Jew Dialogues by Larry Jay Tish & Ron Jones
StageCoach Productions
Who knew that American rednecks, slavery, bar mitzvahs, and chicken livers were so funny? Hilarious multimedia romp of sketches, improv, theatre and video, which reveal the absurdity of prejudice and hate.
Crime and Punishment by Fyodor Dostoevsky
Act Provocateur International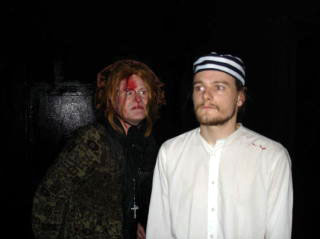 Dostoevsky's masterpiece presents a classic dilemma: is it possible for a young, talented man to kill an old, disgusting pawnbroker and be morally absolved? Acclaimed Russian director Victor Sobchak's production fuses physical and psychological theatre.
Shakespeare for Breakfast
C theatre
Rollick and roll with the Bardic Breakfasters at C. Back for its fifteenth sell-out year, clowns and classical actors carouse though Shakespeare's works with free coffee and croissants! Well worth getting out of bed for.
The Assembly Rooms is an integral part of the Fringe. For the past twenty-four years, Assembly Theatre has transformed the elegant Georgian Assembly Rooms in the heart of Edinburgh into the focus of the Edinburgh Festival Fringe. Over this time Assembly has presented over 1,700 productions including most of the major names in British comedy, as well as a huge array of theatre, dance and music, which have been seen by over 2.5 million people. Assembly also runs Assembly @ St George's West and the Assembly @ Assembly Hall on the Mound. Between these venues they host some 80 productions, which in 2005 played to an audience of over 250,000 people.
Designed by Henderson, the building was opened in George Street on the 11th January 1787 with a glittering ball given by members of the Caledonian Hunt, which included 17 noblemen and 11 baronets. In 1947 when the Edinburgh International Festival was founded the building became the home of the festival club, a meeting place for artists and journalists from around the world; which it remained until its last year in 1980, when after losing money for a few years it was decided to stop.
In 1981 Assembly started running the building as a venue for the Edinburgh Festival Fringe and this year Assembly looks forward to their 26th year. The time they have run the building has been remarkable. It has become a central plank of the Fringe and thousands of performers have appeared.
Shows at the Assembly:
Animal Farm - TTI & Guy Masterson
By George Orwell, Adapted by Guy Masterson
Directed by Tony Boncza - Performed by Gary Shelford
Guy Masterson's internationally acclaimed solo adaptation of Orwell's timeless masterpiece returns for its 5th Festival prior to a World tour. More relevant than ever, this theatrical gem is a tour de force of physical performance storytelling and one of the most electrifying performances you are ever likely to witness.
Devil's Advocate - Mercury Theatre Company/Escalator East to Edinburgh
Panama City, Christmas Eve 1989: amid American shock & awe, the Vatican's Archbishop Laboa traps and breaks the tyrant General Noriega. 2004 Fringe First winners for The Pull of Negative Gravity present another politically charged production. 'First rate' Michael Billington, Guardian
Written by acclaimed American playwright Donald Freed.
By special arrangement with Chase Mishkin and Barry Spikings.
Diary of a Nobody -Rodney Bewes
The Festival's favourite Likely Lad Rodney Bewes recreates once more the lovably eccentric, timeless comic world of Mr. Pooter.
The Family Semianyki - Teatr Licedei
Semianyki, the perfect portrait of a zany family.
Their lives are a ceaseless power struggle between an alcoholic father ever threatening to leave, a pregnant mother ever threatening to deliver and their gang of imaginative loony brats threatening to whack both parents for their faults.
With a sublime happy ending in a world that collapses, the family survives the chaos and life goes on! Poetic eccentricity, raging creativity and scathing humour are the trademarks of these mime clowns from the world-famed St Petersburg Company. Their shows are exploding spectacles, each one more devastatingly hilarious than the other. The smash hit of Avignon 2005.
Jim Henson's Puppet Improv - Adults Only
The Jim Henson Company, Assembly Theatre & Marshall Cordell
The Jim Henson Company's renowned puppeteers demonstrate what happens when traditional comedic improvisation is mixed with the uninhibited anarchy of live puppet performance. Not your average night of improv and definitely not for children.
The Butler Did It!? - Afternoon Delight Theatre Company
Murder! Mystery! Imagine, if you can, both combined!! This comic reworking of the 'whodunnit' genre from QMUC's acting students is the funniest and most satisfying show in the Fringe - ever! You'll never see this one coming
The Free Fringe runs from August 5th to 26th this year, and is part of the Edinburgh Festival Fringe - the worlds Largest Arts Festival...
Shows are hosted in four centrally located venues scattered around the city: The Canon's Gait - on the Royal Mile, Lindsay's - just off of Leith Walk, The Meadow Bar- on Buccleuch Street and The Jekyll & Hyde - on Hanover street in the heart of the New Town. And all of the shows are FREE!
What else can one say? The sheer volume of the Fringe's output can be bewildering. Every branch of arts and entertainment is represented somewhere, as today's stars mix with tomorrow's in the daily line up. Be adventurous and take a risk: it's part of the festival's experience to sit through a complete failure of a show. You'll inevitably try to do too much, stay out too late and spend too much money – but that is the Fringe Mania of Edinburgh! If you haven't experienced that, you haven't really done the Fringe. And be kind to the actors! Every performer has experienced the horror of a first-night audience comprising one lone figure or suffered the humiliation of walk-out by that mean faced critic. So while you wander down the Royal Mile, smile kindly on those poor wee actors who are prepared sit out a month of cut price baked beans and white sliced bread. You may come face to face with tomorrow's star.