The Steiny Road Poet tends to find exotic and puzzling connections and correspondences. Take for example her recent discovery that Ann Hoyt, the first soprano in New York City to debut as Gertrude of Gertrude Stein Invents A Jump Early On, nurtures an intimate relationship with Venus, the goddess of love. This discovery excites the Poet because she adored the performance Ms. Hoyt gave as Gertrude and at the same time knew Ms. Hoyt would never premiere as Gertrude Stein in the opera collaboration between the Poet, William Banfield, and Encompass New Opera Theatre artistic director Nancy Rhodes.
THE POLITICS OF BEING GERTRUDE STEIN
The problem of getting work if you are an operatic singer is something that has slowly seeped into the Poet's consciousness since the first Stein opera workshop took place July 2001 in Chevy Chase, Maryland. At that time, several young and svelte sopranos approached the Poet when they heard about this new opera and boldly offered they wanted the role of Gertrude and that it was meant for them. Casting for a theatrical work is probably one of the few arenas for jobs where an employer is allowed to exercise prejudice concerning gender, race, age, and body characteristics. In casting for Gertrude, Nancy Rhodes has to grapple not only with finding the right kind of soprano voice (by workshop number three, we settled on dramatic soprano and not lyric soprano like Ms. Hoyt), but also choosing a woman whose body shape will communicate credibly to the audience that she is Gertrude Stein.
In the Poet's wildest imagination, she could have never foretold finding a way to articulate this problem, which falls squarely into the realm of what is politically incorrect. That is, until Ann Hoyt and I sat down to a yummy vegetarian lunch on the upper West Side of New York City (how politically correct for someone who plays Venus!) and discussed her role in the development of the Stein opera. This lunch, following a dress rehearsal where Ms. Hoyt was singing Venus in the baroque opera Venus and Adonis, came about because the Poet needed (for continuing creative development purposes) Ms. Hoyt's permission to use the recording made at the Manhattan School of Music during the Stein opera's second workshop.
VENUS: A QUICK STUDY
Apparently Ms. Hoyt has a reputation for being a quick study and Ms. Rhodes has repeatedly called this talented soprano to step in at the last minute to sing major roles. Much to the Poet's surprise, Ms. Hoyt mentioned that she played Venus in Encompass' production of George Antheil's Venus in Africa. Unable to keep her jaw from dropping, the Poet admitted that she attended that production done in 1999 and that it was the first show by Encompass that the Poet ever saw. "Oh," the cheerful soprano responded, "You couldn't have possibly recognized me. I was much heavier then and I wore a red wig." Upon returning to Maryland, the Poet leafed through her files and found that 1999 program and sure enough there was Ann Hoyt as Venus in bad boy Antheil's version of Africa -- Ann Hoyt who has a Masters in Music from the Manhattan School of Music and a long list of prominent roles she has sung ranging even in 1999 from Belinda in Purcell's Dido and Aeneas to the title role of Carlisle Floyd's Susannah.
FINDING ANGELIC WINGS OR STAYING AFLOAT
Since not every artist is as fortunate as Gertrude Stein who had inherited family money, one must ask what does a singer do to survive financially? Resourcefully Ann Hoyt landed herself an ongoing part-time job in 1999 with TrinityChurch on Broadway at Wall Street in Manhattan. Trinity is a church with heavenly acoustics unlike many other churches in New York City where musical sound has been deadened by Guastavino tile. Ms. Hoyt sings in the choir under the direction of Owen Burdick, who is recognized as a music innovator, particularly in the use of electronic music in the church and who is in demand internationally as a conductor, composer and teacher. Her regular hours of work in the church occur Thursday nights and Sundays but occasionally, as with Trinity's production of John Blow's Venus and Adonis, she also works additional hours as needed.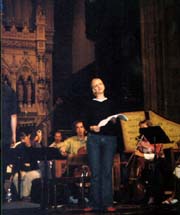 This soprano's job at Trinity represents about one third of her annual income with additional income from operatic productions, teaching, and another ongoing part-time office job. She says the job at Trinity is not just a job. Burdick features choir members as soloists instead of bringing in other singers. Additionally, Trinity's choir has the pleasure of working with the Rebel Baroque Orchestra, which enjoys residency at Trinity but its core group of two violins, recorder/traverso, cello/viola da gamba, and harpsichord/organ often travels to perform in other venues in the United Stages and Europe.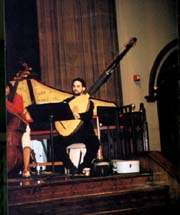 Since the post 9/11 performances by Trinity Choir in collaboration with Rebel which included a national broadcast over National Public Radio of Mozart's Requiem and a live concert at Ground Zero of Handel's Messiah, portions of which were shown on CBS's 60 Minutes II with Dan Rather, this collective of artists has been featured three times a year on WQXR-FM, the radio station of The New York Times. Yes, Trinity's St. Paul's Chapel was the church two blocks from the WorldTradeCenter that acted as staging point for relief workers during the aftermath of the terrorist attack that brought down the twin towers.
One of the Thursday night jobs of Trinity Choir is all night recording sessions of the sacred choral works of Haydn. Hänssler-Verlag Stuttgart commissioned this project and it continues through the year2009. In this way, a singer does not gain individual acclaim but stays afloat with balm for the artist's soul and money for some of the basic needs for food and shelter.
PRESERVING THE MAGAZINE OF BEAUTY
A reality of working as a singer is, as Ms. Hoyt stated, "the singer of the moment seems to get all the work while other equally able performers are ignored. We singers would be better off if jobs were awarded based on a lottery." In Venus and Adonis, Cupid entreats the Graces at Venus' command (she worries Adonis will be killed hunting), "'Tis your duty to keep the Magazine of Beauty." The Steiny Road Poet understands the Magazine of Beauty to not only be the box in which Venus hid the baby Adonis and put in the safe-keeping of Persephone, goddess of the underworld, but also the beautiful young man himself who emerged from that coffer and with whom Venus fell in love accidentally when one of Cupid's arrows pierced her heart. To wit, the Poet holds out to opera fans that new opera is a magazine of beauty and we must all do our parts to keep our Venuses and Adonises alive.