Dana Gioia says, "Poets need to re-engage in the full potential of the art — everything from the lyric poem to the dramatic work, the choral anthem to political satire should be fair game." Gioia, author of three collections of poetry and two opera libretti, walks the talk. His three collections of criticism on poetry and poets include the controversial essays "Can Poetry Matter?"
and "Disappearing Ink: Poetry At the End of Print Culture."
In fact, Gioia is probably best known as a critic and is frequently cited. Take for example The New York Times Book Review published November 13, 2005, where David Orr talks about Lake Wobegon radio moderator Garrison Keillor as a poetry anthologist. Apparently Keillor favors uncomplicated poems and has collected two volumes: Good Poems (published in 2002) and Good Poems for Hard Times (published this year). Against counter arguments that these books offer dumbed down poetry, Gioia is quoted as the voice of reason, "This book [Good Poems ] is surprisingly OK."
BUFFALO VERSUS POETRY
Those familiar with the 1991 essay published in The Atlantic magazine "Can Poetry Matter?" will remember that Gioia said most journalists and reviewers have declared contemporary verse irrelevant and few volumes of poetry, unless they receive a prize like the Pulitzer, are ever reviewed. Moreover, most poetry that is reviewed rarely gets an honest assessment. Gioia wrote, "Most editors run poems and poetry reviews the way a prosperous Montana rancher might keep a few buffalo around — not to eat the endangered creatures but to display them for tradition's sake." Well, some things have changed since 1991. Shoppers in gourmet markets can find buffalo meat, but poetry in American culture is still the endangered creation of the arts world.
In the fall of 2004, Nosferatu, his opera collaboration with composer Alva Henderson, premiered by Rimrock Opera in Billings, Montana, and by Opera Idaho in Boise. "I believe there is a heighten interest in composers and poets collaborating. [This is] not unusual. Opera began as a poetic medium as much as a musical medium. [There is] something basic in the form that responds to poetry." Gioia comes to opera with his own history. In an interview with Christina Vick that was published last year in the Louisiana Review, he said as a Stanford college sophomore he went to Vienna, Austria, on an exchange program to determine whether he wanted to become a composer. There he fell into a routine of constantly reading and writing poetry both in English and German.
RESTORING A VULGAR VITALITY TO POETRY
With substantial publication credits that also include translations of the 1975 Nobel Prize winning Italian poet Eugenio Montale and the ancient Roman playwright Seneca as well as eleven anthologies and collected works by other writers,
Gioia demonstrates full immersion into creative writing that includes poetry, fiction, and playwriting. He keeps himself and his readership informed not only about ancient classical greats and renowned modernists such as Wallace Stevens and Elizabeth Bishop (Bishop was one of his teachers) but also about nonacademic poets such as rappers and performance poets. In his essay "Disappearing Ink: Poetry At the End of Print Culture," Gioia says that rap, slam, spoken word and performance art are revitalizing poetry. If books are being ignored, the Internet and radio are alive with poetry. Gioia believes that poetry must enter the consciousness of the common people. This is what he means by restoring "a vulgar vitality to poetry." The root word vulgar means of the common people.
"Experience of rap is not a linear entry into opera. Today's younger generation has a deep and sophisticated relationship with literary language performed aloud because of rap: enormously complicated verbal designs that are performed in auditory space rather than being arranged on the page. The decline in reading has been paralleled by a rise in audio sophistication among the younger generation. This is good news for poet and composers. We are already seeing things emerging that are the equivalent of rap operas." Although this interviewer did not venture into matters of his day job (Gioia is the Chairman of the National Endowment for the Arts), one can guess that rap operas are being submitted for grant support at the NEA and this is the "we" to which Gioia refers.
POETS AS GOVERNMENTAL STATESMEN
In many ways, Gioia's career path is similar to that of Archibald MacLeish, a poet and playwright with business acumen who served in Franklin Delano Roosevelt's administration as Librarian of Congress. Gioia has his ear tuned to what is relevant. Take for example his 1992 promotion of Ted Kooser in his essay "The Anonymity of the Regional Poet." Although Kooser was quietly getting national grants and awards prior to Gioia's essay, today Kooser is a national literary figure both as the Poet Laureate of the United States and winner of the 2005 Pulitzer Prize for Poetry. Yes, America, if there is any interest at all, audiences want straightforward and accessible poetry like Kooser's and like Keillor's Good Poetry selections.
OPERA AND MONSTERS
What Gioia chooses to write about in his two opera libretti also shows his interest in reaching current day audiences. Tony Caruso's Final Broadcast, a collaboration with composer Paul Salerni, addresses the topical demise of classical music on radio and the artist's plight. Nosferatu is a Dracula story. Clearly, stories about vampires and monsters draw audiences of all ages. The prolific composer Libby Larsen, who talks about opera as grand essay, wrote an opera about Frankenstein. Andrew Lloyd Webber's musical The Phantom of the Opera, which is about a disfigured musical genius, is enjoying its seventeenth year on Broadway.
Gioia centers his story on a young married woman named Ellen who seems to have clairvoyant powers and whose fate is tragically intertwined with the blood-sucking Count Orlock.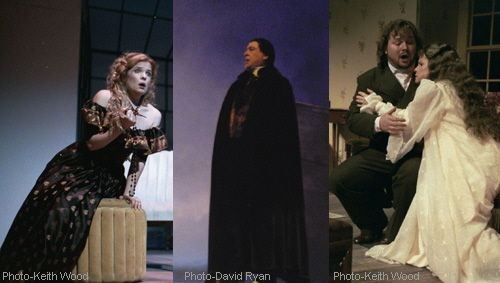 When Gioia first brought the idea of an opera based on F.W. Murnau's 1922 silent vampire film by the same name, Alva Henderson said he didn't want to write an opera about a vampire because the music would just be a series of "scary chords." Critical reviews indicate that together Gioia and Henderson have created a black mass imbued with inverted Catholic symbolism. Excerpts from the opera reveal lyrical music that enhances Gioia's formal (rhymed) poetry.
SHINING THE LIGHT ON NOSFERATU
When asked why Nosferatu didn't premiere closer to recognized opera centers, Gioia says sotto voce that the composer was on his own. Gioia as Chairman of the NEA could not act on offers that might have compromised his governmental position. Rimrock Opera made its deal with Gioia and Henderson before Gioia took office. At the end of this year, Albany Records will release a recording of Nosferatu. Albany Records, devoted to American classical music, has recorded and released such operatic works as Carlisle Floyd's Of Mice and Men and Tobias Picker and J.D. McClatchy's Emmaline.
Nosferatu had a dozen showcases with two of these public workshops including the full work. Gioia said that the showcase presented at the Western Slope Music Festival in Crescent View, Colorado, with full symphony was "spectacular." Tonal music has always been Gioia's passion. Because tonal music was not in vogue when he was choosing his artistic career path, operatic collaborations with such composers as Alva Henderson complete a critical plan for Gioia.
FUTURE OPERAS: HISTORY AND FARCE
"I feel confident there will be more productions of my two operas." Composer Paul Salerni has entered Tony Caruso's Final Broadcast in New York City Opera's annual competition. And Gioia said that he has two ideas for opera. One is a Da Ponte-ish farce that he plans to pursue with Stefania de Kenessey. Tom Wolfe recently granted the rights to do an opera of his book The Bonfire of the Vanities to de Kenessey and although she has written opera for children, Bonfires, a collaboration with Lorraine Feather, will be her first full-length piece. Gioia's other new opera idea is based on an historical event, which he hopes to pursue with Alva Henderson.
When asked if he is familiar with the work of John Adams, Gioia said he had great respect for poet Alice Goodman and that "Nixon in China opened up possibilities for me." What Gioia has in mind for his opera based on an historical event will be very different from the documentary collage that Peter Sellars created for Doctor Atomic.