On her fifteenth birthday Roberta Sue Flicker, Suzi to friends and family, climbed the twenty-nine stairs at 2291 Broadway in New York City with her nervous but encouraging mother. Suzi's mother had great ambitions for her three daughters, the older of whom was already teaching ballet and the youngest had a scholarship to study piano waiting for her in New York. The girls and their mother had only recently left Cincinnati, with their collective belongings in a small trailer attached to the back of the family car, to pursue dreams of artistic lives.
As a reaction to a painful and humiliating audition at the National Ballet of Canada, she had not taken class for a month—a common act of artistic anorexia among dancers who must learn to live with so little control over their day-to-day lives as well as their futures. Cecilia Franca, artistic director of the National, had rejected her in a terse letter stating that her back was too flexible and she lacked "theoretical knowledge of the basic essentials" of ballet.
Though deflated, Suzi let her mother talk her into following up on encouragement she had received from New York City Ballet's ballerina and national talent scout, Diana Adams, when she had visited Cincinnati looking for possible scholarship candidates. Adams had expressed some reservations about Suzi because of a foot-crushing injury she had suffered from a horse. Nonetheless Adams told Suzi and her mother that should they ever come east, they should schedule an audition at the School of American Ballet, New York City Ballet's feeder school.
At the top of the long stairway Suzi made an instantaneous decision to change her name to Suzanne and introduced herself. The receptionist nonchalantly told her to change and wait on the red leatherette sofas outside the studios. Changing into the capped-sleeved leotard and pink tights that had been considered quite chic back in Cincinnati, she topped off her look by lacing up a pair of well-worn toe shoes because she had heard that only students wore practice slippers. Professional dancers always wore toe shoes and the newly baptized Suzanne did not want to be mistaken for a mere provincial student.
George Balanchine, artistic director of the nascent though promising School of American Ballet and New York City Ballet, breezed into the building and was told that the student Diana Adams had recommended was waiting for her audition. He bowed dramatically to her and escorted her, alone without her mother, into an empty studio. She had not expected to be alone with him. Nor had she expected his first question. Did she have something prepared to perform for him? In previous auditions she had simply done everything asked of her.
Not wanting to appear unprepared, she suggested a piece she had performed in her June recital. "I'll sing the music," she proposed, and launched into the pivotal performance that would forge their fate. After she finished her piece while accompanying herself singing Glazunov's The Seasons he simply asked her to take off her shoes so he could see her feet. He held her problematic left foot in his hands examining it and comparing its fallen arch to the other much higher one of her right foot. He thanked her and left her alone in the studio feeling excited but confused.
In the empty moments waiting for the phone to ring she looked through the telephone book for a last name that would match the sophistication of Suzanne. She chose Farrell and used that name to fill out the paperwork when the call finally came and she was told that she had received a scholarship. No matter how many times she asked him throughout their decades together as muse to one another he would never say what it was that he had seen that day.
Given that his decision changed both of their lives in every imaginable way, it is captivating to wonder what he saw and felt as she presented herself to him. In photographs of her from the time one sees the arc of her long, graceful neck made to appear even longer because of her slightly lifted chin and tiny face. She maintained chubby, childlike cheeks well into her mid-twenties and would not be called thin, certainly by today's standards for ballerinas. (It is ironic that Balanchine is often blamed for the aesthetic of boniness that pervades the art form today, yet Suzanne Farrell, his ideal, was never boney.) Her face seemed small and kitten-like because of her large, almond-shaped eyes and the way her lips appeared to pucker as they closed over her slight overbite.
What is most striking about her physicality is her ability to create the appearance of length in her limbs. From her round hips to her tapered ankles and feet there is no noticeable bulge in her calves. From the top of her head down her narrow though regal shoulders to the tips of her feathery fingers, her joints seem to disappear in the fluidity of her line.
Balanchine would also surely have noted her impressive musicality. They shared a deep love and reverence for music and her ability to hear and know music was to become one of her greatest strengths as a performer. Even when working with abstract pieces of music, she prided herself at her ability to know where she was supposed to be in time and space at any point in a composition even if the needle were dropped randomly on a recording. Her fluidity and flexibility would also have captured Balanchine's attention as the fifteen year-old student danced before him. The ease with which she could extend her lengthened limbs and the ease of her control would become the standard against which dancers would be judged for generations to come. Whether she demonstrated for him her promise as a sparkling technician will never be known. Ultimately, the question of whether to invest in developing her as a ballerina turned out to be one of the most important decisions of his life.
In 1989 when she retired from New York City Ballet she was the most famous ballerina in the United States if not the world. She had danced thousands of performances of dozens of works, many of which were created by Balanchine especially for her. She ignited Balanchine's imagination during the height of his creativity and productivity. Critics found her fascinating and analyzed her every move as well as each costume change and hairstyle.
The attention she attracted from Balanchine and the media filled her life with drama but also caused her great pain. She often felt isolated among the other dancers who read her reserve as aloof arrogance and resented her for obliterating their chance of ever being noticed. Partially as a result of her feelings of isolation and suffocation from Mr. B's constant attention during the height of their collaborations together, she began a romantic relationship with fellow dancer Paul Mejia. This relationship would eventually lead to her being dismissed from the New York City Ballet. Because of Balanchine's preeminence in the world of ballet, the most famous American ballerina of all time became unemployable in the United States. So she and her then husband Paul spent five years dancing for Maurice Béjart's Ballet du XXieme Siècle in Belgium. After five years in Europe she wrote Balanchine to ask if she could return and he once again nodded in the affirmative.
Her second career at New York City Ballet was less charged by Balanchine's romantic projections yet he continued to set work on her and feature her in ways that meant she was both revered by the public and the media and yet resented within the company. Her knowledge and understanding of his artistry deepened as she approached new roles and familiar ones with the wisdom gained during her years away.
During this time, in the late 1970s, the critic Robert Geskovic wrote a profile of her in "Ballet Review." In it he tried to capture and describe what made her dancing so exciting, unique and captivating. "The full scope of Farrell's contribution to the school of ballet in general and to the oeuvre of Balanchine in particular is not likely to be grasped by the dance world until the distance of time allows us to scrutinize carefully what now nearly dazzles overwhelmingly. (…) though by the time their impact is felt, even in reasonable proportion to Farrell's performing contribution, she may have have stopped performing. Historians will probably try to accumulate and evaluate her widespread importance, but if they haven't seen her dance, they won't have a clue to what they've missed."
Today we near the fiftieth anniversary of her first trip up the twenty-nine stairs. Suzanne Farrell walks with a fully replaced hip and will soon be eligible for Medicare. As artistic director of the Suzanne Farrell Ballet, she continues to devote her life to the performance, preservation and understanding of George Balanchine's oeuvre and legacy, especially lesser known and rarely performed works.
Balanchine's works are performed throughout the world by national and regional ballet companies who license the choreography through arrangement with the Balanchine Trust which was created by his Will and Trust. Often these far-flung company's dancers are coached by a representative of the Trust to ensure fidelity to the original. In spite of the use of dance notation, video and film, choreography poses singularly difficult challenges to reconstruction and replication. These challenges mean that much is lost in the transmission and translation after years of interpretation. The reasons for this are various but include poor-quality documentation, or no documentation at all, and the ravages of time on the memories of dancers and ballet masters. This may in part explain why performances of the Balanchine repertoire have a tendency to look labored with an over-emphasis on technical execution to the point of cliché. Dancers appear to be nearly gritting their teeth in a frozen smile as they execute feat after feat of technical heroics.
The Suzanne Farrell Ballet Company is devoted exclusively to preserving the choreography and performing it with inspired homage and faithfulness to the original intent, look and feel. In late October she brought her company to the Zellerbach Hall at the University of California, Berkeley, for two performances of pure, inspired Balanchine. The dancers were beautifully trained and coached and all displayed marvelous command of their technique. However, they also clearly possessed knowledge of additional dimensions of meaning embedded in the movement that enabled them to bring works to life in a way rarely, if ever, seen since their creation and original performances.
Given that Ms. Farrell was not only present in the studio during the creation of these 20th century icons of American ballet, she was, in many cases, their inspiration in Balanchine's heart and mind. She pushed herself ceaselessly to give him what he wanted to see and he asked her to do things that he created out of a deep desire to see them done by her. Because their collaboration began when she was so young his choreography formed her both physically and mentally. She not only knows what he wanted to see she knows in its fullest possible sense what each ballet and each movement is at its essence. Having spent years in intimate conversation and rehearsal with Balanchine during his most prolific periods she knows better than any other living person the extent of his intentions. Together they broke and rewrote the extant rules about ballet which she describes as falling into three categories: the visual technique, the aural architecture and the visual imagery.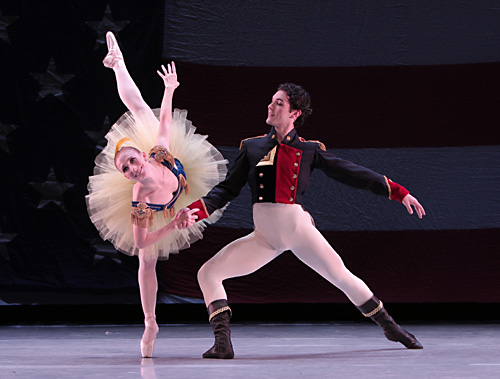 Before the curtain rose for the first performance of the Suzanne Farrell Ballet Company in Berkeley, it parted at the center and she took center stage holding a leather-bound folder of notes. After several minutes of adulation and applause, she introduced the animating ideas for her current project of preservation and reconstruction of Balanchine's repertoire. She appeared at various intervals throughout the evening as the company presented excerpts from nine larger works. Her remarks were at times analytical and at others anecdotal. She appeared at once graceful and powerful, melancholic and pensive, intellectual and entertaining.
After so many decades of performance and physical expression the transition into a post-ballerina life must be a uniquely challenging mental and physical process requiring one to give up the comfort of a life as part of a much greater whole and forge out alone to establish new habits, interests and ways of making a living. Ms. Farrell retired from the stage in 1989, six years after Balanchine died, after Peter Martins had been appointed artistic director of New York City Ballet. She stayed on at the School of American Ballet as a teacher but, though Martins had been one of her favorite partners during their long tenure together as dancers, he summarily fired her citing her inability to teach.
She subsequently published her excellent memoir "Holding onto the Air" (with former NYCB corps dancer Toni Bentley) and was the subject of an Academy Award-nominated documentary entitled "Elusive Muse," directed by Anne Belle and Deborah Dickson. Other than these two works, she has steadfastly refused to allow her story to be told. An intensely private person, self-described as shy and slow to form and articulate her thoughts, she does not trust anyone else to express what only she knows from her unique experiences. Fortunately for us, she has chosen through her Ballet Company and her appearances with them to share her vast knowledge and understanding.
The Suzanne Farrell Ballet Company will perform their annual Kennedy Center Season on March 3-7, 2010, in Washington, D.C.
Cover Photo - Paul Kolnik
Performance Photos - Carol Pratt
Courtesy of Cal Performances