In an American movie landscape where foreign films usually shine by their absence, the Academy Awards category Foreign Films tends to bring up films nobody has ever heard about. Some art cinemas, however, offer a glimpse at the contenders during the weeks of January. In the San Francisco Bay Area, the Rafael Film Center proposed an overview "For Your Consideration", tempting me with Manoel de Oliveira's sequel to Bunuel's Belle de Jour: Belle Toujours instead of "Daytime Beauty" "Always Beauty" or, "Always Belle"). At age 97, Portuguese director Oliveira is probably the oldest filmmaker in the world. He is known for the sumptuous beauty of his films; therefore Belle Toujours, which is dedicated "en hommage" to Bunuel's 1967 masterpiece sounded intriguing. The story brings two of the main players together again almost 40 years later – Belle and her nemesis, the cynical seducer Husson – and promises a revelation about some of the mysteries at the end of Bunuel's film.
Who hasn't wondered, after the fabulously ambiguous ending of Belle de Jour, what really happened in those last scenes? It's worth looking back for a moment, before discussing Oliveira's take on it.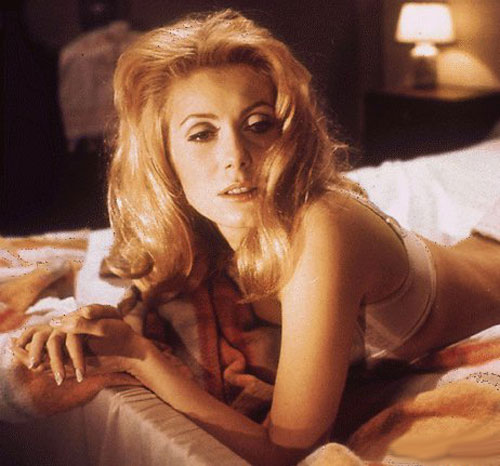 There she is, Sévérine (Catherine Deneuve), blond hair coiffed with the severe perfection of Hitchcock heroines, wearing the chic designer version of a school girl's uniform. She devotedly attends to her blind and paralyzed husband Pierre (Jean Sorel) who just got shot by the cocky gold-toothed gangster with whom she has fallen in love. She tells Pierre she has not been "dreaming" any more since his "accident" – that is, no more of the secret masochistic fantasies the frigid young wife has been indulging in about being defiled by her husband and other men. (Just describing it reveals the kitschy-unbelievable, sublimely ridiculous plot that served the master of the surreal so well in confusing the imaginary and the real.) Belle and Pierre get a visit from Husson (Michel Piccoli), who originally provided her with the idea and address of Madame Anaïs – the bordello of a certain bourgeois charm where Sévérine has spent her afternoons as "Belle de Jour". He knows her dirty secrets and intends to finally betray them to Pierre. Belle declines to listen to the conversation. When she reenters the room, mortified, she finds Pierre alone, with a frozen tear on his cheek. One of his limp hands now appears cramped as if the news had killed him. In the next moment, surprise and delight register on Belle's face; the background sounds indicate that her dreams are returning. Is he dead? No, he suddenly takes his dark glasses off, smiles at her and gets up as if nothing had ever happened. The couple embraces – chastely, as usual, and almost instantly she leaves his arms to rush back to the erotic fantasy scene that started the movie.
So what has happened here? Has Pierre's death set her free to pursue her dream vocation as a prostitute? Is she simply fantasizing his recovery? Has her betrayal of Pierre and his victimization been a mere fantasy? Has she dreamt up this whole soap opera of sex and crime to spice up the discrete boredom of the bourgeoisie?
These (and many more) conflicting theories have been spun obsessively since the hugely successful movie came out. Bunuel himself professed that he didn't understand the ending and that he disagreed about it with the screenwriter, Jean-Claude Carrière. Joseph Kessel's intriguing novel of the same name (from 1928) ends differently, if also ambiguously, with Belle's own confession. A last paragraph jumps to a time three years later. Pierre who can still see, speak, and somewhat move, has stayed with his wife. The last sentence is: "But ever since Sévérine made her confession to him, she never heard his voice again." Pierre, one might conclude, was left speechless... Belle Toujours by Manoel de Oliveira raises the question: did Husson rat on Belle and cause this confusing ending?
Sounds are a crucial element in Bunuel's film, and Oliveira begins Belle Toujours in a concert hall. Husson sits in the audience and discovers Belle nearby. For a long time, we see him peer over, smile, grin to himself and fidget while the concert goes on and on. One has to work hard in order to recognize Michel Piccoli in the heavy-set old man with a fat face. One also has to work hard to suspend disbelief seeing Belle no longer incarnated by Catherine Deneuve, but by the much less beautiful Bulle Ogier (from Bunuel's Le Charme Discret de la Bourgeoisie). Belle has seen Husson, too, and she doesn't smile. She flees and escapes him. But he sees her leave a night bar and, who would have thought, instantly gets her address from the bar tender. Are we in a surreal movie? The bar, ça alors!, is a hangout for two women in conspicuous attire: prostitutes! Belle evades him again at the hotel where she lives, and now he goes back and forth between the hotel and the bar. He is still obsessed with women and sex: he looks at the two sex workers and at nude paintings with the nod of a connoisseur. He is still obsessed with Belle: he fills the young bartender in about the scandalous wife who has prostituted herself "out of love for her husband". Really? Prostituted herself? Oh yes, and she was a masochist, which means she was also a sadist. A sadomasochist!!, the bartender repeats. (He repeats everything he hears.) Keeping it a secret heightened her pleasure, Husson explains like a retired high school teacher, downing one straight Whisky after another, because, you know, "woman is nature's greatest enigma." No joke. This is how the dialogue, written by Oliveira himself, evolves and while nothing of interest is being said about the story of Belle de Jour, the cringe-factor grows.
Finally, Husson catches hold of Belle in front of a boutique of antiquities and in a long shot we see them come to some unknown agreement. He is enormously pleased and buys what seems to be a gift for her. Then we see them dine together in a fabulously luxurious séparé (the private room in a restaurant) and for the first time in an hour, the cringe-factor turns interesting with Belle's malaise.
Husson's presence in this sensuous, bordello-like place seems like the perfect trap. The candlelight dinner, served by three waiters, is performed, bite by bite, in utter silence. This is eating in high-bourgeois style, at least by Belle (napkin dabbing ever so lightly the corner of the mouth, every dainty mouthful avoiding lip touch and lipstick loss...). We see her glances that can't avoid him, and he is not a pretty sight, eating like a slob and smirking and chuckling to himself. Alas, after the Crème brûlée has been served, as soon as words have to be used again, the tension is gone. Husson presents his gift and –lo and behold!—it's the same mystery box that one of Belle's exotic clients brought along chez Madame Anaïs! With its menacing insect buzzing, the box (in Belle de Jour) has frightened off the most experienced of the prostitutes – but not Belle. Now, however, Belle is disgusted while Husson is delighted, "chortling in his joy" (to quote "The Jabberwok") about this joke. Or is it Oliveira's joke – as Husson could only have known about the box if he had seen Bunuel's movie? Pathetically and quite in vain, Belle tries to convince Husson that she is not the same woman any more. She has changed! In fact, she thinks of going to a convent! This could be another joke, but again, the irony falls way short when Husson comes back with: "Ah, your convent is my alcohol!" What a punch-line.
After some more cringing we learn why Belle agreed to this dinner invitation. Husson has promised to reveal his secret: did he tell Pierre? Yes or no? She pretends that her whole life has been oppressed by this unanswered question, but wouldn't you know, the cad betrays her again! He won't give it away. She storms out in a rage, he is amused, probably because now another 40 years can go by in tantalizing mystery – until perhaps another filmmaker attempts another sequel. (Maybe someone will also come up with an "homage" to Beckett and have Godot finally appear.) The film concludes with a pretty rooster (apparently a symbol of Portugal) promenading down the empty hallway and stopping for a moment in the open door to the dining room... Another enigmatic ending! Is it a hint about "Boys will be boys"? Portugal greeting Spain? A truly surreal tip of the hat to Bunuel? If so, the film serves as an involuntary refresher course in Bunuel's genius.
Oliveira has at least one thing going for him: Belle Toujours is gorgeous to look at when nobody is talking. Panoramic shots of Paris open the scenes, shifting from night to day, alternately declaring Paris a "beauty by day" and "beauty by night". Glittering rainy streets, a black car prowling like a panther, the felty, filtered-light atmosphere of the hotel reception, the plush dining room with its suggestive decorations: everything swims in the deeply saturated colors of luxury – and here one can find some justification for the "homage": Bunuel's first film of luxurious color was Belle de Jour. In fact, Belle de Jour is an orgy of visual, sensual, erotic detail, from the glorious autumn colors of the Bois de Boulogne, to Sévérine's lacquered shoes hesitating on the steps to Madame Anaïs, to the gold tooth glinting in the dangerous lover's mouth.
Perhaps Oliveira tried to emulate the language of Belle de Jour with its photo-novel and Hallmark card clichés, but the resulting clumsiness and outright stupidity of the dialogue made the majority of women in the cinema laugh out loud. I would give a lacquered shoe to know what Deneuve, who worked with Oliveira before and was certainly offered the reprisal of her role, thought of this misguided nostalgia for her most mythical film. Bulle Ogier does her best to imitate young Deneuve's mimic, but her features are too sharp and nervous to evoke even a faint memory of the velvety beauty and wounded doe vulnerability under a cover of ice (which Deneuve can still project today).
Nothing is left of mysterious, transgressive Belle, nothing of the dark seductive provocation of Michel Piccoli's original Husson. There is no erotic charge, no spark. Just think of what someone like Almodovar would have achieved with this kind of a story. The obvious deadness of a potentially erotic topic reminded me of Stanley Kubrick's last, similarly failed movie Eyes wide Shut. Film critic Dennis Schwartz called Belle Toujours "a geriatric satire of bourgeois sexual mores". Could this be another way of saying that filmmaking is no country for old men?