Summer arrived in Rochester, New York with a fistful of flowers. The Flower City socked away the gray remains of winter's lake effect with a rousing, sun-filled, fifth annual International Jazz Festival. An estimated 80,000 people attended, including jazz buffs from Canada and tourists from abroad. 600 international and local jazz performers performed at the festival, with 170 concerts held in 13 venues, and performances both indoors and out.
Streets were crowded with people flocking downtown, enjoying the music, and getting a chance to look at one another. Outdoor stages were setup on Gibbs Street, dubbed "Jazz" street for the occasion. Here high school, college and local and visiting jazz groups performed, adding a down home flavor to the welcoming festivities. With the famed Eastman Theatre and School of Music down the street, along with the stunning Kilbourn recital hall, and a variety of nightclub and jazz joints within easy walking distance, jazz fans had options galore. People were often caught between a rock and a hard choice. I was one of them. Here are some of the highlights of the festival that I managed to get to (and there are lots more where they came from).
E.S.T. (the Esjborn Svensson Trio) has a reputation as a Swedish jazz phenomenon that is well deserved. Impressionistic jazz, rock, pop and classical influences provide a unique sound and inventive combinations. Svensson opened with repetitive takes on a mysteriously tinged jazz piano. Joined by bassist Magnus ึstr๖m and drummerDan Berglund, the trio worked their way through repeated under pinnings. For instance, hints of Beethoven's Moonlight were explored for resonant associations. When the trio broke out with free wheeling jazz invention, they were superb and thoroughly acquainted with a variety of jazz styles. The trio was a highlight of the festival: fresh, original, and engaging.
What can you say about Mose Allison that hasn't been said before? Alison is a world traveler, a pianist for all seasons.
He takes down home blues, sharp tongued and insightful lyrics ("everybody's crying justice, just as long as its business first"), and has influenced a sign post list of important singers and musicians. He flew high at the festival, relaxed, with a well-earned, white beard assurance. Rick Syracuse, a superb bassist, backed up Allison with driving takes and full throated understatements. It was clean as a whistle piano playing, covering the bases, and leaving the audience wanting more. I am particularly fond of Allison playing Muddy Waters' "I Was Just A Catfish".
Having missed the Woody Allen & his New Orleans Jazz Band event, I made it a point to
hustle down to Kilbourn Hall for a session with The Preservation Hall Jazz Band – the national New Orleans jazz treasure. These fine gentleman belt out classic New Orleans jazz with enduring good will and easygoing charm. Led by trumpet player Robert Brunious, when they wheeled into "Basin St. Blues", the musicians carried the beat up and down the aisles of the richly wood-paneled recital hall, turning it into a stomping ground. Led by Bingo, a clown with a colorful umbrella, the audience formed a "second line". Following the band's lead they paraded through the raked auditorium, with hand clapping and foot stomping. The joy the Preservation Hall Band inspires lights a candle in the dark like no other jazz group can. The Pied Piper never had it so good.
Flamenco guitarist Juanito Pascual, gets his pull from a variety of Spanish influences.
He also performs jazz, blues, klezmer and classical guitar. Having spent time in Spain, absorbing the music of regional Spanish composers and musicians, Pascual's art reveals exceptionally fine, intricately skilled expression. And he doesn't lose the Spanish signatures of passion. Working his guitar with intricate fingering through a variety of romantic and melodic song tinged works, Pascual weaved his nuances into the elegant setting of Max of Eastman Place. Skilled musical portraits, done by a masterful artist, with just the right combination of well-honed fingering, resonating strength, and absorbing, dramatic silences.
Jane Bunnett & Spirits of Havana. A Canadian soprano sax player and flutist, Bunnett and her fellow travelers, are decidedly cross-cultural; fusing Cuban roots and jazz from a variety of sources: Santiago, salsa, carnival, etc, all from the heart of Cuba.
They worked their deeply rhythmic roots with sharp clarity, mucho bounce to the ounce, and well cut transitions. "Joyful Noise" was especially effective as it slid into dance, compelling the audience into the aisles. Gifted 21-year-old pianist David Virelles shaped movingly lyrical riffs that broke out with breath taking effect. A real upbeat venue that just about pleased everyone immensely.
The Wayne Shorter Quartet won a Grammy for their latest recording:. "Breaking the Sound Barrier". Using both tenor and soprano saxophones, Shorter has an enviable list of credits: Art Blakey's Jazz Messengers, Miles Davis' mid 60's quintet, fusion group Weather Report, and more. Shorter engages richly shifting and realized dynamics on the sax non-stop.
The quartet pushed the envelope a full hour and a half. Straight, with no chaser. A leviathan of punctuating sound, fragmented and crystallized asides, musical elements floating in space, and levied with rolling thunder by the imaginative John Patitucci on acoustic bass. Brian Blade's well-placed percussive effects and Danilo Perez's potent use of the piano, got it together, without any elbows getting in the way. Shorter is a brilliant saxophonist, and uses his instrument with economy. When he takes over, he slides into an umbrella of sound, and steps right out with perfect timing. Changing the elements like a musical Tai Chi expert, Shorter is a team player with a solo magnet all his own.
Jean "Toots" Thielemans is the 80+ jazz grand daddy of the harmonica.
Thelemans (a Belgium from Brussels) has played with numerous swing and jazz greats, from Benny Goodman on. Toots took up the harmonica and turned it into an instrument that soars with yearning, or agitates with clever jumps that run all the way up and down the line, pro and con. He is also a delight to watch. Impish, his silences keep you guessing as to what he will do next. Kenny Werner on the piano challenged Toots, giving him a run for the money. Werner's sophisticated artistry was up to the nines: embracing soundscapes, and a wide variety of melody, rhythmic and time changes. Toots loved it, throwing out kisses to Werner, with an occasional finger wag as an aperitif. An entertaining conversation between two respected musicians, with touches of nostalgia and genuine pleasure.
When McCoy Tyner worked with John Coltrane they made an indispensable pair. The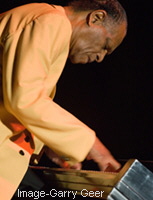 McCoy Tyner Trio includes the octave carving pianist, bassist Charnett Moffett and drummer Eric Kamau Gravatt. Together they tore down the rafters with a barrage of blistering riffs, including "Mellow Minor", which is definitely not mellow; and "Angelina". Tyner swept up powerful passages with compelling energy and technical finesse. Moffett used his bow with unusual dexterity, transforming the bass, with dare devil ease, into a percussive instrument – a remarkable effect. Gravett's drum work snapped and flashed around corners; a map quest reader changing routes at will. This was jazz without electronic amplification. And maybe that was the point.

Etta James is a pleasure to listen to and watch. Slim, elegant in black velvet, Etta James celebrates five decades as a recording artist with a special handle on diversity of song.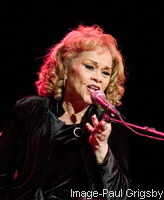 She is a top flight American blues, R&B, gospel singer; legendary, as they say, in the truest sense of the word. Featuring selections from her latest BMG album, "All The Way," this animated and sexy lady, now in her sixties, lost 200 pounds and knows all the turns. After all that weight loss she loves to hob nob with the band, rather than sit down. But I wish she had spent less time promenading, and instead delivered more of her wise commentary and terrific singing. Standing up or sitting down, it wouldn't have made a difference. We yearned for more of the songs that made her famous and respected, as well as the new ones she collected. With her sultry and riveting voice she delivered her classic "At Last" and "The Wall Flower" – the answer to Hank Ballard's "Work With Me, Annie". Ella James has lost none of her womanly bearing, and her sex appeal is undeniable. But it's her talent, years of professional experience, and wise human understanding that make her memorable.
Bird Lives: an Evening with Phil Woods & Strings. When Phil Woods was a teenager, he sat down on the floor with Charley Parker and shared cheery pie with the legendary saxophonist.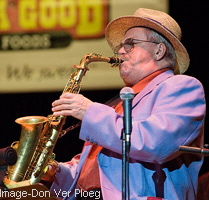 "I bet I'm the only musician around who had cherry pie with Charley Parker," he said. Well its clear that Woods is a great baritone saxophonist in his own right. He brought with him his own arrangements of Charley Parker renditions from "Charley Parker With Strings". Collaborating with pop musicians from the Rochester Philharmonic, conducted with brio by Ray Ricker, he expanded the score of the original Charley Parker sessions. There were many first rate renditions, but the one that totally knocked me out was Wood's solo "Solitude" – extraordinarily beautiful.

Electrifying singer, songwriter, piano player Kelly Hunt took over the East Ave outdoor stage like a tornado. Many R&B performers belt away full blast, leaving a cloud of dust drummed into the ears.
Coming on in the tail end of the festival, Hunt created a terrific crowd-pleasing set, without blowing away ear drums. A kinetic player and singer she never ups the ante into a blur. The band stayed with her as she delivered full-throated energy. From her singing, and her kinetic rapid fire keyboarding, vibrating down to her toes, she made everyone happy. The event drew a huge outdoor crowd dancing with joy in the streets. The lady is a killer-diller performer, show biz direct from Cloud Nine.
There were an ungodly number of sessions to attend. Asylum Street Spankers are pure acoustic from Austin, Texas.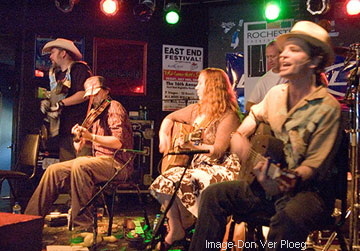 Their Dixieland and Tin Pan Alley roots were a nice turn in the road and a welcome addition to the festival. Badi Assad performed in the Big Tent. Assad is a Brazilian singer, guitarist & percussionist, with an innovating collection of ethnic clicks and sound effects. She reminded me of Miriam Makeba, the South African singer and patriot. Sound problems in the big tent nearly consumed Assad. But she managed to get around it like a trouper. The list goes on and on. Here are some high flying music talents, icons and jazz lights that I missed: James Brown, Gap Mangione Quartet (a local jazz headliner), Cedar Walton, Karin Allyson, Billy Bang Quintet, Katrine Madsen, Kenny Garret Quartet (I caught a few notches of the multi-grammy winner's alto/soprano saxophone playing), Sliding Hammers, Dicky Betts & Great Southern, Dwayne Dopsie & the Zydeco HellRaisers, Magnus Lindren Quartet, and the Bob Sneider Trio, a very popular group in Rochester, who ended the festival with a late night jam session. There was also a host of younger talents that made a good thing great. Hats off to all of them. When I drove home, I pried my lids open with a hot cup of coffee. The honking traffic did not cut off my serenity.