There is a grand exhibition currently mesmerising the public in Bangkok. Curated and sponsored by Thailand's Chulalongkorn University and the Embassy of Italy, this is an elbaorate and revealing display of the work of Galileo Chini, the revered Italian artist credited with introducing the art nouveau or Liberty style into Italy. Above all, he was a close friend of Puccini and designed opera sets for the great Italian composer. And he was enamored with and honored by Thailand.
In 1907, Siam's King Chulalongkorn discovered Chini during a royal visit to the Venice Biennale, a prominent art exhibition in Europe.
The King was intrigued by several artists and invited them to work in Siam. He was particularly impressed with Chini's nouveau frescoes, which adorned the exhibition hall. Three years later, he commissioned Chini to produce his admired frescoes inside the Ananta Samakhom Throne Hall, Dusit Palace.
Chini traveled to Siam in1911. During his three years in Bangkok, he captured panoramic views of Bangkok, the daily lives of Siamese people as well as various royal ceremonies with his camera. In 1913, Chini returned to Italy with a large collection of photographs and paintings of Siam, and many inspiring experiences.
A painter and ceramist he was born in Florence in 1873 and lived until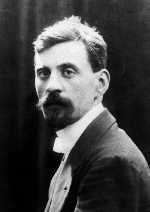 the summer of 1956. Following the death of his father, when Chini was 13, he began working with his uncle who was a decorator and restorer. At the age of 21 he was able to set up 'The Art of Ceramics', a small factory where he created beautiful works of art.
His fame brought him to the attention of the Biennale di Venezia where he exhibited from 1901 till 1936. His work with Giacomo Puccini allowed him to create stages and scenes for numerous operas including 'Turandot'.
His finest works can be seen at the Modern Art Gallery in Rome or the Uffizi in Florence.
During the last years of his life, he lived mainly in Versilia in Lido Di Camaiore where built a beautiful villa, in the Liberty style, of course. Today, Villa Chini has been fully restored and now welcomes guests. Many of Chini's paintings, objects and minor works can be found in the rooms and living spaces of this historical residence.
A entire collection of his works, depicting his love for Siam, is now delightfully on display in Bangkok in the Event Hall at Central Chidlom.