The 8th annual Rochester, New York International Film Festival kicked off with a labyrinth of good vibes and associations: Does Wavy Gravy sound familiar? Communes? The Hog Farm? Hippies? Woodstock? Director Michelle Esrick's documentary Saint Misbehavin captures Wavy Gravy's generosity of spirit with a mix of archival and contemporary footage .
When it comes to clowning around, Wavy is no fool. Although he claims he is just that. "We are all in the same boat trying to shake hands with ourselves," he declares, eyes roiling in his clown makeup. Wavy practices what he calls "intuitive clowning". Open hearted humor that has a lasting and generous effect on every one who meets him. We see him in Woodstock calming down the crowd during a fierce down pour of rain, tensions gathering for food and shelter. We catch him bringing food and medicine to cyclone victims in Bangladesh, while entertaining the distraught people simultaneously. Camp Winnagainbow, cofounded with his wife Jahanara, provides a safe place for orphaned children, attracted to his humor, benevolence and upbeat spirit, to join him in mutual fun and games. When he appeared on stage in full clown regalia, the sit down crowd gave him a standing and well deserved ovation.
Yoo-hoo, Mrs. Goldberg highlights Gertrude Berg, who starred on radio and television between 1929-55, creating the nation's first family sit com. Before Lucille Ball, Bill Cosby, and Seinfeld,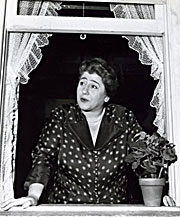 Gertrude Berg opened the window to her neighbors on the airways. As writer (12,000 scripts), performer, and lady-in-waiting on family and friends, Berg's weekly comedy focused on the life of a Jewish family during the wave of anti-semitism in the thirties, forties and fifties. When the frenzied right reared its head in the guise of the House Un-American Activities Committee (HUAC), on the hunt for communist "sympathizers", they went after Philip Lied: Berg's husband in the sit com. Lied had fought hard to establish an actor's union. Outraged, Berg went to see Cardinal Spellman at St. Patrick's Cathedral in New York. The good Cardinal, known for having all the right connections in all the right places, said he would do something about it if Gertrude Berg would convert to Catholicism. Berg walked out in a huff. Phillip Lied, in despair over the loss of his career, took his life by jumping out of a window. Later Actor's Equity Union dedicated a studio in his name. And Cardinal Spellman? God knows where he went.
Before Tomorrow
We are human
We are saints
We are kings
Why must we die?
This Inuit film cast viewers into the bleak but beautiful landscape of the Arctic Circle in the 19th century. The film is built around stories the nomadic people tell one another. Surviving by hunting and harpooning seals, fishing, and using every inch of meat, skin, fur, and tusks, with no waste whatsoever, they survive by telling intimate stories. Food for thought with words digested in silence.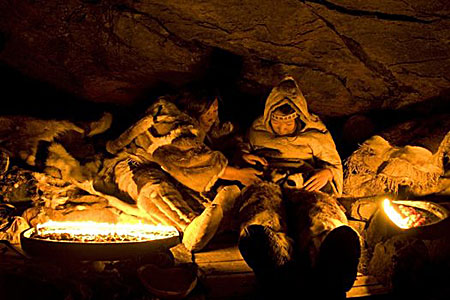 Directed with subtle finesse and superb cinematography by two Inuit woman, Maier-Helene Cousineau and Madelin Ivalu, the central story is that of an old lady and her teenage grandson surviving a harsh winter together. A winter when pockmarked bodies are found in a tent after a small pox epidemic, and where laughter, pride and warmth are shared with clan squabbles, resentments, and setbacks. When the young man takes matters into his own hands to help his grandmother survive, he does everything from trapping seals to healing her wounds after wolves attack them. A particularly moving moment occurs when he strips off seal skin and places it gently on the shoulder wound of his grandmother. She refers to him as "able"; a high compliment for a youth. When she, in turn, gently places a blanket over him as he sleeps, and slowly pats down a fire into ashes, she then opens the tent flap for whatever might happen next. The film is like a whisper of intimacy, resonating with circling spheres of meaning, and capturing our hearts in its hands. .
Easy Virtue. Based on a Noel Coward 1924 play, the film is astutely scripted by Sheriden Jobbins, directed with finesse by Stephen Elliot, with songs by Noel Coward and Cole Porter. It takes a sparkling, witty, and satirical swipe at English upper crust manners and self aggrandizement after the first World War. The war that would end all wars. Except the one controlled by Mrs. Whittaker, who runs her castle, her clan, and the surrounding territory with an iron will. Portrayed by Kristin Scott Thomas as a sour pickle of a grand dame on a control binge, Mrs. Whittaker sports a cunning smile and well polished manners.
She gives no quarter to those who oppose her. Running her castle with an iron will, and demanding unyielding servitude from everyone. When her son, John Whittaker (Ben Barnes ) brings home a beautiful new wife, the fireworks begins. Larita Whittaker is a dare devil race car driver, with a streak of winning to her name. Portrayed by Beale with the vitality, intelligence and warmth of an Amelia Erhardt, whom she resembles, Larita goes out of her way to make friends with her mother-in-law. Mrs. Whittaker though is hell bent on destroying the competitor for her son's affections. Watching the two face off is like witnessing a Face Book confrontation melt down . All this is keenly observed by Mr. Whittaker, played with subtle and keen restraint by Colin Firth. A World War 1 veteran, Whittaker has witnessed the worst in human combat, and has been scarred by the experience. He is also sympathetic to Larita's warm attempts to win over his wife. The climax occurs when Larita appears uninvited at a party in the ballroom of the castle. Finally confronting her nemesis with unfailing wit and charm, she ends the battle of wits by dancing a stunningly apt tango with Whittaker. The two take off together in Larita's racing car. Leaving Mrs. Whittaker, her pliant son Ben, her daughters, and guests in a state of shock. She gets her comeuppance with a classy spin on an age old theme..
The Luminato Festival
Ask me to choose between New York City or Toronto for local, national or international entertainment, I'd pick Toronto. The Luminato Festival highlights theatre, dance, arts offerings, mixed media installations, photography exhibits. film, art, and free jazz entertainment from a variety of sources, flowing in and around the Distillery District, the Harbor Front Centre and mid town venues.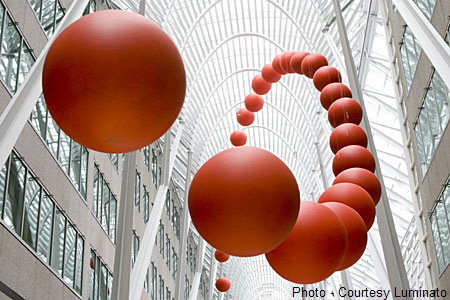 The New Waves Festival inside the Luminato Festival, a vertigo of fifteen independent happenings, mostly in and around the Soul Pepper Theatre, offered a smorgasbord of fresh events. Andrew Craig, music impresario, composer, and performer, organized a film with music using a skateboard enthusiast on a U shaped platform. Swinging back and forth, with turning jumps, he was synchronized in a duet with a live dancer. In the lobby a group of singers wearing tall hats signifying the Eiffel Tower, the Tower of London, Chartres church, and other notable edifices, kept the songs flowing from one hat to the next.
Edgar Allan Poe was a hit at the Festival. "Nevermore" a "dreamlike theatrical trip into the bizarre world of Edgar Allen Poe", from Edmonton, Canada, was one of many theatrical takes on the American surrealist. Others included "Why Theatre?" fixated on Poe's "The Raven". Three mimes, a boom box, two bare light bulbs, the effect humorously steeped like a tea bag in a Poe like state of mind. "A Poe Cabaret" premiered with words and music to haunt your dreams. Also prominent was an inspired composition featuring Canadian librettist Mark Campbell and composer Lance Horne's opera "The Tell Tale Heart". Poe never had it so good, quote the Raven to Lenore.
Advertised as a trip "back into the memory of Yiddish culture", ZISELE splashed on stage at the Jane Mellet Theatre at the St. Lawrence Center for the Arts, like a Mark Brother's routine . But it's not about brothers, it's about mothers and daughters. An Israeli import from the Beit Lessin theatre in Tel Aviv, this wildly comic dance theatre work, directed and choreographed with exceptional vitality by Moria Zrachia, is a ritualized musical frenzy built around songs and chores that keep the daughters in line behaving properly, in order to eventually get them married.
The ritual includes a series of musical twists that might have been invented by Charlie Chaplin. Here are a few: A snappy card game between the mothers with daughters standing in line furtively stealing candy from a dish. Daughters being scrubbed down like mannequins lined up in bath tubs in a round robin of frenetic activity. And finally, the ultimate insult, the mothers display their daughters physical charms like they on an auction block to find a suitable partner. Yes, a son is around; standing around dutifully like an afterthought. A nebbish,left to fend for himself, until the day he's old enough to wear a yarmulke and get bah mitzvah. That day all four mothers and five daughters will dance the hora around him in all his glory; proudly accepting him as a man for all seasonings. Zisele's emotional ballast is that it is based on stories the choreographer's mother told her about her experience as the "only child of Holocaust survivors living in the young Israel of the 1960's". Who can argue with that?
Cover Photo - Courtesy Luminato

Read Daystar/Rosalie's review of Red Sky's Tono at the Luminato