The city of Ashland, Oregon, feels more like a small village where life revolves around the town square. Except that the town square is actually a world-class theatre complex quaintly disguised by tall leafy trees and colorful flowerbeds in full bloom where seemingly spontaneous outdoor performances erupt and then dissolve in the midst of meandering hordes of laid-back theatre goers. The Oregon Shakespeare Festival runs from February through November each year and features plenty of Shakespeare but also commissioned world premieres, revivals or reconstructions of obscure plays and beautifully produced classic favorites.
Theatre students and waiters, employees of the local food co-op and tourists waiting in line for ice cream all talk about the theatrical offerings. The most discussed and hardest ticket to obtain was Mary Zimmerman's "The White Snake."
Director Mary Zimmerman is renowned for creating visually captivating new works based on original source material. Her most recent works are Tony-award winning Metamorphoses, The Notebooks of Leonard da Vinci, Arabian Nights and the Metropolitan Opera production of Lucia di Lammermoor. The White Snake continues this tradition by exploring the ancient Chinese folklore around a white snake who, after devoting centuries to spiritual enlightenment high on a mountaintop, decides to travel down the mountain to live among lesser beings in human form. Zimmerman arrived in Ashland in January with this inspiration, an idea for the opening image, her dedicated creative team and a carte blanche commitment from the artistic staff at the Festival to launch the world premiere performance on February 18.
Her process begins with interviews of potential actors rather than more standard auditions. Her work requires physicality, musicality and a temperament that is comfortable with improvisation, ambiguity and states of flux. Once she has selected her ensemble they begin playing with the nascent themes and scenes dancing in Zimmerman's mind. After rehearsal she retreats and writes, returning each new day with a new script inspired by the actors' various innate gifts and abilities, an amalgam of source materials, and her own ideas about visual and aural atmosphere for the piece as a whole and for each individual scene.
The ancient tale of the White Snake has morphed over the centuries and exists in many forms now including this one. The White Snake is the archetype of a reclusive female spiritual seeker who decides to come down from the mountain and join the material world, if only for one day. Zimmerman provides insight into some of the differing versions of the story and allows the audience to toy with the possibilities while the play unfolds. Was the White Snake compelled by a dream that she subsequently forgot? A visitation from Kwan Yin, the Bodhisatva of Compassion, who reminded her of her karmic debt to a man who had once saved her life? Or the seductive collusion of her mischievous friend, Green Snake, who convinced her that there would be no harm in a quick visit to the human realm?
Actors explore these narrative possibilities on a brightly lit stage whose wood floor and high walls are constructed of simple strips of bamboo. White Snake (Amy Kim Waschke) and Green Snake (Tanya McBride) are dressed in elaborate layers of robes and they don traditionally inspired hairstyles. They move gracefully while each controls a long flexible snake by two thin sticks attached to the head and tail. The effect is constant motion including some anthropomorphic gestures such as when White Snake brushes her forehead with her tail to communicate her fatigue after centuries of studying the long scrolls of Taoist texts unrolled across the stage. The snakes are also represented by a long serpentine line of actors holding paper parasols open toward the audience and gently sway to articulate the restless undulations of reptiles who need to move on.
White Snake's demeanor is calm and thoughtful while the younger Green Snake is excitable, loud and marvelously physical. Once they descend the mountain and attempt to cross the lake a great storm arises. The rainfall is represented by long narrow strips of opaque gray silk unfurling from the heavens. At this visual splendor the audience collectively moaned in awe.
A gawky young man Xu Xian (Christopher Livingston) saves them from the storm and eventually weds White Snake. The rest of the story is a fantastic tale of supernatural manifestation and karmic payback. In the end, White Snake's husband discovers her secret past and must decide whether to accept her as the complex being that she is or abandon her and their life together.
Another creative piece of theatrical wizardry presented this season at the Oregon Shakespeare Festival is Medea/MacBeth/Cinderella. Yes, that's right. It is an adaptation of all three of these plays, created originally by OSF Artistic Director Bill Rauch while he was a college student. Euripides' Medea is a Greek tragedy of marital betrayal and infanticide. Shakespeare's Macbeth is the murder-filled saga of an overly ambitious couple who would be king and queen of Scotland. And Cinderella is Rogers & Hammerstein's musical about a neglected and abused stepdaughter who marries a handsome prince. All three of these plays are stripped to their essential scenes and characters, truncated and performed at the same time on a triple-decker stage that also includes live music.
In a post-performance interview Jeffrey King, who played Macbeth, joked that if an actor didn't have Attention Deficit Disorder going into the play he would certainly get it. I had that exact thought during the opening moments of the performance. To say that it is an experience in over stimulation would be stating the obvious. However, sorting through the constant movement and barrage of language that filled each scene turned out to be an exercise in concentration and deciphering that was surprisingly captivating.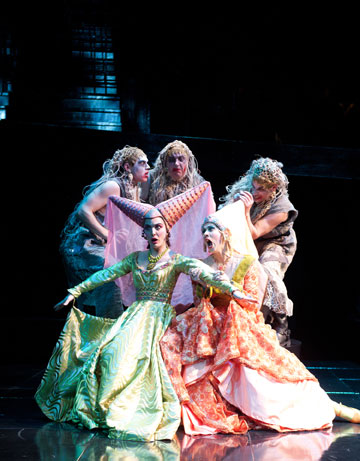 During his initial creative process back in the pre-computer era of the early 1980s, Rauch laid all three scripts side-by-side and analyzed their similarities in theme, language and dramatic arc. He mined each play for scenes that could be woven together with the other two so that words, objects and images would intersect to create moments of unity. From the seeming chaos these moments of clarity and coincidence would provide both respite and meaning enabling the audience to lean further into this bizarre concept.
A straightforward rendering of Chekhov's The Seagull, directed by Libby Appel, allowed the clear language and potent subtext to work on the spellbound audience. The story revolves around a group of family members, their would-be and actual lovers, neighbors and long-time help, who gather at a lakeside country estate. As always with Chekhov, the real story is not in what is said or done but in what lies beneath and between the characters' words and actions.
A hopelessly self-involved mother, an actress whose career may be waning, and her stunted though talented son, who desperately wants to be a writer, engage in vicious banter questioning one another's true motives and ultimately their feelings for one another. Arkadina (Kathryn Meisle), the mother, is a cannibal. She casually ruins the lives of nearly all those around her yet she is so narcissistic she doesn't even notice. Her son, Kostya (Tasso Feldman), longs to express himself as a writer but will not be satisfied unless he also revolutionizes Russian literature. Between his own self-doubt and his mother's mockery, not to mention the torture she inflicts upon him by cavorting with a handsome, successful and much younger writer, he is crippled by self-doubt while also being paralyzed by unrequited love for a neighbor, another actress. Meanwhile, various other characters, all of whom are lovable in spite of their deep flaws, struggle with similar questions of creative and amorous fulfillment.
The play's title comes from a scene in which Kostya kills a seagull and presents it to Nina (Nell Geisslinger), the object of his unrequited love, who is also in love with Arkadina's lover, the dashing young writer. The bird comes to represent a chance encounter that results in ruin. Though undoubtedly a dark and perhaps pessimistic play, it was written, directed and acted with such gentle humor, humanity and compassion that as a work of art it is deeply inspiring. One feels that there is beauty everywhere and in everyone.
Other plays currently running include Shakespeare's Romeo and Juliet, set in California in 1847, Henry V, Troilus and Cressida and As You Like It. Two politically-oriented plays will open in July as part of a broad project of creating plays based upon American history. Party People is the story of the Black Panther movement and the first six months of the L.B. Johnson presidency are illuminated in All the Way.
All photos by Jenny Graham