In movies, there is no substitute for charm. It's not appropriate for every movie to be charming, and some movies are too obvious in their quest to charm an audience, using a trowel when a brush was needed. But it's a lovely thing: some movies that set out to be charming actually are, and when they are, it's more magical than all the CGI in the universe.
Film critics tend to value other qualities over charm, and some reacted indignantly to John Madden's The Best Exotic Marigold Hotel, as if the cast and crew were personally responsible for all the problems of India. All I know is that, at the screening of The Best Exotic Marigold Hotel that I attended, the audience in the nearly sold-out theater applauded. And I applauded with them.
Ol Parker's screenplay, based on the novel These Foolish Things by Deborah Moggach, is outstanding mainly for the opportunities it gives an ensemble cast of great British and Indian actors. The seven main characters all have overriding reasons for choosing India as their retirement home. Evelyn (Judi Dench) is a recent widow left nearly penniless after paying off her late husband's debts. Douglas (Bill Nighy), a retired upper-level civil servant, and his snippy wife Jean (Penelope Wilton), also are in dire financial straits after investing heavily in their daughter's failed IT venture. Muriel (Maggie Smith), a scaldingly racist ex-nanny, needs to find a country where she can obtain a hip replacement more cheaply and quickly than she can in England. Norman (Ronald Pickup) and Madge (Celia Imrie) are senior singles looking for romance, though for different reasons and in different ways. Graham (Tom Wilkinson), a retired judge, grew up in India; he wants to return to look up an old friend and—he hopes—right an old wrong.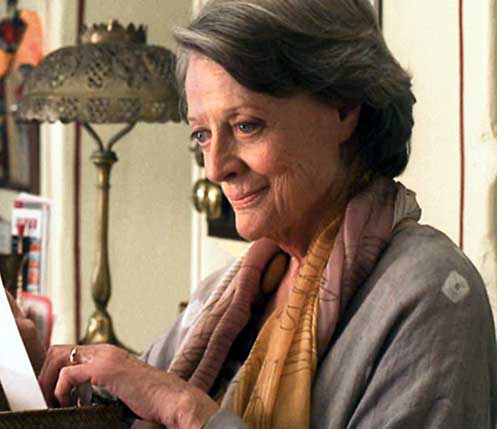 All are attracted by the enticing brochures for the eponymous hotel, and meet on the comically harrowing plane-and-bus journey from England to India. The hotel, once they reach it, turns out to be grand in layout and design. Unfortunately, Sonny Kapoor (Dev Patel), the young man who manages the hotel with a great deal more enthusiasm than skill, neglected to warn them about a few glitches: the antiquated plumbing and wiring, the lack of windows and doors, and the pigeons nesting in some of the rooms.
As the residents face the challenges of their new domicile, Sonny has problems of his own: his dictatorial mother (Lillete Dubey), custodian of the family fortune, threatens to sell the hotel out from under him, and also forbids Sonny's romance with the lovely Sunaina (Tena Desae).
There is nothing challenging or original in the slightest about the story of The Best Exotic Marigold Hotel. Neil Simon undoubtedly would have written a screenplay like this if he had been born in England. There is a lot of comic misunderstanding, and a tragedy or two; old bonds are broken, and new bonds forged, on the way to the expected multiple happy endings for most of the characters. There isn't a lot of depth to the movie, and certainly not as much exploration of the poverty and misery of India as there was in Slumdog Millionaire, the movie that made Patel famous.
But, for me at least, the lack of depth didn't matter. The Best Exotic Marigold Hotel has one goal—to give an audience a good time—and it succeeds resoundingly. The film puts a glow in your heart that lasts for days. The cast alone is more than worth the price of admission; the film's trailer, which shows Dench's priceless reaction after mistaking a gin-and-tonic for a glass of water, accurately reflects the treats in store for the audience. Madden and Parker do a masterful job of blending and articulating the separate story lines, and if the film looks a little too beautiful to be realistic, thanks to the photography of Ben Davis and the production design of Alan MacDonald, surely it can be forgiven that.
A sadder, deeper but no less charming movie is Philippe Falardeau's Monsieur Lazhar, a French-Canadian film that has much the same power as similar films by Truffaut (The 400 Blows, Small Change) and Tavernier (It All Starts Today).
The tragic elements of Monsieur Lazhar begin with the first scene, at the beginning of a snowy day in a Montreal elementary school. Simon (Emilien Neron) is assigned to pass out the morning cartons of milk to his classmates; he arrives at his home room to find the corpse of his teacher hanging from a ceiling pipe.
As the school's administration reels under the myriad problems the teacher's suicide creates, an elegant, middle-aged Algerian gentleman arrives, offering to solve at least one of them. His name is Bachir Lazhar (Mohamed Fellag), he claims to have been a teacher in his native land, and he offers to take over the dead teacher's class immediately.
As a teacher, Monsieur Lazhar proves popular with his students—an entertaining lecturer, authoritative without being overbearing. (The classroom scenes are little gems of finely observed comedy.) He does, however, expect too much of them, assigning Balzac and other difficult writers as class reading. He also pays little attention to the political correctness that some of his colleagues prize above all else.
Meanwhile, problems continue in the school. Simon, already a troubled child before finding his teacher's body, becomes impossible to control. It's also evident that Alice (Sophie Nelisse), the brightest and most promising student in the class, blames Simon for the teacher's suicide. As for Monsieur Lazhar, he isn't quite what he claims to be, and he is struggling under his own burden of grief and guilt.
To say anything more about Monsieur Lazhar would be to spoil the poignant revelations Falardeau has in store for us. To call the film a passionate act of advocacy for both teachers and children is accurate, but reductive. At its core, Monsieur Lazhar is about how human beings—adults and children alike—carry on with living in the face of unbearable loss, and about the duty of adults to help children face such loss.
Much of the excellence of Monsieur Lazhar resides in the acting, particularly that of Fellag. In playing Lazhar, Fellag is portraying at least part of his own life; a novelist and playwright as well as an actor, Fellag was forced to flee his native Algeria, much as Lazhar was. Fellag's Lazhar is a man of infinite kindness and thoughtfulness-- qualities reinforced by suffering and enhanced by a quirky, rueful sense of humor. Along with the beautiful performances by Nelisse, Neron and the other child actors, Fellag makes Monsieur Lazhar an unforgettable experience.,