Last year San Francisco Ballet celebrated its 75th anniversary by commissioning ten world premieres and combining them in an addendum to the regular season entitled The New Works Festival. An ambitious undertaking for all involved, from raising the money to rehearsing so many new pieces of choreography, it required substantial stamina to watch let alone perform the regular and the extended season. It was impossible not to wonder if the dancers weren't overwhelmed with the material though they are an earnest and hardworking group and they rarely show any sign of fatigue. The sheer number of different pieces brought to mind the old adage about Americans travelling on bus tours of Europe and having to refer to their schedule to know what country they were in. Weary dancers might have said to themselves: Today is Tuesday so it must be the Wheeldon piece.
The 2009 Season, which ended on May 9, featured the welcome reappearance of several works that premiered during the frenzy of the diamond anniversary season. This time around the dancers seemed to own each piece and claim the roles as their own. Perhaps they were given more rehearsal time this year (always a challenge for the company because it performs such a vast and varied repertoire and must share its performance space with the San Francisco Opera) or perhaps the hype and hysteria of the anniversary season having passed, everyone could relax into and savor their roles more thoroughly.
Choreographer-in-Residence Yuri Possokhov premieres a new work each season on themes that have ranged from Medea to Magritte. He is abundantly talented in all aspects of choreographic creativity: his stage pictures are vivid, his musicality is inspired, and his ability to move dancers on stage is rife with surprises. Having danced at the Bolshoi before his long career as a principal dancer with San Francisco Ballet, his command of the classical vernacular is solid though he does not limit himself to it. In 2008's "Fusion," he created a unique vocabulary that at times evoked prayer rituals and the meditative movements of whirling dervishes. Set to a score comprised of three contemporary compositions by Graham Fitkin interspersed with serene Indian music written by Rahul Dev Burman and arranged by Osvaldo Golijov, "Fusion"'s layered sections alternated between small groups practicing sacred movement and larger groups dancing with wild abandon. The dancers appeared to be having a blast dancing to the unusual music and throwing themselves into Possokhov's athletic but always graceful movement. Contrasting costumes of loose white robes and tight-fitting, transparent bodysuits evoked potential culture clash but this dance party was all about getting along.
Finish choreographer Jorma Elo's "Double Evil" also returned from last year's New Works Festival to the great pleasure of the audience. Rarely does the San Francisco Ballet audience respond with such enthusiasm but the dancers deserved all of it. Fast and unrelentingly demanding, this work for four couples kept the audience guessing as each new layer of complexity emerged. Much of the movement required the dancers to hyperextend their joints—from their shoulders all the way down to their fingers—creating strangely pleasing arcs and lines while requiring the dancers to constantly push to the limits of their flexibility. Pascal Molat always inspires great performances from the dancers around him with his daring and mischievous manner but even he may have been surprised by the bursts of power and technical wizardry that corps de ballet member Daniel Deveison-Oliveira brandished throughout the piece. (This young dancer seemed to mature before our eyes throughout the season and will hopefully be promoted out of the corps very soon. Though his arm work needs polishing for the more classical roles, his presence is captivating and he inspires spontaneous wails of delight from the audience.)
Though they do not share the name recognition of Mark Morris and Christopher Wheeldon, both Possokhov and Elo are among the most creative and inventive choreographers working in ballet today. Morris and Wheeldon have created some disappointing work in recent years perhaps because they are too much in demand and cannot keep up with the pace. However, both premiered works in 2008 that were included in the 2009 season and both works were refreshing and exciting.
Morris' "Joyride" is a high-energy romp that seems to comment on the cold realities of technology. Metallic-looking spandex bodysuits designed by Izaac Mizrahi featured LED screens on the dancers' bellies that constantly flashed different numbers. The bouncy, off-center movement required great speed and stamina as Morris constantly moved the dancers on and off stage creating different groupings with each entrance, contrasting symmetry with asymmetry. Jennifer Tipton's lighting sparkled off the glittery costumes as the dancers traversed the stage in tight sequences of chainé turns. Again, Pascal Molat's confident attack raised the bar for all of the dancers who seemed to chase after his ideal. Sarah Van Patten's cool detachment worked well in this 21st century statement about the unrelenting fast pace of our technologically-dependent world.
At the heart of Christopher Wheeldon's "Golden Hour" Sarah Van Patten and Pierre-François Vilanoba performed an intimate duet that seemed to slow time as they endowed simple gestures with emotion. She is paper thin but danced with a grounded quality that infused their coupling with an earthiness. Falling off balance and away from her strong and solid partner, she trusted him to always respond with just the right pressure to guide her back to her center. Katita Waldo looked equally assured in the hands of Brett Bauer and Maria Kochetkova once again displayed how her partnership with Joan Boada inspires her to take risks especially by pushing herself to move with unreal speed. An elegant Jennifer Stahl emerged in this piece and throughout the season as someone to watch in the future. Moving through the complex patterns with grace and assuredness, her musicality endowed her with confidence and poise.
San Francisco Ballet's Artistic Director Helgi Tomasson's choreography is reliably prosaic. However, though his experience as a Balanchine dancer at New York City Ballet gives him an unusual feel for choreographing parts that enable the men in the company to perform complex and difficult technical feats. "On a Theme of Paganini" premiered last year to fairly typical ho-hum reviews that cited a lack of imagination and a heavy reliance on gestures too weak to carry an entire work. In rehearsing for this year's reprisal, principal dancers Davit Karapetyan and Maria Kochetkova seem to have decided to take the piece and make it their very own. Everyone and everything faded into the background as their poignant and romantic coupling unfolded. She is a diminutive but technically brilliant dancer who, barely into her mid-twenties, is developing into a full-fledged star. He is dark and powerful but a sensitive partner who never overlooks a detail of line or position in space. Again and again she launched herself into his enveloping arms and allowed herself to momentarily melt before racing away again. Returning over and over and allowing him to suspend her in a series of increasingly complicated lifts, the vulnerability and trust embodied in their bond mesmerized a still and silent audience. When I finally pulled my opera glasses away from my eyes I discovered they had filled with tears which splashed down my face.
Returning to the repertoire after several years' absence was William Forsythe's "in the middle, somewhat elevated" which premiered on the Paris Opèra Ballet in 1987 and on the San Francisco Ballet in 1989. My memory of this magnificent piece is still vivid from those performances twenty years ago. So satisfying is this highly complex suite of combat scenes that as the dancers took their bows I longed for them to start over and dance it once again from the beginning. In structure and even costuming it is somewhat similar to Forsythe's more recent "Artifact Suite" which San Francisco Ballet has performed brilliantly for the past several years. The newer piece is broken up by multiple sudden and very loud crashes of the curtain which invariably prompt the audience to a variety of noisy responses including wondering out loud whether that was supposed to have happened. Where "Artifact Suite" is violent, angry and cynical, "in the middle, somewhat elevated" is violent, passionate and celebratory. Lorena Feijoo gave stellar performances in both pieces and danced with unbridled commitment in every sequence. One of the ways that Lorena always stands out is that she electrifies her body and the space all around her compared to the way most dancers are only preoccupied with their presentational front. Most dancers let their energy drop when their back is to the audience, or when they are not the central focus at a given time, but Lorena keeps the volume high throughout all of her appearances. Her speed and technique are already legendary but it is the feeling that she brings to her roles that makes it impossible to watch anyone else while she is on stage.
In preparation for the 2009 season, Helgi Tomasson continued his admirable legacy of finding and attracting talented dancers from through the world. He triumphed in adding to the roster principal dancers Sofiane Sylve from France and Taras Domitro from Cuba.
I first saw Sophiane perform the fourth movement of Balanchine's "Four Temperaments, Choleric". Though her stage presence is magnetic, her dancing lacked energy and commitment. She seemed to be strutting around the stage throwing in an occasional bit of the choreography as she tried to distract the audience with her seductive facial expressions. By the season's end, however, she had more than redeemed herself as a dancer fully capable of the singular challenge of Balanchine's choreography. In her performances of "Emeralds" and "Rubies," her rapport with the audience was undiminished by her mastery of the famously treacherous choreography. Surprisingly, the San Francisco Ballet roster does not include many dancers with the long limbs favored by and, in some ways, necessary to properly perform Balanchine. Sylve's flexibility and lengthy limbs are ideally suited and she commands the speed as well as poise to give these works their due.
In another show-stopping performance of "Rubies," Taras Domitro partnered Maria Kochetkova in a dazzling speed-of-light rendition that allowed both to display their exquisite technique. Domitro was born and trained in Havana, Cuba, and most Cuban dancers like to downplay the Russian influence in their training in favor of promoting a purely Cuban aesthetic. However, seeing him next to the Bolshoi-trained Kochetkova, a similarity in attack and execution was impossible to ignore. American dancers tackle Balanchine by trying to get through the steps while staying with the music. Kocketkova and Domitro faced the choreography and music like a challenge they were born to ascend and seemed to glide through the most difficult parts with an insouciance that masked years of hard labor.
Two years ago, at the end of the 2007 season, principal dancer Gonzalo Garcia announced that this, his eleventh season with San Francisco Ballet, would be his last. His farewell performance with the company was scheduled to be the final "Don Quixote" of the season and he was to appear with his longtime partner, Tina LeBlanc. I wrote after that performance (see Scene Four Archives) about the disaster that ensued. At the end of Act I Tina crumbled into a ball and had to be carried off-stage. It was later determined that she had torn the anterior crutiate ligament in her knee, would require surgery and would miss most of the 2008 season. (Another couple was summoned to the stage to dance Act II and yet a third ballerina, Vanessa Zahorian, was told to rush to the Opera House to dance Act III with Gonzalo so that he could take his farewell bows.)
When Tina LeBlanc announced this year that she would retire, at age 44 after a 27-year career as a ballerina first with the Joffrey and then SFB, it was only fitting that she should summon Garcia back from New York City Ballet to dance Balanchine's "Tchaikovsky Pas de Deux." They both glowed as they floated through this luscious and beautiful duet. Fully recovered from her rehabilitation and showing no sign of age, fatigue or lack of enthusiasm, Tina displayed her characteristic flawless technique. Garcia has always been an audience favorite but after two years of hard work at Balanchine headquarters, he dazzled.
She went on to perform an excerpt from Lar Lubovitch's 2002 "…smile with my heart" with guest artist Griff Braun. Barefoot, with her long hair hanging loose, she swooped and sank into the weighted movement allowing herself to release the rigidity of the Balanchine torso and dance with a supple pliancy not often seen on the ballet stage. With Ruben Martin she performed Helgi Tomasson's adagio from "Sonata" and then returned with members of the company and partner Davit Karapetyan for one last performance of Balanchine, the pas de deux and polonaise from "Theme and Variations." Each of the four men partnered her with reverence and awe and then tried to disappear during the bows so that she could receive the overwhelming cheers from her loving audience. Film clips were interspersed between the pieces showing her as a young ballet student at the Central Pennsylvania Youth Ballet and capturing interviews with her fellow dancers, teachers and choreographers.
Among the many remarkable aspects of her long career, Tina LeBlanc returned to the stage twice after having given birth to sons. In her own filmed interview she spoke about her pride at being one of three "ballerina moms" at San Francisco Ballet but also about the challenges of raising children with such a demanding career. She resolved this by saying that though she was often too tired to fulfill her boys' requests for some physically demanding activity she was comforted by the thought that she was a much happier mom because she had had such a fulfilling career.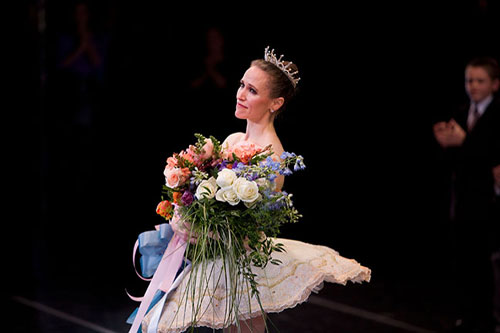 Farewell, dear Tina. Now you can sleep in, wear roomy shoes, and chase those boys all over the park !
All photos by Erik Tomasson
Balanchine choreography is performed
with arrangement of the Balanchine Trust