We had both done cross country trips, before he and I were "we", and since we had good memories, great stories, and the timing was right, the open road beckoned.
Five weeks in a black 2005 Scion we dubbed Dillinger, packed up with maps, camping gear, fancy hats for Derby day and my 12-lb chiweenie, a dachshund-chihuahua princess named Opus One. We split up our trip into half camping, half hotel rooms. We visited 13 states from the middle of April to the middle of May.
The Spring weather was unpredictable and downright scary at times, but it was a nice change from the dry Southern California heat and it meant lower temps in the hot southern regions and less mosquitoes that can't get enough of my apparently sweet meat.
We drove with the 18-wheelers named Piggly Wiggly or Tyson, across dozens of interstates and highways. Eastbound was mostly on Interstate 40, the old Route 66. Westbound was further south on Interstate 10.
Nevada, Arizona, New Mexico, Texas, Oklahoma, Arkansas, Tennessee, North Carolina, Kentucky, Georgia, Alabama, Mississippi, Louisiana, and of course my home state of California were all part of the mix. I caught up on sleep and watched other people gamble in Las Vegas. I walked my doggie around Hoover Dam. I ran into a high school chum, bought artwork and was thoroughly massaged and hot tubbed in Santa Fe. I marveled at the art deco beauty and cleanliness of a Delrio, Texas rest stop. I stayed at one of the best Best Westerns in Yukon, Oklahoma.
Little Rock afternoon coffee. Memphis ribs, Charlie Vergos' Rendezvous style. Nashville Bluegrass. Louisville thoroughbreds and mint juleps. Knoxville home cooking. Asheville storms. Huntsville rocket ships. Tuscaloosa bullfrogs. New Orleans character dripping from every raindrop. Nine-hundred and something miles of Texas.
There are so many beautiful and interesting places to live in the United States. Each state, each town within each state has its own unequaled quality of life. Most people I encountered throughout my journey were congenial, talkative and curious about Los Angeles. Some had pre-conceived and negative notions about the place I call home, but so did I about them.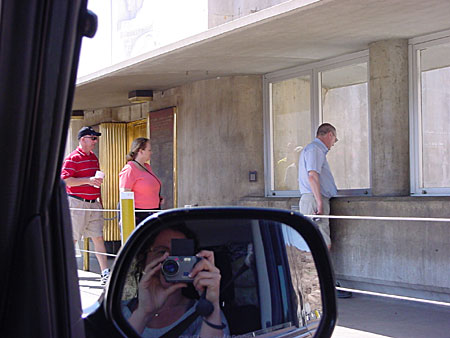 I hadn't given much thought to Alabama as it was just a place to stop for a night to see an old friend and drive south from Tennessee to New Orleans. I forgot one of my oldest and dearest friends grew up there. I was amazed by the beauty of the countryside, the phenomenal state parks and the smart, friendly people. Santa Fe knows art, but so does Asheville. Nashville and Austin contain prolific music scenes, but there was equally rockin' music in Knoxville too.
While I was enjoying all the richness that other towns had to offer, I would occasionally hear the bad comment about Los Angeles. Low opinions from people who had visited once or twice, never visited at all or claimed to live there when in reality they lived in Redlands or Glendale or some other outlying town that isn't really the city itself.
And some of the biggest critics of Los Angeles are the people who currently live there. I know, I used to be one of them. And I used to make excuses for living here as if it was shameful to want to live in a sprawling strip mall soaked metropolis.
The cliché detractions never seem to dissipate. Horrible traffic, crime, smog, high taxes, expensive real estate and 3.8 million shallow people living in a no culture, character-less big city.
There is truth to these negatives but there is also so much more. Let me tell you about my city. The city that encompasses the communities of Santa Monica, Marina Del Rey, Venice Beach, Beverly Hills, Hollywood, West Hollywood, Century City and Culver City.
Outdoor concerts at the Hollywood Bowl. World-class opera at the LA Opera. Art openings at Bergamot Station. Art and architecture at the Getty Center. And dozens of free or inexpensive art, music and dance events all-year round.
Every film released theatrically plays on a screen here. Every musician in every genre of music on a tour plays here. Every cuisine imaginable can be found at one of the hundreds of restaurants here. Some of the best martini lounges, sports bars, wine bars, dive bars and Irish pubs reside here. Two pro basketball teams, a hockey team and a baseball team are supported here.
Diversity rules here.
Fresh produce blooms all-year here.
The PCH (Pacific Coast Highway) and my Honda Del Sol hug the shoreline here.
The sun shines almost every day here.
The coolest, but not so cool thing about my city is the weather. That's right, the near perfect weather ten months out of the year. I don't need winter or seasons. I love my sun and my sunblock.
And when I need variety, a quick getaway that's no more than a 10 or 20-minute to 2 ½ -hour drive and won't cost me a fortune?
To the west, miles of clean open beaches with bicycle lanes, surfer-lovin' waves and pods of dolphins. To the northeast, mountains full of pine trees and snow to lure all the skiers to Lake Arrowhead and Big Bear. To the east, Joshua Tree and Palm Springs to retreat to a desert state of mind. To the south, Anaheim contains Angel baseball and Disneyland while San Diego is a laid back gateway to the gorgeous drive along the Baja coast of Mexico. The Santa Monica Mountains surround Malibu and my favorite hiking trails. The Santa Ynez wine country brings me to sleepy Santa Barbara. The Santa Anita racetrack is only a few miles away from rosy Pasadena. And in the heart of the city, a couple of miles from my home, is acres and acres of park and hiking trails that hardly anyone knows about... Kenneth Hahn State Park. Opus and I know it well.
I could go on and on. That's what makes LA such a neat city. The choices are endless.
Someone once told me Los Angeles was a real insider town. It takes time to find all the unique neighborhoods and fun places to go. It takes an adventurous spirit to be willing to walk out of his or her comfort zone and go explore cultural pockets where people look different, or dress different or speak another language. It takes a brave soul to be a small fish in a big pond and hold onto your truth.
It's not for everyone, but it is for me. For now.
I'm not delusional about this urban center. I know its faults well. I can bitch about traffic and self-entitled douchebags as good as the best of them. I could write a list of all the things I hate about L.A. I could write a list of all the things I hate about your town. But at the end of the day, I choose to embrace the positive. I feel no need to disparage the lifestyles I have not chosen for myself. Except maybe in private... over a glass of wine... with other Seattle refugees... about how Pacific Northwest weather, for me, is Edward Gorey without the literary nonsense.
I adore to travel because I do grow tired of the same routine and surroundings. Nothing gives me a good dose of humility and perspective than a trip to another place, any place that is not familiar. Nothing makes me appreciate home more.
I love L.A. That's why I live here. If you don't live here, you don't have to like or dislike L.A. But if you don't like L.A., then don't live here. It's one less self-entitled douchebag getting in my way on the 405.