The American musical has been around for more than a century. Throughout that time there have been numerous breakthrough works and performances that have helped to shape this steadily evolving genre. One such recent moment was the Tom Hooper film of Les Mis├ęrables. Not only does this bold and brilliant vision of the Boubil-Sch├Ânberg classic break new ground in the way musical films may be made, but it has challenged the way an audience listens to a musical – what it expects to see and hear on stage and screen.
The passionate acting of the ensemble, the intimacy of the camera work, particularly in the big musical moments, the immediacy of the communication between actors and audience which makes song seem as natural as speech –(achieved largely by the decision to let the actors sing live) create a monumental theatrical experience. The cast offers one brave and blazing dramatic and vocal performance after another from Hugh Jackman's towering portrayal of Jean Valjean to Anne Hathaway's gut-wrenching beauty as Fantine to Eddie Redmayne's romantic intensity and vulnerabilty as Marius. But among a roster of stage and screen veterans the two performances which stand out, for this critic, as most completely satisfying vocally and dramatically are those of Aaron Tveit as Enjolras and Samantha Barks as Eponine. Both Tveit and Barks possess voices that sear the soul and screen presences that breathe fire, passion, and pathos into their characters.
It is performances like these which renew our connection to sung drama and which remind us of the complex challenges of the American musical theatre, challenges which require a performer to master versatility, flexibility, and multiple skills to navigate the numerous styles and forms of the genre. The so-called triple threat – acting, singing, dancing – needed for success on the musical stage must be built on a strong foundation of training and technique, and that technique must be merged with all the inner resources of the artist to create those moments of magic.
To get a sense of what foundation today's musical theatre performer needs, one must first answer the questions: What makes musical theatre its own beast? What defines today's musical theatre repertoire and delivery? How does the musical-theatre artist's training relate to that of opera singers, and where do these performance practices diverge?"
Once the old definition that "opera is sung through and musicals are not" was questioned by rock operas and composers like Andrew Lloyd Webber, when Jonathan Larson based RENT on Puccini's La Boh├Ęme, when Showboat, West Side Story, Candide, and Porgy and Bess found their way into opera house repertoire, the conventional lines between opera and the musical blurred.
But despite the amorphous nature of American musical theatre, there are some givens that generally hold true in separating Broadway from opera. While operatic form has evolved from Handel to John Adams, a single work generally encompasses a single style, while on Broadway a show may employ an eclectic range of styles. Then, too, opera is basically a form that uses recitative and aria, while musicals, especially older ones, often have spoken dialogue punctuated by song. In opera the composer orchestrates his own composition, while this is rarely true on Broadway; moreover, the orchestration for opera is largely symphonic while musicals employ a great variety of instrumentation from the traditional sounds of Rodgers and Hammerstein's shows to the rock band of Jesus Christ Superstar, or the combined use of symphonic orchestra and rock musicians in RENT.
In addition to the distinguishing features of opera and music theatre repertoire, the more prevalent differences are those of intent and delivery. Despite vast strides made by today's generation of opera singers in becoming compelling actors and believable stage characters, opera is still a genre that proclaims prima la voce, with the primary goal of the singer to communicate through the music. The musical theatre performer must be an accomplished actor at his/her core, and, moreover, with very few exceptions must possess a mastery of a wide range of dance styles. But perhaps the greatest difference comes in the kind of vocal delivery. While some artists have successfully traversed the worlds of opera and musical theatre, many more have found the stylistic and technical challenges of crossover too daunting. Opera singers base their vocal style on bel canto, which calls for singing though all the notes, rounding vowels, using vibrato, and striving first and foremost for beauty of tone. The musical theatre performer seeks primarily to convey the drama through the words with song as an extension of the story. Musical theatre singers must master the belt – singing upper middle and high pitches in the chest register to achieve a powerful, driving sound – as well as the more traditional techniques of mixed voice and head voice.
And, then, there is the issue of projection and voice amplification. Since the late 70s with the advent of rock musicals, voice amplification increasingly has made its way into the musical theatre so that today an audience raised on pop and rock and tuned to MTV, demands an amplified acoustic even in straight drama. And so the musical theatre performer must learn to sing properly with a mike.
What, then, with so many specific skills required, should constitute the ideal training for the musical theatre stage? In recent years American colleges have added curricula devoted entirely to musical theatre performance. One of the most established and finest of these degree programs is that of Ithaca College in Ithaca, NY. Created in 1983, the BFA/Musical Theatre Major has turned out a virtual who's-who of Broadway performers as well as creative and technical personnel. When queried. Brian DeMaris, Assistant Professor of Performance Studies and the Director of the Opera and Musical Theatre Program, and Mary Corsaro, Associate Professor of Dance and Coordinator of the BFA in Musical Theatre Program, have no problem offering an extensive list of successful Ithaca graduates working on the Great White Way or on tour, among them Kerry Butler (Rock of Ages, Catch Me If you Can, The Best Man), Jeremy Jordan (Jekyll and Hyde, Newsies, Smash), Ben Fankhauser (Newsies), Aaron Tveit, (Wicked, Next to Normal, Catch Me If You Can), Aaron Fried (The Addams Family), Meg Schneider (The Mood), and Mark Price (Mamma Mia, Sweeney Todd).
DeMaris characterizes the four-year course as "a solid acting degree plus more music than a minor, together with a dance component. Lots of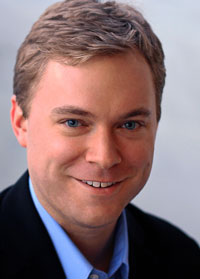 programs have equal parts acting and dance, but ours is a BFA in acting, music, and dance. There are very few credits which our straight acting students have to take that the musical theatre majors don't." These include a solid foundation in script analysis, scene study, voice and movement for the stage, history of theatre, styles of acting, stagecraft, as well as workshops and practicums in audition, acting for the camera and television, and dialects. And, DeMaris continues, "Students take music theory and musicianship for the theatre which is a comprehensive course geared to stage performance. They have their own sections for keyboarding and voice lessons." And, most importantly, he adds,"They study voice with the same teachers who teach the music majors, so they receive a classical foundation. All the voice teachers here are hired on the basis that they can teach belting, mixed voice, and musical theatre style as well as opera."
DeMaris, a conductor who has worked at the New York City Opera, Glimmerglass, and the Aspen Festival among other venues, says that when he coaches his music students, his goal is to help them "make discoveries about what is in the music and how that informs the character and the performance." He says both the voice majors and musical theatre students all eventually arrive at the same point where they have "a solid foundation in theory – in analyzing phrases, contours, and harmonies, but they are not yet at a place where they can instill that knowledge into their performances. So, by junior and senior year we focus on infusing technique into performance."
Asked if he sees a difference in the equipment or skill set needed for a classical singer or by a Broadway artist, he quickly rejoins, "No. The biggest difference for the students we train is in the nature of the business. In today's musical theatre there are more roles for younger performers, and so we see them get cast right away. Our opera students typically need a few more years for the voice to mature and the technique to develop. And because they typically have fewer components of acting or movement training as undergraduates, it is desirable that they pursue those skills in graduate study or apprenticeships."
DeMaris cites the reality of voice amplification in musical theatre and the demands this makes on the singing actor. But he contends,"There is a vast misconception that the artist doesn't need to do as much if he has a mike." Rather than the microphone's being a crutch, he says "it actually amplifies the bad with the good. Mikes make our weaknesses weaker and our strengths better. I think the students recognize this pretty quickly once they are onstage under a mike."
DeMaris goes on to address the issue of the different deliveries demanded by opera and musical theatre. "There is an ever expanding group of artists who are able to work in both fields, but I think that ultimately has to do with the versatility and traits of the individual voice. I often have students ask me 'which voice should I use? My opera voice or my musical theatre voice?' I find that when they do become successful, it is because, regardless of the repertoire they are singing, they are singing it with their own instrument and being true to the text as actors. Even in the musical theatre repertoire, there is such a variety of styles from legit to contemporary, so many of the same questions arise: when to use ornamentation or scooping or straight tone or vibrato. But these issues are secondary. The key is NOT to manipulate their instruments. The rest is just coloring and inflection."
Another issue DeMaris feels is vital is the need to strip away preconceived notions of style which a student may bring with him. "The pop style is so ingrained aurally into the inner ear of this generation of students that we have to work at bringing them to a technical-based training, to a classical foundation, in order to make sure that what they are attempting stylistically is coming from a deeper place. We help them discover the text and the character first and then let style be a by-product of that journey."
His colleague Mary Corsaro, a dancer and choreographer who has an
extensive resume of credits in both musical theatre and opera, heartily endorses the concept of a strong classical technique for her musical theatre students. For Corsaro that concept embraces not only a comprehensive contextual understanding of historical dance and musical theatre styles, but also an integrated approach to dance. "It hurts no one to go back to square one; even I, who have taught some form of Jazz 1 for thirty-five years, learn something new every time I teach a class. You can't go back to the basics enough. In dance or voice it is good to get everyone technically on the same page."
But not only does Corsaro stress the basics of movement technique in her teaching, but she also imparts to her students "the unwritten rules" of the business. "I try to instill gently the etiquette, the behaviors that are required to succeed in class, in an audition, or on stage - they can't lean on the barres; they can't chew gum – things like that which really count in the hiring process. I work on getting them to bring themselves fully to class every day, to bring full energy and focus to the task." One of the tools Corsaro uses in her dance classes is meditation which, she says, "helps students to come into the space, be in the moment, and leave other things behind."
As to the role of dance in the overall training of the stage performer, she believes it is essential not only because Broadway roles demand choreography, but because dance teaches "how to be properly aligned, which is essential for a singer as well; how to do a physical warm up; how mentally and physically to prepare to audition and perform. Understanding how the body functions helps the artist protect himself from injury and insure longevity in a career,"says Corsaro, who still dances after more than three decades. "The way an actor carries himself and the way he walks into an audition space speak volumes."
Like DeMaris, Corsaro agrees that the musical theatre business and repertoire have changed a great deal over the years, and the college has worked to address those developments. "The addition of rock and pop to the repertoire has been a change for us all," she posits. "But, I believe that no natter what the current fad is, it is essential to learn the basics. I have been in this business long enough to know that everything is cyclical. It is always important to learn the classical musical theatre styles because no matter what's new, there are still large numbers of period shows and revivals." Her classes cover historical dance styles not only in terms of choreography but also from a social perspective and cultural context.
"Working in musical theatre is more and more complicated because there is so much more to explore," she concludes. "So, it is crucial to have a classical technique as a foundation."
More to explore – so many styles – the need for the singing actor to be versatile and yet, as DeMaris insists, "true to his/her own instrument," to use voice, body, and heart to discover the connection to the material – these are just some of the challenges confronting contemporary musical theatre performers.
So, on today's musical theatre stage who are some of the actors who embody these qualities? Any list is bound to be selective and personal, but for this critic a few names come immediately to mind. All have been classically trained in music, acting, and dance and/or movement. All have ignited the Broadway stage with their artistry, at the same time that they have also explored film, television, and straight drama. Moreover, all are completely at home stylistically in a considerable range of material.
Kristin Chenoweth, who holds a BFA in Musical Theatre and an MA in Opera Performance (Oklahoma City University), possesses a powerhouse soprano, distinctive timbre, and comprehensive range that have made her at home in opera, concert, and on Broadway, performing roles as diverse as Cun├ęgonde and Glinda.
Similarly, Audra McDonald, who studied at Juilliard, has used her graceful, empathetic stage presence and rich, mellifluous mezzo-soprano to breathe life into works such as Porgy and Bess, Carousel, Ragtime, and Consuelo (John Adams).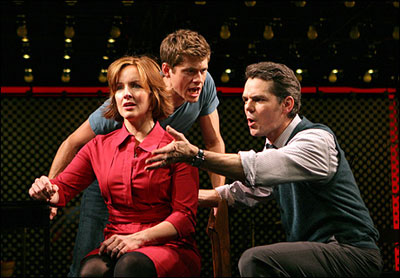 Even Alice Ripley, who divides her time between the Broadway stage and singing/songwriting with her rock band, RIPLEY, boasts degrees in Musical Theatre (Kent State) and Voice Performance (De Pauw). Ripley, whose roles have ranged from Betty inSunset Boulevard to Fantine in Les Mis├ęrables, is probably most remembered for her electric performance as Diana Goodman in the Pulitzer-Prize-winning 2009 musical, Next to Normal. Her portrayal of the grief-stricken, crazed, vulnerable, bi-polar housewife in the virtually sung-through score called for vocal endurance and shattering emotional honesty, which she unflinchingly offered each night singing with a laser-like drive that pierced the heart without ever losing its tonal luster.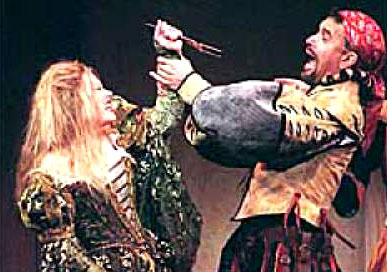 Among today's leading men Brian Stokes Mitchell, Hugh Jackman, and Aaron Tveit stand out for this critic. Stokes Mitchell may arguably have the finest legit baritone voice on Broadway in recent years, but the singing actor, known for his star turns in Ragtime, Kiss Me Kate, Man of La Mancha, and South Pacific, is equally at home in songs like What Kind of Fool Am I ? or How to Handle a Woman and shows like Dirty Rotten Scoundrels. Stokes Mitchell, who studied piano, harmony, and orchestral scoring, has a velvet voice, riveting articulation, and a smoldering presence, all of which make for unforgettable theatre.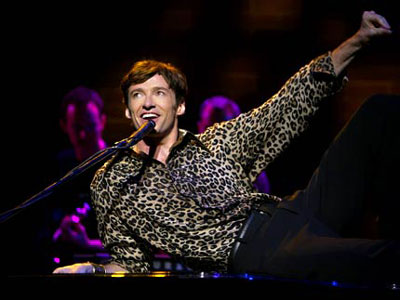 Perhaps today's most quintessential song and dance man, Hugh Jackman, displays the ease, panache, and dramatic range to command the stage in roles as diverse as that of Peter Allen in the jukebox musical, The Boy from Oz, where his triple threat tour de force invariably brought the audience to its feet, or to darker sung-through characters such as Billy Bigelow in Carousel or Joe Gillis in Sunset Boulevard, as well as to straight plays such as A Steady Rain. Jackman received a strong theatre foundation at Sydney's Actors' Centre with courses that included the classics and movement. A baritone who has challenged himself to take on the dramatic tenor part of Jean Valjean, he is a singing actor whose greatest strengths may be his willingness to sacrifice beauty of tone for substance of character and the fearless abandon with which he hurls himself into the depths of a character from the haunted Valjean to the outrageous, yet deeply sensitive Peter Allen.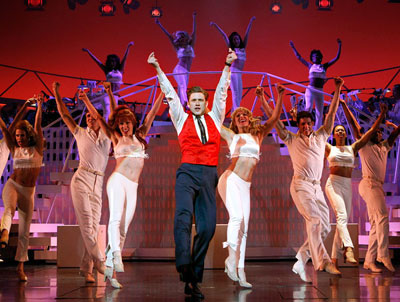 And finally on this writer's short list of distinctive artists is an actor who, despite his relative youth, is one of the most complete and mesmerizing artists to come along on stage and screen in many years. Aaron Tveit, a BFA alumnus of Ithaca College where he began his studies as a Voice Performance major before switching to the Musical Theatre major, not only possesses perhaps the most beautiful lyric tenor voice on Broadway today, but also displays an extraordinary and seemingly effortless range as an actor and natural flair as a dancer. Rocketing to prominence as Gabe in Next to Normal and later as Frank Abagnale, Jr. in Catch Me If You Can, Tveit also gave defining performances in Hairspray, Wicked, RENT, The Three Muskateers, and, of course, the film of Les Mis├ęrables. The voice, which Tveit views "as part of my equipment" (L'uomo Vogue 7/2011) is an instrument of liquid gold, of impressive range (especially in the higher tessitura), capable of being refined, soft, sweet or ringing, driving, searing, always bolstered by elegant musicianship and impeccable diction. An athletic, graceful, enormously physical actor, Tveit seems to conjure up his characters from that illusive place within.
In each of these artists and in so many others, it is those inner resources of truth which are built on a solid foundation of classical technique that allows the creation of a character whose story is believable and embraceable, no matter the musical, historical, or theatrical style. They permit the actor to accomplish the feat that Brian DeMaris has so aptly described as the musical theatre performer's greatest challenge: "to bring the performance off the page."