reat performances of Romeo and Juliet happen once in a blue moon. At least in classical ballet, there is Prokofiev's riveting score to carry one through the usual ho-hum proceedings, and at the worst, one can always close one's eyes. But what a marvel when the old magic works its spell again and one sits in the audience (quoting from Danin Adler's recent Romeo and Juliet theater review) "with a tight throat in tears, witnessing and feeling the agony and grief of this early, awkward, raw, and powerful piece....".
This was my unexpected experience in the final program of San Francisco Ballet's season, the revival of Helgi Tomasson's 1994 version of Romeo and Juliet. I had seen this production before, and found it satisfying but not particularly memorable, except for the bridge that crosses the marketplace and allows Juliet to witness certain moments of the drama as a passer-by. It was a welcome reminder to myself that a perfect theater experience does not need perfection, rather a good-enough ensemble effort with something stellar at the center.
San Francisco's Shanghai-born dance star Yuan Yuan Tan as Juliet made this Romeo and Juliet memorable. She brought back the memory of some great Juliets of the past without the usual regret of time lost and never regained. In her first child-like scene, her Juliet has enough quick-silvery lightness and impishness to bolt around the Nurse, as Ulanova or even Fonteyn used to do, all grace and weightless fluidity. Her smile seemed a bit mask-like at times, but the young exuberance and beauty of her movement were irresistible. Yuan Yuan Tan showed the subtle hues of her palette a moment later when her suitor Paris was introduced. The child's insouciance turned into a girl's astonished and slightly embarrassed curiosity, the careful shyness of a young colt approached by a first rider, torn between being game and wanting to bolt away.
In abstract ballets, Yuan Yuan Tan can come across as distant and cool, but when she dances a part she loves, and she loves dramatic story ballets, an actress is born – a pleasantly understated, cinema-style actress who instinctively lets her body do most of the talking. And she is gifted with a body that apparently has no limits in pliable expressiveness, speed, shot-arrow strength and focus. She looks like a silvery thread, with a natural Asian delicacy of limbs that does not conjure the painful image of anorexic ballerinas. She is not tall but long-limbed, and the stretch of her legs and very expressive feet seems to extend her movements into space. She also showed the best of her musical phrasing (as she already did in Lar Lubovitch's Othello and Tomason's Giselle )– this rare capacity to do so much more than execute steps and master technical difficulties: to dance and let the dance breathe.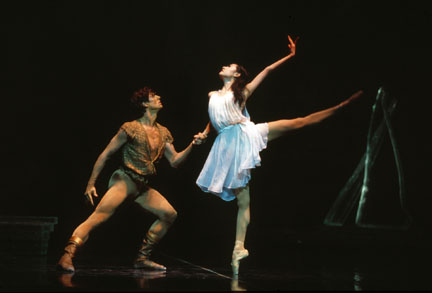 Yuan Yuan Tan and Yuri Possokhov in Lubovitch's Othello. Photo-C Lloyd Englert
The drama of the story and the emotional power of Yuan Yuan Tan's dancing were crucially supported by the solid and sensitive partnering of Yuri Possokhov's handsome Romeo. Possokhov is gifted with a tender intensity of facial expressions and body language, and although he has grown rather heavy in the past years and is technically way beyond his prime, these natural acting gifts made the story believable and moving. I don't remember ever wanting to watch every second of Romeo's reaction at the Ball Scene, when he first spots Juliet. I usually focus on what Juliet is doing at her first ball, her ritual introduction into society. But this Romeo, who has nothing to do but watch from the side lines, was as fascinating to observe as Juliet's dancing. He was thunder-struck, then slowly, deeply gripped and transformed by the gravity of love.
This was something Yuan Yuan's Juliet could respond to. His intensity seemed to tie her to him so that she could not turn her eyes away throughout the rest of the long scene. This degree of connectedness and recognition created a slower and better crescendo toward their first moment alone – and toward the Balcony Scene – than most versions I have seen, and proved the psychological intelligence of choreographer Helgi Tomasson. The original choreography by Leonid Lavrovsky (1938- 1940) and the famous 1965 version by Kenneth MacMillan hardly pay any attention to this all-important event of love-at-first-glance across a ball room. When the role was created by Prokofiev's first Juliet, Galina Ulanova, Romeo is the secret spectator of a dizzying display of Juliet's exuberant personality in the midst of her girlfriends. MacMillan, by contrast, seems mostly preoccupied with squeezing in a few more dance interludes to showcase his star, Nureyev, even at the price of patching music from the third act into the scene. In fact, his version could be called "Romeo", whereas Tomasson's deserves the title "Juliet". This is her story, and he tells it in a refreshingly simple, straight-forward style that only sags when nothing psychological or dramatic is happening – in the banal market scenes before the fights break out.
In the Balcony Scene, there is no shy hesitation in Yuan Yuan Tan's Juliet – she responds with eager, childlike trust and a natural sensuous pliability. It is only at the end, when Romeo runs up the steps after her and kisses her, that she, too, is struck to the core. She touchingly, comically goes weak in her knees and almost keels over from that kiss.
Yuan Yuan Tan and Yuri Possokhov in Tomasson's Romeo & Juliet. Photo-C Erik Tomasson
The big test for any Juliet : is she a different person at dawn, after that first love night? – was no question for Yuan Yuan Tan. Her quiet Asian face with its big slanted eyes seems made for romantic drama, tragedy, and she clearly feels most at home on these shores. In Tomasson's story-telling, Juliet and her nurse are passing on the bridge when Romeo kills Tybalt and is banned – a clever move to make the audience feel the weight of the following Bedroom Scene and prepare for Juliet's sudden maturity. The moment she awakens and sees Romeo in his cape, ready to go into exile, we watch a woman facing the poignancy of her passion. No trace of the child is left when she takes on her destiny, and yet the very willfulness in her longing and despair seems childlike at times and is movingly translated through the breathless spins and reckless balances the dancer launches into as the drama unfolds.
Yuan Yuan Tan is obviously at the height of her power as a dancer, fearless and self-assured enough to take increasing risks – and lucky enough to have a company director/ choreographer in Helgi Tomasson who recognizes and furthers her talent. Tomasson discovered the young dancer just as she appeared in the West, winning dance competitions like the Nijinsky Award, the irony being that she owed her career to her ambivalent parents throwing a coin to decide whether she should dance. Tomasson snatched her away from the Stuttgart Ballet that had offered her a scholarship. He started her right away as a soloist, in 1995, and two years later promoted her to Principal Dancer.
I remember her from that early time when I saw the restaging of Nijinska's ballet Les Biches ( to Poulenc's music, with the dιcor and costumes by Marie Laurencin). Yuan Yuan Tan was the dancer who stood out in the French salon, among the merry hoopla of guests, as the Girl in Blue, leaving a palpable mystery of beauty in her passages across the stage. I made a mental note of her name – the way one notes the first glimpse of genius in a very young performer.
Yuan Yuan Tan in Morris' Sylvia. Photo-C Chris Hardy
Mark Morris recently created his full-length ballet Silvia with her in San Francisco, but this time, Yuan Yuan was upstaged in the (unromantic) role of a "nymph of the Goddess Diana" by the more easy, flirtatious charm of an up and coming dancer from the Corps de Ballet – Elizabeth Miner (who since advanced to Soloist).
But when it comes to dramatic acting and embodying the archetypal ideal image of the romantic ballerina, Tomasson knows where to look (although I regret that he did not also cast his other great dancer/actress, Cuban firebrand Lorena Feijoo, as Juliet). He admits that maybe he is "a hopeless romantic," and I am sure most of his dancers – and the audience as well – are happy that he is. He lets the dancers come up with the very personal and emotional touches that bring a ballet like Romeo and Juliet to life. I often found myself wondering whose ideas were expressed in this choreography. For example, Tomasson takes time to let the bridesmaids admire Juliet's wedding dress before discovering that she is "dead." He fills out the scene change before the last act by sending the priest's messenger into a curtain-front crowd where he can't find Romeo because Benvolio has just brought the news of Juliet's death (in the crowd, one of the bridesmaids is seen crying), and is rushing Romeo back to town. When Yuri Possokhov bursts into the crypt where Paris is kneeling, he finishes off his rival in a single sweeping embrace as if unwilling to share his Juliet for even one more breath. Then he slams shut the cast-iron gates, forbidding the world to intrude on his last moments with her. In his death, he reaches up to her hand on the sarcophagus – and this final touch is what brings her back. When Juliet awakens, her first reaction is to tremble with cold. Then, realizing that she is among the corpses of a crypt, she runs and throws herself against the gate as if the nightmare of her reality could be escaped. After stabbing herself, she tries to wrap Romeo's dead arms around her to die.
Today, Yuan Yuan is the only prima ballerina of Asian descent in America. The audience adores her, and so do the important patrons in the Pacific Rim community of San Francisco. Had there been a technically equally riveting dancer for Romeo available in the company, this revival might have been filmed like Lar Lubovitch's 1997 Othello (where Yuan Yuan Tan was partnered by the impressive Black dancer Desmond Richardson).
Yuan Yuan Tan and Yuri Possokhov in Lubovitch's Othello. Photo-C Marty Sohl
Her Juliet can only be admired live, but at least we have the choice of several DVD and VHS versions of the ballet: several Russian performances with Ulanova and Bessmertnova, of course Fonteyn and Nureyev, and Angel Prejlocaj's trθs avantgarde, over-sexed version of the story for the anti-romantics in the audience.