Separated by nearly half a century, both choreographers John Cranko and Wayne McGregor created original work for the Royal Ballet. Cranko danced for Sadler's Wells, the precursor to the Royal Ballet, and originally pitched them his idea to choreograph a piece based on Alexander Pushkin's verse novel, "Eugene Onegin." He had already created other original works for the company but they declined "Onegin," prompting Cranko to move on and become artistic director of the Stuttgart Ballet. In Stuttgart, he not only created this internationally beloved masterpiece, he thrived as the company's leader and built it into a world-renowned company.
Sadly, Cranko died while on an airplane in the early 1970s, within years of the world premiere of "Onegin." Wayne McGregor, the Royal Ballet's current choreographer in residence and the only modern dance maker ever hired in the role, had just been born. San Francisco Ballet opened its 2012 season featuring works by both choreographers who are separated by a generation, a genre and an entirely different approach to interpreting the human experience. Where Cranko's "Onegin" beautifully expresses complex human feelings including loyalty and longing, love and betrayal, McGregor's work is preoccupied with his self-referential fascination for his own unique movement style, his own creative process, and his obsession with technology. What a difference a half century makes.
Why San Francisco Ballet waited so many decades before mounting Cranko's "Onegin" is a mystery. After repeatedly producing new and recycled productions of crowd-pleasing story ballets including "Swan Lake," "Giselle," "Romeo and Juliet," and "Don Quixote," it seems odd that they would not have been more aggressive in acquiring this rich and satisfying evening-length dramatic tour de force. According to their program notes, the production was a major undertaking by the artistic staff, three-quarters of the Company's dancers, five ballet masters, and Jane Bourne, who has been staging Cranko's work since the mid 1970s. Regardless of the reasoning behind the postponement, the commitment was absolute and the results were worth the wait.
One of Cranko's brilliant decisions was to sideline the operatic score and instead enlist the German conductor Kurt-Heinz Stolze to create and orchestrate an arrangement of various works by Tchaikovsky. Rather than laboring to fit the story and choreography within the confines of the opera, Cranko allowed himself the freedom to use Tchaikovsky for his own precise dramatic and emotional intentions. Cranko freed himself from the moribund story ballet formula of utilizing far too much mime and repetitive group scenes to fill the score and the resulting marriage of music and dance delivers an emotional experience of unusual clarity.
Complementing the exquisite arrangement of Tchaikovsky were the tasteful, fresh and beautiful costume and scenic designs by Santo Loquasto. Though the set was grand and operatic in scale, it also contained a minimalist quality that prevented it from ever competing with the dance and music. A large wall-like structure cut diagonally across the stage creating more intimate spaces, when needed, while also giving the impression of grand high ceilings and extravagant window coverings. The most magical touch was the use of vertical metal bars painted to imitate birch trees. Lit with subtle yet magnificent clarity by lighting designer James F. Ingalls, these tall groupings of trees created a forest-like atmosphere that was at once realistic yet whimsical. The color palettes chosen by Loquasto delivered visual splendor and tasteful elegance to every scene. Even the layers of scrim and full curtains used to hide the stage during brief scene changes were magnificent in their simplicity and visual interest. Cyrillic text, presumably Pushkin's lyric poetry, in pale rust tones was scrawled across layers of ivory colored fabric in varying weights and opaqueness giving the impression of both text on fine paper and the mysterious feeling that words and sentences were floating across the stage.

The story begins with the main female lead, Tatiana (portrayed by Vanessa Zahorian the evening I attended) surrounded by her sister and nurse as they finish preparations for Tatiana's birthday party. Their playful gossiping is interrupted when Tatiana's younger sister, Olga, is surprised by the arrival of both her fiancé, Lensky, and a friend he has brought with him from the city, Onegin. Olga, portrayed by lovely Dana Genshaft, is a flighty, silly character whose giddiness contrasts with her older sister's only somewhat more grounded persona. Both females lose their heads over the arrival of these two gentlemen and while Olga flirts with Onegin to the humiliation of her fiancé, Tatiana throws herself completely into a fantasy of romantic love. Tatiana writes Onegin a confession of her great and boundless love which he later uses to reject, ridicule and humiliate her. Meanwhile, the humiliation Olga causes Lensky by flirting with Onegin drives Lensky to challenge Onegin to a duel and Onegin kills him. This senseless and brutal act causes an epiphany for both Tatiana and Onegin. She realizes what a heartless and haughty stuffed shirt he really is and he, too, seems to recognize this is a true and accurate portrayal of himself. Onegin absents himself and Tatiana matures enough to marry an older dignified general. Years later Onegin reappears in the presence of the stately couple and he is filled with remorse for having missed the opportunity to enjoy the company of someone who turns out not to be an airhead after all. In the final scene he throws himself at her and, though tempted, she rebukes him with what may be the fiercest display of female spine in all of literature.
On the night I attended, all of the principals, except Dana Genshaft, made glaring mistakes within seconds of their entrances, seeming to have overlooked the not-so-trivial need to warm-up. Most glaring was a downstage-center landing in the middle of what should have been several turns by Vanessa Zahorian as Tatiana. As the music continued on for what felt like minutes rather than seconds, she smiled in coquettish apology for landing with her derrière en face to the audience. Davit Karapetyan as Onegin and Vitor Luiz as Lensky had to hop through their first few landings before composing themselves and finding their usual strength and precision. In sharp contrast, and to great effect and delight, the corps de ballet entered showing flawless coordination, musicality and buoyancy. Though the principals all later acquitted themselves with layered and moving performances, Dana Genshaft was particularly evocative as the light-hearted and equally light-headed Olga. Normally a serious and weighty presence on stage, she perhaps drew from her Russian upbringing and understanding of Pushkin to express her character's youthful folly. Appearing lighter than ever, her springy jumps and almost awkward arms defined adolescent flightiness. As Onegin, Davit Karapetyan, also no stranger to Russian culture through his Armenian upbringing in a family of dancers, struck a balance between aloof arrogance and cruelty in the early scenes contrasted against the remorse and regret that overwhelmed him in the end. As Lensky, Vitor Luiz danced with poetic resignation in his final solo before facing Onegin in the duel to his death. His shoulders became visibly weighted with sorrow as the moments drew nearer to his sure demise. The final act belonged to Vanessa Zahorian who, as the mature and regal Tatiana, dances two pas de deux first with her sturdy and reliable husband, portrayed with affection by Tiit Helmets, and then with the pleading, remorseful and desperate Onegin.
That final pas de deux between Onegin and Tatiana is famous for both its emotional intensity and the challenging lifts that Cranko designed for the couple. Karapetyan's previously rigid spine and imperious shoulders visibly soften as he pulls Tatiana into deeper and deeper dives, tosses her in the air and catches her upon his chest, and spins her around supported only by his arms and shoulders as she yields to him. Zahorian crumbles beautifully into him then shows the effort she must summon to retreat. In the end, as the music climaxes, she finds the pleading letter he has written to her. She shreds it and thrusts the pieces into his hands, pushing him away, pointing with conviction to the door. Ah, the strength of a woman!

Now fast-forward 187 years after Alexander Pushkin's novel in verse first appeared in serial publication and 47 years after John Cranko set the poem to music and choreography. Wayne McGregor is one of several dance wunderkinds wandering the world's great theatres today. San Francisco is presenting his "Chroma" for the second year in a row after presenting its San Francisco premiere last year. It is a sharp and jarring contrast in every way to the lyrical, dramatic "Onegin" but the dancing was equally inspired.

Imagine a bright white stage, glaring white lights and clamoring modern music by Joby Talbot and Jack White III. Ten dancers costumed in pastel t-shirts and tiny briefs dance alone then form duos and trios, arms and legs circle as if hip and shoulder joints do not exist. In fact, loose anatomy-defying movement is a trademark of Wayne's McGregor's choreography. McGregor has translated his own unique movement vocabulary into a remarkably consistent choreographic voice. Apparently he enjoys hyper-mobility in most if not all his joints and this is the characteristic he prizes in dancers. Forget the six-o'clock split of the legs with one foot perpendicular to the other and the torso lingering somewhere around nine o'clock. McGregor asks the female dancers to accomplish acts of contortion that involve pushing the leg around the face of an imaginary clock up to twelve then back toward ten. The feet also appear boneless as they lick the stage like tongues. Spines are liquid and undulate, bringing more attention to the back of the body than any other choreographer.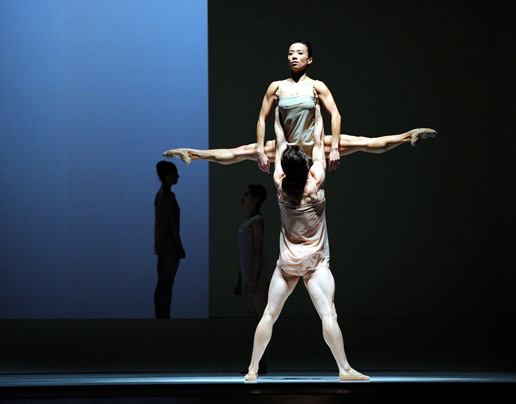 The beautiful French principal dancer Sofiane Sylve can sometimes appear too soft in her attack, especially in work by George Balanchine or William Forsythe, but her softness brought welcome subtlety to McGregor's hard edges and obsessive slicing motion. Her expressive face reacted to the movement and she interacted with the other dancers. All of the dancers brought playfulness to the stage that helped humanize McGregor's cold view of them. In a recent San Francisco performance of his own company, Random Dance, at Yerba Buena Center for the Arts, this humanity was missing from the stage. The dancers execute technical wizardry with abandon, they seem to compete with each other for the most dazzling display of hyper-mobility and athletic endurance but their relationships to one another never warmed. If they made eye contact it was only as if in childlike dares. Ha! Watch this! Even martial arts can express a range broader than technical showing off. How ironic that the ballet dancers, themselves slaves to technical mastery, brought the missing humanity that the modern dancers lacked.

Photos - San Francisco Ballet © Erik Tomasson