I worry when a ballet, or any piece of theatre, begins with a pronouncement of Greenwich Mean Time, and not just because I'm nowhere near England. But that's exactly how Ballet Mori began at the magnificent San Francisco Opera House for its one and only performance on April 4, 2006. Conceived to commemorate the great San Francisco earthquake of April 18, 1906, the piece was a multi-disciplinary collaboration among dancers, composers and technological savants. After announcing that it was 4:10:18 GMT, the speaker went on to proclaim that what we were about to hear were the actual sounds coming from the earth being transmitted in real time over the internet and synthesized through a software program. At this point, my companion said something I'd rather not put into print; fundamentally, he was predicting disaster.
The curtain rose and Muriel Maffre, the strange beauty who has been a principal dancer with San Francisco Ballet since 1990, appeared gigantic on an upstage scrim lit from behind. Those sounds, somehow summoned from the earth, began and a mesmerizing score drove Maffre through a series of transformations. Working with choreographer Yuri Possokhov (also a principal dancer with SFB and one of the most exciting new choreographers working in ballet), she brought to the stage a structured improvisation from which she moved in response to those powerful synthesized sounds. Possokhov's rich and varied choreographic outline provided a framework that propelled her around the stage as she adapted the movements depending on what she heard. Randall Parker is credited as the composer. Presumably he was responsible for shaping the data somehow retrieved from the earth and giving it the variety of textures that reminded me at times of something like wind and crashing waves but different enough to be arresting.
In an interview, Ms. Maffre commented on the difficulty of improvisation in ballet. "Classical ballet has to do with precise pointe work, and knowing in advance where you need to be for all types of controlled movement." It was captivating to watch her explore the sounds, in real time along with the audience, and experience her decisions in the making. Long and strong, she stretched and quivered, etching an existence upon an eerie landscape crafted by Benjamin Pierce of dark linoleum, gathered in crevices, alluring and foreboding. This magnificent creature, working against the medium beneath her feet and draped in a translucent dress that accentuated her bony body while enveloping her in fabric, made us aware of the power and danger present in every precious moment we are allowed on this planet.
And besides, it lasted only eight minutes: much longer than the average earthquake but much shorter than most ballets.
San Francisco Ballet welcomed William Forsythe back after a long absence to set the United States premiere of his 2004 work Artifact Suite. Returning to San Francisco must be difficult for him. In 1986 he set his New Sleep on Tracy-Kai Maier and Christopher Boatwright. He soon married the exquisite Ms. Maier and she joined his company, the Frankfurt Ballet. In 1994 she died of cancer in Germany and subsequently Mr. Boatwright died in San Francisco of AIDS.
Artifact Suite is a complicated and daring piece of work created by an angry man who will have his own way. At unpredictable intervals Forsythe drops the weighted curtain with a loud slam. For the audience it is reminiscent of the obnoxious behavior of John Cage or Miles Davis essentially flipping the bird at those expecting a seamless performance. The audience reacted with uncomfortable laughter, rumbling conversation and attempts to squelch both.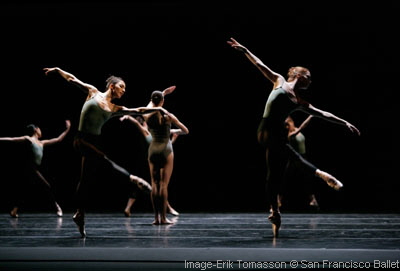 Lorena Feijoo, the intellectual and passionate principal dancer who was featured in the work, had an interesting interpretation of the decision to drop the curtain throughout the piece. "It's like a movie director controlling what you will and will not see. He cuts between scenes and says 'you can only see this much.' You must invent the rest."
Set to the music of J.S. Bach and Eva Crossman-Hecht, Artifact Suite employs the entire company and features two couples. Lorena Feijoo danced her role with another principal, the invincible Pascal Molat. Normally Mr. Molat is insouciant as he seems to wink at the audience and say, "Yes, this is hard, but so what?" In this piece he was clearly working to his capacity, keeping pace with the music and Ms. Feijoo. Forsythe envisioned the other featured couple, Muriel Maffre and Pirerre-Francois Vilanoba, as a slower, legato version contrast to the powerful and up-tempo coupling of Ms. Feijoo and Mr. Molat. Frankly, I couldn't take my eyes off of Ms. Feijoo and Mr. Molat. They avoided the floor as if it were molten lava and kept themselves suspended in music and time. The movement is fast and complicated; the partners used each other's body not as ornaments but for counter-balance. Ms. Feijoo and Mr. Molat sustained a dangerous, on the verge-of-losing-control momentum throughout the lengthy piece.
Forsythe inspired dancing from the corps de ballet that is to date unprecedented. The quick changes demanded by those curtain drops required each time a new and distinct formation followed by full-out dancing. These dancers are up to the challenge but sadly, it is rarely asked of them. Despite a broad repertoire that includes a lot of Balanchine, Wheeldon and Robbins, much of the choreography draws from the predictable classical vocabulary. But not Mr. Forsythe. His movement requires the dancers to work off-balance and create unusual geometry in syncopation to the music. It was thrilling to see the company stretch to meet the challenges.
As Renate Stendhal describes in her review this month, Mathew Bourne's Swan Lake finally made it to San Francisco, more than ten years after its London premiere. I admit that I was skeptical about this much-lauded piece. I had heard so much about it, and so much of what I'd heard was overwhelmingly positive, I couldn't imagine that anything could truly be that good. The naughty little devil on my left shoulder looked forward to finding the flaws and dispelling the mythology.
I had seen Bourne's remake of Carman, entitled Car Man when it came to U.C. Berkeley's Zellerbach Hall a few years ago. The piece was overlong and overdone. In spite of a few satisfying moments of homoerotism set in a 1950s mechanic's shop, this bit of kitsch simply didn't display enough ideas to fill an entire evening.
Nonetheless, Mr. Bourne is widely known to hold the singular distinction of having won Tonys for both direction and choreography in the same year for Swan Lake.
I found few flaws and am unprepared to hold forth against the prevailing myths that this is a great piece of theatre. Bourne acquitted himself as someone who knows how to tell a story, keep the stage lively, and choreograph poignant yet accessible dance.
Okay, the two lead males were not great dancers. In fact when José Tirado first took the stage as The Swan (Odette, the white swan in the traditional version), I was embarrassed for his lack of technique (especially since I had seen Yuri Possokhov in the lobby and simultaneously imagined him dancing the role and having to suffer through watching someone else do it). As the piece moved on I realized that it wasn't as much Mr. Tirado's lack of technique but just a lack of warming up that created the problem. He was unable to land firmly or hold his balances and jumped around like an amateur. However, his upper body movements, the trademark of any swan of any gender, were beautifully executed regardless of his wobbly stance. Simon Wakefield's Prince was far from virtuosic but after I gave up those illusions, I relaxed into the sumptuous stagecraft and magnificent music.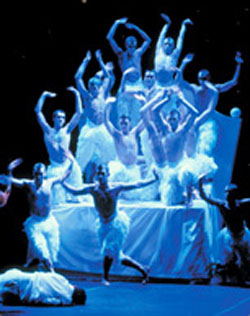 The corps de ballet of men who play the flock of swans carried the piece with piquant insistence. Bourne's choreography for them was a brilliant mélange of powerful athleticism, satiric and ironic nods to the original choreography and poignant group-think. The finale is breathtaking due to their commitment to physicality, musicality and animal abandon.
Tchaikovsky did not survive long enough to know that his composition would endure beyond its premiere with the Bolshoi in 1877, let alone become a classic that thrives into the 21st century. Without a doubt, Matthew Bourne's interpretation lives up to the masterful score and deserves a long life itself. Sadly, I have just learned that runs in Washington, D.C., Baltimore, Philadelphia and Toronto have all been cancelled due to lack of ticket sales.
Coming to theatres near you…
San Francisco's favorite ballerina, the Cuban beauty Lorena Feijoo, portrays an iconic night club performer in Andy Garcia's new film, The Lost City.
Mr. Garcia and Ms. Feijoo are both Cuban but their relationship to the tiny but mighty island is very different. Mr. Garcia left his country as a young boy of five shortly after the revolution led by Fidel Castro in the early 1960s. His extended family thought their exile to Miami would last no more than six months. Almost fifty years later, he remains obsessed with his homeland and its inaccessibility. Ms. Feijoo was born in the 1970s and grew up knowing nothing but the reign of Castro. She absorbed all that she could from Alicia Alonzo's famed ballet academy but soon spread her wings and left the island of her origin to dance the world.
In a recent interview, I asked Mr. Garcia if he had any distinct memories of Havana. "Of course I do. And I am creating more of them all the time," he said. "That's why I made this movie."
The story of how the revolution affected a family in 1958 as two out of three brothers become more and more politically active and the other, played by Garcia, tries to remain detached from the historic changes about him.
About Ms. Feijoo, Mr. Garcia said, "I wouldn't hesitate to cast her as the lead in a movie. She's a complete artist and can do anything."
In the film she not only acts but dances a piece of classical choreography she created with her mother, also a ballerina originally from the Ballet Nacional de Cuba, and performs a stunning Afro-Cuban theatrical number. The ability to span all three techniques is rare yet Ms. Feijoo makes it look natural.
For anyone who doesn't have access to the San Francisco Ballet, this movie is a must-see. Lorena Feijoo is one of the greatest dancers of our time.