There is a lot more to love at the Oregon Shakespeare Festival than the Shakespeare. In fact, some of their Shakespeare is drawn in such broad strokes, especially when the comedies are presented on the large, outdoor Elizabethan-style theatre, it seems as if the directors are trying to appeal to the lowest common sensibilities of high camp, physical humor, and slapstick. And their instincts might be right. I attended seven performances in late September and early October and every single one brought audiences to their feet in rousing applause. Style aside, the breadth of offerings this season is so imaginative and varied, audiences can avail themselves an education in theatre that spans the last five hundred years and even includes an experimental piece created in the 21st century.
Located near the border between California and Oregon in the quaint town of Ashland, the Oregon Shakespeare Festival was founded in 1935 and is nationally recognized among the best regional theatres in the United States. During an eight-month annual season, the Festival presents eleven plays in rotation, including three by Shakespeare and eight by an impressively selected array of contemporary and classic playwrights.
In addition to overseeing the selection of plays each year, the Festival's artistic director, Libby Appel, also directed two plays this season including a visually arresting production of "Richard III" in the indoor Angus Bowmer Theatre. Richard, Duke of Gloucester and later King Richard III, was portrayed with virtuosic physicality by James Newcomb. (Newcomb played a younger, already fervent Duke of Gloucester in Henry VI, Parts One, Two and Three when they were presented last year in Ashland, also directed by Appel). Mastering the use of crutches, Newcomb owned every inch of the stage, swung his deformed body, spun in tight turns, and wielded his crutches to overpower, distract and disarm his aggressors as if the crutches were truly his own appendages.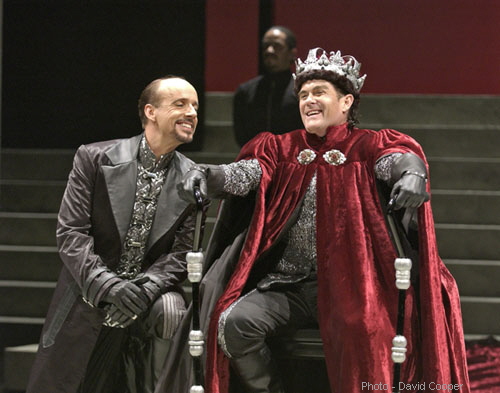 Although Shakespeare heavily revised history to fit his dramatic purposes (including the portrayal of Richard as a lame hunchback), Richard did in reality succeed his brother, King Edward IV, as King. Appel and her collaborators, Rachel Hauck, Mara Blumenfeld and Robert Peterson, created a stunning coronation. Newly crowned, Richard walks slowly from upstage toward the audience and, like a river of blood representing all the murders he committed to ensure himself this position, the blood red train of his cape flows the length of the stage behind him.
Another visual triumph was the portrayal of Queen Margaret, widow of King Henry VI, as a crone and sorceress dressed in rags and black lace-up army boots. Played with strength and conviction by Robin Goodrin Nordly, unfortunately, there was too little variety in the staging of her appearances and her predictions and curses became tiresome monologues that distracted from the momentum of the narrative.
Though despicable, Richard is a heroic figure because of his self-awareness. When the audience is lured into his confidence through the many asides Shakespeare provided in the text, compassion, even complicity, develops. This production did not achieve the necessary intimacy for these feelings, yet it was an engaging interpretation rendered with sensitivity and passion.
I have been attending the Oregon Shakespeare Festival on and off for over twenty years, and one of my great pleasures is watching the same actors take on different roles in the same weekend and from year to year. For example, this year Kevin Kenerly played the central character, Levee, in August Wilson's "Ma Rainey's Black Bottom" as well as Steven in the world première of Octavio Solis' "Gilbraltar." In previous seasons, I have seen Kenerly perform as Octavius Cesar in "Antony and Cleopatra" and Romeo in "Romeo and Juliet." Kenerly's voice is warm and the timbre beautiful, his versatility is admirable and so is his endurance.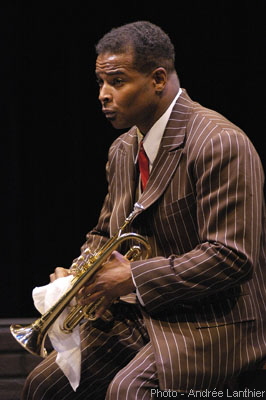 I attended "Ma Rainey's Black Bottom," often-referred to as August Wilson's greatest work, the evening before his untimely death, on October 2 at age sixty, of liver cancer. Following Wilson's death, Ben Brantley wrote in the New York Times that Wilson's writing, "comes closer to the sweep of Shakespearean music than that of any of his contemporaries. Edward Albee creates intense and elegant chamber pieces; David Mamet, machine-gun jazz; Sam Shepard, rhapsodic plainsong; Harold Pinter, monastic chants; and Tom Stoppard, jaunty concertos. But these days only Mr. Wilson has written plays that sound like grand opera – and it is no contradiction to say that it is opera rooted in the blues."
"Ma Rainey's Black Bottom" is a play based on and in the blues and the musicality of the language is as seductive as the music itself. Sitting in the theatre, I was so entranced by the cadences achieved by the actors, especially Kenerly as Levee, I dreaded the play's conclusion because I wanted to listen to them all day.
The play is set over the course of a single day in a Chicago recording studio in 1927. Ma Rainey (played with flair by Greta Oglesby) is a big star and she is devoted to constantly reminding her band and especially her agent and the crooked record company executive of her stature. She is a diva and not always a lovable one. She arrives late to the session, accompanied by a police officer who doesn't believe that the great big car she is driving could possibly belong to her. The indignities that she suffers are as numerous, though far more egregious, as those she inflicts on others.
Based on an actual blues singer, Gertrude "Ma" Rainey, who was born in 1886 and died in 1939, the characterization in the play emphasizes her independence and confidence. Though she is ultimately exploited by the corrupt and greedy recording executive, Mel Sturdyvant (Bill Geisslinger), and her accommodating if duplicitous agent, Irvin (U. Jonathan Toppo), she makes their lives as miserable as she can while they cheat her. Although in real life she was so popular she sold tens of thousands of recordings at one dollar apiece, she was paid only $200 for a recording session so the white enablers could reap large profits.
In addition to the unwanted police escort, Ma is accompanied to the studio by her lover, Dussie Mae (Julia Pace Mitchell), a young woman whose motivations are suspect, especially as she flirts with Levee when he hints that he could offer her a role in his fictitious band, and her stuttering nephew Sylvester (Mark Peterson) whom she has promised a paid gig. Her band is led by a well-seasoned, sensible peacemaker named Cutler (Josiah Phillips), and also includes a philosophizing piano player named Toledo (Abdul Salaam El Razzac) and a mellow bass player named Slow Drag (Frederick Charles Canada).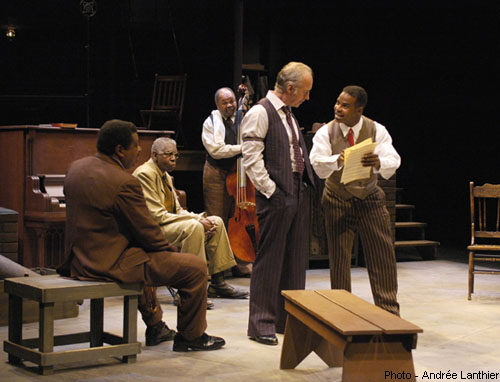 Throughout the mounting delays and constant interruptions of the recording session, the band members reminisce, argue and share revealing stories about their troubled lives. They also manage to make a recording of Ma Rainey wailing from the bottom of her heart. In August Wilson's preface to the play, he wrote: "It is hard to define this music. Suffice it to say that it is music that breathes and touches. That connects. That is in itself a way of being, separate and distinct from any other. This music is called blues. Whether this music came from Alabama or Mississippi or other parts of the South doesn't matter any more. The men and women who make this music have learned it from the narrow crooked streets of East St. Louis, or the streets of [Chicago]'s Southside, and the Alabama and Mississippi roots have been strangled by the northern manners and customs of free men of definite and sincere worth, men for whom this music often lies at the forefront of their conscience and concerns. Thus they are laid open to be consumed by it…"
Ultimately, the play's central character, Kenerly's nuanced Levee, is consumed by his own demons when he can no longer control the rage the burns within.
Kevin Kenerly's other role this season, Steven in the world première of Octavio Solis' "Gibraltar" was another barely controlled angry young man. "Gibraltar" was commissioned by the Oregon Shakespeare Festival and was created through a unique process of improvisation with several of the Festival's leading actors. Based on the improbable conceit that a woman, Amy (Vilma Silva), in contemporary San Francisco brings home with her a homeless man, Palo (René Millán), she met in the laundry detergent section of the Marina district Safeway; the play is problematic in many ways.
It opens with an extended conversation between the two main characters in which Amy reveals that her husband has recently died in a mysterious boating accident and Palo describes the evening when he probably murdered his wife. The opening dialogue is stilted and forced as the play struggles to establish itself. Neither of the main characters is immediately appealing or sympathetic and the staging is so minimal, it is a soporific beginning from which the play ultimately only partially recovers.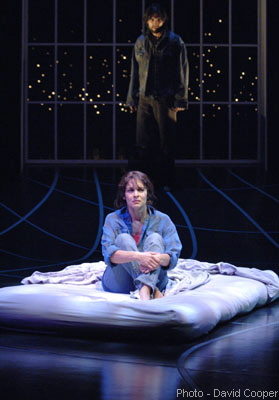 Beginning a play with an extended series of monologues disguised as dialogue by two depressed people, one of whom may also be violently psychotic, is certainly a daring point of departure. The body language of depression was effectively evoked by Silva and the unstable and unreliable Palo was played with subtlety by Millán. As a long night wears on, the two tell each other their stories and in the process various actors come onstage and liven things up considerably. Invoked as a memory of someone Palo met on his travels up the California coast, Kenerly's Steven meets the white woman who his father loved and lost when Steven was a young boy. Amy relives an affair she had, before her husband's demise, with a man whose wife Dot (played brilliantly by the great Judith-Marie Bergan) is descending into dementia. Palo recalls a police officer he met whose wife left him for a woman. Although these vignettes may seem random, Solis does effectively tie them together as tales about people who loved another so much they, at the very least, considered killing them. However, in spite of the beauty of Solis' poetic language, I found myself thinking that the one hundred minute play might work better as a dance piece half its length. The set, an unmade mattress on the floor in the middle of the stage, and the lack of physicality among most of the actors, were unfortunate choices that weighed the play down.
Octavio Solis is a San Francisco-based playwright who has received a great deal of attention in recent years for his willingness to explore taboo subjects and his expressive language. Given the dearth of new plays in theatre repertoires across the United States, the Oregon Shakespeare Festival is to be applauded for making the significant investment in an experiment of this nature.
A lively revival of Hannah Cowley's "The Belle's Stratagem" was a delightful afternoon refreshment. Written in 1780 at a time when women were enjoying a high profile in the theatre, this play has not been performed in a major production for over one hundred years. The nineteenth century was unkind to women in many ways. The reputation of female playwrights was openly questioned and women who wrote were subject to immense pressure to conform their thoughts to the narrowly defined parameters of the prevailing moral code. In contrast, plays written by women were frequently performed on eighteenth century London stages. Hannah Cowley was one of several successful playwrights. Though their names will not be familiar (Aphra Behn, Catherine Trotter, Delarivière Manley, Mary Pix, Susanna Centlivre, Mary Davys, Eliza Haywood, Charlotte Charke, Catherine Clive, Frances Brooke, Frances Sheridan, Elizabeth Griffith, Charlotte Lennox, Hannah More, Elizabeth Inchbald and Charlotte Smith), between the mid-1600s to the mid-1700s, they all saw their works produced in London. In fact, according to historian and dramaturg Melinda C. Finberg, in 1779, for example, forty percent of the new plays presented were written by women.
The story that animates "The Belle's Stratagem" is so silly and transparent that, at first telling, it does not bode well for the play. A young man and woman have been promised to each other by their fathers who were best friends until the father of Doricourt, the would-be groom, dies. Letitia Hardy (Heather Robison) and her father attend a meeting with Doricourt (Gregory Linington) at the attorney's office to arrange the details of the forthcoming nuptials. Doricourt and Letitia have not seen each other since childhood, in part because Doricourt has just passed an extended and exciting time on the Continent. At this meeting, Letitia realizes that Doricourt finds her plain and boring, not remotely as alluring as the beautiful women he has encountered in France and Italy. She devises a strategy to win him over by first making him hate her. She strategizes that hate can turn to love, but indifference can never be overcome. Letitia enlists the help of her widowed cousin, Mrs. Racket and is counseled against this plan by her father. (On the day I attended the performance, Mrs. Racket was played with such energy and mastery by an understudy, Caroline Shaffer, she seemed to have the extra confidence to wink and giggle at the audience as if to say, "…And I'm only the understudy!") Letitia's method involves acting crudely and feigning ignorance about social graces and then wooing her betrothed behind a mask at a masquerade.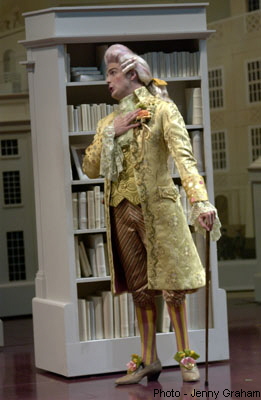 A secondary plotline involves the efforts of Mrs. Racket and her accomplice, the inaccurate though energetic gossip, Flutter (John Tufts), to engage in society the young, beautiful but reclusive Lady Frances Touchwood against the wishes of her overprotective and jealous husband Sir George Touchwood. This trifle of a story serves mainly to give the audience a feeling for the busy schedules of those who must see and be seen in London society and also serves a parallel, though ultimately unsuccessful, strategy developed by a braggadocio named Courtall (Mirron E. Willis) to seduce Lady Frances away from her husband.
Cowley's language is witty and sexy; she creates an intimacy between the audience and actors with asides and confidences shared with the audience but held back from various characters. Under Davis McCallum's direction, the timing sizzles and a great wave of momentum drives the characters forward to the ultimate resolution that occurs at a masquerade ball.
Deborah Dryden's costumes and William Bloodgood's sets create an atmosphere at once light and frivolous though evocative of the time. The characters may occasionally laugh at themselves, and each other, but their business is the serious business of mating while considering all of the attendant eighteenth century implications of class, status and the pursuit of happiness. Scene changes are deftly handled by moving a wall here and a piece of furniture there. It is suggestive of the characters' constant movement around London society. As Lady Frances Touchwood says, "Everybody about me seem[s] happy; but everybody seem[s] in a hurry to be happy somewhere else."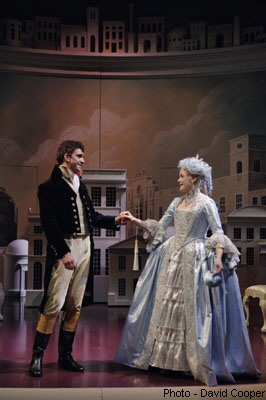 Neither light, nor frivolous, nor sexy nor witty, Christopher Marlowe's "The Tragical History of Doctor Faustus" is as intimidating as hell. The performance I attended was particularly daunting as the performers worked under pouring rain and chilly temperatures. (Oregon is a wet place and the Festival's policy can be summarized as 'the show must go on.') A small but hearty audience donned rain ponchos over layers of blankets to watch the three-hour descent of Doctor Faustus.
Marlowe's Faustus is a Renaissance man of science and learning who lives in a world dominated by Medieval Christian values. A brilliant scholar who was depressed and infuriated about the limitations of human knowledge, Faustus rejects his studies of law, medicine and theology in favor of attempting to satisfy his craving to rise above human limitations by making a pact, carved in his own blood, with Lucifer, King of the Underworld. The pact provides Faustus with twenty-four years of services from Mephostophilis, Lucifer's capable associate, in exchange for Faustus' soul.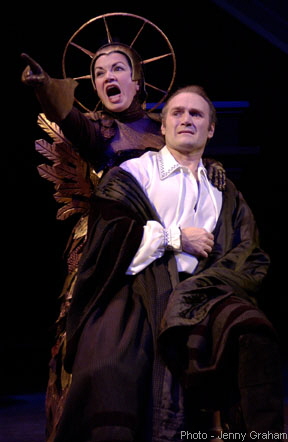 Directed by James Edmondson, Jonathan Haugen portrayed the doomed Doctor Faustus with sly hubris. He believes that he will eventually be able to repent and that Lucifer will relent and save Faustus' soul from eternal damnation. In the meantime, twenty-four years seems like ample time to have some fun. Faustus reads lots of good books, frolics with a few of the world's most beautiful women, practices the ever-alluring dark arts, and generally enjoys his dalliances with the seven deadly sins (you remember: pride, covetousness, envy, wrath, gluttony, sloth and lechery). Faustus is never lonely given the company a Good Angel (Julia Pace Mitchell) and a Evil Angel (Catherine Lynn Davis), numerous scholars, various spirits, the personifications of the seven deadly sins and of course, Mephostophilis and the intermittent appearances of Lucifer and his side-kick Belzebub. (Brent Harris' Lucifer looked an awful lot like Rod Stewart had accidentally wandered into George Clinton's dressing room and borrowed a costume.) As if thumbing his nose at the prevailing Christian mores wasn't enough, Marlowe also gives Faustus a go at humiliating the Pope.
But, finally, a deal is a deal and a terrified Doctor Faustus delivers himself to the underworld of fire and brimstone. Richard Hay's sets and Robert Peterson's special effects added spectacularly to the Doctor's fright-filled promenade to the land of no return.
Marlowe penned "The Tragical History of Doctor Faustus" at approximately the same time that Shakespeare wrote "Richard III." The comparison is hard on Marlowe. Where Shakespeare's language is clever and modern, filled with nuance and double meanings, Marlowe's greatest work is heavy and formulaic. There are those who believe, in fact an entire society in England is devoted to the belief, that William Shakespeare was actually Christopher Marlowe working under an alias. When Marlowe was reported murdered at age twenty-nine, they propose that actually he went to Italy and wrote the masterpieces we now attribute to W.S. I think not.
Susan Andrews contributed the
research on Christopher Marlowe's
"The Tragical History of Doctor Faustus"
for this article
Cover Photo - David Cooper.