Filmmaker Paul Rickard is an Omuskego Cree from Moose Factory, Ontario. Moose Factory, for those who may not know, is way, way north near the James Bay. This is significant for several reasons. First, Rickard's connection to the northern Canadian wilderness is integral to the story in his short film, The Winter Chill. Moose Factory is also home to Rickard's annual Weeneebeg Film & Video Festival held each March, an ambitious yet blissfully grass-roots event showcasing local, regional, and international films about the Aboriginal way of life.
President of Achimist Film in Montreal, Rickard has been perfecting his craft for fifteen years as a producer, director and cameraman. He directed the award-winning film, Okimah, with the Canadian National Film Board, produced the series Finding our Talk for APTN, and most recently directed and produced his first feature-length documentary, Aboriginal Architecture-Living Architecture.
Completed in 2005, The Winter Chill is a fictional drama, but innately personal since the story is based on an experience involving his grandfather. Rickard shares what he knows about filmmmaking—and that's plenty—and why he took the plunge into writing and directing his first dramatic film, The Winter Chill. (My review follows.) — CQL
Paul Rickard
Although I have previous experience writing, directing and producing many
documentaries over the years, it's always been my dream to someday direct drama. From the time I was a kid watching movies at the local Moose Factory community hall, to the introduction of television in the 70's, to movies being released on VHS—I've always been fascinated with the realm of the "moving image."
Every time I watched a movie, I always felt like I was falling into a dream state and watching the events unfold before me on screen, it was as if I were experiencing them myself. It's what someone termed "lost at the movies," a sense of being transported to a different time and place and spending two hours there. And hopefully, in the end it's a worthwhile journey. This is what prompted me to go into filmmaking.
Over the years I immersed myself to finding anything that would teach me how the movies were made. I would pick up books, magazines, and surf the internet for any valuable and useful information. With the advent of DVDs it provided me even more information with behind the scenes documentaries and director's commentaries that give an insight into how the films were put together.
Making drama is a lot different from making documentaries but there are some similarities as well. My experience of working on documentaries in a way prepared me for my first drama—I had already learned how to research, write, direct, shoot, and produce documentaries. But unlike drama, I only had three to four people as my documentary crew. On a drama you could be working with a handful, if not hundreds on a larger film.
I also spent time over the years to finding other opportunities to learn more about dramatic filmmaking. I took workshops, downloaded screenplays off the internet, and watched a hell of a lot of movies. I probably saw every video that was rented at the local video store. But there is nothing like the real experience I had working on two recent dramas, From Cherry English, which I worked on as an executive producer, and One Dead Indian, as associate producer. These two productions were my catalyst to say, "I want to direct a drama now. I can do it. Why wait any longer?"
My reason for making this short drama was two-fold: one, I wanted to do a story based on Cree people, secondly, I want to approach this short as if it were an actual full blown production, which means approaching it like a Hollywood film. This meant shooting the film in an amount of time the length of the script and budget would allow. The most important thing I learned over the years is that you must have fun working in this medium, where it becomes second nature, almost like a hobby…When it starts becoming just a "job," I think it's time to move onto something else.
One thing to always remember, "you're only as good as your last project," so get out there and make one and another and another…A final thing, there's a saying that: "You make a film three times—once in the writing of the script, second during the shooting, and thirdly during the editing phase." Believe me, it's true…
Carole Quattro Levine
The opening scene Paul Rickard's film, The Winter Chill, numbs your senses with the barren, colorless images of a frozen landscape. When we first see Simon, portrayed by Dakota House, he's miserable in the Canadian sub-artic as he hooks up a radio playing a garbled transmission of country music. Satisfied, he sits back and relaxes; signs of life from the outside world. When his brother Dan (Glen Gould) finds his sibling chillin' in the chill, he yanks the crude radio connection and chastises him for not getting to work.
In 24 minutes, The Winter Chill succinctly conveys a climate of stark isolation juxtaposed against the warmth of two brothers. The movie succeeds because we relate to Simon's discomfort and boredom; it works because we respect Dan's steadfastness. But where Dan feels the presence of his father and of the legends foretold by his Cree ancestors, Simon senses nothing in the icy wilderness. "There's nothing out here," he shouts. "I mean NOTHING!"
Nothing but the instinctive obligation to retrieve the hunting traps of their ailing father. Dan acknowledges the eerie silence, which leads him to tell his brother the Cree legend of Pakaaskokan, the mythical creature of the north woods. Later as Simon treks into the tamarack forest, he listens even more carefully and again is disquieted by its lifelessness. No animals at all except a solitary, mute bird in a tree. Utter silence.
Until he finally detects a sound; laughter and rattling unlike anything he has ever heard before… No B-movie monster d'jour. The viewer never sees Pakaaskokan, but like The Shining, which served as an inspiration to this film, the creature's other-worldly presence enhances the tension. Speaking entirely in Cree, Pakaaskokan's admonishments to Simon are plaintive, not menacing; "listen to me.." he pleads.
Simon's confrontation with the wraith in The Winter Chill symbolizes the convergence of contemporary and traditional native life; or more specifically, the consequence of abandoning your cultural roots. Simon is a here and now guy. Dakota House plays the carefree dude with casual cool; he wears his Columbia parka and is more concerned with getting the hell out of the frigid badlands than retrieving his father's rusty traps. Thoroughly modern Simon has lost much of his ancestral instincts, even leaving his snowshoes behind in the woods.
In contrast, Glen Gould as Dan could have walked out of an episode of Little House on the Prairie—dutiful, bound to his heritage, and morally resolute. Talking interchangeably in both English and Cree, he relays to his skeptical bro the tales of the old ones, "It was what they believed to be real. It was a different way of thinking." And he accepts every word.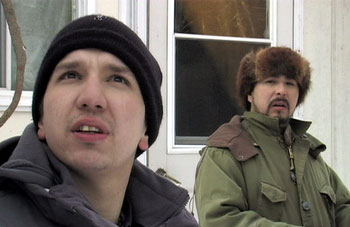 House and Gould are the only actors in the film, and both assume their roles with simple authenticity; unaffected, no hamming for the camera. In the scene where Simon and Dan are alone in the hunting cabin, they bond the way men do when released from women and public pretense—cussing, free with the booze and a smoke, a few rambling stories and then crashing from overindulgence and exhaustion. Two brothers; tradition and modernity, become one.
Rickard's tale of embracing aboriginal traditions in contemporary society resonates in a world where young natives are often conflicted about celebrating their heritage. It's always a challenge to develop characters, build suspense, and teach a greater lesson in a feature length movie, let alone in less than 30 minutes. In The Winter Chill, Paul Rickard does just that, and he does it well.