During the Met's "live in HD" broadcast of the new Tosca, Swiss director Luc Bondy was asked at intermission how it felt to replace Zefirelli's Tosca which had reigned for over 20 years at the Met. Zefirelli who? was Bondy's reaction. Zefirelli's sumptuous, hyper-realistic production of Puccini's opera had been an unchallenged evergreen because it was hot, as hot as the Napoleon era tale about an opera diva, illicit love, jealousy, betrayal, political rebellion, torture, would-be rape, murder and suicide. The opera is one tight roller-coaster of suspense and erotic tension, driven by a score that pulls out all the stops with its lyricism, alluring melody and high drama. What was Luc Bondy thinking when he set out to "renew" this classic with a drab, grey, cheap-looking, garish-to-kinky version that tries to shock but has nothing new to say? The answer seems clear: the aim was to undo Zefirelli, no matter how, no matter the consequences. The New Yorker labeled its review "Fiasco" and added, "Karita Mattila, the Finnish soprano, was miscast in the title role." The New York Times called it a "muddled half-and-half Tosca." The London Guardian's headline read, "Met's new production of Tosca greeted by a cacophony of boos". Most of the press agreed (more or less politely) with the boos. Bondy, looking like a nervous wreck, could not find his footing in the short live interview. He stammered forth the obvious stereotypes for Tosca: the opera diva's opera, passion, truth … but in a modern way, s'il vous plait, with a "realism" that audiences "need to get used to."
Pardon?
Realism was precisely what Zefirelli had produced with his real-life sets and the psychological sophistication of his productions, starting with the riveting 1964 Covent Garden Tosca, featuring Maria Callas and Tito Gobbi (the entire second act is preserved on film). We've had realism for decades, all over the world's opera houses. We've even had "real" realism: Andrea Andermann's 1993 Tosca production in Rome, which was broadcast live from the exact places named in the libretto and set at the indicated times: at noon at the church Sant' Andrea della Valle, at sunset at the Palazzo Farnese, at dawn at the Castel Sant' Angelo (with Catherine Malfitano, Placido Domingo and Raimondo Ruggeri). What Bondy offers as "realistic" and "modern" (a term Met director Peter Geld also heavily uses in his attempts to convince an audience that is decidedly not attracted to the "modern" in opera) turns out to be something surreal: the Florence church looks like a lightless brick factory and Tosca's lover Cavaradossi (Marcelo Alvarez, a tenor who never brays) paints a kitsch portrait of Mary Magdalene with a prominently naked bosom — in a church. At the height of the Te Deum at the end of Act I, police chief Scarpia smooches with the statue of the virgin in front of the priests and the whole congregation. Act II opens in Scarpia's under-furnished, grey-lit office at Palazzo Farnese, with three prostitutes absurdly servicing the police chief while he sings that the ultimate sexual turn-on is resistance in women. Whatever. Between a blow-job and various other caresses, Bondy's Scarpia (acted with a frog-like stare and sung with a brutish snarl by George Gagnidze) tears a chicken into two halves – a "modern, realistic" illumination of his character that probably didn't occur to Zefirelli.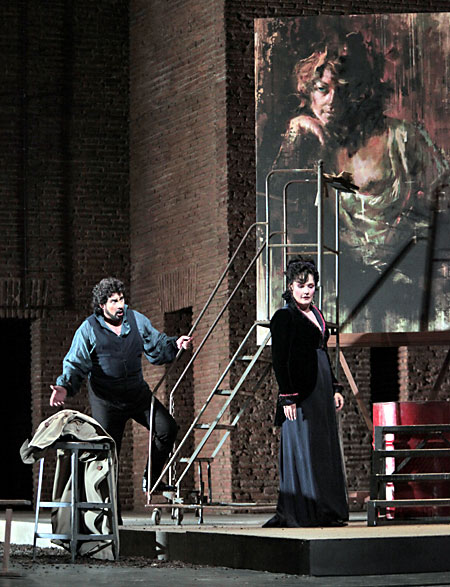 "Actors can lie, singers can't lie," Bondy proclaims in the interview, but he just helped a great singer-actress like Karita Mattila to do just that: come across as false, unnatural, overbearing and, in spite of her mature age, more than childishly naïve. I have seen Mattila misdirected before, but not like this. From the moment she enters and venomously sweeps the church for traces of a suspected rival, it's hard to like her. The dark Empire wig doesn't suit the blond Finnish diva any more than the dark contact lenses she proudly donned for the role. She looks good in the PR photos with special photo lighting, but filmed onstage, in the dim light of every scene, she suddenly looks badly aged and heavy-set. The camera close-ups don't flatter her here the way they did in last year's spectacular Salome (see Scene4, Nov. 2008). It's not just the unfortunate look. The way the direction pushes her into pathological, quasi hysterical jealousy, robs Tosca of her charm and the irresistible diva-self-love of a young singer who is the talk of Rome. When Scarpia waves another woman's fan in front of her eyes this Tosca behaves like an aging diva spurned by a much younger lover, befuddled and undignified to the point where she almost lets Scarpia pull her onto his knee (in church no less). She leans, almost swoons toward the hateful tyrant as if for Daddy's comfort. In a final fit of jealous rage, she destroys the painting her lover has been working on. No matter how heartily we may agree with slashing this piece of junk, the iconoclastic acting out turns Tosca, an artist herself, into a fool.
By this time, Bondy's modern approach has shown its true colors. He takes all the tense erotic and sadistic innuendos of the libretto and music into explicit sexualized action. No erotic charge can survive such literalism.
Not too surprisingly, in Act II, this Tosca is instantly in hysterics over Cavaradossi's capture and ensuing torture. She seems not to notice the danger or the plot Scarpia has in mind while his underlings are sniggering and smirking behind her back. She has no believable power and resistance of character to resist Scarpia (who uses every chance to grope her) and therefore there is little tension or suspense. Like a spineless doll she sits on a sofa at the back of the stage and starts "Vissi d'arte," and when she does get up, thankfully, in the middle to the aria, she veers directly to Scarpia's chicken on the table and, you guessed it, toys with the knife while she is still at her aria. No wonder the audience is distracted and claps only a little when this ought to have been Mattila's great moment. It doesn't help that her singing does not find its bearing — perhaps because the actress Mattila didn't find her footing in this production? Her silvery voice doesn't shine as one would have hoped and expected, and her Italian sounds a bit muddy, lacking the necessary verismo bite. Whenever Mattila spews rage and scorn, her voice comes to life. In Act III, when she hopes she has saved Cavaradossi and tells him how she murdered Scarpia, her high-pitch shriek has the hair-raising effect the murder itself should have had.
And how does Tosca murder Scarpia in Luc Bondy's direction?
She picks up the knife and puts it down repeatedly while he writes out her free passage. She finally takes the knife to the sofa and hides it clumsily under the pillows. She reclines into position as if complying with the rape. Scarpia belts out "Tosca finalmente mia!" and, in finest Bondy-realism, spreads her legs before meeting the knife and collapsing half onto her. When Mattila is out from under, she wipes her hands on the red velvet sofa (I wonder if it was Mattila who sneaked this one good idea past the director?). But in the long musical sequence that ends the act, Bondy doesn't seem to know what to do with her. Instead of the beautiful and strangely moving ritual with which Tosca traditionally (and according to the libretto) acknowledges and perhaps redeems her mortal sin of murder by placing candles at his head and a crucifix on his cold heart, something else has to be done. Something shockingly realistic. But what? Tosca wanders to the window, tears it open, climbs onto the sill – to jump, one act too soon? No, she may be remembering her lover just in time before losing her head: she comes down again! Good move, Tosca. And now what? Are you getting out of there before Scarpia's henchmen run in to grab you? No, Tosca lies down again on a sofa, with a heaving bosom, fanning herself with the fan of her supposed rival…
According to the press Zefirelli thinks Bondy's approach to Puccini is "idiotic" and that the fashionable director from Switzerland is "third rate." The New Yorker imagines Zefirelli "laughing in his villa." A few people are not laughing, however, and least, I imagine, Karita Mattila. Mattila's fruitful and successful work with Bondy in Don Carlos (Paris, 1996) enrouraged her to have Bondy invited to the Met. (Tosca was his Met debut after some 30 years of his career). In the intermission interview, the usually witty, funny diva seems undone like a "woman on the verge of a nervous breakdown". One can only feel for her. To see a diva as intelligent and charismatic as Karita Mattila come across as not likable and even stupid in one of the most enticing roles of the repertoire – chalk it up to Luc Bondy. He clearly doesn't like Tosca either – perhaps because Zefirelli loved every bit of her.
Photos - Courtesy of the Metropolitan Opera