Part Two
The tenors who succeeded Windgassen inherited the mandate to be complete singing-actors, and, indeed, from the 1970s onward, Heldentenor singing was given a new and exciting theatrical boost. And while the repertoire had largely been the province of European singers in the past, the last three decades of the 20th century saw Americans tackle the Wagnerian heroes with great success.
One of the first Americans ever to make a major career as a Heldentenor, South Dakota born Jess Thomas can be credited with breaking down the barriers for American Wagnerian singers in international opera houses. The excitement he generated in the 60s and 70s, the vigor of his career, the intelligence, musicianship, and dramatic forcefulness of his performance were revelations to the modern Heldentenor tradition. In his thirty-year career he reigned at Bayreuth, Munich, Vienna, and at the Met as Lohengrin, Siegfried, Stolzing, as well as in Strauss, Mozart, and Italian and French operas.
Jess Thomas possessed a leichter Held-echt Tenor voice of medium size with such an extraordinary purity of tone and placement that it could envelop even the upper galleries of a 3,900 seat house like the Metropolitan Opera in gorgeous, limpid sound. Thomas also had a wide vocal range with dazzling high Cs and a subtle command of dynamics. He employed a narrower vibrato than some of his immediate predecessors, and he sang even Italian opera with a cleaner German line. His declamation was incisive, and his command of languages flawless. His characterizations were well defined in psychological terms, and he cut a handsome, athletic, even consciously sexy figure on stage. As Howard Klein of the New York Times wrote: "His contribution to the Wagnerian style is the special poetry he imparts to his singing." To have heard him as I did in Lohengrin was to be immersed in an ethereal, mysterious, disembodied, blue-silver sound, fabricated, it seemed, from moonlight – something akin to Shelley's skylark, a sound of "unbodied joy."
LISTEN TO JESS THOMAS

Jess Thomas not only blazed a path for Americans in Wagnerian roles and put his own vocal stamp on the Heldentenor tradition, but as an actor he helped move the style closer to realism than it had been in the immediate postwar years. In many ways the essence of Jess Thomas' art is difficult to define. As his friend and early mentee Peter Hofmann remembered, "He had that special ausstrahlung (radiance)." It came, no doubt, from the fusion of physical, spiritual, and musical elements in his singing, but also from his own artistic credo that "the foundation of singing is dependent not only on the body, but on the soul" (Kein Schwert verhiess mir der Vater).
In the same decades that Jess Thomas pioneered the way for American singers, there was an explosion of activity among singers of the German repertoire. Heldentenors of diverse nationality burst among the scene demonstrating what critic John Rockwell had written that "Wagner's works can prosper with a variety of approaches" (The Heroes). In this period of the 1960s and 1970s, besides Jess Thomas, Hungarian Sándor Kónya (1923-2002), American James King (1925-2005), and Canadian Jon Vickers(1926 -) won acclaim as Heldentenors.
S├índor K├│nya primarily sang the jugendlicher Held repertoire at Bayreuth and in international houses, as well as a wide range of Italian, French roles, and operetta. His echt Tenor had a honeyed sweetness in the Italianate mold. He was noted for his breath support, long line, and musicianly accuracy. Wieland Wagner once said that K├│nya was "a tenor who sings even the smallest note my grandfather wrote"(Musical America 1963). As an actor, he was a throwback to Slezak and a pre-war style which made characterization primarily vocal. He relied on his gift for melody - his ability to conjure up emotions in a purely musical way – to involve his audiences and to create an aura of radiance. His Lohengrin and Stolzing were the stuff of legend.
James King studied with the famed French baritone Martial Singher and began his career in Germany before attaining international success in Wagner, Strauss, and heroic Italian and French roles. His voice was a formidable instrument of ringing power, limitless energy, stamina, and size. He was a schwer Tenor with evenness throughout the registers that reminded, more than any other 20th century Heldentenor, of Melchior's sound. Subtlety of dynamics was not his forte, but he substituted musical line and a raw, vibrant energy that was magnetic. He was far more of an actor than K├│nya, though less than Jess Thomas or Jon Vickers. Critics sometimes complained of a prosaic or wooden stage presence, but he did project a powerful masculine aura and what French critic Sergio Segalini once called a sauvagerie – a violent intensity that wrenched the viewer's hearts. Anyone who witnessed his Florestan or Siegmund could attest to the visceral impact he made both vocally and dramatically. When his performances caught fire, a review like that from Berlin rang abundantly true: "King w├Ąr K├Ânig –King was a King!" (Opera News 1966).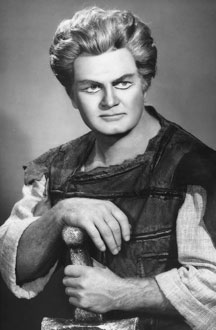 Jon Vickers rose to prominence from humble roots in Saskatchawan to perform heroic tenor roles on the world's grand opera stages. He was called "the thinking man's tenor" because he brought to the stage a fierceness of inner conviction, a fundamentalist moral perspective, and an unflinching artistic integrity He made roles such as Tristan, Peter Grimes, and Samson his own. His instrument was a dark-hued, schwer Tenor, not especially beautiful in timbre but employed with great musicality. On stage he created larger-than-life characterizations, sometimes using a semi-stylized movement like a kind of spiritual choreography. The tenor spoke of his dramatic passion, saying "Mine is inner suffering, inner reactions, inner rage" (in Ardoin, The Tenors), though sometimes that flame had unintended consequences such as flinging soprano Pilar Lorengar into a pile of shields at a Met rehearsal. In an idiosyncratic, but glorious career, Vickers, who saw the theatre as a temple and the artist as a holy crusader, had more in common with Wagner than he might have liked to admit, and he used his talent and his zeal to exert a potent singular influence on the modern Heldentenor tradition.
The varying approaches of Thomas, K├│nya, King, and Vickers to the Heldentenor repertoire continued to open the doors for experimentation and a broadening definition of what heroic singing should be. At the time of the Bayreuth Centennial in 1976 and in the several decades which followed, three new German tenors. Ren├ę Kollo (1937- ), Siegfried Jerusalem (1940-), and Peter Hofmann (1944-2010) advanced the Heldentenor cause while they espoused a broader, more-inclusive view of the parameters of a singer's repertoire. All three were versatile singers who gave the Heldentenor tradition a new profile for the media-driven modern age.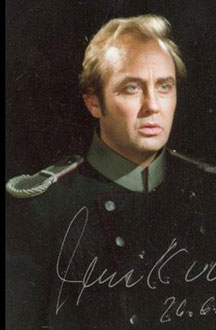 Kollo and Jerusalem were echt Tenor, leichter Held singers, who adhered firmly to the bel canto tradition and who eschewed the label of Heldentenor. Kollo, whose grandfather Willi was the renowned operetta composer, sang a wide range of music throughout his career, beginning with rock and pop, continuing to musical theatre, before he made his mark on the Heldentenor repertoire beginning in the 1970s, his notable interpretations including Rienzi, Erik, Lohengrin, and Siegfried.
Kollo's tone was limpid, sweet, seamless, subtlety dynamic, and comfortable in the high register. His use of legato, while essentially German in linear shape, still had the flow and sweep of an earlier age. He was an exceptional musician and a wise one who never forced his lyric instrument. As an actor, he was intense and insightful, though in the blooming age of director's opera, Kollo could prove compliant or intractable as the circumstances struck him. While some contemporary critics felt Kollo's singing of the Heldentenor repertoire was a triumph of will over matter, others like Kurt Honolka wrote that Kollo's voice "made a fascinating case for the possibility of Wagner bel canto" (Opernwellt Jahrbuch 1976).
Kollo's colleague Siegfried Jerusalem began his career as a bassoonist before studying voice as a baritone with Herta Kalcher. His proverbial big break came at a recording session for the Gypsy Baron with the Stuttgart Radio Orchestra when the star did not appear. Jerusalem auditioned on the spot and won the part. From 1976, when he sang Froh in the ground-breaking Ch├ęreau Ring at Bayreuth, Jerusalem added heroic roles slowly and wisely, until he gradually became known for his Wagner heroes and reigned for many years as the world's leading Siegfried, cast in the 1980s and 1990s in the Met, Kupfer, and Friedrich Ring cycles in the space of a decade.
Jerusalem's voice, which began as an echt Tenor and leichter Held instrument, has darkened over the years, enabling him to take on some of the heavier Wagner roles with great authority. A consummate musician and an intelligent stage performer, he was more willing than Kollo to submerge his star persona into the character and proved to be a highly "directable" actor. Jerusalem spoke of his belief that operatic performance required total immersion, listening and singing, being present on stage every single moment. And, indeed, it was this willingness to lose himself in his art that made Jerusalem a great-singing actor.
Kollo and Jerusalem were hugely influential in helping to establish a new breed of Heldentenor: more attractive, more accessible, more comprehensible to audiences in universal terms, but it was their colleague Peter Hofmann who, as Margalit Fox wrote in his obituary (New York Times 2010),"cut through the opera world like a lightning bolt." The metaphor was an apt one for a singer whose dazzling and controversial career was shortened by Parkinson's disease, which led to his retirement and untimely death.
The ├ęclat that Peter Hofmann occasioned when he burst upon the Heldentenor scene in the Patrice Ch├ęreau Centennial Ring at Bayreuth in 1976 was nothing short of cataclysmic. The production with its bold, sweeping staging, brought Wagnerian music-drama into the living present, and it introduced a whole new generation of singers who transformed opera into communicative speech-song, replacing grand theatre with cinematic reality. Of these none made a greater impression than Peter Hofmann as Siegmund. His voice which possessed true heroic proportions and uniquely beautiful coloration, coupled with the white heat of his acting did for the Heldentenor tradition what Maria Callas did for bel canto. As his early biographer, Marieluise M├╝ller wrote, "Wagner must have had the image of Peter Hofmann in mind when he created his heroes" (in Singen ist wie Fliegen).
LISTEN TO PETER HOFMANN

Thoroughout the late 70s and 80s Hofmann was the reigning tenor at Bayreuth singing Siegmund, Parsifal, Tristan, Stolzing, Lohengrin, while elsewhere he also performed Erik, Florestan, Loge, and a number of Strauss and Mozart roles to great acclaim. However, the tenor's tastes in music were catholic, and he firmly believed in erasing the barriers between classical and popular music, so from the first, he performed rock and pop, as well as show music, passionately arguing his case for being a "crossover" artist. In the 1990s he made a splash in the title role of The Phantom of the Opera in Hamburg, while throughout his career his pop albums went platinum and his rock concerts were packed with fans of all ages. That this course was not popular with most critics seemed to be self-evident, and when the tenor began to experience some vocal problems, his rock singing was seen as the culprit, (though it was more likely the onset of Parkinson's at that time not yet disclosed).
In any event, in his prime Peter Hofmann possessed a remarkable, radiant instrument, capable of dynamic subtlety, sculptural legato, and heroic ping. He had begun as a baritone, but studied under Emmy Seiberlich to become a tenor, so the voice had the requisite darkness to be an ideal Siegmund or Tristan. Perhaps what was most exciting was his ability to harness sensual sound to elegant musicianship, to combine an Italianità and flexible ornamentation (when needed) with a cool German heroic line, and to probe the dramatic essence of a character with forceful fire.
Yet, for all these vocal gifts, Peter Hofmann will likely be remembered most as a B├╝hnenmensch – a man most at home on the stage. He possessed an iconically ideal physical presence – blond, tall, strapping, athletic – and he brought to his Wagnerian roles an eroticism that had simply never been felt before. Moreover, he was a natural and subtle actor who helped usher in a new era of cinematic realism in operatic performance. To watch the video of the Ch├ęreau Walk├╝re even today is to be struck by how ground-breaking Hofmann's Siegmund was! As Barry Millington wrote in The Guardian's obituary (2010), "It was a performance that changed the face of operatic history. Well-upholstered sopranos and tenors might continue to stalk the operatic stage, but with the filming of performances becoming increasingly popular, it was the likes of Hofmann and Altmeyer (his Sieglinde) that were now in demand."
More than any other Heldentenor before him, Peter Hofmann destroyed the stereotype of the heroic singer and recast 19th century heroes in modern terms – adding a touch of independence and unconventionality to his interpretations. He was influential in transforming audience expectations about the realism, accessibility, and communicativeness of Wagnerian opera. In Hofmann's art the Gesamtkunstwerk became a vision of a completely shared music-drama experience.
In the new millennium, the Heldentenor tradition continues with singers such as
Johann Botha, Lance Ryan, Klaus Florian Vogt, Jay Hunter Morris, and Jonas Kaufmann. And while all owe a huge debt to the great singers of the first one hundred fifty years, perhaps Kaufmann (1969 -) is the most fascinating and original of these descendants. At mid career, he has established himself as an incredibly versatile tenor whose roles range widely through the German, French, Italian repertoire, encompassing Wagner, Verdi, Puccini, Massenet operas, modern composers, and crossover music as well. To date he has proved himself to be a magnificent Lohengrin, Parsifal, and Siegmund on stage and recorded from Tannh├Ąuser, Rienzi, and Meistersinger.
Often labeled a spinto (Italian term for lyric-dramatic tenors) because of his cross-repertoire roles, in the Heldentenor repertoire Kaufmann has a schwer Tenor sound coupled with bel canto grounding. His tone is centered and well supported; he has an unforced, ringing upper register, as well as amazing flexibility, dynamic subtlety, and skill at ornamentation (in roles that require it) and incisive declamatory ability. Kaufmann combines musicality with a palpable emotional intensity, and as an actor cuts a noble, masculine figure on stage. Most of all, he displays an amazing artistic intelligence as an interpreter and in his career choices to date. One can only hope that he will gradually go on to essay more and more of the Wagner repertoire, especially Siegfried and Tristan.
When in the 1980s Peter Hofmann was queried about negative critical response to the Heldentenor singing of his generation, he had replied, "I am convinced that in thirty or forty years reports of our generation of singers will be just as glorious (as those of the past)" (in Singen ist wie Fliegen). It is now one hundred and seventy years since Wagner first demanded his breed of heroic tenor, and while the jury may yet be out on the historical merits of today's Heldentenors, singers like Jonas Kaufmann make it fair to say that the breed is alive and well and continuing to evolve.
It has been almost twenty-five years since the publication of my original Heldentenor study, and in revisiting these seventeen great heroic singers, I have applied the filter of memory – wonderful memories of years of research, listening to recordings, watching DVDs, attending performances at Bayreuth, New York, Washington, D.C., Vienna, London, Hamburg, Salzburg, interviewing countless of these artists, sometimes reviewing their work, and in the cases of Jess Thomas and Peter Hofmann, working on trranslations of their memoirs. Memory can be a nostalgia trap; revolutions one has witnessed personally, such as the years from 1976-1996 at Bayreuth, can often seem larger-than -life, but in writing this article after all this time, I find my opinions and analysis of these singers largely unchanged.
I am willing to affirm today, as I was then, that the Heldentenor is not an extinct species, that the evolution of the heroic tenor has endured through a series of developments and contributions from the artists who sang the repertoire. Over the years the Heldentenor voice has not only endured, but also gained in variety and versatility, fusing styles and sounds into new, but valid expressions. The breadth of repertoire which a Heldentenor may essay and still be considered one has also grown, and stereotypical pigeonholing of singers into rigid Fachs has been all but completely banished. Then, too, the notion that a modern Heldentenor can simply stand and sing has happily disappeared. Opera, in general, but Wagner singing in particular, has affirmed the composer's dream of music-drama - a theatrical evening where, words, song, psychological motivation, believable acting and staging all join to create a special magic.
It is heartening, today, as well, to see the critical climate change. There is a sense that reviewers have at long last let go of what was once regarded as gospel – that Heldentenor singing died with Melchior – and to remain more open to a variety of new approaches to the repertoire and the voice. Nor do they generally expect a Heldentenor to sing only Wagner and a limited number of other German roles. While critics excoriated Peter Hofmann for his pop singing, for example, no one mentions Kaufmann's crossover efforts today. And while theatrical experimentation and interpretation of Wagner's works continues – witness the new Frank Castorf staging of the Ring cycle at Bayreuth which has appeared to many to be completely outrageous –critics and audiences seem more willing to remember that from the start, Wagner's operas have always claimed the avant garde of musical theatre.
The modern Heldentenor and the heroic singing tradition would not stand where it is today without the pioneering contributions of the seventeen tenors remembered here. Wotan's cry in Die Walk├╝re, "We need a hero," echoes the composer's search for his own artistic descendants: interpreters, creators, and singing-actors able to carry on the tradition he crystallized, to conquer obstacles and to survive changing challenges in the quest for artistic truth, a quest which, given its scope and depth, requires nothing less than heroic strength and success. One hundred seventy years later, we can reply to the Meister's imperative that, at least as far as Heldentenors are concerned, we have, indeed, found a race of heroes. The history of the Heldentenor art charts the evolution of a breed of singers whom Wagner, himself, would likely have called supermen!
Photos: Public Domain and from Carla Maria Verdino-S├╝llwold's book
We Need a Hero!: Heldentenors from Wagner's Time to the Present, a Critical History
Weiala Press
---
This article is in two parts. You have just read Part Two.
To read Part One, Click Here.