Many of the greatest dancers of the 20th century were never or hardly recorded on film or video. Famously, there is no extant film footage of Nijinsky dancing. The work of lesser known but pivotal modern dance innovators such a Mary Wigman, Isadora Duncan and Ted Shawn was only documented in the most rudimentary fashion. In recent years some early footage of Rudolf Nureyev surfaced in Germany and a documentary was made to fill in the blanks about what had previously been left only to the imagination about the superstar's early work as an artist. Unless dancers, such as the Nicholas Brothers, had made it in Hollywood their work was documented only haphazardly, if at all. Much of what does exist from even the later part of the 20th century is low-quality video, shot in less than ideal circumstances and conditions but nonetheless useful as historical artifact and a teaching aid for future generations. As it has so many things, technology has changed all of that.
The San Francisco Dance Film Festival, a multi-organization international collaboration in its 13th year, celebrated dance films and videos in mid-September. An ambitious four-day schedule included a juried selection of seventy films that ranged from shorter than five minutes to full-length mega-productions such as "Mathew Bourne's Swan Lake in 3D."
Three-D technology could be the single greatest innovation in the history of dance documentation. It works because it allows the audience to feel the depth and breadth of space as well as expression of the dancers. In contrast, the limitations of the two-dimensional traditional video and film technology offer only a glimpse at the full range of physical and emotional expression as well as movement in space that is, after all, what dance is all about. Very few of the 2D films that I saw in two screenings found the magic.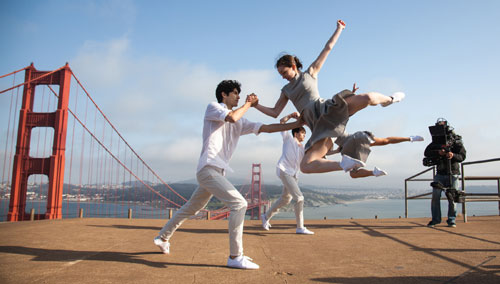 "Aloft" is an aptly-titled 3D short directed by Kate Duhamel, a woman who loves dance and dancers and knows how to use the technology to the greatest good for all. Filmed on the north side of the Golden Gate Bridge on a beautiful, if windy, day the city of San Francisco and the bridge are the stage set. Yuri Zhukov's high-energy, up-tempo choreography for an all-star cast of young beauties is set to Steve Reich's "The Four Section IV." The dancers seem to be in flight and even their silver and white costumes are reminiscent of the ever present sea gulls that hover around the hills and cliffs of the passage from the Pacific Ocean to the San Francisco Bay. The flawless cast features several San Francisco Ballet dancers and others including Garen Scribner, Lonnie Weeks, Sean Bennett, Madison Keesler, Alex Jenkins and Jordan Drew.
View "Aloft" at http://www.fountain3films.com/videos/aloft-3d/
The major 3D feature of the Festival was the masterpiece "Mathew Bourne's Swan Lake in 3D." Filmed live in 2011 at Sadler's Wells Theatre in London, the two-hour film version is almost but not quite as powerful as the live performance. Bourne adapted the story from the well-known traditional Swan Lake wherein a prince falls tragically in love with a swan (well, it's a bit more complicated than that but the fundamental ideas are tragedy, love and swans).
In Bourne's version, the young prince first appears as an overly cloistered and overwhelmed boy who is pushed, pulled, primped and polished by a royal staff. His only retreat is his gigantic bed where he cuddles with his large and beloved stuffed swan. As he grows older he must make appearances with his cold, rejecting and narcissistic mother in various royal rituals including a cleverly choreographed ball in which the various couples' movements hint at the swan-like choreography to come.
Hints of the Prince's possible homosexual yearnings are woven into scenes such as the unveiling of a male nude sculpture at a museum. A pretty blonde woman decides to attach herself to the Prince, much to his mother's disapproval, and several silly scenes overwork this cliché-ridden section of the film. Finally the Prince breaks away from the palace for a night and sneaks into "A Seedy Bar," as announced onscreen. Here he is exposed to various thrills of the night including scantily-clad women, a hilarious performance by cabaret dancers so bored one can't be bothered to remove the cigarette from her mouth, a transvestite in badly matched plaids, and various homoerotic activity, both explicit and implicit. He leaves the bar lonely and frustrated and wanders to a nearby park where, you guessed it, he encounters a swan.
The major departure from the classic Swan Lake is that Bourne's swans are all men. The object of the Prince's obsession appears first as the beautiful, muscular and affectionate bird who prevents the Prince from committing suicide. Later he appears in human form, dressed in black leather, when he crashes a party at the palace and succeeds in seducing nearly everyone. He is found especially alluring by the Queen. (This is Bourne's brilliant interpretation of the Odette/Odile mythology. Odette is the pure and beautiful White Swan while Odile is the intoxicating manipulator aka the Black Swan.)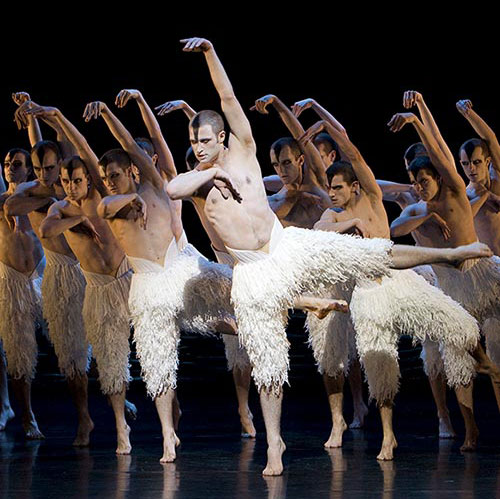 A chorus of viscous and aggressive swans dominate the rest of the work as they ensure the solidarity of the tribe by destroying the would-be love between the Prince and his beloved boy-bird. Bourne uses small groupings of swans, similar to the classic version, as he reinterprets the bird-like movements of swans for the all-male corps de ballet. The rhythmic repetition of the movements and the original Tchaikovsky score with its mournful refrains drive the piece to its tragic conclusion.
The film succeeds in many ways. Most important is the strength of Bourne's choreography which is aesthetically coherent yet full of surprises. The 3D technology gives the stage much needed depth and balance. However, the camera work is simple in that each scene is shot in long takes without the unnecessary interference of contemporary edits splicing together multiple camera angles.
Because the film is shot during actual live performance, in front of an enthusiastic audience, applause breaks into the dream world throughout the performance, as is customary. The experience of watching the film is otherwise so all-encompassing, it would be possible to forget one is even in a theatre.
"Mathew Bourne's Swan Lake in 3D" trailer - http://www.youtube.com/watch?v=nuxAkPWnIvQ
Quinn Wharton's beautiful "Mechanism" lit up the screen with humanity. A dancer himself, Wharton has a warm and embracing vision that understands dancers and the way light ignites their skin. Formerly with San Francisco Ballet and now a dancer with Hubbard Street Dance in Chicago, he recruited two fellow Hubbard dancers Kellie Eppenheime and Johnny McMillan to improvise movement based on the "gears and pulleys of the body." Playing in space with counterbalance and balance, they are technically brilliant dancers. Quinn chose a string instrumental score by Johann Johannsson that included a voice-over of someone reading from an IBM manual in a monotone voice. Quinn said he liked the resonance of the mechanical metaphors as they might pertain to the body. However, this was not an abstract creation of technology for technology's sake. Though he was restricted by the same limits of several other filmmakers in that he had to focus the camera on a relatively small space wherein the dancers moved and interacted, he created so much more than the flat images presented in other films. "Mechanism" is an exploration of the relationship between two people who move through feelings of strength, agitation, playfulness, vulnerability, frustration, anger, serenity and loving connection. In other words, it's about real life though much, much prettier.
The film "Flying Steps," shown in the photo above, was a pure exploration of the physicality of a group of breakdancers. Several other short films told minimalist stories about people and their journeys and struggles. "Momentum," a submission from a German student and director, Boris Seewald, is a fascinating confessional film in which a young man, Patrick, humorously yet movingly describes his relationship to dance and hints at his philosophy for life. This film won an award from the San Francisco Dance Film Festival for best student film. To watch an excerpt, follow this link: http://vimeo.com/m/67025679
"Inmates Rising!" is an American documentary that depicts incarcerated women and men who participated in dance workshops as part of the nationwide movement to end violence and sexual oppression entitled "One Billion Rising." Focusing on brief interviews with people who participated in the workshops, which also included prison guards and a police captain, the making of this feel-good film led to the integration of movement programs in several prison facilities.
A martial arts/dance film entitled "Reflections" explored violence in San Francisco's Chinatown in response to an influx of new residents after a change in legislation in 1968 halted the ban on Chinese immigration. Featuring frank first-person text by Genny Lin and a piercing jazz score by Francis Wong, "Reflections" tells the tale of futile violence and the poisonous atmosphere in which gangs flourish.
"Skism" is one example of several abstract shorts that celebrated technology rather than dance. The young director, Marcell Andristyak from Hungary, confessed to the audience after the screening that he had mostly worked in post-production and game development and knew very little about dance. This was evident in his work in which he used eight cameras to simultaneously shoot a dancer in the middle of a circle. He then used various post-production tricks to splice, dice and multiply her image on the screen. Though purportedly a film about inner alteration, it looked like an exploration of the capability of available technology and made my eyes cross in boredom.
Photo Credits: "Aloft": Sandy Lee; "The Flying Steps": Peter Clausen;
"Mathew Bourne's Swan Lake in 3D": Eliza Randolph; "Mechanism": Quinn Wharton;
"Skism": Marcel Andristyak; "Swan Lake" photos: Leopard Films.