This is part one of a story that follows fifteen-year-old Alexandra Upson as she pursues the life of a ballet dancer.
For most of my life, I've been surrounded by dancers yet I don't understand them. That must be why I love to write about them. I keep thinking that I'm going to crack the code, unlock the mystery, and figure them out.
I grew up thinking that dancing was a normal thing that some kids – mostly girls – did after school. I never talked about my dancing with my friends who weren't dancers. It was nothing special on the one hand and my entire creative existence on the other. I thought about it all the time. When I wasn't dancing, I would usually be stretching my body in one way or another and indulging in elaborate fantasies about the steps I wanted to do. I would lie in bed, on my belly with my legs splayed akimbo to stretch my hips in outward rotation, and imagine myself gliding across the floor in a chain of perfect turns. In the swimming pool I practiced complicated barre exercises. I knew the names of every dancer in the American Ballet Theatre even though I lived in Portland, Oregon and only got to see them once a year, if that. I spent hours staring at their pictures in the program book, all the while stretching my legs in a wide second position. I knew their repertoire and imagined myself dancing it even though I also knew that I was not destined to be a real-life ballerina. That didn't bother me. My fantasy life as a dancer was utterly fulfilling.
My mother remembers me telling her, after one of my earliest performances as a sunflower or snowflake or some such, that I could spend the rest of my life onstage. The thought of dancing at all, let alone in front of an audience, paralyzed her with fear. I loved it. I loved dressing in pink and black and sewing ribbons on my pointe shoes (pointe shoes!) and the feeling of stretching my muscles, lengthening my neck and spine. Floating in music, graceful as a delicate limb in a gentle spring breeze, once in a while I would catch a glimpse of myself in the mirror and see beauty. I loved the feeling of beauty.
I believe that feeling beautiful is one of the reasons dancers dance. It is difficult to find out because dancers do not tend to be verbally articulate. I frequently ask dancers why they dance and they gesture a lot, stammer, look at their feet. They don't know. They've been doing it for so long.
The training is supremely difficult, there are precious few positions in major ballet companies, and early retirement is inevitable. The pay is low, the work is hard, and the chance of injury is high. And yet . . .
I recently learned about fifteen-year-old fledgling ballerina who has decided to leave her comfortable home in California and move to Pennsylvania to pursue her ballet training. Her name is Alexandra Upson and I originally heard about her when I met her mother in a Pilates class. Curious, as always, about this dancer, I called her for an interview. Typical of a conversation with a teenager, and especially a dancer, it was rough going. I asked her my usual question, why she wanted to be a dancer.
"I don't know," she laughed shyly, "I just like it."
As soon as Alexandra could walk, her preferred mode of dress was a tutu -- preferably with cowboy boots. She began dance training at age four in a private studio where the curriculum was a mixture of tap, gymnastics, and ballet and soon moved to a larger school devoted exclusively to classical training, Marin Ballet.
I asked her why she began dancing. "I wanted to do everything my sister did," she replied. Alexandra loved her dance classes and especially the chance to perform on stage, so she persevered. As a small child, she was enchanted by the costumes and though, looking back, she realizes she was "just running around a lot and not really focusing," her early experiences laid the foundation for the serious pursuit of ballet as a career.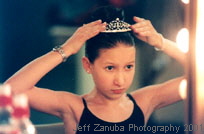 At age eight, she moved from Marin Ballet to a pre-professional training program at Dance Theatre Seven in the small Marin County town of Fairfax. Within two years, now barely ten-years old, she decided that she wanted to devote herself seriously to her dancing. Rather than attending regular academic classes, her mother took charge of her education and, with the help of a service that provides an alternative curriculum, Alexandra's home schooling began.
This spring Alexandra decided leave Dance Theatre Seven. Unhappy with the cult-like atmosphere where she felt unfairly penalized for attending a one-week summer program elsewhere, though she had asked for and been given permission to do so, it was time to move on. With her mother's assistance and her father's support, she began to carefully consider her choices. Alexandra had been taking private lessons with former San Francisco principal dancer Joanna Berman, so they went to her for advice.
Joanna Berman retired at the end of San Francisco Ballet's 2002 season after sixteen years in the company. Almost immediately after retirement she became pregnant and is now the mother of two-year-old twin boys. We spoke by telephone for over an hour about her career as a dancer and her new one as a mother and a teacher. Joanna is unlike most dancers in several ways. One of them is that she is a talker.
Joanna was not a natural ballet dancer. Very few dancers are, given how unnatural the movements are for the body, but Joanna really had to work for it. Her body was flexible but not strong and she was often injured, sometimes seriously. The muscles of her legs were large and she had to warm them up slowly before she could coax them into a tight criss-crossed fifth position. Until the very end of her career she always felt insecure in dance class because of the length of time it took her to warm up. "I thought the teacher must have wondered what this modern dancer was doing in class," she said.
Joanna Berman and Pierre-Francois Villanoba in Tomasson's Giselle. (C Lloyd Englert)
But she persevered and she achieved the height of success. She became a principal dancer in an internationally acclaimed company. She danced the great roles: Swan Lake, Romeo and Juliet, and for her final performance, Giselle. "When it was over, I couldn't believe I'd gotten through it. It wasn't the best performance of my life, but I did it without turning an ankle. I got through it in one piece and I got to retire." Now, when not running in two separate directions after her boys, she teaches ballet.
When Joanna learned that Alexandra wanted to move on from Dance Theatre Seven, she encouraged her to explore nearby Contra Costa Ballet in the San Francisco Bay Area, and schools further away including Seattle's Pacific Northwest Ballet, American Ballet Theatre, and the Central Pennsylvania Youth Ballet in Carlisle.
I asked Joanna to tell me about Alexandra's strengths and weaknesses as a dancer and this led to a discussion about a dancer's necessary attributes. A ballet dancer must have long, slender limbs and feet that carve an arc at the end of the line. The ability to rotate their legs outwardly so the feet can criss-cross into fifth position is non-negotiable. Flexibility and the strength to control it with a strong torso are critical. Jumping requires strength and agility through the feet and legs. Coordination, musicality, a knack for the dramatic, a sense of space and the ability to navigate direction changes, a kinesthetic memory, and the facility to turn are also essential qualities.
Joanna feels that Alexandra is fortunate to possess many of these qualities. "She is a natural turner and that is one of the hardest things to teach. Also, almost no one has everything. Natalia Makarova was not a great turner – but who cares?"
Where does a young dancer find the courage to audition in these far-flung venues? What lies in the reservoir of character that enables a teenager to walk into a dance studio far away from home, strap on her toes shoes, and open herself to the possibility of rejection?
Her primary dream was to dance in New York City with the American Ballet Theatre Studio Company which is known for preparing dancers for placement in major companies. Alexandra's audition consisted of attendance at two classes with the company. She knew immediately that she did not belong. The dancers were older, sixteen- to twenty-one-years old, a difference that matters in these formative years. She felt that her weaknesses glared yet she pushed herself to do the best she could. After the second class, artistic director John Meehan took her aside, cocked his head, and quipped: "That would be no." Softening the blow, he encouraged her to come back in a year or two.
Standing outside the studios in the unearthly cold spring weather, her mother asked her what she would like to do. She wiped her eyes and said she wanted to see Ground Zero. Walking away from her dream, she didn't waiver in her commitment to find her next home.
Ultimately, she decided that Central Pennsylvania Youth Ballet would be best for her. Impressed by the long list of alumnae presently working in companies throughout the United States, she also admired the rigorous progression of classes. "I thought I would get the most out of it. I looked at the students who were younger than me and they are very professional. They're better than me. I think that if I work my hardest I might get the technique that they have."
Central Pennsylvania Youth Ballet is one of top training sites for future ballet dancers in the United States. At a recent celebration of its fiftieth anniversary, alumnae professional ballet dancers from companies including New York City Ballet, San Francisco Ballet, Boston Ballet and Pennsylvania Ballet returned to perform works from the vast ballet repertoire. Marcia Dale Weary, the esteemed founder of CPYB has developed a tough curriculum that enables young dancers to slowly and painstakingly develop their skill. Her impressive list of alumnae speaks volumes about the efficacy of her system.
"I'm nervous and a little scared about changing schools," Alexandra said in a telephone conversation from Pennsylvania where she was participating in the summer program at CPYB. "I'm intimidated by the other dancers, but the competition will make me work harder. It'll be good for me."
Upon accepting Alexandra, CPYB Director Marcia Weary Dale assessed her challenges and discussed them with her. She needs to work on developing the muscles of her feet by taking class in flats rather than on pointe. She also needs to develop her rotation from deep in the hip sockets and work her leg extensions through all of the muscles of her legs. Marcia also told her to slim down.
Alexandra agrees with these recommendations and is devoting herself to addressing them. About her diet, she said, "I try to eat my main meal for lunch and have a salad or vegetables for dinner. For breakfast, I have whole-wheat cereal with fruit. Marcia said that if I eat chicken or meat, I should eat a small portion but if I eat fish, I can have more of it."
Joanna Berman was pleased with Alexandra's decision and agreed with the goals she has established. She recognized the hardship of moving so far away from home but felt that the school in Pennsylvania was worth the sacrifices. Referring to CPYB's curriculum, she said that Alexandra will benefit from learning the "no-frills, clean, strong, by-the-book technique."
Alexandra is fortunate that her parents are also willing to make sacrifices on her behalf. Her mother, Paula Upson, is relocating to the historic city of Carlisle where she will continue to home school Alexandra in the mornings before she spends her afternoons and evenings in the dance studios.
Alexandra's parents seem to embody between them the characteristics needed for this elite career. Her father, Bill Upson, a former Marine who served in Viet Nam, is the driving force behind an eclectic collection of well-loved San Francisco Bay Area and Napa Valley restaurants. His taut musculature houses abundant energy that demands serial complex creative projects and unwavering hard work. Like his daughter, he has a shy demeanor that belies his formidable determination.
Paula Upson could pass for a dancer with her strong, thin limbs and graceful carriage. She insists that she is not the typical stage mom, yet she is clearly a source of tremendous support for her daughter. She is neither the stereotypical desperate housewife pushing her daughter into uncomfortable challenges, nor is she a passive bystander. At each juncture in Alexandra's education, her mother has devoted her analytical skills to carefully assessing the current situation and evaluating the potential options. She traversed the country with Alexandra throughout the spring and helped her come to her final decision about choosing a new school.
As other fifteen-year olds across the United States return to high school this fall, Alexandra will spend her mornings studying at home in Carlisle and her afternoons and evenings in ballet class. On the first day of the session, she will be re-evaluated for her level and placed in the appropriate classes. Depending on her placement, she will attend classes in technique, pas de deux, pointe and variations from the ballet repertoire. She may or may not be among other dancers her age; she'll be in a new city on the opposite coast.
Dancers live isolated lives, secluded in a physical-musical reality. Like competitive athletes, they train and train and train and they dream of experiencing greatness. Inspired by their dreams, they demand unnatural things of their bodies, and try not to think about the consequences.
Friendships with anyone other than another dancer are hard or even impossible. Their schedules and their seclusion get in the way. By default, their friends are also their competition. They all dream, hope, and work toward the cherished goal of a position in a ballet company.
I'll visit Alexandra at the Central Pennsylvania Youth Ballet mid-way through the year and report back on how she is progressing. Meanwhile, I'll send a dancer's wish for good luck: Merde!