"A Thought Moment" — This was a title of Lipikorn Makaew's art exhibition last year at The National Art Gallery in Bangkok. It depicted the Lanna way of life, traditions, ceremonies, art and culture. He had applied the Dharma of the Buddha as his instrument in conveying what happened in a thought moment of his own. All the ways of Lanna living are portrayed to demonstrate nature's substances from the soul. That exhibition, with his paintings and installation, was successful.
Makaew is an assistant professor from Rajamangala Lanna and a famous Lanna artist in the North of Thailand. His style of work is quite unique and complete with thoughts, skills and essences that reflect the soul of Lanna culture. He is also a well-known folk musician.
I was invited for lunch at Jai Yong Art Gallery in Chiang Mai Province. This establishment also has a northern Thai food restaurant in front of the gallery. On that day, I also met many art lecturers and students from Rajamangala Lanna as they came to the opening ceremony of an art exhibition by their fellow graduate students. This was a great chance to meet them.
A Conversation with Lipikorn Makaew
JY: Thank you very much for the nice traditional lunch for me and my staff. I met you before and followed your work a couple years ago. I personally love all kinds of installations including your Yantra work which is an ancient pattern on a piece of cloth, apart from the body paint that was believed to be protection from harm and danger, I have some questions for you.
LM: It is my pleasure to meet you. Please ask away.
JY: For a long time in Thailand, tattooing and design on the clothes were only for men. The artists were monks who had knowledge of Black magic and ritual. Is that true?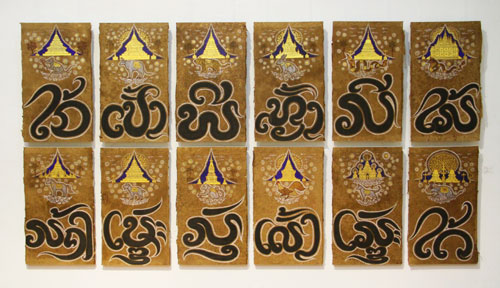 LM: Actually, in Thai history, we had many wars with neighboring countries. Every man had to be a soldier. The elephant troops needed to follow the men into war. Monks from many temples were spiritual leaders who supported the morale of soldiers. Indeed, all monks were revered greatly by the people. For my actual work, I was inspired by my ancestors to search for information from the old scriptures. I brought the detail about talismanical garb and added some artistic beauty to further the ancient knowledge. Women could not wear these garments and they were forbidden to go to war.
JY: As far as I know, there were many heroines who participated in the war such as the Queen Suriyothai, Khun Ying Mo, and two heroines, Thao Thep Kasatri and Thao Srisunthorn, from Southern Thailand.
LM: In Northern Thailand, the belief in black magic evolved with religious rituals and ceremonies. Till now monks can be artists like in the past. The talismanical garb can be derived from local artists too.
JY: I saw your talismanical garb in the video. Those painted clothes were similar to what I found in many traditional companies or stores. They hung these clothes on the wall where anyone can see. At first, I was very frightened and thought that it was a forbidden image about sexual intercourse between a horse and a woman. I wonder why people bought these Yantra pictures. They seem very offensive and disgrace women.
LM: Do you mean the Yantra cloth that people called "Ma Sep Nang"? There is a belief that the owner will have great fortune in their business and the cloth was even made of shroud.
JY: What do you tell people who look at your art? I found it was scary to know that works from the other monks were offensive and depicted gender discrimination. I was told that these Yantra clothes were quite rare and expensive for collectors. Originally, the owner got these clothes for free from the monks and their belief in wealth and success convinced them to accept the unknown. For you, painting is the continuation from the past and this looks scary with her feet and geckos creeping around her.
He laughed but no answer.
JY: I accept that men and women are different, we think differently. Those pictures were made by men and for men only. If it is possible, next time could you paint a beautiful woman? Because when I saw that picture, I was drawn to the wicked gender portrayal more than the charisma of the horse. I still feared that picture. But people told me it was a charm.
At that moment I need to change the topic because Lipikorn didn't want to answer this question.
LM: I have more works for you to study. I have a strong bond with Lanna culture in my art. For the past exhibition I had 12 pieces of clothing to reveal the person and substitute for the human bodies. What could be seen while one moves around the exhibition is painted both on the front and back of the costumes. I also sing and play folk songs for the guests.
Lipikorn Makaew
(Associate Professor at Rajamangala Lanna University of technology)
B.F.A. in Painting from the faculty of Fine Arts, Rajamangala Institute of Technology Prathumthani Province
M.F.A. in Thai Art from the faculty of Painting, Sculpture and Graphic Art, Silpakorn University.
Honors and Awards
2001 First prize, gold medal Semi traditional 25th Bua Luang Art Exhibition
2010 Outstanding Chiang Mai Folk Artist, visual Arts painting 2010
2012 Robinson Bright and Charm Awards 2012, in the sector of Lanna and cultural promotion
Solo exhibitions
2002 "Phra Bot" Mae Fa Luang Chiang Rai
2003 "Temptation of Mara, The revival of Lanna folk Art"
From 1989 – 2014, he had many selected exhibitions in Thailand,
India and New York.