Fortunately, I had a second chance to interview Grit Wattanapruek. He works with TAT (Tourism Authority of Thailand) Hat Yai branch which covers three provinces (Songkhla, Phatthalung, and Nakhon Si Thammarat). I found a treasure of photos which were symbols of Phatthalung Province: High mountains surrounded by rice fields and smoke in the air. This is a wonder of life and nature.
Phatthalung Province is called the land of Nang Talung, which displays a magnificent performance of shadow puppets of Thailand. Nang Talung in Phatthalung is the most well known of its kind in Thailand. However, without serious support from the government, everyone fears that this performance might be lost with time. Many years ago, I wrote about about Thai small puppets (Hun Lakorn Lek) and shadow puppets from different performances which include traditional and modern performances. These shows originated in the south of Thailand accompanied by traditional music instruments.
JY: Tell us about the journey and activities of Nang Talung today?
GW: People in the south of Thailand still protect their traditional way of living. They see it as a national heritage in that people are very pleased to listen to Nung Talung's puppet masters. Many of them are highly educated people who excel in economics, social affairs and politics. Mostly, the performances take place in temples and educational institutions during national holidays and special events. The performances satirize national politics and daily life in the south of Thailand.
JY: How does TAT promote Nang Talung to the public?
GW: In the south of Thailand, there are already many museums for Nang Talung. For example, Hor Silp Nang Talung is located in Mueang District, Phatthalung Province. This place is quite important for Nang Talung's conservative group from the past to present. It requires cooperation between the Cluster Kae Nung Muaeng Lung group and the authorities. They are responsible for presenting Nang Talung in Thailand and foreign countries. In Hor Silp we have a museum to show Nang Talung characters, the creation of Nang Talung, its history, its craftsman, and the musical instruments used in the show. TAT promotes this establishment and many other places as part of its marketing plan for tourism.
JY: Last year I wrote about a restaurant in Chiang Mai. That restaurant sells southern Thai food because the owner came from Phatthalung Province. The southern Thai food has a different feel and taste from northern Thai food: a very hot and spicy flavor due to the chilies and Thai herbs which are preferred by most southern Thai food lovers. Tell us about Phatthalung Province and Phatthalung food?
GW: As you already know, Phatthalung is unique and so different from other provinces in the South. It is located on the Songkla Lake Basin, adjacent to Thalesap Songkhla (Songkhla Lake) in the East. The natural lake covers an area in three provinces: Songkhla, Phatthalung, and Nakhon Si Thammarat. The lake provides rich resouces within its reach and its connections. The lake itself supports many people as a productive resource. Natural marine life, including aquatic plants, fishes, river prawns, etc., are harvested from the lake.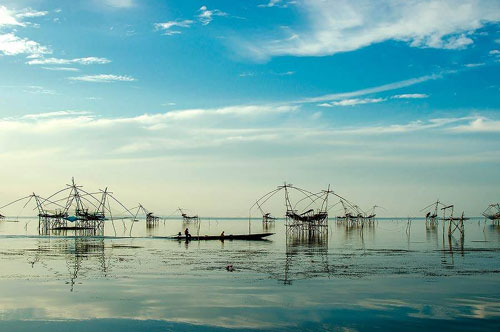 The land near the lake is exceptionally productive. The majority of the population of Phatthalung makes their living on agriculture. And I must highlight the region's famous Sangyod rice: a richy brown rice that originated in Phatthalung and nowadays has wide distribution in nationwide markets. Some say that its quality is better than Jasmine rice.
It is a native rice that has been grown in Phatthalung Province for a long time. The rice has a value in itself. To put it more simply, it can be said that Sangyod rice is a main factor that binds people in the community and traditions together. We have plenty of food from the sea such as shrimp, crabs and fish and the rice to eat with this seafood. Mostly, our food is so hot and spicy we have to eat it together with this rice.
JY: How is the rice involved with traditions and culture?
GW: We cook food for our families, friends, guests and elders. Sangyod rice is an important part of a southern Thai meal. The hosts provides food and Sangyod rice to their invited guests to show their hospitality. It's rather expensive brown rice and it's organic. This means there is no use of chemical fertilizers and pesticides on the rice crops. The rice is also soft and has a good smell like Jasmine rice.
JY: Is this the original type of Sangyod rice?
GW: I have heard that around 2003 Her Majesty the Queen Sirikit went to Phatthalung Province. People who went to welcome her offered Sangyod rice.. Later the Queen said to her people that the Sangyod rice was very tasty and recommended that the Phatthalung community should provide support and promote this kind of rice to the public as much as possible. The production strategy focuses on high quality and freedom from toxins.