Politics
n. (used with a sing. or pl. verb) The often internally conflicting interrelationships among people in a society.
SMELLS OF MUSEUMS
Gertrude Stein (1874-1946) disdained museums and said of James Joyce near the end of her life that he (like Hemingway to whom this barb was originally directed in The Autobiography of Alice B. Toklas) smelled of museums.
"You see it is the people who generally smell of the museums who are accepted, and it is the new who are not accepted. You have got to accept a complete difference. It is hard to accept that, it is much easier to have one hand in the past. That is why James Joyce was accepted and I was not. He leaned toward the past, in my work the newness and difference is fundamental" (Gertrude Stein, Transatlantic Interview 29).
According to James R. Mellow, one of Gertrude Stein's many biographers, the 27 rue de Fleurus salons that began in 1905, initiated by Gertrude and her brother Leo to show their collection of Cézanne oils and watercolors, early paintings by Matisse and Picasso, artworks by Renoir, Manet, Gauguin and Toulouse-Lautrec, was the first museum of modern art. Leo Stein (1872-1947), in his book Appreciation: Painting, Poetry and Prose (published in 1947) wrote, "A man who collects in the spirit of a collector collects specimens, but for genuineness of personal experience specimens are of no importance … The museum is a necessary misfortune, and picture shows a worse one." The quotes are telling because Leo Stein seemed to have no hesitation at selling his collection and he agreed with his sister Gertrude that museums were not good places.
SILVER IN THE EYE, EYE FOR ART
Albert Barnes (1872-1951), an entrepreneurial doctor of medicine turned pharmacologist who partnered with a German chemist to create the silver compound Argyrol used in the treatment of eye inflammations especially in newborns, began purchasing artwork from Leo Stein in 1912. These two lesser paintings by Henri Matisse: Dishes and Melon (Assiettes et melon) and The Sea Seen from Collioure (La Mer vue de Collioure), representing the first Matisses purchased by Barnes, remain in today's hung collection at the Barnes Foundation. From 1912 to 1921, Barnes purchase 31 works of art from Leo Stein that included eight Cézannes, nine Matisses, and fourteen Renoirs. Most of these works were oil paintings with the exception of six watercolors by Cézannes and one drawing by Matisse. Additionally in 1922, through the collector Christian Tetzen-Lund, Barnes acquired Le Bonheur de Vivre, which Leo had sold to Tetzen-Lund in 1914.
Henri Matisse 1869–1954
Sketch for Le Bonheur de vivre between October 1905 and March 1906
During Barnes' life, he collected 69 Cézannes, 60 Matisses, 181 Renoirs, and 44 Picassos. The artwork purchased directly from Leo Stein represented 15% of the Matisses, 11.5% of the Cézannes, and 7.7% of the Renoirs. When Gertrude and Leo Stein split their art collection, Leo wanted none of the Picassos. He was furious with Picasso's move to cubism and the influence Picasso had on his sister's writing, namely Tender Buttons. However, Leo needed money for his new life apart from Gertrude and so over the years, he sold most of the artworks he had purchased with Gertrude.
Henri Matisse 1869–1954
The Sea Seen from Collioure (La Mer vue de Collioure) spring-summer
PLAYING RACIAL CARDS
As of May 2012, the Barnes Foundation art collection, established in 1922 on the grounds of the twelve-acre Wilson Arboretum in Merion Station, Pennsylvania, now resides a little over seven and one-half miles from the original location in the heart of Philadelphia within view of the Philadelphia Museum of Art. James Panero in "Outsmarting Albert Barnes," an article written for Philanthropy Magazine commented that Barnes, "came to loathe established Philadelphia art institutions, calling the Philadelphia Museum of Art a 'house of artistic and intellectual prostitution,' and asserting that the main function of museums 'has been to serve as a pedestal upon which a clique of socialites pose as patrons of the arts.'" In his day, Barnes gave preferential treatment to working class visitors and struggling artists while often rejecting the requests of the rich and famous to see his collection.
Pierre-Auguste Renoir 1841–1919
Bather (Baigneuse) c. 1890
Staff members are careful to say the Barnes Foundation is an educational organization not a museum per the charter Dr. Barnes set up. Coming from a rough Philadelphia working-class neighborhood, Barnes as a youth, preferring to paint pictures and play musical instruments, learned how to box to defend himself against bullies. However, despite his wealth, he also developed a deep respect for the working class without racial prejudice. His mother often took him to African-American camp meeting to hear their music. Barnes said, "I became an addict to Negro camp-meetings, baptizings, revivals, and to seeking the company of individual Negroes." In 1950, Barnes left the stewardship of his foundation to Lincoln University, a Black institution of higher learning whose alumni include Langston Hughes and Thurgood Marshall. Barnes had developed a close relationship to Dr. Horace Mann Bond, the president of Lincoln. So it was assigned to Lincoln to choose the trustees of the Barnes Foundation, which in later years, coupled with other restrictions imposed by Barnes' estate papers, became a hindrance to good management.
In Chapter 2 of The Autobiography of Alice B. Toklas, the writer Gertrude in the voice of Alice, without fully naming him, recounts the story of Gertrude meeting Albert Barnes:
Then there was a sharp tap at the atelier door. Gertrude Stein opened it and a little dark dapper man came in with hair, eyes, face, hands and feet all very much alive. Hullo Alfy, she said, this is Miss Toklas. How do you do Miss Toklas, he said very solemnly. This was Alfy Maurer an old habitué of the house. He had been there before there were these pictures, when there were only japanese prints, and he was among those who used to light matches to light up a little piece of the Cézanne portrait. Of course you can tell it is a finished picture, he used to explain to the other american painters who came and looked dubiously, you can tell because it has a frame, now whoever heard of anybody framing a canvas if the picture isn't finished. He had followed, followed, followed always humbly always sincerely, it was he who selected the first lot of pictures for the famous Barnes collection some years later faithfully and enthusiastically. It was he who when later Barnes came to the house and waved his chequebook said, so help me God, I didn't bring him. Gertrude Stein who has an explosive temper, came in another evening and there were her brother, Alfy and a stranger. She did not like the stranger's looks. Who is that, said she to Alfy. I didn't bring him, said Alfy. He looks like a Jew, said Gertrude Stein, he is worse than that, says Alfy.
Albert Barnes was not Jewish. So what did this insult mean, because in Stein's time (The Autobiography was published in 1934), especially as hatred mounted in Europe against the Jews in the 1930s, looking Jewish was not good.
In "Gertrude Stein, Alice Toklas, and Albert Barnes: Looking Like a Jew in The Autobiography of Alice B. Toklas," Amy Feinstein builds a case that Gertrude Stein used Barnes, whose ostentatious wealth may have offended her, to make several points relating to her own identity (typically she did not discuss herself as a Jew) and to empty a much-used epithet of her time of its derogatory punch by making the comment a stereotype instead of a racial slur. Feinstein wrote:
"Despite its oddity, this Jewish reference to a non-Jew in the non-Jewish-appearing autobiography of two Jewish women firmly establishes the import of Stein's interest in Jewish identity on her radically experimental oeuvre. In fact, the Jewish reference to Albert Barnes is part of the formal challenge of the book as a whole. For although the prose is relatively straightforward, The Autobiography of Alice B. Toklas famously breaks with the traditions of autobiography and biography, first and foremost as an autobiography written by someone other than its titular subject. Stein writes the book in the narrative voice of Toklas recounting her relationship with Stein and the arc of Stein's literary career alongside the careers of Picasso, Matisse, and other contemporaries. The explicit message of the book is one of Stein's frustrations in being an overlooked genius. By having Toklas tell of Stein's many struggles to get published, Stein holds up the body of her work as mistakenly neglected art. As a book about the process of gaining recognition, Stein uses the exchange between herself and Barnes as an ironic example of mistaken judgment or misrecognition. It serves as an instructive model, warning others from dismissing the unknown, the strange, or the stranger, because such strangeness may be precisely what you want people to look at and appreciate in your own work, especially if you are Gertrude Stein and such appreciation seems hard to find."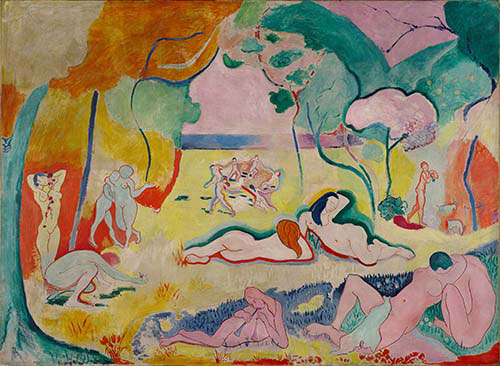 Henri Matisse 1869–1954
Le Bonheur de vivre, also called The Joy of Life
between October 1905 and March 1906
THE CLEVER SUPERSTRUCTURE OF IMPENETRABLE STUPIDITY
In reality, Barnes behaved like a stereotypical Jew: he handled his money carefully, he strongly believed in education for himself and others without regard to the color of their skin, and he gave tzadakah (charity with a social justice philosophy) to people who needed help. The icing on the cake was he used his art collection to educate people of lesser financial means. Also he refused to allow his collection to be called a museum and he hung his paintings one on top of the other in a manner similar to the way artwork was hung at 27 rue de Fleurus. Probably the only substantial negative between Barnes and Gertrude Stein was the forty-year friendship he had with her brother Leo. Take for example, these lines from a letter written by Leo October 20, 1934, to Barnes:
"…She [Gertrude] tells how we used to buy pictures in pairs so as to satisfy both our tastes, which never happened on a single occasion. Until Gertrude bought a cubist Picasso, she was never responsible for a single picture that was bought, and always said so. She was proud of her slow reaction time, and always said she couldn't tell whether she liked a picture or not until she had lived with it, and so on. It's impossible to believe that she believes the stuff she wrote [in The Autobiography of Alice B. Toklas] and equally difficult to believe she is lying.
"The book seems to me a rather clever superstructure on a basis of impenetrable stupidity. Gertrude and I are just the contrary. She's basically stupid and I'm basically intelligent. But Gertrude's sort of massive self-admiration, and, in part, self-assurance, enabled her to build something rather effective on her foundations. I, on the other hand, through the upsetting, complicating and stultifying effects of a terrific neurosis, could build nothing substantial on my intelligence, which came through only in fragments and distorted bits…" Journey into the Self: being the letters, paper & Journals of Leo Stein
Thus in the art collecting society of the Western World, the arrival of a stranger—Albert Barnes, one as eccentric as Gertrude and Leo Stein—at a seminal moment in the sister-brother relationship, changed what museums of modern art could look like and how they might function.
Cover Photo -Paul Cézanne 1839–1906
Group of Bathers (Groupe de baigneurs) 1892–1894
All Images ©2013 The Barnes Foundation