Cannibalism, an MIA sailor husband, feminism, and sex change were the topics when The Barns at Wolf Trap Foundation for the Performing Arts in Vienna, Virginia, presented three performances of two short operas by French composers known as members of Les Six—Le pauvre matelot by Darius Milhaud and Les mamelles de Tirésias by Francis Poulenc. This reviewer saw the highly satisfying August 10, 2014, performance and attended the pre-show lecture which shone light on how these operas were selected and which bears summarizing.
HOW THE POOR SAILOR & BREASTS OF TIRESIAS GOT SELECTED
Typically Wolf Trap Opera (WTO) features young artists, who are given two, and only two, opportunities in their productions. The singers are selected first and then operas are chosen which will suit the working talent and their voices. Les mamelles de Tirésias was picked as the first short opera of two and for the Canadian soprano Mireille Asselin in the lead role of Thérèse. The soprano gave an energetic and playful interpretation as the role demands. Asselin also sang the role of Frasquita in 2014 WTO production of Bizet's Carmen.
Identifying an appropriate companion opera for Les mamelles was an engrossing story. Poulenc dedicated Les mamelles to his good friend Milhaud, which encouraged WTO to seriously consider a Milhaud opera. Milhaud was prolific, writing upwards of fifteen operas of various styles and durations. Neither of the Wolf Trap operas had a successful premier. Les mamelles with a libretto by poet Guillaume Apollinaire debuted in 1947 with Puccini's La bohème. Le pauvre matelot with libretto by Jean Cocteau premiered in 1927 with Puccini's Tosca. Both premieres took place at Théâtre National de l'Opéra Comique in Paris. What WTO looks for in pairing two short operas is commonality and contrast. As to contrast, Matelot, a linear story, is a drama while Les mamelles is a surreal comedy. Both operas feature strong women, which was the over arching theme for the 2014 WTO season.
COCTEAU'S TWIST
Of the two operas, Le pauvre matelot was the more demanding, given the complexity of the music. Typically Milhaud worked with polytonality and jazz inflection in his compositions although the music for Matelot seemed to this reviewer's ear on the edge of tonality. Soprano Tracy Cox as Sa femme (the sailor's wife) made her return to WTO as a well cast selection by director Matthew Ozawa. Her aria when she learns that her husband, missing for 15 years, is alive and nearby was masterfully sung to music that is lyrically moving and embellished with bassoon accompaniment.
The four-character opera in three acts running 35 minutes is surprising for its story outcome. Cocteau supplies a twist that haunts long after one leaves the theater. The staging, which includes a large floor to ceiling panel with the photo of a woman's face (it remains in use for Les mamelles) highlights what looks like a cage that the sailor's wife sits in and indeed, she is trapped in her life. From this perch that represents the bar she and her father (sung by bass-baritone Ryan Speedo Green) run, she serves a scant customer base that includes her husband's friend (baritone Norman Garrett). The friend in the sailor's absence has fallen in love with the faithful wife. When the sailor (tenor Robert Watson) arrives in town and much changed by his encounters with cannibals and hardship, he goes to see his friend first. The way in which the sailor approaches his wife provides the surprise ending.
MEETING THE DEMAND FOR BACON
In the two acts of Les mamelles de Tirésias, Guillaume Apollinaire threads his fanciful story on feminism, the waning birthrate in France, and the myth of the blind prophet of Thebes who becomes a woman for seven years. Mireille Asselin as the feminist wife Thérèse, American baritone Tobias Greenhalgh as Thérèse's husband, and Korean baritone Joo Won Kang in the double role of Director and Gendarme (a policeman) provide entertaining performances in their interpretation of Poulenc's easy-to-enjoy music.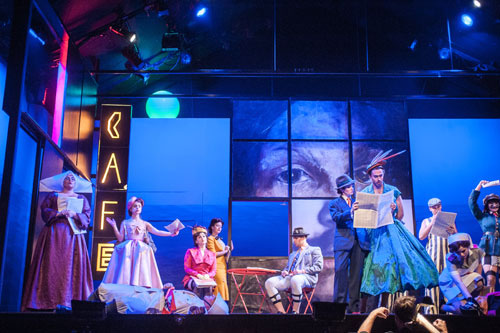 Apollinaire, who coined the word surrealism, depicts a young wife who is fed up with being told what to do by her husband. Somehow without explanation she turns into a man, which includes her breasts (two pink balloons) flying out of the bodice of her dress. The husband, wearing a fashionable flair-skirted dress, decides he will soldier forth and finds a way to produce more than 40,000 babies in one day. The scene is ecstatically whacky with scenic designer William Boles populating the stage with pink flamingo lawn ornaments and photos of babies strung about the stage like paper lanterns. A subplot involves two drunks, friends of the sex-reversed couple. The drunks manage to argue, duel, kill each other, and get resurrected within the slightly over 50-minute runtime. Les mamellesde Tirésias was a great choice for WTO's young artists because it allows a sizeable number to be on stage, some in minor but recognizable characters such as un Monsieur Barbu (a bearded man) and Une Grosse Dame (a large woman).
In the end, Thérèse returns to her husband (as a woman) and his demands that include the funny but veiled sexual slang donnez-moi du lard (give me bacon). So just like the sailor's wife, Thérèse is a woman in a cage.
Photo credit: Teddy Wolff