The journey of Thai printmaking artists seems to be apparent from artists and institutes that support them. Works of printmaking artists have many complicated steps including intentional creations to develop prototypical works further to complete masterpieces. For artists, some groups that can make their dream come true are participating private organizations. They give financial support to inspiring artists to observe and exhibit their works in many important exhibitions within and outside the country. Praween Piangchompu is one of the newer generation of printmaking artists. He could be a good role model for youth who love arts.
Coincidentally, I had many chances to attend some art exhibitions and workshops in Chiang Mai and nearby provinces. I could see some good prototypes of printmaking for future exhibitions. These objects are made of dreams and the imaginations of several Thai artists who attempt to release beautiful and qualified works to the world. I met Praween Piangchompu in many art exhibitions and workshops at the Chiang Mai University Art Museum. For my first impression, his works were blurry and unclear. I could not interpret his motivations at all. I just knew that he received countless awards. He is one of the artists whose prototypical works are used for commercial purposes such as calendars, book covers and digital media. Such things are technological showcases that dramatically impact the effect of the printing press on computers and mobile devices. The printing press works quickly and has artistic invention for this modern era when arts work well together with freedom-of-press technology. This can be sent to people rapidly and endlessly with honest intentions as well as based on faith in the work and for perfect implementation of the creation.
Here is a short interview I recently had with Praween.
JY: What sort of artistic works would you like to make?
PP: I really want to produce artistic works which reflect expressed feelings for profound thinking by using woodblock printmaking. It is so special, strange and emphasized in an art work presentation to create texture with new dimensions of color and weight. Softness and thinness can be seen with our own eyes by experimenting with scraping off and polishing art works until the result is satisfactory. The objective is to use the method of creating woodblocks to create new types of art works .
JY: What do you think about the social aspect?
PP: I think mental conditions might be affected by the environment and this also affects feelings. At present, everyone's feelings should be quite similar to mine. I actually feel confusion and anxiety from the events that changed society. With inspiration from this, I tried to experiment with the use of my works and it does the trick. The results were quite impressive. A good example here are the steps of making woodblock. To me, each color layer has to be a delicate step by step. I personally believe that it might be in conformity with the present society. This gives me the bright idea that if everyone works step by step with full consciousness and tries hard to the fullest, everything should bring success and happiness.
JY: Tell us about yourself as well as your works and exhibitions.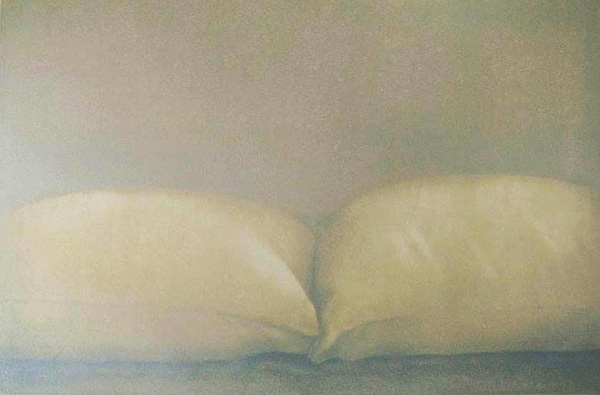 PP: After I achieved a Bachelor's Degree in Chiang Mai, I had a chance to work in the field that I studied by working as an assistant for a printmaking artist in a famous printmaking studio in Chiang Mai Province. There I learned many things such as concepts of the creative working process in the systems of commercial art, management for technical process of art works and communications.
After that I continued my Master's Degree in Visual Arts at the department of printmaking, the faculty of fine arts, sculpting and printmaking, Silpakorn University. This was to enhance the effectiveness of my works, open new experiences and visions of life by attending many art activities.
In 2014 I was selected to observe and exhibit art works at an art exhibition in the USA. The exhibition title was "Contemporary art exhibition for youth" and it was held at the Thai general consulate in California. This was very exciting and impressive. Later I submitted my works to various contests and many of them were selected.
My notable submitted artworks and co-exhibitions are:
- Silver medal award from a youth art contest
- Excellence award from "Young Thai Artist Award6 10th" from the SCG foundation
- Cubic Museum Art in the box exhibition held by Silpakorn University, Thailand and Tama University Japan (co-exhibition)
- The International Biennial Print Exhibition Taiwan (co-exhibition)
- In 2015, Print Prize, 2015 Guanlan International Print Biennial, China. This exhibition was an international art contest with about 4,000 submissions from around the world. There were just 10 selected art works and my work was one of them. I was so happy and proud that I was one of the representatives from Thailand to receive this award.
-The 4th Bangkok Triennale International Print and Drawing Exhibition(co-exhibition)
- The 2nd International Creative Art Disseminating at Art -Centre, Silpakorn University, Wang Thapra (co-exhibition)
- Excellence Award, 30th PTT Art Exhibition "Designable Future"
- Prize Winner, Semi Grand-Prix, Tokyo International Mini- Print Triennial 2015, Tama University Japan
- Silver honors award, Printmaking, 61st National Art Exhibition
I exhibited my works in many galleries and there are many art collectors from Thailand and abroad such as Benone Gallery that collect my works.
For the two years of studying for a master's degree in the institute, I received knowledge, skills, experiences, opportunities and good memories. I was very lucky to reach this point. I want to give my gratitude to my parents, teachers, good friends and important people from various organizations that support me and encourage me to create more art works.