When I was asked to write about the seasons, I found myself drawing a blank. I don't tend to think about the seasonal aspects of movies, and I haven't been impressed with most articles that rank films according to their connections with summer, autumn, winter and spring. (Oh, so Home Alone is the best movie about winter ever made? You're entitled to your opinion.)
The following is a highly subjective list of films that for me typify a particular season, or all four seasons. Most are favorites of mine, and all are movies I recommend. I will make no attempt to be exhaustive, and a few of the films I list aren't even set in the appropriate seasons; for me, it's a matter of mood rather than meteorology. I invite you to write in with your own favorites. You will note, however, that in this article, the work of one director, who more than any other used the seasons as metaphors for the various states of the human mind and heart, will recur.
For me, the movie that typifies the happiness of spring, more than any other, is Enchanted April, Mike Newell's film from 1992. Set in the 1920s, Enchanted April tells the story of four well-to-do Englishwomen (played by Miranda Richardson, Joan Plowright, Josie Lawrence and Polly Walker) who escape a dreary, rainy London spring by pooling their resources to rent a villa in Tuscany.
The story of Enchanted April is thin, but I know of no other film that so beautifully captures the joy of spring, and of the rejuvenation of spirit that can happen that takes place when you spend time in a beautiful place. Having spent time in Tuscany (although it was autumn when I went), I can attest to that personally.
Another tale of spring enchantment—albeit in a darker way—is told by Michael Powell and Emeric Pressburger in 1947's Black Narcissus, based on a novel by Rumer Godden. Black Narcissus—set in the Himalayan part of India, but actually filmed on a London soundstage and a garden in Sussex—contains some of the most glorious footage of spring flowers and foliage in any film. (Set over the course of several months, Black Narcissus also qualifies as a great winter film.) However, the glory of those spring flowers fades when you realize that Sister Philippa (Flora Robson) planted them instead of the vegetables her fellow nuns needed to survive.
An eternal monument to the magnificence of Technicolor, Black Narcissus is the story of an attempt to establish a convent at a mountaintop palace where similar endeavors—a hospital, a school, a monastery—ended in failure. As untested Sister Clodagh (Deborah Kerr) tries to keep order, the nuns become emotionally unmoored in a beautiful but isolated and forbiddingly foreign place. The final tragedy comes in the hysterical obsession of Sister Ruth (Kathleen Byron, giving one of the great mad performances of all time) for the handsome Mr. Dean (David Farrar).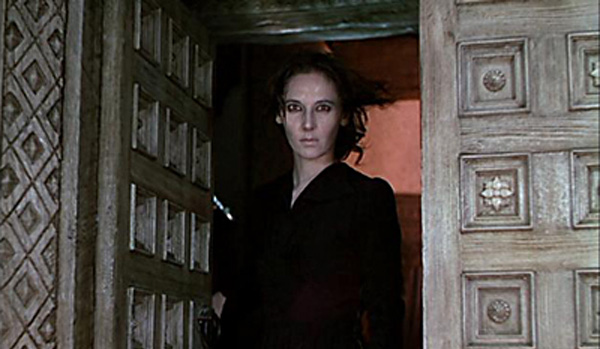 Black Narcissus is a better, richer film than Enchanted April, yet I suspect some viewers won't cotton to the queasier aspects of Black Narcissus. In some ways Black Narcissus is the anti-Enchanted April, showing that natural beauty--under the wrong circumstances, and with the wrong people--can kill as well as heal.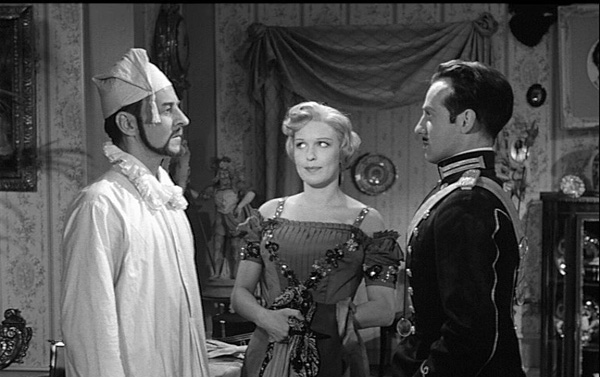 Of all films related to summer, the greatest is Ingmar Bergman's 1955 film, Smiles of a Summer Night. Set on a Midsummer's Eve on a Swedish country estate near the turn of the 20th century, Smiles of a Summer Night portrays the romantic fumblings of a group of besotted haute bourgeoisie. The women, of course, are much wiser and more realistic about sex and love than the men. Pauline Kael called Smiles of a Summer Night an "exquisite carnal comedy" in which "boudoir farce becomes lyric poetry." I cannot improve on that; I can only note that A Little Night Music, the musical comedy Stephen Sondheim made from Smiles of a Summer Night, is as fully a work of genius as the original.
If you're looking for a plain old American film evoking the joys of summer, look no further than Breaking Away, Peter Yates' 1979 comedy set in the college town of Bloomington, Indiana. Breaking Away tells the story of four teenage boys just graduated from high school, enjoying the last idyllic summer around their quarry swimming hole before they have to face the adult world. One of them, Dave (Dennis Christopher), an aspiring long-distance bicycle racer, is so eager to break out of his small town that he pretends to be Italian—much to the consternation of his no-nonsense father (Paul Dooley).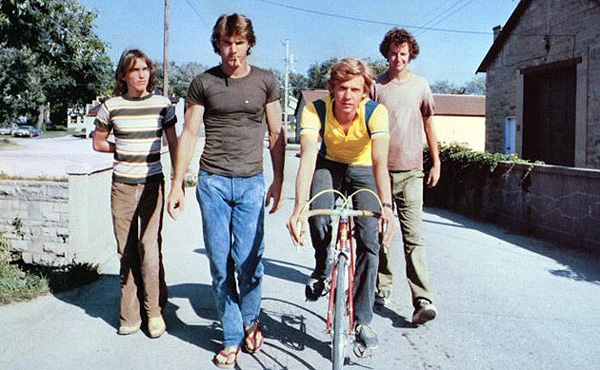 A movie of sunny, ineffable charm, Breaking Away—boasting a fine screenplay by the late Steve Tesich—contains hilarious dialogue, sharply drawn characters and a rousing climactic bicycle race. In the first of many instances in this review of music adding to a film's impact, Yates creates a particularly buoyant mood by his use of Mendelssohn's Italian Symphony. Breaking Away made stars out of several members of its unknown cast—particularly Dennis Quaid—but unfortunately neither Christopher nor Dooley ever got the career boosts they deserved. Nevertheless, Breaking Away was a winner for both of them.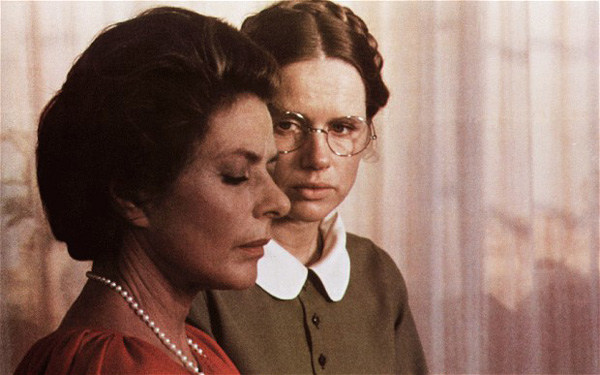 Any consideration of autumnal films must begin with Autumn Sonata, the 1978 collaboration between cinema's two great Bergmans, Ingmar and Ingrid. A country parsonage by a quiet Swedish lake is the setting for one of Ingmar Bergman's finest chamber dramas. Charlotte Andergast (Ingrid Bergman), an internationally renowned concert pianist, pays a rare visit to her daughter Eva (Liv Ullmann), a pastor's wife. The visit turns into a bitter confrontation between mother and daughter, in a late-night argument revealing long-buried resentments. The season of the year is richly present in Autumn Sonata, thanks to the glowing cinematography of Sven Nykvist. But, even more, Bergman's story is essentially, emotionally autumnal, depicting a woman nearing her life's end who is suddenly confronted with the consequences of the choices she has made. Bergman's use of music in Autumn Sonata—a Bach cello suite and a Chopin prelude—is especially skillful in setting the mood.
Although it's actually set in late summer, Bertrand Tavernier's A Sunday in the Country has a similarly autumnal feel, in a gentler but no less serious mode. Set in 1912 in the countryside outside Paris, the 1984 film presents a Sunday in the life of Monsieur Ladmiral (Louis Ducreux), a painter of some renown, receiving the expected visit of his son Gonzague (Michel Aumont) and his family, and the unexpected one of his free-spirited daughter Irene (Sabine Azema).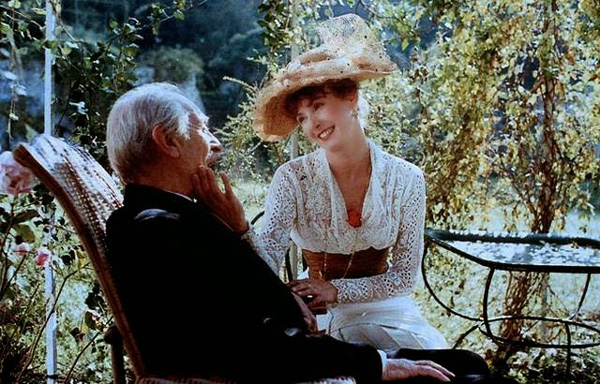 A Sunday in the Country, unlike Autumn Sonata, contains very little in the way of direct confrontation, but the tensions in the Ladmiral family are apparent. The father is aware that he never achieved the distinction of his bolder colleagues Renoir, Monet and Cezanne; the son is aware that he is a disappointment to his father; the daughter is outwardly exuberant, but inwardly suffers the torments of an unfulfilled life. Tavernier captures this all in a story that to some will seem unbearably placid: lunch, a nap, tea, a visit to an outdoor café, dinner, the train home. But most will feel the deep, poignant emotion that runs throughout the movie, borne of the poetic screenplay, the impeccable acting, and the gorgeous photography by Bruno de Keyser that transforms the film into an Impressionist painting in motion. The soundtrack, consisting mostly of the chamber music of Gabriel Faure, underscores the bittersweet beauty of the film.
It seems there are more movies dedicated to winter than to any other season. The reason for that is simple: Christmas. That is true even of films that don't seem at all Christmasy. Anthony Harvey's The Lion in Winter, that great actors' feast of a movie about the murderous machinations within a royal family, is set during Christmas court at Chinon Castle in 1183.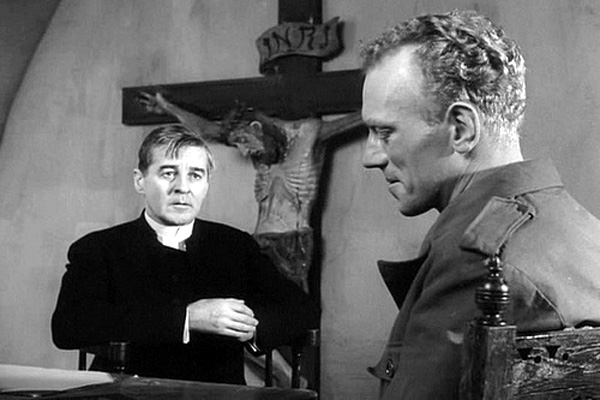 Even Bergman made a film partly set at Christmas, Fanny and Alexander, though he makes it plain that what seems wonderful to the children is anything but wonderful for the adults. A more characteristic seasonal observation for Bergman is Winter Light, about a pastor (Gunnar Bjornstrand) who cannot bring comfort even to himself, let alone to his rapidly dwindling congregation.
Alejandro Gonzalez Inarritu presents a slightly less bleak vision in Biutiful, about a dying career criminal (Javier Bardem) trying to achieve redemption. The wintry but hopeful scenes that frame Biutiful, as well as Bardem's ability to speak to the dead, are things Bergman might have included in a film himself, though they wouldn't have been hopeful (i.e. The Seventh Seal andCries and Whispers). In Gonzalez Inarritu's hands, however, the hopefulness seems both appropriate and earned.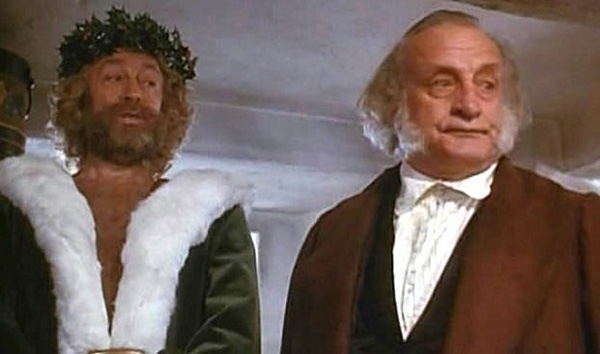 Among actual Christmas movies, my favorite of favorites is A Christmas Carol—not the famous 1951 version with Alastair Sim, but the 1984 TV remake directed by Clive Donner and starring George C. Scott. Filled with color and appropriate theatrical flourish, this version of A Christmas Carol is fresh, alive, and wonderfully faithful to the Dickens original. I love Scott's interpretation of Scrooge, which veers away from the crabbed old miser clichés and makes the character a vital, if grasping, man of business. (We can easily see Scott's Scrooge in some of the Wall Street and congressional types today.) Scott's final scenes of redemption are especially moving, and a brilliant supporting cast including Frank Finlay (as the all-time-best Marley's Ghost), David Warner, Roger Rees, Susannah York and Edward Woodward make this a Christmas Carol to cherish.
Of course, there also are films that deal with all seasons. Alan Alda called his 1981 comedy The Four Seasons, and used Vivaldi's music not onhis soundtrack, but as his soundtrack. I've only seen bits and pieces of that film, too long ago to make any judgment. I've also never seen the 2003 Korean film Spring, Summer, Autumn, Winter…and Spring, about the life journey of a Buddhist monk.
The best movie I've seen that uses the passing seasons as a motif is Juno, Jason Reitman's 2007 film from Diablo Cody's screenplay. Reitman and Cody find a clever visual cue for the seasons: the gear worn by the high-school running team of Paulie Bleeker (Michael Cera), the boy who got his girlfriend Juno McGuff (Ellen Page) pregnant.
Juno charts its course through the months of Juno's pregnancy, her changing relationship with the shy and awkward Paulie, and her dealings with the yuppie couple (Jason Bateman, Jennifer Garner) who agree to adopt Juno's baby. Juno is typical of the protagonists in Reitman's film—a wiseass who thinks she really knows the score. The way the other characters surprise her—some in good ways, some not—is the crux of the funny, poignant story, which has a great deal to say about what love is, and what maturity means.
Louis Malle's My Dinner with Andre has nothing to do with the seasons per se, but everything to do with the seasons of the soul. Wallace Shawn's brilliantly crafted screenplay—based on 100 hours of conversation between him and co-star Andre Gregory—begins with Wally's meek astonishment at Andre's tales of searching for the meaning of life in a series of bizarre group experiments around the world. Eventually Wally finds the courage to defend his choice to stay home and find meaning in the simple things of life—a cup of cold coffee, an electric blanket, the love of his girlfriend.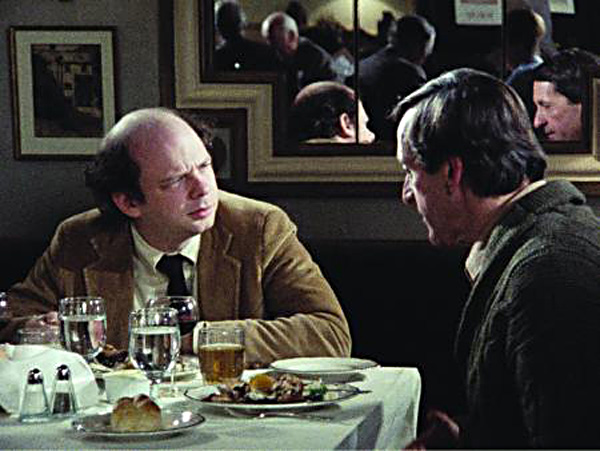 At the end, Wally and Andre come to a meeting of the minds. The unexamined life, they agree, is not worth living, and life is a beautiful, fragile thing that must be cherished. The final scene shows Wally riding home in a cab, looking out at the New York storefronts and finding a fond memory in every block. The music playing over the scene—Satie'sGymnopedie #1—provides a gentle commentary on a singular movie that celebrates life as no other movie ever has. My Dinner with Andre is truly a movie for all seasons.