Talking about a new piece by the creative tandem Robert Wilson/Mikhail Baryshnikov without enthusiasm means there has to be some major disappointment. The new collaboration between the two seasoned theatre stars, one of stage direction, the other of dance, follows on the heels of the fantastical The Old Woman (*qv), two years ago. The Old Woman was a mad-cap romp based on an absurdist story by Daniil Kharms, filled with nonstop vaudeville action, dance, talks, songs, shrieks and cabaret tricks by Baryshnikov and actor Willem Dafoe. The antics of the master performers filled every moment of the spectacle.
Letter to a Man, by contrast, is a static, overly controlled artistic gaze at madness. It is based on the (unexpurgated) diary of Vaslav Nijinsky, the legendary dancer who leapt out onto the international stage in 1909 with Diaghilev's Ballets Russes. Impresario Diaghilev was Nijinsky's mentor and lover. He lifted the young brilliant dancer to the pinnacle of fame and produced his modernist choreographies (L'Après-midi d'un Faun, 1912, Sacre du Printemps, 1913) that scandalized the world. But in 1913, while on tour, Nijinsky married a Hungarian Countess who had relentlessly pursued him, and Diaghilev cut all strings to him. Losing Diaghilev and his company, Nijinsky lost everything. He was unable to pursue his career. He broke down, was diagnosed with schizophrenia, and spent the rest of his long life in and out of insane asylums. He died in 1950.
The title, Letter to a Man picks up on letters addressed to Diaghilev, found with the diary that was written in 1919 during Nijinsky's breakdown. It is a very Wilsonian piece, a one-man show that never aims at bringing the historic legend onto the stage (unlike the many existing film and ballet versions on Nijinsky), but is only interested in his tormented mind. Mental torments have preoccupied Wilson from the start, when he staged his first operatic masterpiece, Deafman Glance, around a traumatized deaf-mute boy in 1971. Counter to what anyone might expect from a piece about Nijinsky, performed by a dancer, Letter to a Man has little movement and even less dance. Accompanied by extensive repetitive voice-over narration from the diary and many bits of popular music, the piece is a seventy-minute dark, arid exercise of perfection.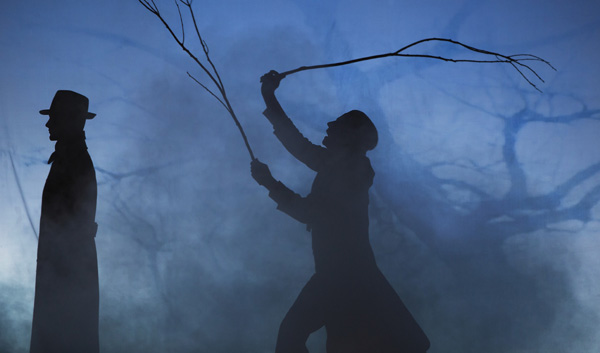 The collaboration this time is dominated by Wilson, dominated by his usual stagecraft: exquisite lighting, staccato scenic shifts, play with black-and-white contrasts, black silhouettes of Baryshnikov (at times doubled and multiplied by mute men in coats and hats) against subtly colored backgrounds, scrims, and finally a film landscape. Baryshnikov revealed in an interview that Wilson (who is also a stage performer) proposed whole scenes by recording himself on video and sending the scenes to the dancer to be adapted and rehearsed. The result is a suite of tableaux vivants, still lives of a man who seems intensely frozen in his gestures, sitting strapped into an illuminated box (in one stunning scene he sits head-down in his chair) talking nonstop in his head. The obsessive ruminations, spoken by Wilson and Baryshnikov, turn around God, sex, masturbation, prostitution, blood and war. Some of it sounds comical ("I understand war because I fought with my mother-in-law." "I was looking all over Paris for a tart." "They are going to take me away, haha!") and is at times accompanied by a superbly mad cackle or shriek. A note of puppet theater humor appears every now and then onstage, when cardboard flowers sail down onto a giant chicken, or when a photograph of Diaghilev is placed in a little bathtub floating across the stage sky.
The diary excerpts reflect Nijinsky's deep ambivalence and struggle with Diaghilev: "I don't want to call you by a name because you don't deserve a name." "You are a beast, but I am love." Half of it is said in Russian, with subtitles that are unreadable against the stage glare, then again in English with a hollow acoustic drone that makes them hard to understand. Some are the sad, stereotypical ramblings of a madman who wrestles with delusions of being God and being abandoned by God. One sentence, "I am not Christ, I am Nijinsky," is spoken by Wilson in every imaginable mood and tonality, and it's so expertly done that it turns into more than an obvious theater exercise; it becomes a searing search for a missing self.
The prevailing monotony of the voice-over is broken by a woman's voice taking over the diary. Wilson's early collaborator Lucinda Childs, who choreographed and performed in Einstein on the Beach, has a lovely voice, but with her recitation, the piece suddenly turns into pure Laurie Anderson, and one instantly compares and misses Anderson's warmth, humor and charm.
The stage is mostly plunged in darkness, scenes light up with a crack or snap, the black space opens or closes down to smaller slices or a central "show-case" box, then snaps back into black, and the music changes to another period tune or popular song.
Whenever Baryshnikov leaves a tableau vivant and goes into a little shuffle, a foxtrot or swing step, everything comes to life and magic radiates from the stage. His every movement has an exquisite, suave elegance that mesmerizes for a few short, way too short, moments. At times clad in tails and hat, stick in hand, Baryshnikov embodies the quality he says he admires in his idol Fred Astaire: "absolute effortlessness."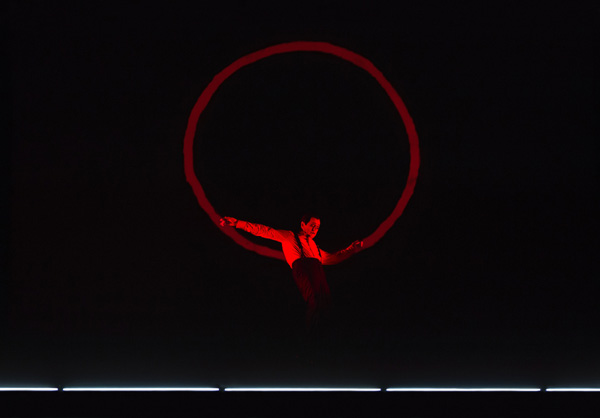 A few scenes illustrate raving madness, as when the whole black stage behind the dancer fills and pulses with red designs of circles and spying eyes – the obsessive drawings that Nijinsky used to produce and that choreographer John Neumeier also used (to more emotional effect) in his Nijinsky (**qv). Other scenes convey a mood of dissociation with flowing backdrop curtains, designed by Wilson with poetic, mysterious fragments (and his signature floating chairs). The segment that allows for most movement (to a melancholy Arvo Pärt orchestration) is unfortunately the least interesting: Baryshnikov moves in front of a wintery scrim, wafting two twigs around in no discernible style. One stark scene places the dancer under a white, empty window that could be a church or asylum window, and with only a few steps and gestures, his torment fills the gigantic space.
Another segment makes him the immobile spectator of a movie scene: in a vast, unreadable landscape of perhaps garbage or dirty snow, tiny dark male figures are slowly wandering like lost souls—guides for the madman into nowhere. There is only a single scene that conveys a longing for tenderness. When Baryshnikov lies down with a chair and reaches his arm slowly through the legs of the chair, one feels for one brief moment what might be a memory of love.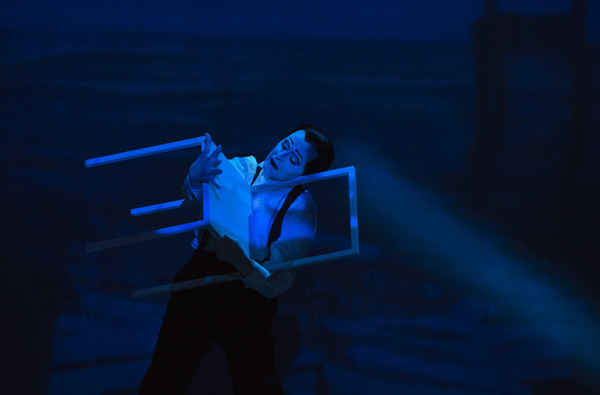 As usual with Wilson's concept creations, they get richer the more one writes about them. One warms them up by trying to describe their artifice and effect. The small figure of Baryshnikov on the huge Zellerbach stage certainly conveys cerebral images of isolation, vulnerability and mental turmoil, but as usual with Wilson, the emotion that ought to come with it is kept at a distance. Nijinsky remains remote, a shadow, a silhouette. With his white cabaret face, the marvelous dancer and performer Baryshnikov seems oddly faceless, an often only vaguely lit metaphor, a decorative object in a constricted, abstract tableau.
---
*The Old Woman http://www.scene4 .com/archivesqv6/2015/jan-2015/0115/renatestendhal0115.html
** Neumeier's Nijinksy http://www.scene4 .com/archivesqv6/apr-2013/0413/renatestendhal0413.html
To see a video: www.youtube.com/watch?v=HKgJTsbe_5o