"Yes, We Are All Individuals."
To some degree it depends on what you think about the Beatles.
Were the Beatles four guys with three chords, a good producer, and some charisma? Or, were they one of the great creative forces of the 20th century, and none of the individual members lived up to the potential expressed when they worked together?
Famously, George Harrison believed that as the Beatles were in a period of dissolution in late 1969 into 1970; the creative spirit that rested with the Beatles went into a group known collectively as Monty Python's Flying Circus. The first episode of the new group's new television show was transmitted by the BBC in the autumn of 1969.
For comedy fans the questions asked about the Beatles could similarly be asked about the Pythons – were they six guys with a few goods ideas, a good producer, and some charisma? Or, were they one of the great creative forces of the 20th century.
As a television show Monty Python's Flying Circus came at a period of change for comedy both in the United States and England. Vaudeville on one side of the pond and music hall on the other included a number of comedy legends as part of an evening's entertainment. And performers moved from the stage to radio and movies and eventually into television. These performers tended to have writers create material for them. For example, you know of Jack Benny, but you probably haven't heard of Al Boasberg who helped Benny create his character.
Graham Chapman, John Cleese, Eric Idle, Terry Jones, and Michael Palin had all done some writing and performing in their university days – doing "smokers," sketch comedy revues. But after university days, they tended to work as writers of material for others like David Frost.
In the late 1950s and into the 1960s comedians on both sides of the pond started writing and performing their own material. In the United States, Lenny Bruce worked as a solo act, performing his own material, influencing a stream of other comedians like George Carlin, Robert Klein, and many others. Mike Nichols and Elaine May did duet work together.
From one point of view, it was an improbable mix. Jones and Palin had known each other at Oxford. Chapman and Cleese had known each other at Cambridge. Cleese had briefly known Terry Gilliam from a brief foray into the U.S.A. Idle had been a kind of solo writer. And once Gilliam found his way to England, they all started to know each other in the small world of tv comedy. And in the late 1960s the BBC gave the five guys and an American named Terry Gilliam, the opportunity to do a series of half-hour programs. They would write. They would perform.
In retrospect, it was kismet. It also turned out to be comedy dynamite.
Writers performing their own work turned out to be huge. One example of how this worked to the benefit of the writer was Eric Idle's "Nudge Nudge" sketch. A wild-eyed man (Idle) sits next to a conservative gent (Jones) in a pub. Most of the dialogue is based on rhythmic repetition of words in such a way as to be suggestive without really saying anything. "Know what I mean? Know what I mean? Nudge. Nudge." Written originally for David Frost, it never got chosen for performance. With Idle and Jones, it became a Python staple. The writer knew precisely how the writing was to be performed for comedic effect.
The group would write in different ways – in pairs or alone. But the group would work together in reading out material, choosing material, and serving as a comedy sounding board for each other. As Eric Idle later remarked, "We laughed like fuck."
Starting with a few television shows, the group went into a variety of media – books, records, films, as well as other television series – in a variety of combinations. Sometimes they worked together as a full group. Sometimes they worked alone. Some projects were incredibly successful, and other projects turned into utter flops.
As the years passed, the guys turned from being plucky lads into the grand old gentlemen of comedy. But how transformative and influential was Python? Did they really change the face, the structure, the content of comedy?
"Pythonesque" is a common word one can find in a dictionary. And the reason we call unwanted emails SPAM is due to a Monty Python sketch in which a group of Vikings in a diner sing the virtues of the processed meat product known as SPAM.
On the other hand, it's not often that even a practiced observer could show where this or that contemporary comedian, or group of comedians, are being influenced by Monty Python.
Into this mix of consideration we have several recent books by the Pythons themselves, looking back on their lives and careers. Michael Palin continues to publish edited versions of his contemporaneous diary entries. John Cleese and Terry Gilliam have published memoires.
Palin covers the latter part of Python activity and his own burgeoning career as an actor and screen writer in "Halfway to Hollywood: Diaries 1980-1988." Here Palin serves as a contemporary backstage informer to the making of a number of films: Monty Python Live at the Hollywood Bowl, Time Bandits, The Missionary, Monty Python's The Meaning of Life, Brazil, A Private Function, and A Fish Called Wanda.
Palin is a congenial travelling companion telling backstage stories and opinions about such co-stars as Shelly Duvall, Robert DeNiro, Dame Maggie Smith, Jamie Lee Curtis, and Kevin Kline. But being the "nice one," Palin's stories always have a certain sweetness to them and a mild air of surprise at the foibles of his colleagues. We learn that Jamie Lee Curtis is more delicate than her screen presence. We see mild observations of how Cleese works with Kevin Kline and Curtis in A Fish Called Wanda. We learn that Gilliam kept the part of Jack Lint for Palin, even though Robert DeNiro wanted it. And we see Palin meeting DeNiro as Palin is getting a hair cut. We see Dame Maggie Smith having some vodka at a pub after a day of shooting. It's all very pleasant. People looking for stories of backstage back-stabbing and off-screen shenanigans should look elsewhere.
We do occasionally get glimpses of Palin's wife, Helen, and his children. But the great undercurrent that comes through the diary accounts is the story of Palin's love for his mother and his sister, Angela.
The first part of the story comes through in brief glimpses and mentions of visits to his mother and going with her to church. A big event in this story happens in 1984 when Palin takes both his mother and sister to New York. On Jan 21, 1984 Palin hosts the show with his mother. While with the show, she's given Eddie Murphy's dressing room.
The tragedy of the story appears in the growing challenges of Angela's mental illness.
Angela Palin evidently had multiple challenges that led to her being hospitalized more than once. A moving passage comes after Palin visits Angela in hospital late in 1986. He writes:
I stay for an hour or more. Have never hugged my sister as much as I do in the ten minutes or so before I leave. But my reward is to see her smile, make some bright small talk about my coat, etcetera, ask about my plans.

I leave her, a frail figure waving at the end of a hospital corridor. Have to walk very slowly to let my emotions sort themselves out.
In May of 1987 Angela stayed with the Palin and his family in London, and even beat Helen at tennis. On Friday, May 29, Michael said good-bye to his sister at the end of the stay as she drove off in a rented car. That evening Palin got a call saying that Angela had "decided to go to the garage and asphyxiate herself." On June 9th the family gathered at Colchester Crematorium for a small, tasteful service presided over by Peter Hollis, a priest and friend of the family. Then the family gathered for a memorial service on July 4th. At the end of the memorial, Palin wrote:
From this moment on Angela's life and the memory of her will recede slowly but gently into the past and into memory . The tears will flow less easily (though they are pouring down my face as I write) and the lives of those she knew so well will readjust to being without her. But in the middle of this hot summer day, amongst the fields beneath which lie old Chilton Village, the precise moment of loss is marked amongst us all.
Then, as happens, real life resumes.
For all of us who have seen our way through depression, illness, and the loss of life thereby, we can share Palin's loss and grief.
John Cleese's book, So Anyway, concentrates on Cleese's pre -Python life, ending the story with the recording of the very first sketch of the very first series (with a short epilogue).
In many ways, Cleese's life was typical for an English boy whose early years were shaped by the German bombing campaign in WW II. While the events were typical, Cleese's level of self-awareness and recall for detail rendered his early experiences into a lifetime of comedy.
Famously, Cleese has had problems in relationships with women. Part of that had to do with the weird growth spurt in which he was very tall very young. Part of that had to do with his relationship with his parents.
An interesting contrast can be made between only sons John Cleese and Sir Derek Jacobi. Sir Derek was born in October of 1938, and Cleese was born in October of 1939. Both were sons of working class parents. Both went to Cambridge. Both became leading figures in their respective worlds of show business.
In As Luck Would Have It, Sir Derek outlines a lucky life in which his parents doted on him with enormous good humor and emotional support. Sir Derek's coming out appears to have occurred without much rancor or major family upset. And Sir Derek is partnered (and now married) in a very stable relationship for many, many years.
By contrast Cleese outlines a story of emotional stress in which his mother and her anger looms large over the family. Cleese notes, " . . . there was always tension in the Cleese household because when mother was not actually angry it was only because she was not angry yet. Dad and I knew that the slightest thing – almost anything – would set her off, so constant placatory behavior was the name of the game."
Cleese relates that his upbringing led to his "own unique cocktail of over-politeness, unending solicitude and the fear of stirring controversy" that caused romantic challenges for quite some time.
Given his penchant for self-reflection Cleese spends a fair amount of time writing about the job of writing comedy and how difficult it is to write good comedy. As Cleese observes:
. . .there exist vast hordes who can write bad comedy, and they do so in immense quantities, entirely uninhibited by an awareness of just how atrocious it is. At the beginning of my career, I often used to read scripts that I had been sent by unknown writers, and it seemed to take me about twenty years before I realized that they were all, always, awful.
His advice for starting in comedy writing? Steal. Steal a good idea and work with it.
And it's here that we should acknowledge another great comedy writer that many folks don't know about – Peter Titheradge . Titheradge focused several issues for Cleese – like it may be impossible to find the perfect punch-line to a sketch that combines surprise and ends the sketch well. Titheradge was a good copy editor, removing unneeded phrases, words, and syllables. And the useful lesson that key funny word should come last in the sentence.
Also, Cleese reflects on what makes something funny. He notes that what makes him convulse is comedy about that which he fear most.
Fear and loathing, of course, lead to the work of the American Python, Terry Gilliam.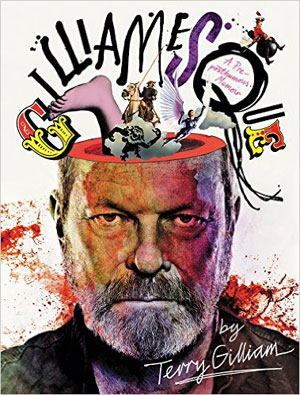 In Gilliamesque: A Pre-posthumous Memoir, Terry Gilliam charts a comprehensive retrospective from birth to just about last Wednesday at 5:22.
The arc of his personal story seems more improbable than that shown in his films. He started life in a fairly average American family first in Minnesota and then transplanted to California. He was a successful and popular high school student who served as student body president and valedictorian and then went to Occidental College on a Presbyterian scholarship. At college he moved from studying Physics to Fine Art and never looked back. The book is a show business bildungsroman in which the small -town kid grows up to be a major film director working with folks like Sean Connery, Sir Ralph Richardson, Robert De Niro, Robin Williams, Jonathan Pryce, Johnny Depp, Heath Ledger, and Matt Damon.
A Gilliam animation or film shows you instantly that he has a quick wit and roving point of attention. You didn't need a book to tell you that. The narrative is ever restless, moving ever forward . . . to what? To telling a story. Or sometimes not even telling a story so much as creating an image.
Not surprising for an artist.
The interesting thing is how many words come from a man who, by his own account, gets so excited about what he's doing that he can have a hard time speaking words.
Along the way we learn about his respect for Harvey Kurtzman, more than one hair-raising adventure, and an important decision.
It wasn't so much that I knew where I was going, but that I knew which doors I didn't want to walk through. So I declared I would only do work I had complete control over and never work just for money.
This counter-intuitive strategy led him to likely greater success than had he taken projects for the money.
Given that the film Life of Brian propelled the group from cult status into genuine media fame due to the bans and protests that accompanied the film's showing in many communities in many countries, what can be surprising is Gilliam's regular return to discussing the value of knowing the Bible. While acknowledging his own skepticism about religious faith, he writes:
Either way, I was raised to know the whole thing – Genesis, Exodus, Leviticus, Numbers, Deuteronomy, Joshua, the lot – and I do think the generations who've grown up without learning the Bible (and to my own secular regret I include my own children in that) have really missed out. Stories like David and Bathsheba are the building blocks of our culture, but who knows Bathsheba now? Who even knows David?
It's not necessarily a question of having a reverential attitude. What's interesting is sharing a culture that has grown out of those tales, because it's easier to have fun with things when everyone understands what the references are.
In the end we see a man undeterred by the fights over Brazil (which he acknowledges, but doesn't dwell on) and the obstacles that have laid waste to his Don Quixote film. He appears to have a fundamental optimism, enthusiasm, and forward-looking perspective that is very catching.
As a reader comes away from encountering these very different men, you realize that here is half of the whole Monty Python team. Very different men with different backgrounds and outlooks. The amazing thing is that they got together and worked as well as they did.
Were they a great creative force? Or were they a group of guys who made each other laugh like fuck? Probably the fact that they did the latter surely helped them become the creative force that they have been in our culture for over 40 years.