"I want to think about the Gestalt of what I do, not just stand on stage and deliver a big, beautiful sound." Actor, singer, musical theatre artist Nat Chandler is speaking with passion about his nearly three-decade career in the theatre and his odyssey from classical music to Broadway and America's leading regional stages. Chandler, who recently finished a critically acclaimed run as Juan Peron in Evita at Maine State Music Theatre before returning to New York to sing an evening of operetta with Opera New York and then head to Atlantic City to play Dean Martin in a concert performance of The Rat Pack, appears to thrive on the versatility of his career and to savor new challenges. His secret, it seems, is rooted not only in his solid classical training as a singer and actor, but also in his careful and considered progression of roles from young romantic leads to what he calls "mature and meatier characters."
Nat Chandler was born in Greenwood,South Carolina into a musical family in which "my father Tom Chandler was a well-known church musician who sang each Sunday with the First Baptist Church and who performed with bands and community theatres; my maternal grandfather and my mother's brother were also singers, and my grandmother was a storyteller, who published several books and brought her stories to schools. No family gathering was complete unless we had a sing-a-long at the piano with at least four different parts harmonizing. As a boy, I also did a great deal of choral singing, and I had a wonderful piano teacher who loved Anglican church music, and she encouraged me to find as many opportunities to sing in children's choirs as I could." At twelve Chandler received an invitation from the Princeton Boys Choir to spend a summer with them in their music camp which also featured outdoor activities. "I learned to do the butterfly stroke that summer," he adds. Chandler recalls that these all proved to be formative experiences for him. "I think that kind of group experience is so important. Often today kids want to become a star immediately and don't want to learn to be part of an ensemble. There is an awful lot to learn by singing with a group, whether it is a choir or your family."
In high school, Chandler knew he had an aptitude for singing and acting, but journalism also interested him. The scales tipped in favor of music when he was offered a scholarship from Furman University in Greeneville. He recalls preparing for the audition by studying arias with his father. "I sang Non pi├╣ andrai and a couple of other of those lyric baritone chestnuts, and they offered me the largest scholarship they had ever given to anyone at that time."
It was a choice that Chandler believed to be the right one. "I immediately knew I was in the right place. I felt very much at one with my studies and with my musical pursuits. Furman has a very strict academic liberal arts program, and that worked well for me. They sent me to London to study for a year, and it was there that my love of learning really blossomed! I had been a good student before that, but in London everyone was so excited about knowledge that it became infectious. I studied architecture, art history, English Literature, and theatre. We attended Shakespeare plays at Stratford-on-Avon, and I would watch these magnificent performances and then the actors would come to talk to us in class the next day! Or visiting professors from Cambridge and Oxford would come to lecture us and give us so many new perspectives on the plays."
The experience abroad in 1979 proved catalytic for Chandler, and so began a new chapter in his life. "I came back to the States like a spilled sponge," he says, colorfully describing his newfound thirst for the arts and humanities. He enrolled for a Master's degree in vocal performance and choral conducting at Northwestern University, where he also continued to take acting classes in the drama department. He studied voice with the renowned Norman Gulbranson, and he became deeply involved in Chicago's musical life. He was a member of the acclaimed Chicago Symphony Chorus under the direction of the legendary Margaret Hillis; he sang with Richard Webster's Music of the Baroque, at Grant Park, and with Philip Krause 's Chicago Light Opera Works. Soon he was being awarded baritone solos in these choral performances and he went on to sing as the baritone soloist with Evanston's St. Luke's Choir, again under Richard Webster. Throughout these years in the 1980s, Chandler became a vital part of Chicago's musical life. "Chicago is a very manageable world for a musician," he says.
But Nat Chandler knew he would have "to extract myself from the chorus" if he were to go to the next level of his career. "I felt I had something special to deliver as a soloist," he adds quietly. So upon his graduation, Chandler moved to New York City in 1983, where he was immediately offered a job in the Metropolitan Opera Chorus. He made the difficult decision to turn that down, and as fate would have it, it was not long before he was offered the role of Lun Tha in the national tour of the King and I with Yul Bryner.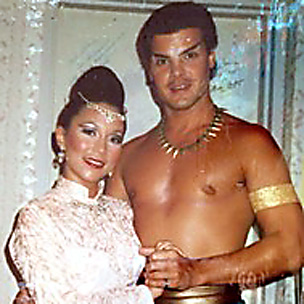 Listen

We Kiss in a Shadow/I Have Dreamed

This opportunity also helped to tip the tables for Chandler in favor of the Broadway idiom. "For a while I was singing in both opera and musical theatre. I had performed Escamillo at the Lake George Opera and then was offered the opportunity to sing with Sarah Brightman on the Andrew Lloyd Webber tour. So in a way I almost always had a crossover career. My voice works for musical theatre because I can sing real words and have people understand them; I was not trapped in a voice too big to handle the musical theatre idiom in a realistic way."
With Sarah Brightman
Asked what he sees as the differences in vocal production or technique when singing opera or musical theatre, Chandler replies: "The production of the voice is the same because a singer needs support regardless of the repertoire. And in musical theatre, particularly in the legitimate roles, you need even more support at the top and bottom of your voice, especially when you are having to act with the voice. Singing teachers often caution you about acting with the voice. But I am an emotional animal on stage so I have found a way to use my voice where everything is all lined up and then I can throw in a tear if I want to without doing myself any harm." Another difference Chandler notes is that when he sings musical theatre, he lets his "sound migrate forward, whereas in opera I back off from a forward sound."
Voice has always been a focus in Chandler's musical upbringing. "I just love singers; I understand them. I grew up listening to Dietrich Fisher-Dieskau, Gordon MacRae, John Raitt, Thomas Hampson. I could hear my own sound in the voices of these marvelous lyric baritones" – which is how he describes his own voice. "I am not a baritenor because I can't sit up there at that tessitura for too long without a cost to my voice. In terms of where my money notes lie, I am, I think a true lyric baritone. So when I find a role like Emile de Becque, [which he recently performed at Florida's Wick Theatre,] that suits me to a tee, performing it, even eight times a week, was almost like vocal vitamins for me," he enthuses.
Indeed, Chandler's voice - a warm, velvety lyric baritone with creamy legato and a richness of color and nuance – did make him ideal for the so-called "legit" Broadway roles in which he began to score success after success in New York and at leading regional theatres across the country. He played Lancelot to Robert Goulet's Arthur in Camelot, Raoul in Hal Prince's production of Phantom of the Opera, Rapunzel's Prince in Sondheim's Into the Woods, the Phantom in the Yeston- Kopit version, Petrucchio in Kiss Me Kate, Cable (and later de Becque) in South Pacific, Freddie in My Fair Lady, and Sir Percy Blakeney in the Scarlet Pimpernel.


Listen

If Ever I Would Leave You

Along the way he has collected a plethora of amusing "war stories" with which he enjoys regaling his listeners. He tells of how Goulet came up to him on the tour of Camelot, put his hand on Chandler's shoulder and said, "Kid, you are the best Lancelot since me." Or the time he embraced his Christine onstage wearing a freshly died cape which he wrapped around her, only to see in horror as he stepped away that she was covered in black dye. Or the more frightening occasion on the Phantom tour in Boston when the stage elevator malfunctioned as his Raoul jumped eight feet, causing Chandler to fall beneath the stage and knock himself out. "There was no law suit. I was bruised, but nothing broken, and they treated me beautifully. After all it is live theatre!" he adds sanguinely.
La Cage aux Folles
Chandler continues to challenge himself with new roles such as Peron in this summer's Evita, and to enjoy what he calls "transitioning into the more mature parts." "As I get older, I am growing into roles that I once watched from afar like Georges in La Cage aux Folles, Emile in South Pacific, or Sir Percy in Scarlet Pimpernel, one of the largest male roles of all time. I find these parts more fleshed out than the Lun Tha with which I began my career. After all, how much acting can you do when you have only a few short lines like 'How can we meet, Mrs. Anna?'! I loved singing the beautiful melodies in those shows; that was a reward in itself, but I am thrilled to be taking on this new dramatic range."
Emile-South Pacific
In addition to building carefully his repertoire, Chandler continues to be much in demand for concert performances. Besides his recent operetta cabaret with New York Opera, he also appeared at Carnegie Hall in the 2016 New York Pops concert honoring Lerner and Loewe. And he is in demand for recordings, such as the newly released cast album of Tales of Tinseltown on which he reprises his role in the original cast as a zany opera singer from Flushing, Tony Toscanini. Moreover, about a decade ago he released two solo albums, Broadway Knights – a compendium of romantic melodies from iconic shows like Camelot, Man of La Mancha, Follies and others – and Like Father Like Son – a tribute to Tom Chandler in a collection of hymns and oratorio works. While both "have served as calling cards" and in this critic's estimation are exquisitely sung, Chandler, himself, feels they were "a bit of a learning experience." He explains: "Being a stage animal and a recording artist are two different things. In the studio I had to be more aware of the technical demands of the medium, more careful than I might have liked and didn't get to act the songs as fully as I would have wished. I think both CDs fairly represented my voice at the time, but if I were to make another solo album – and I am contemplating it – I would want to do it live."


Listen

A Mighty Fortress is My God (with organist David Schraeder)

Another delightful prospect from an artist whose work has seemed to grow so organically over the years. Not only is Nat Chandler a singer who acts and an actor who is in command of a glorious voice, but he is a man for whom art and a life well-lived have been integral to each other. " I enjoy my apartment on the Upper East Side [of Manhattan]; I am an avid runner; I love to cook, love to read, to write. I have a family in the Carolinas whom I see with some frequency, and as of August 21st, I am now happily married to Jeremy [Webb]." Chandler and Webb have been together for twenty years, and Chandler says that while he "never felt denied the institution of marriage nor let it be an obstacle," he felt that "it was important for us to exercise that right when it became available to us, and I am discovering the great pleasure in that!" Webb is also an actor, so the couple has had to navigate the challenges of a two-career partnership. "We are both equally committed to our own artistic sensibilities. We understand that everyone in show business has to travel and that it can sometimes be a lonely road, but if you are immersed in what you do, that is your company, together with the friends you meet along the way who become your family. We talked about this when we first met, and we share a mutual respect. We understood that this would be a life with many fond farewells and many happy reunions, but we are both committed to the ideals of what we do."
And clearly, for Nat Chandler ideals are important. He sees his profession as a calling. "Art is a noble pursuit. It is something you were meant to do. When I talk to young kids contemplating a career in theatre, I tell them 'Go into this only if you feel you absolutely have to; only then will you succeed.' I believe that if you find something you are good at, then you must go for it. The work itself becomes your reward. I can work relentlessly in this world and never tire of it; I can sit for hours at the piano learning a new score and am unaware of the time gone by. These are the rewards of this life. I feel as if I am fulfilling a fate for myself. I feel completely at one with my work."