Whatever the outcome of the 2016 United States presidential election, a majority of the people will not be happy, even those who cast winning ballots. This put the Steiny Road Poet in mind of the column she wrote in 2006 comparing Gertrude Stein's opera-ballet Dr. Faustus Lights the Lights with Walt Disney's musical Beauty and the Beast. In case, Dear Reader, you are not familiar with either, Steiny is talking about serious moral dilemmas that go deep into the primordial soul, dilemmas that deal with knowledge versus ignorance, beauty versus ugliness, innocence versus evil, connection versus isolation, generosity versus greed, light versus dark…. Steiny posits the pregnant question is who sold their [let's be all inclusive on gender] soul to the devil to be in the limelight of world power—was it one of the presidential candidates or us?
Stein versus Disney
On September 3, 2006, the Steiny Road Poet waded into a sea of children, especially adorable little girls dressed in yellow gold princess gowns, to see Beauty and the Beast written by composer Alan Menken, lyricists Howard Ashman and Tim Rice, and book writer Linda Woolverton. The Atlanta Theater of the Stars produced this popular musical at Vienna, Virginia's Wolf Trap National Park for the Performing Arts in a show so satisfying that if one were given the best seats at the Lunt-Fontanne Theatre in New York City where 'Beast' is the longest currently running American musical on Broadway and the sixth longest-running musical in Broadway history, one would go only because he or she wanted more of the same.
Since this experience, the Poet has been hung up in a comparison between Disney's musical Beauty and the Beast and Gertrude Stein's libretto Doctor Faustus Lights The Lights. The sticking point feels something like an ardent young actor walking around as Mickey Mouse in the Orlando heat at Disney World, feeling nauseous and debating whether to rip off the heavy mouse head in front of impressionable young children and risk losing his job because he has killed the magic of being Mickey. What the Poet, who grew up immersed in the world of Walt Disney, has settled on is two conflicting comparisons. One mines the deep reach into primal emotional centers of the human brain. The other deals with the consequences of connecting with a huge audience, but somehow losing sight of what that connection is all about.
TRIPPING WITH BEAUTY AND THE BEAST
So what did the Poet experience in seeing Disney's Beauty and the Beast? Without hesitation and high on life, she says, "Trip down memory lane." Belle (the Beauty of the tale) is dressed like Maria von Trapp in the film The Sound Of Music and Belle's French village, which is pleasingly painted as a fertile and hilly landscape, is similar to the location of von Trapp family's estate in Austria. Belle's father Maurice is an inventor and reminds the Poet, both in costume and behavior, of Geppetto in Disney's Pinocchio. Gaston, the narcissistic and crude hunter who wants Belle's hand in marriage, looks like a cross between a fully-clothed Tarzan and Elvis Presley dressed as a country boy. Gaston's sidekick Lefou (the name translated from the run-on French is The Fool) is a remake of the dormouse from Disney's Alice In Wonderland. In fact, when the town's people break into the Beast's castle, Lefou is offered a cup of tea by the cook Mrs. Potts, who is turning into a teapot. À la the Mad Hatter's tea party, the teacup is Mrs. Potts's son Chip.
The enchanted objects in the Beast's castle—all the Beast's servants are turning into things of their trade—suffer from the same magic spell that the Beast is under. When they dance for Belle, the Objects reminded the Poet of Disney's Fantasia in the section of that film set to Tchaikovsky's The Nutcracker Suite, where things like fireflies turn into sparkling fairies, mushrooms become coolie-hatted Chinese men, and flower petals become ballerinas. But also the choreography of the dishes (the young girls of the Beast's serving staff) follows the same model as that of Zigfield's Follies with colorful costumes and chorus line cancan kicks.
When Cogsworth, the major domo who is turning into a clock, and Lumiere, the maître d' who is turning into a candelabra, take Belle in her blue dress by the arms to show her the Beast's castle, the trio looks like Dorothy with the Tin Man and the Scarecrow in Metro-Goldwyn-Mayer's 1939 film The Wizard of Oz. Where Cogsworth is the epitome of the proper English butler, Lumiere is the stereotype amorous Frenchman with this distinction—he often sounds like Maurice Chevalier in the film Gigi. In one of the last scenes as the Beast lies dying from stab wounds inflicted by Gaston, Belle tells the Beast she loves him and suddenly the steps below where he is lying begin to twinkle like there are one hundred Tinkerbells (Peter Pan's fairy sidekick).
The Steiny Road Poet's friend Miles Moore pointed out to her that the Disney Company's creative team have stolen the concept of Lumiere from Jean Cocteau's 1946 film La Belle et La Bete. So the Poet rushed to her university library to see this classic Beauty and the Beast film that has scenes that remind one of Vermeer's paintings. (The Poet acknowledges that most artists steal from each other, but the question is to what degree and how much?) In Cocteau's film, disembodied arms and hands reach through the Beast's castle walls to hold candelabra. Although the characters in this film think this is odd, it is not comic or cartoonish. Cocteau, who was a contemporary of Gertrude Stein and good friends with Pablo Picasso, wanted his film to be realistic despite the supernatural occurrences in the Beast's castle.
Nevertheless, the Poet enjoyed Disney's game of mostly Name-That-Film, but is this a good way to entertain an audience by constantly taking the attention to some other artistic work? In a Washington National Opera press conference, the Poet heard film and opera director William Friedkin say he has used cinematic techniques in staging some of his operas. However, he also said if this stands out in live theater, taking the attention away from what is happening on stage, use of film techniques [or references] is a "stupid" move on the director's part. Imagine audience reaction if Friedkin, who directed Bela Bartok's Duke Bluebeard's Castle for Washington National Opera's 2006-2007 season, injected elements into this opera from his films The French Connection or The Exorcist.
ENTERTAINMENT VERSUS SUBVERSION
As for the film references in Beauty and the Beast, they would not distract most children. What a child would have seen was excellent performers who sang and danced well. And the Poet, completely consumed in her childhood, loved even the simplest dance number performed when Gaston (played by Tony Lawson) was proposing to Belle (played by Patti Murin). Lawson and Murin were together and fluid—their dancing as good as their singing. However, all Norb Joerder's choreography, especially the spectacular "Be Our Guest" number where all the Enchanted Objects dance and do acrobatic tricks, was thoroughly pleasurable.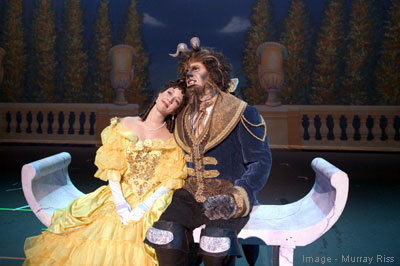 Beauty and the Beast-2006-Publicity-Photo
About a year ago, the Poet read, From Walt to Woodstock: How Disney Created the Counterculture, a book published in 2004. Written by a distinguished film historian and culture critic, Douglas Brode's thesis is that Walt Disney promoted the youth culture, turning the "mid-1950s white-bread toddlers into the rebellious teenagers of the late sixties" with films like Fantasia and Alice in Wonderland that fed their fixation on drugs, sex and rock 'n roll. Furthermore, Brode said in this book that Disney turned the terminology from juvenile delinquent to teenager so that young people looking as innocent as the Mouseketeers could make end runs around adults and grow up liberated from the ways of their parents. Brode's examples drawn from Disney's earliest films to later ones convinced the Poet that Walt Disney was way ahead of his time touting pacifism , feminism, integration, communal living, and even violent behavior in defense of individual rights. Brode argues Disney was a trendsetter and a surprising subversive. Was Walt Disney a genius like Gertrude Stein, producing work that continues to reveal new levels of meaning? Has the Disney Company now lacking Walt turned into a collection of hacks repackaging what everyone has already seen? Maybe the Poet's question should be: does Disney's company still produce work that bores down deep into the psyche to promote social change?
PLUMBING THE WELL OF EMOTION
What the Disney Company, presenting musicals like Beauty and the Beast, and Stein have in common is that both are/were invested in reaching into primal emotional centers of the human brain. For Disney and his company, this was and is usually through a fairy tale that might cover, as Beauty and the Beast does, conflicting states of being—love and hate, intelligence and ignorance, bravery and cowardice, sanity versus insanity. Typically, what seems to be ambiguous in a fairy tale is usually resolved in an expected way. In Beast, the ruffian Gaston does not win the beautiful Belle and he is foiled in killing the Beast, who is a prince held under a magic spell in a wolf-like body. Through good behavior and bravery (Beast rescues Belle from real wolves), Beast earns Belle's love and breaks the punishing spell that not only affects him, but his whole staff of servants. After a certain dose of sadness, hurt, fear, and anger, the Disney Company wants its audience to walk away feeling happy and satisfied that good has reigned over evil. And what American parent would not want this magical morality lesson for their children?
Fairy tales are a subset of folklore and the oral practice that expresses cultural traditions and teachings. Fairy tales and nursery rhymes seem to remain etched in the brain, and most people love what is familiar and what has been passed down from family members. If people know anything about Stein, they know her nursery-rhyme-like aphorisms such as "rose is a rose is a rose," "there's no there there," "Is money money or isn't money money?" Similar to the language of oral storytelling, Stein always picked words of common speech. Her thesis was that anyone could understand what she had to say if that person was listening. In Doctor Faustus Lights The Lights, Stein maintains the integrity of the Faustian story as a tragedy, but her approach is thoroughly anchored in nursery-rhyme jingles and incantations. At the opening of Act I, Faustus says to Mephisto:
"What am I. I am Doctor Faustus who knows everything can do everything and you say it was through you but not at all, if I had not been in a hurry and if I had taken my time I would have known how to make white electric light and day-light and night light and what did I do I saw you miserable devil I saw you and I was deceived and I believed miserable devil I thought I needed you…"
Just as Disney's Beast has been re-written to bring the story closer to our time (Belle's father has invented a motorized car), Stein casts Faustus as an inventor of electric light. To get that light, he makes a deal with the devil Mephisto and then all sorts of thing go awry—the electric lights start dancing, Faustus's dog no longer can find the moon to bay at but no matter the dog keeps telling his master 'thank you', one woman or two (Marguerite Ida and Helena Annabel are probably the same person) appears talking about wild animals in the woods and the viper who bit her and she asks for a cure from Doctor Faustus. For added intrigue and possibly a touch of sobriety, Stein adds a countrywoman with a sickle who peers in the doctor's window to note the pretty electric lights, the remarkable dog that says thank you, and to urge that the doctor cure Marguerite Ida/Helena Annabel from her viper bite. By the end of Stein's Faustus, the dog is dead as well as the boy who came to play with the dog, Faustus has been granted eternal youth by Mephisto, and Marguerite Ida/Helena Annabel does not believe he still is Doctor Faustus, the old doctor who cured her from the viper's venom. As the curtain closes, a young Doctor Faustus sits in the dark telling everyone to leave him alone. Stein's remake of the Faust legend—one should know that Stein almost never based her work on an existing piece of literature—is like no other Faust. Stein packs one surprise after the other in her retelling.
THE PSYCHOLOGY OF JINGLES
Was Stein writing for children or dumbing down her work for adults? Many people who know Stein's work well, such as Ned Rorem, who set her text Three Sisters Who Are Not Sisters to music, says children probably understand Stein's texts better than most adults. Since Stein studied with Harvard professor William James, a ground-breaking psychologist and philosopher, went on to Johns Hopkins Medical School for four years of study , and was a voracious reader of all kinds of literature, one can extrapolate that her writing style was related to what she learned as a scientist about human behavior. In a way, Stein's writing is not far away from advertising jingles that get into a consumer's head to replay mercilessly.
For example, at the beginning of Act II, an unnamed narrator sets the scene with this incantation:
"Butter better very well
Butcher whether it will tell
Well is well and silver sell
Sell a salted almond to Nell
Which she will accept
And then
What does a fatty do
She does not pay for it.
No she does not
Does not pay for it."
Stein had the creative ability to reach out to huge audiences. Her agent William Bradley urged her to do so by writing an autobiography. When her novel The Autobiography Of Alice B. Toklas (this is actually Stein's autobiography written at the comic expense of the people she knew) was published in 1933 (it premiered first in excerpted form in the Atlantic magazine), Stein became an overnight sensation. And the money from this book, a book she did not want to write, was the first money she made as an author. At the same time, Four Saints In Three Acts, her first opera collaboration with Virgil Thomson premiered and enjoyed 60 consecutive performances on Broadway. For opera, this is still a record-breaking run.
After the feel-good glow of experiencing Disney's Beauty and the Beast waned, the Poet felt manipulated. Had the Poet been brainwashed? Or was she just a rebellious child who needed to be shoved into her room for a time out? The Poet relates this feeling of manipulation to a success formula that revolves around making money. So instead of thinking about how a smart girl like Belle breaks a punishing magic spell not only over her prince but also over all his loyal servants and also foils Gaston, her male chauvinist suitor, the Poet got stuck thinking about how everything in Beauty and the Beast made the Poet think of some other creative work, many of which led right back to Disney's empire and to Stein's Faustus.
WHAT WAS EATING GERTRUDE STEIN
The Poet thinks this is how Gertrude Stein felt when she realized that what her reading public wanted was to consume not her intellectual work, but her life and her body as an icon. For Stein The Autobiography was her tar baby that wouldn't let go of her. Doctor Faustus Lights The Lights was one of the results of Stein thinking about how she had sold her creative soul for money. (She also wrote a series of essays on the subject of money for the Saturday Evening Post that were published in 1936.)
Of Stein's three libretti—Four Saints In Three Acts, The Mother Of Us All, and Doctor Faustus Lights The Lights—Faustus is the only one she did not write for collaboration with composer Virgil Thomson. None of Stein's libretti will ever achieve the box office success of Beauty and the Beast, Disney's first Broadway musical. Of the three libretti, Faustus will probably never be performed in a large theater as Saints and Mother have been. Faustus, having an odd development history, has been set to music twice, but not as Stein intended. In 1938, she had written Faustus for the British composer Lord Gerald Berners. Berners had turned her play—They Must. Be Wedded. To Their Wife—into a ballet that premiered at the Sadlers Wells in the spring of 1937. However, World War II prevented Berners from producing Stein's Faustus as an opera. In 1951 (after Stein's death), Richard Banks set Faustus to music for the Living Theatre production directed by Judith Malina and in 1979, Al Carmines created a new musical setting of Faustus for the Judson Poets' Theatre directed by Lawrence Kornfeld. More recently the Wooster Group combined Doctor Faustus Lights The Lights (as a play) with a soft porn bondage and domination movie entitled Olga's House of Shame and re-titled the combination House/Lights. Here the Poet stops to ask, why didn't Stein give her Faustus libretto to Virgil Thomson, who years later said this was a fine libretto?
House/Lights
Many books have been written about the Walt Disney Company and its big business stranglehold over American culture. In trying to take off the metaphoric mouse's head, the Poet stumbled across two more books published in 2005: DisneyWar by James B. Stewart and Rethinking Disney: Private control, Public Dimensions edited by Mike Budd and Max H. Kirsch. In these books, one can review the history of CEO Michael Eisner who from 1984 until 2004 led the Disney Company higher and higher on the financial food chain. One particularly fascinating, if not scary, essay by Maurya Wickstrom contained in Rethinking Disney talks about "magical capitalism," "commodity fetishism," and "art as alibi." There is nothing simple about trying to understand what the Disney Company is delivering with works like the musical Beauty and the Beast.
So the Poet will go back to Doctor Faustus Lights The Lights to contemplate what Stein is up to with passages like:
"…Marguerite Ida and Helena Annabel gets [sic] weaker and weaker and the poison stronger and stronger and suddenly the dog says startlingly
thank you
Doctor Faustus says
I cannot see you
The viper has forgotten you.
The dog has said thank you.
The boy has said will you
The woman has said
Can you
And you, you have said you are you.
Enough said.
You are not dead.
Enough said
Enough said…."
At least with Stein, the Poet will not be caught up in a huge audience (the result of magical capitalism) nor be worried about blending with the characters on her stage (commodity fetishism) or being jolted out of the work by a relentless stream of allusions that substitute for what the author has put on the stage (art as alibi). Stein said "rose is a rose" and she meant it.