Benjamin Millepied curated a knock-out evening for opening of the 2016-17 Paris Opera Ballet season at Palais Garnier. The program premiered in July to ecstatic reviews, joyous applause and infectious Instagram posts by the dancers. The final performances took place during a spectacular Parisian Indian Summer in late September and early October. The program included William Forsythe's Blake Works I, Crystal Pite's The Seasons' Canon, Justin Peck's In Creases and Tino Sehgal's Quatre Œuvres and a closing piece, Untitled.
During Millepied's short tenure as Artistic Director of the over 300 year-old ballet company, one of the many changes he attempted to make in the company was to name William Forsythe as associate choreographer. Forsythe, an American, has been working in Europe for decades as the director of the Frankfurt Ballet and subsequently Forsythe Ballet, both based in Germany. The Paris Opera Ballet was to have become Forsythe's late-in-life home, but sadly, with Millepied's departure so goes Forsythe.
Millepied was the talk of Paris before he suddenly resigned about six months ago. With his glamorous wife, Natalie Portman, and his bi-cultural career as a New York City Ballet principal dancer and choreographer as well as fashion model for Yves Saint-Laurent and Air France, his welcome home to France in the coveted director's chair at Paris Opera Ballet thrust him into high-status fame and the best tables in the most exclusive Parisian restaurants.
Alas, the famous Paris Opera bureaucracy would not bend to his will. He was considered "too American" by the dancers and the petits fonctionaires who were supposed to carry out his will. He tried to make too many changes too quickly and was met with the famous French resistance. So, in a curt statement, he announced his imminent departure insisting that the most important thing in his life was to create and that the current conditions were not favorable to doing so.
The program he posthumously presented this summer and fall, with new works from all four choreographers, was his second and ultimately last. His choices were exciting, creative and engaging. One wonders if there isn't some regret about his departure. He has been replaced by the splendid former Etoile (principal dancer), Aurélie Dupont, seen here with guest artist Roberto Bolle in her retirement performance last May as Manon in Kenneth MacMillan's Manon Lescaux . (qv)
Roberto Bolle and Aurélie Dupont
In Blake Works I, gone are the trademark Forsythe daredevil combat scenes that resembled swordfights in which the legs and arms acted like swords. Decades of Forsythe's work competed with itself to create intricate, high-energy partnering that was not so much about intimacy but instead high-stakes competition and high-risk, off-balance sequences requiring breathless athleticism, fearless commitment and insect-like flexibility. In his new work, Forsythe has turned surprisingly soft. In interviews, he spoke about not wanting to force the dancers to change but to instead work with the beautiful gifts they already possess. He mostly succeeded.
He chose the music of British soul singer James Blake and tried to coax the dancers into showing some syncopation in their shoulders and hips. This sometimes looked forced, uncomfortable and even somewhat embarrassing. The other issue with the musical choice was the endemic problem with most pop music. In an effort to brand one's music, the artists' sound becomes repetitive and dumbed down.
Ludmila Pagliero and Ensemble
The piece of seven-parts began with a beautiful ensemble of 21 dancers set off by a performance by the splendid trio of Ludmila Pagliero, Léonore Baulac and Rosane Stojanov entitled Forest Fire after the song by the same name. The vocabulary contrasted quirky angular gestures articulated by ankles, wrists, knees, elbows and elegant sweeping gestures that ate up space like a fire tearing through trees. Léonore Baulec's phrasing to the music delivered suspense and elegant suspension as she played against the predictable rhythms. The promise of this high-energy and cohesive opening was not sustained throughout the 25-minute work mostly because of the ultimately soporific music. The undeniable highlights were a heart-stopping duet by Léonore Baulec and François Alu. Her graceful vulnerability and his reliable gallantry did not give way to cliché as each of them challenged the other in a playful kaleidoscope of tangled limps. Another marvel was a power solo performed by the hunky technical wizard Hugo Marchand. Ludmilla Pagliero and Germain Louvet closed the piece by in a touching duet in which they elongated time by their commitment to each movement. They didn't want it to end.
Germain Louvet and Ludmila Pagliero
In an interview before members of AROP (Friends of the Paris Opera), Forsythe became emotional as he praised the dancers for their talent, beauty, sophistication and professionalism. "I'm going to miss them," he said, holding back tears. It is absolutely certain that they are going to miss him as well. The title Blake Works I leaves one wondering if and when Blake Works II will ever appear.
If Forsythe created his work as an homage to the dancers he was given, Crystal Pite accepted the challenge of a commissioned work as an opportunity to create a work in honor of her awe of nature. Working with an enormous ensemble of fifty-four dancers and the recomposed score of Vivaldi's The Four Seasons by Max Richter, Pite fearlessly met the challenge.
Ballet de l'Opéra national de Paris
Qualities reminiscent of Nijinski's Sacre du Printemps animated the waves of movement that swept the stage like enormous flocks of migrating birds or the furious ocean in a storm. Punctuated by tribal stomping and quick rhythm changes, the dancers kept a low center of gravity and moved from their deeply bent knees and rocking pelvis's. Nancy Bryant costumed the dancers, both male and female, in loose layers of fabric draped to cover only the lower body while the upper body was left nude except for eerie and intriguing bright green body paint splashed at their throats.
A work of singular integrity and creativity, Pite's unique movement vocabulary and style inspired the dancers to sacrifice their individuality in service of the group dynamics. Even when several soloists, such as the astonishing François Alu, performed his pyrotechnic flight series, his power and strength seemed to summon the rest of the men back onto the stage to join him. While most of Pite's concept involved lyrical waves of movement performed in a canon by the closely huddled dancers, she contrasted these lush and sensual undulations with staccato head shakes and angular perseverations.
Another brilliant solo performance was Marie-Agnes Gillot's breakaway freak-out. She threw her upper body into violent convulsions while remaining grounded in her lower body. Eventually the rest of the group began to take on some of her movements and integrated her back into their amoeba-like
body. With few exceptions, the dim lighting and identical costumes obscured the individuality of the dancers lending even more power to this all-consuming group dynamic.
Ludmila Pagliero and Vincent Chaillet
Crystal Pite danced with William Forsythe's Frankfurt Ballet for five years and has since established herself of one of the few female choreographers receiving international commissions. She does this while also maintaining her own company, Kidd Pivot, in British Columbia. Here's to hoping that her work will enter more and more dance companies around the world.
Justin Peck at the age of 27 became resident choreographer for New York City Ballet. His work is right out of the Balanchine playbook with geometric configurations, mostly symmetrical, then suddenly asymmetrical. He set In Creases to the first and third movements of Philip Glass' Four Movements for two pianos and placed the two pianos upstage facing each other. Elena Bonnay and Vessela Pelovska performed the music with absolute clarity and sensitivity to the dancers.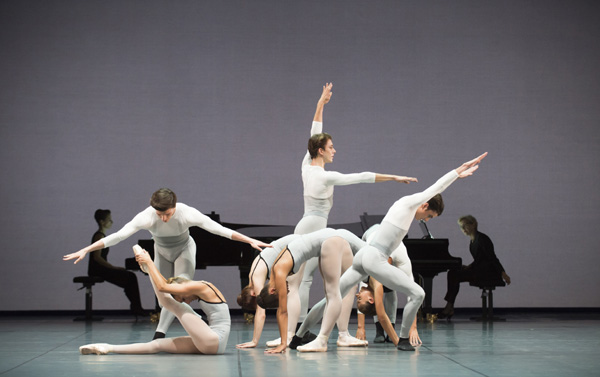 Ballet de l'Opéra national de Paris
In an interview, Peck expressed his ambivalence about choreographing to the music of Philip Glass because Glass' work has become so overused by American choreographers. Nonetheless, he found freedom in the structure and uses it to advantage. The structure of the music works well with the proscribed limits Peck set for himself in creating this sparse work. Four women and four men, wearing simple practice clothes, pushed themselves to highlight their technique to the maximum effect. They're up, they're down, they're dashing in diagonals—now the women are lying on their sides (looking fairly uncomfortable) while the men jump over them like
hurdles.
The first and also the final pieces of the evening were the work of the reigning genius of conceptual happenings: Tino Sehgal. Quatre Oeuvres opened just as the door of the Palais Garnier allowed patrons in, one hour before show-time. Eight or so dancers were dressed in usher-like tuxedos dancing around the foyer singing (or sort of screaming) "this is so contemporary!"
The evening ended with his take on the proscenium stage. A light show in which the wings and curtains upstage, downstage and on both sides were raised and lowered in a rhythmic pattern, allowing the audience to view the entire backstage area and beyond. When the dancers finally appeared on stage they no sooner dripped off the downstage edge into the orchestra pit and then into the aisles where they performed some stationery choreography and then tried to talk with audience members. Enough said.
Sehgal is currently celebrating an unprecedented one-man show in which he was given "carte blanche" of the entire space of the Palais de Tokyo in Paris.
Cover Photo-Léonore Baulec and François Alu
All Photos - Julien Benhamou, courtesy of Ballet de l'Opera national de Paris