What constitutes a portrait? Is it, as the dictionary and custom define it, a likeness of a person – and as such, an image based in visual reality? Or how do we actually define "likeness"? These and even more provocative philosophical and aesthetic questions are at the heart of a new major exhibition,
This Is A Portrait If I Say So, at the Bowdoin College Museum in Brunswick, Maine.
The exhibition, which runs until October 23, 2016, of more than sixty conceptual works covers modernist art from 1912 to the present has been curated by the trio of Jonathan Frederick Walz, director of curatorial affairs & curator of American art, the Columbus Museum, Columbus, Georgia; Kathleen Merrill Campagnolo, independent curator and scholar, and Anne Collins Goodyear, co-director of the Bowdoin College Museum of Art. It is a show which is far from populist in its appeal, and yet one which is brilliantly conceived and adventurously programmed.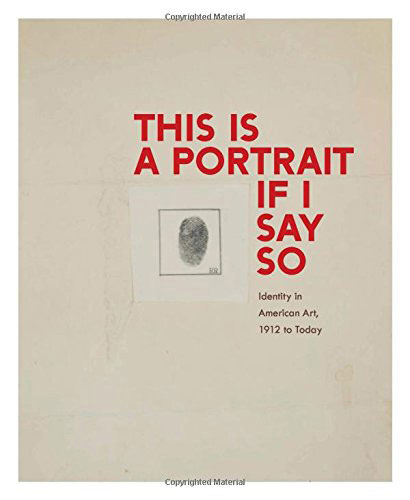 The exhibit takes it title from a famous quip by Robert Rauschenberg. In 1961 in response to Parisian art dealer Iris Clert's invitation to a group of artists to submit portraits of her for an exhibition, Rauschenberg – who had forgotten the assignment until the last minute - sent Clert a whimsical telegram stating, "This is a portrait of Iris Clert, if I say so." And it is with this telegram and all that it cryptically symbolizes -that the exhibit begins. The little over a century covered by the show is divided into three sections which represent fertile or watershed periods in modern art: 1910-1920s, 1960s and 1970s, and 1990-present.
From Rauschenberg's telegram radiates the challenge "Who is I?" and demonstrates his familiarity and kinship with the modernists of the early 20th century, among them Duchamp, Hartley, Demuth, and Gertrude Stein. Thus, with Stein does the show introduce the viewer to the decades surrounding the 1913 Armory Show. Coupled with the telegram is Stein's word portrait of Pablo Picasso, which in her own inimitable linguistic style with its absence of description, staccato rhythms, and poetic logic forms a verbal parallel to the fragmentation of the incipient abstract movements.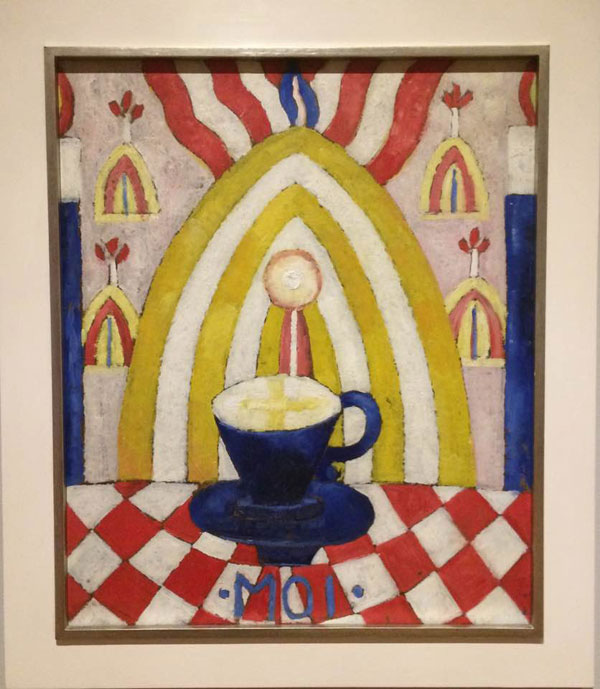 This same impulse to use symbols, colors, and ideas to conjure up a person is on display in several of Marsden Hartley's paintings. His 1916 Portrait of a Woman is actually inspired by Gertrude Stein, whose essence he captures in a combination of visual imagery and words. There is the central teacup signifying their friendship and conversation, the red-white-blue of the French and American flags, and the word "moi" in the foreground – a reference to Stein's larger-than-life sense of self, that at the same time embodies an inscrutable declaration of identity.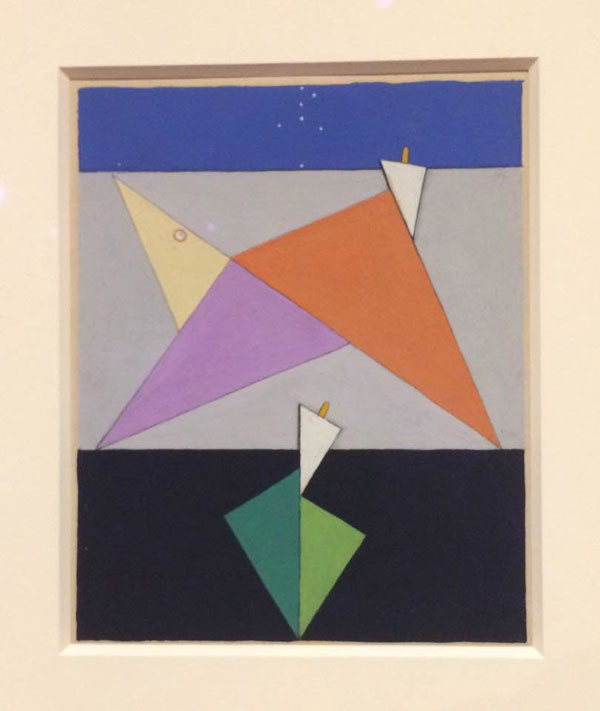 Taking his cue from the bright colors of Hartley yet far entirely non-representational is Edward Steichen's 1922 Muston Shlushley, the artist's pseudonym for Hartley. The painting is a pleasing arrangement of geometric shapes, dominated by floating triangles and bounded by horizontal bands of color. Originally intended for a children's book about a mythical realm based on the perfection of ancient mathematical ratios and populated by whimsical animals, the work illustrates a very different side of the artist we often think of primarily as a pioneer of photography. And it is precisely this juxtaposition to the camera lens that makes the piece so provocative. For, no doubt, the growing mastery of photography from 1839 onward, gradually rendered the notion that a painted portrait must capture real likeness increasingly obsolete.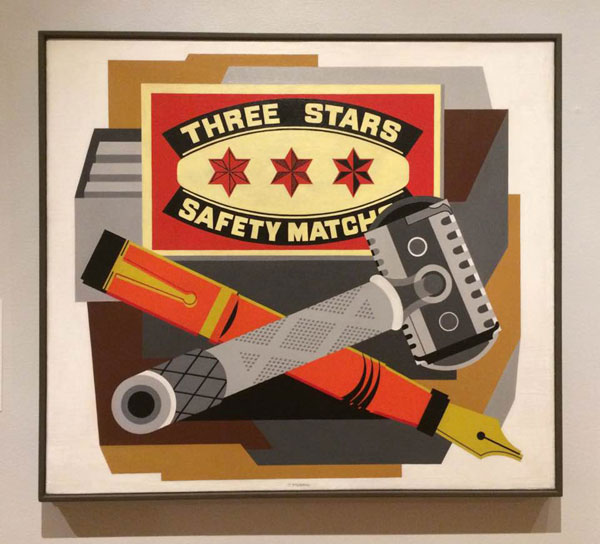 Other standouts in this first section exemplify different styles of the period. Gerald Murphy's 1924 Razor is a striking Art Deco composition of a safety razor, pen, matchbox – all images of products which the artist's family company, Mark Cross, produced. Another somewhat later 1941 work contains engraved sheet music by American composer Virgil Thompson. Portrait of Florine Stettheimer is a tribute to the set and costume designer who collaborated with Thompson and Stein on their opera Four Saints in Three Acts. The work hazards the proposition that – just as poetry can constitute a portrait without tangible images – so, too, can music. Thompson's own connections with the avant -garde of Paris in the 1920s and 1930s and his associations with musicians like Stravinsky and Satie and poet-artists like Cocteau and Stein make this an appropriate piece.
The next cluster of works focuses on the 1960s and 1970s – a period of political, social, and artistic turmoil. Several pieces make a seamless transition from the Thompson score. There is Jasper Johns' 1972 Viola, a "portrait" of Viola Farber, a founder of the Merce Cunningham Dance Company. The subject's name is stenciled twice across the lower portion of the muted painting – one superimposed on the other to give a sense of spatial depth and floating perspective. The fork and spoon linked by a rubber band to the right refer to a dance Farber choreographed in which the costumes consisted of rubber bands, that were then incorporated into the choreography. Like Thompson, Walter De Maria tried to express the relationship between music and the visual, identity and wordlessness in his various studies of avant-garde composer John Cage, the most arresting of which is the stainless steel sculpture consisting of vertical asymmetrically spaced bars that alludes whimsically to the composer's name as well as to his method of writing out his scores with staffs and bar lines but no notes.
Wry humor is a frequent ingredient in many of these works, as in Dan Flavin's constructions incorporating machine-made
items. His 1960s series, Barbara Roses, is represented here with a flowerpot from which sprouts an electric light bulb inside which are some neon roses and petals. Flavin frequently used the light bulb in his compositions and the title is a nod to the influential art critic of the era, Barbara Rose, who once said that "Minimalism was an antidote to Pop art." The artist gave this sculpture to Rose as a birthday gift. Another piece with sculptural qualities is Jim Dine's 1964 Isometric Self-Portrait. The artist is represented by the pale, fine outline of a suit over the black of the canvas and by isometric exercise equipment which forms a triangle at the center of the composition. It is, as the curators suggest, that Dine portrays his presence by his very absence among the things which surround his daily life. Perhaps the most ambitious conceptual work is Robert Rauschenberg's 1968 Autobiography, a vertical triptych which combines words, images, fingerprints, photographs, and X-ray images suggesting the multi-layered nature of human psychology and identity.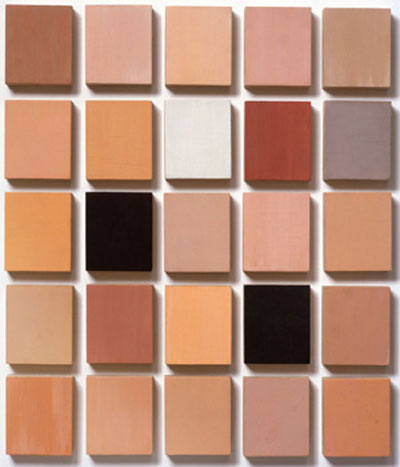 The final section of the exhibition addresses works in the last quarter century. There is the colorful canvas of symmetrical vertical stripes entitled Gay Flag by Ross Bleckner. The flag is associated with gay pride and is embossed with a Star of David in the upper center – an allusion to two of the artist's identity components. In a comment on the piece, the artist writes that awareness of the AIDS crisis brought to his work a greater willingness to express his gay identity. Byron Kim's Synecdoche is a kind of "group portrait." It consists of a series of three-dimensional squares of neutral colors mounted on canvases. One such assemblage #3 is said to be a portrait of Kim's son Emmett at twelve months. The artist's concept involves using pigment to suggest the essence of skin tone and the individual parts, which - though fragmented - then come together to form the whole of great diversity and shading.
Another more representational work is Sara Sz's 1998 Portrait of RE, a pencil on paper intricate line drawing that does depict events from the subject's life, but events in a fluid, labyrinthine arrangement that speaks with a kind of stream of consciousness. One of the other eloquent pictures is L. J. Roberts' 2012-2013 Portrait of Deb. The work is composed of an artful arrangement of political buttons worn by the subject together with signs and slogans that embody the causes Deb espoused. Roberts, a transgender artist, uses these images as statements of gay pride, AIDS activism, gender liberation, and together they create a kind of timeline from past to present.
This Is a Portrait If I Say It Is is a daring exhibition, not only because of the provocative nature – at least in their day - of the artists it showcases, but because of its uncompromising insistence of focusing on large ideas and intellectual concepts. As such, the show accomplishes a great many positives. It initiates sophisticated discourse and requires the viewer to become involved in the viewing process. It challenges comfort levels and preconceptions as it explores the deeper issues of identity and how, as human beings and as artists, we express that identity. What, perhaps it does less well is to speak to the viewer in emotional terms. Rather, like the pioneering voices showcased in the exhibition, some of the language is cryptic and personal, even arcane at times, but always eye-catching and compelling.
Photos Courtesy of Bowdoin College Museum