Making art out of trauma is an idea as old as art itself. Melding great art out of trauma is unfortunately not as common as manipulative melodrama. The Canadian choreographer Crystal Pite and playwriter/performer Jonathan Young created the dance theatre piece entitled Betroffenheit in response to Young's bottomless grief after his teenage daughter and her two cousins were killed in a fire while on vacation. Though I have seen and been very impressed by Pite's work (q.v.), I feared the worst as I approached the theatre. How could they possibly portray this tragedy in words and movement without overdoing it? It seemed too difficult a challenge for the medium of dance-theatre which in itself presents a gargantuan challenge to balance words and movement, the abstract and the concrete. But the immediacy of the work's opening moments proved that they had succeeded brilliantly.
In Betroffenheit (a German word for the concept of catatonic mutism from shock), the artists created a space where the experience of trauma was transferred, dispersed or concentrated within and among the individual or groups of performers on stage at any given moment. And, most importantly, the experience morphed as the lengthy evening progressed.
The first act is set in a windowless room empty but for a few electronic devises, electrical wires and a bare table. Eerily lit and painted to look like the dingiest of basements the opening scene feels like an detox-induced nightmare worthy of Hunter Thompson's worst mornings. The electrical wires hanging down the walls and strewn haphazardly across the floor come to life like snakes and pythons slithering up and down the walls. Crouched in self-loathing and despair, Young proceeds to argue with his own recorded voice recalling horrid morsels of the tragic event, things said and overheard, perhaps actual or imagined. His body taut and well under his control his voice betrays his exhaustion and hopelessness even as he tries the same strategies over and over again: stop reliving it, stop using, stop blaming.
Enter the dancers. Pite uses five supremely talented, versatile and virtuosic dancers to play out the madness that is Young's hell. In various perfectly exaggerated caricatures the dancers variously taunt, tantalize, mock, haunt and distract him. Dressed in a bright turquoise leisure suit like a slick variety show host, Jermaine Spivey becomes Young's demented body double linking arms with him and symbiotically leading, following, controlling and then being controlled. A slithering dancer of liquid joints, he adheres to Young and can't be shaken. Tiffany Tregarthen as the nightmare in white-face and a vintage bathing suit is equally pliant and bizarre in articulating Pite's endlessly creative choreography. The rest of the ensemble included Cindy Salgado, David Raymond and Owen Belton in an off-kilter Copa Cabana-style samba, manic tap numbers and games of hide-and-seek with Young's fragile psyche.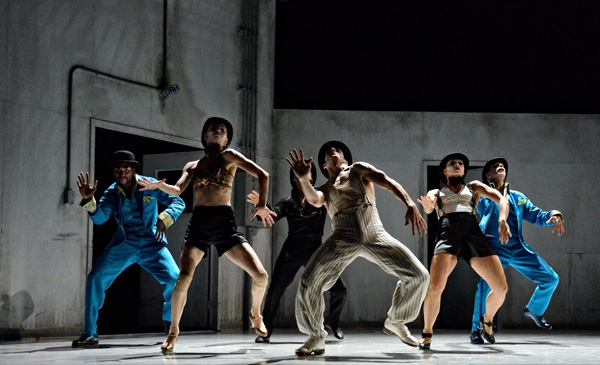 In one of the few but desperately welcome humorous moments toward the end of Act I, Young screams, begs and pleads for an epiphany. Having tried various states of inebriation, despair, self-blame, repetition of the memories from the incident leading to self-destruction through addiction and the glimmering hope of recovery, his intellect tricks him into thinking that there is a neat and tidy epiphany awaiting.

But as the axiom has it, the only way out is through.

He manages to escape the tedium of the crummy little room and when Act II opens the set is wide open. The dancers are no longer in their exaggerated forms but now appear in benign practice clothes working more or less in concert with Young. Pite gives Young a movement vocabulary to communicate a new if wavering strength. The dancers continue to challenge him but in less threatening ways as he builds power and stamina. Finally, after a long and rigorous physical narrative, they gather around him. He surrenders, breathless from exertion and the horrible solitude of his suffering, into their surround. They hold and caress him until the arrival of the true moment: at the bottom of a long exhalation, his breathing turns to a shudder of release. The grief has given in and given up a tiny bit of its wretched territory.

In her 2013 memoir, Wave, Sonali Deraniyagala used journal writing to recover from the loss of her two young boys, husband and parents in the 2004 tsunami. The result is horrific and bleak, repetitive yet poetic. And instructive about the ways in which the mind sabotages, the body collapses and still the spirit seeks acceptance of the new truth.

Jonathan Young, an actor and playwright, is the co-artistic director of the Electric Company Theater of British Columbia.

He met Crystal Pite, the artistic director of the acclaimed Canadian dance company Kidd Pivot, and a former dancer with William Forsythe's Ballett Frankfurt, on a commission at the Nederlands Dans Theatre. It was there they decided to collaborate on Betroffenheit. It may have saved his life.

Betroffenheit was presented in U.C. Berkeley's Zellerbach Hall by Cal Performances on March 10-11, 2017 with lighting design by Tom Visser; sets by Jay Gower Taylor; sound by Owen Belton, Alessandro Juliani and Meg Roe; and costumes by Nancy Bryant.

Photos - Michael Slobodian, Wendy D and Courtesy Cal Performances