It is a great pleasure for me to introduce a Thai southern artist who is also currently working as a coordinator of art in the South of Thailand after working as Art Director for a Thai company (Amarin Printing and Publishing Co., Ltd.) that publishes Home and Garden, Preaw Weekend and other popular magazines in Thailand. He received Bachelor's and Master's degrees from Silpakorn University. Many universities tried to recruit him to be a lecturer but he declined and chose to work in a private company as it was more convenient for him. For many years, he never stopped doing what he loved the most: woodcut printmaking. I must say that his works are so spectacular and hard to describe. As he came from the South of Thailand, the main inspiration of his woodcuts might originate from movement stances of the Sila dance which is a ceremonial battle dance of Muslims in the South.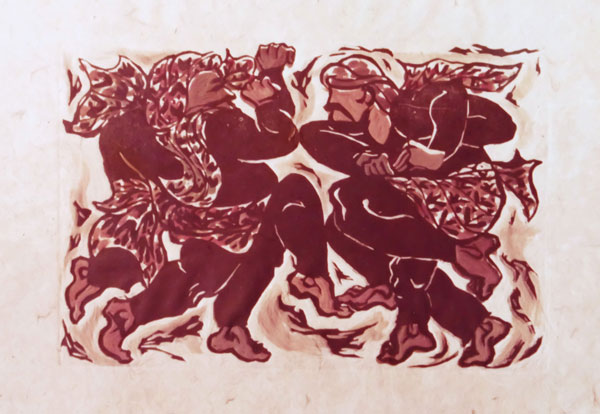 Impressively, many years ago when the monsoon hit the gulf of Thailand, his imagination portrayed the image of monsoon in the form of abstract art well. The viewers could feel something more insightful than just looking at a piece of artwork.
Chaisak is the one who came up with the concept about the blank space and the shape of a tree in his abstract works. Back then he created bigger woodcuts to print on sa paper (traditional handmade paper sheets) because there was no woodcut press for the size of 300 cm x 420 cm. He also applied shapes, branches, leaves to create a floating frame like a hanging mobile. His woodcut printmaking could be a prototype model to bring out a genuine abstract concept to be used for future development.
After 40 years living in Bangkok, Chaisak returned to Songkla Province and determined to devote himself to the community in order to create something easier to understand than his previous abstract works. His wish is to provide more opportunities to everyone especially young people in the community. He began to paint nine portraits of the royal family and sent them to an auction to raise money for the hospital without deducting expenses. This was to help his hometown and community.
In my view, Chaisak's paintings are not inferior to his woodcut printmaking in any way. The making of paintings always fascinates me and I wish all people in his hometown to be proud of his achievements.
Here is the interview:
JY: Please tell us about your art activity after your return to the South of Thailand.
CC: As for my coming back to the South after 40 years in Bangkok, my main concerns right now are not only working on my own personal art but also supporting young artists and promoting art in the community I lived in. Natawee is a small district in Songkla Province that still needs all kinds of development, particularly art education for pupils and instructors as well as the accessibility of art for people in the community as they still need help and promotion.
In the beginning, I painted nine portraits of the royal family to raise funds for the district hospital without deducting expenses. During the time when the Princess Sirindhorn visited the hospital, the director of the hospital asked for my extra help to decorate the 5-floor building.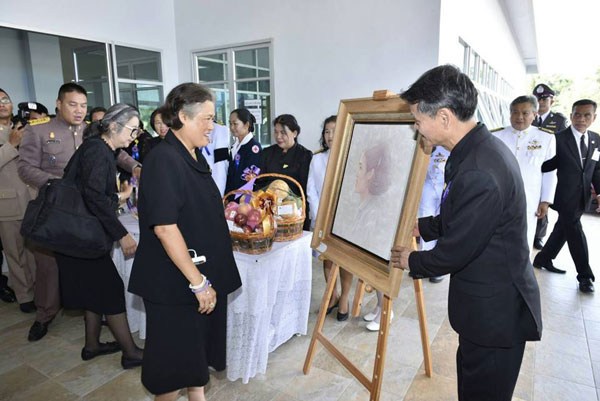 As a coordinator, I talked to the community to ask for their cooperation to do an art activity on this very special occasion. I also presented my concept and working process to around 300 people including the leaders, teachers and students in that area. In the end, we had 300 paintings to be organized as a whole set and then these paintings were decorated in different areas of the hospital. That project was very satisfactory. It makes me think that if we give more opportunities for the community to continue it will be certainly beneficial for the community as most people are happy and willing to do the activity. Moreover, it is a great way to find more talented individuals among the young students so they will have a guideline to study art if they wish to continue art education in the future. This also could help to partially solve the shortage of art students for three universities that teach art courses. I already proposed this idea to the Cultural Office in Songkla Province.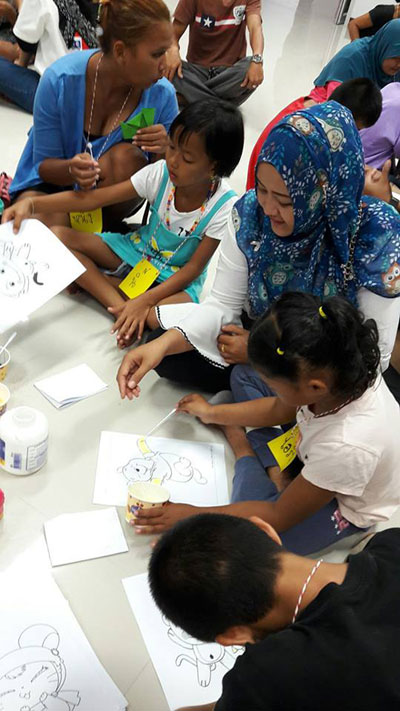 In general, Songkla Province, in my view, has potential in many aspects and it is in the period of restoring the former glory from the past by renovating and maintaining the old city. Recently, some private organizations renovated old buildings and founded the art museum within the large area in the old city as they had hoped Songkla to be the center of southern art.
JY: I have seen you mix media art when you painted the portraits of the kings in the Chakri Dynasty. I am also curious about loft powder technique. How did you come across it?
CC: While I was renovating my house by applying loft powder to the walls, my actual touching on the surface and some of my technical knowledge told me that the technique was still plausible to be developed and used in painting on canvas.
At first, I tried to paint on the wall to see how to draw and paint on the painting frame like coloring on canvas. I also have to find the appropriate kind of cloth before applying loft powder on it. Moreover, I have to find out how to prevent charcoal, crayon and chalk color from losing the intensity of color shade as well as how to blendpowder, oil, chalk, acrylic color, coffee charcoal and crayon or apply surface coating with wax, paraffin, color coating from Bager, water urethane. I have to look at the durability of piece of artwork, color absorbing property including painting on the surface. All of the issues will be tested practically. Fortunately, pencil color, charcoal, crayon and chalk color can be applied on the surface permanently using the given technique I found.