While artist Marguerite Zorach enjoyed a prolific career as a painter, poet, and creator of tapestries for almost fifty-seven years, it was her husband, painter and sculptor William Zorach, who was most lionized in their long collaborative careers. Happily, however, the Farnsworth Museum in Rockland, Maine has mounted a new major exhibition of Marguerite Zorach's work that sets this misconception to rights. The more than sixty paintings and textiles in Marguerite Zorach An Art-Filled Life take a comprehensive look at the development of Zorach's genius, the influences drawn from an adventurous, unorthodox life amid the fast-changing pace of the 20th century. Not only does the exhibition subtly comment on the gender politics of the art world, but also offers some fascinating insights into the scope of her talent and the far-reaching singularity of her vision.
The Farnsworth tribute, on display through January 7, 2018, in the Micah, Sam and Tim Galleries of the museum's Morehouse Wing,is appropriate because of the Zoraches' long connection to coastal Maine where she and William maintained a summer home at Robinhood Cove on the Georgetown peninsula and where, beginning in the 1920s, they formed a lively artist colony with Marsden Hartley, F. Holland Day, and Paul Strand, Gaston and Isabel Lachaise, Gertrude K├Ąsebier.
Marguerite Thompson was born in Fresno, CA, the only child of a lawyer for the Napa vineyards and a mother descended from New England seafarers and Pennsylvania Quakers. Well-educated throughout her childhood, she became one of a small group of women to attend Stanford University in 1908. At Stanford, however, she developed her aptitude for art, and left school to travel with her aunt to Paris where she studied under John Duncan Fergusson at L'Acad├ęmie de la Palette. Imbibing the modernist influences, Zorach exhibited her early work at the 1910 Societ├ę des Artistes Ind├ępendentes and in 1911 at the Salon d'Aut├┤mne. Zorach's work from this period is clearly influenced by the Fauves, and she kept company in Paris with a lively circle of artists and intellectuals which included Gertrude Stein, Pablo Picasso, Henri Rousseau, and Henri Matisse. It was in these student years that she also met her future husband, William Zorach.
From 1911-12 she and her aunt took a world tour that brought her to Jerusalem, Egypt, India, China, Japan, and Hawaii. The exotic nature of the places she visited had a huge impact on her work and on her palette and style, as did her sojourn in 1912 in the mountains north of Fresno, where the dramatic landscape contributed to the geometry and boldness of her images. After exhibiting rather unsuccessfully in Fresno, she moved to New York City and married William Zorach on Christmas Eve 1912. Together they exhibited in the 1913 Armory Show and were recognized as modernists. The Zoraches had two children, son Tessim and daughter Dahlov, and in 1915 they moved to Greenwich Village to be at the epicenter of the vibrant and exciting artistic and intellectual life of the early 20th century.
After Dahlov's birth, Marguerite Zorach devoted more time to her textile art – a decision that seemed in keeping with the domestic demands of several households and child-raising – but she turned these embroideries and tapestries into works of art that gained gallery recognition beginning in 1918 and broke down significant barriers between craft and fine art. In the Depression years, Marguerite Zorach returned to painting and under the auspices of the WPA created several major murals – among them the post office in Peterborough, NH, which helped further her reputation. In her late years she suffered from vision problems which made the detailed work of the textiles difficult, so she returned to painting and was active until her death in 1967.
The exhibition focuses on several themes in Zorach's work, among them portraits of family and domestic life, scenes from her world travels, images of life in Maine, and a series of more monumental works which espouse an almost mythic view of family, work, and the human experience. The paintings are brightly colored, composed with a Post-Impressionist
/Modernist sense if geometric form, and rendered with a sculptural density that alludes not only to the influences of Cezanne and Picasso, but also to the work of her husband William. The tapestries are more linear and fluid in style, recalling Matisse, Calder, and Gris.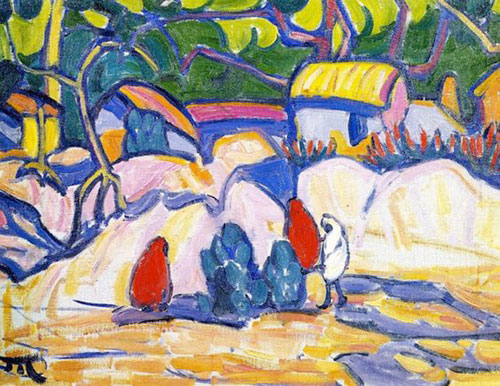 The early canvas Park in Provence (1911) is clearly part of the French modernist school with its bold composition of tall trees outlined in black and the foliage transformed into an array of geometric angles, while her Village in India, painted in the same year, has a less weighty feeling to it and indulges in the bold Fauvist palette. The 1913 Indian Wedding similarly captures Zorach's fascination with the liveliness and colorful character of this exotic ceremony in a far off land.
The same treatment of landscape can be seen in Zorach's Maine paintings, which she began in the early 1920s after coming to Robinhood Farm, and there is no small affinity in her work for the bold cubist forms of Marsden Hartley, a friend and colleague. The Maine landscapes, however, seem to project a quiet strength that harkens to her maternal ancestors' New England connections.
The Marshes at Woolwich achieves serenity in the quiet, horizontal planes of the composition and the silver-tinged light that is peculiarly that of Maine.
City of Bath, which paints a colorful portrait of the queen of shipbuilding ports from across the Kennebec River. It is interesting to compare Marguerite's image with that of her husband, who painted the same view in a watercolor.
William Zorach's perspective is viewed from a farther distance and the watercolor medium renders the scene more realistic, more fluid, more lyrical. Marguerite Zorach, instead, depicts the city under an ominous cloud, its strong buildings and church steeples rising confidently upward toward the clouds.
Other images of Maine – especially in the tapestries and the rare watercolor - reflect quieter, more intimate moments in the Zoraches' family life. Cat and Fish (1935 watercolor) is a whimsical take on the traditional still life with two fish – obviously dinner - flanking a contented gray cat atop a table.
More ambitious is Home in Maine, (1925-1928) a large scale tapestry with a series of floating figures and serial images of life on Robinhood Farm. The spotted dog and cats (iconography she would bequeath to her artist daughter Dahlov Ipcar) take the composition into the fanciful and call on a growing kinship in her work with the folk art tradition.
This tendency continues into her late work in another ambitious tapestry, The Ipcar Family at Robinhood Farm (1944), in which Zorach depicts the bustle of her daughter's young family with a colorful exuberance and humor that draws from some of the energy of her Depression era murals.
A panel, Builders and Planners, and from the Peterborough, NH Post Office mural Commerce and Industry gives some insight in Zorach's WPA work.
The strength of the figures is in keeping with her Modernist
style, but there is also an element of 1930s populist figurative art which celebrates muscled, vigorous, heroic working class men and women who embody the working class dream. The combination of buildings and figures speaks to the vision of industrial progress fueled by human imagination, and here, as in many of her other works, Zorach transforms classical figurative iconography into a more contemporary statement. Always the women hold equal pride of place with the men in a society that the artist saw as the ideal future.
This mythicizing of genre scenes and of the human form was a thread throughout Marguerite Zorach's work, and the exhibition highlights this vividly in a series of nudes, family portraits which become more symbolic than real, and imaginary compositions such as Maine Islands in which a father and his child stand on a separate island from the mother in a curious reimagining of traditional Holy Family images. Or there is Family Supper (1922) which alludes to Da Vinci's Last Supper, but places a female in Christ's seat.
This crowded, pulsating tapestry combines Cubist inspired figures with the linear two dimensionality of the Abstract Modernists.
Other images which begin as portraits, such as her son Tessim with Cello (1922) or Girl with Cat (Dahlov) (1930) also take on a mythicized aspect, influenced by Picasso's portraits and universalizing the family images.
And then there are the pure nude studies which take on a decorative feel and use classic poses, among them the seated 1922 Nude, the Reclining Nude, which is Zorach's take on the Naked Maja theme, or the 1920 Block Castle depicting a standing female figure in the dark setting of geometric buildings.
But perhaps one of the most striking of these allegorical paintings are two images of The Fall. The first, a tapestry entitled Eden, shows Adam and Eve, their nude figures pressed against each other, the curves of their bodies fitting so seamlessly as to suggest that one is truly the other half of the other. Mirroring this fusion of beings is the same curvilinear pattern of the serpent, hanging from the tree, an integral part of the equation. The second, a painting, shows Adam and Eve embracing after their fall from grace.
They stand slightly apart in a still colorful landscape as Adam caresses gently his wife. The dark silhouettes of blackbirds behind the couple suggests the ominous, though there is a remarkable tenderness to the image that speaks to the wisdom and the complexity that losing paradise will ultimately bring humanity.
The Farnsworth's retrospective is a powerful tribute to a major figure in modern art and one of the prime movers in 20th century American art. That in her day Marguerite Zorach was honored with the designation, "Foremost American Woman Artist" says a great deal about gender in the history of art. But happily today, Marguerite Zorach's art speaks for itself, boldly engaging viewers with its originality, its vibrancy, it sense of tradition and the inspiration to transform that tradition. An adventurous and independent spirit, she worked within the constrains of her era, her marriage, her family, and somehow managed to carve out a respected and solid place for herself in her lifetime. She worked alongside her male contemporaries as a noted modernist painter, a muralist, and she forged a unique identity for herself with her tapestries. Challenging the notion that needlework was a dainty, domestic, female craft, she garnered recognition for her "embroideries" as major works
of art.
It is now up to the 21st century to accord Marguerite Zorach the prominent place she deserves in the history of modern
American art.